WinAir confirmed for Ontario Aircraft Maintenance Conference—aviation management software provider set to return to the Ontario AME Association's annual conference this fall
The company looks forward to exhibiting at this event and delivering an engaging and insightful presentation on "Examining Best Practices in Aircraft Maintenance"
(The Ontario Aircraft Maintenance Conference is a mainstay event for WinAir © WinAir)
---
London, ON, Canada/Toronto, ON, Canada – September 15th, 2022 – WinAir is delighted to announce that the company will return to Toronto, Ontario, Canada, for the 2022 Ontario Aircraft Maintenance Conference. From November 2nd to 3rd, members of the WinAir team will be available at Booth #301 to converse with aviation industry professionals about how they can boost operational efficiency and harmonize departments by implementing WinAir Version 7. They will also be on hand to facilitate a presentation on "Examining Best Practices in Aircraft Maintenance."
With finding ways to improve maintenance processes being top-of-mind for many attendees at this year's event, WinAir will deliver a one-hour presentation that will investigate best practices in aircraft maintenance. When applied correctly, these best practices will assist businesses in streamlining, expediting, and enhancing maintenance processes. Key areas of focus for this presentation include:
Utilizing digital signatures and being open to change,
Tracking staff qualifications in conjunction with maintenance,
Implementing digital tool control,
Enacting a "no task card/no parts" mentality, and
Setting up task triggers to handle routine maintenance activities.
WinAir Product Specialist, Emilio Castro, will handle this presentation. Castro is a licensed AME-E and has worked in maintenance departments at Jazz Aviation LP and Voyageur Aerotech Inc. He joined WinAir in January of 2021 and has a diploma in Aviation Technician – Avionics Maintenance from the Norton Wolf School of Aviation and Aerospace Technology and a Bachelor of Science in Aviation Business Administration from Embry-Riddle Aeronautical University.
"We are excited to attend the 2022 Ontario Aircraft Maintenance Conference," says Castro. "Our presentation at this year's event will provide current aircraft maintenance professionals and those studying to enter the field with practical advice on how to improve maintenance processes quickly, effectively, and from the hangar floor and up. We look forward to continuing to support the Ontario AME Association and engaging with its members and associates."
WinAir is the premier aviation management software for tracking and managing aircraft maintenance and maintaining inventory control. The product was one of the first aircraft maintenance solutions to enter the market in 1988. As a result of ongoing feature and functionality updates, system enhancements, and new product releases, WinAir continues to be a forerunner in the aviation maintenance software industry. The latest web browser-based edition of WinAir's industry-leading aviation management software, WinAir Version 7, can be obtained in an Operator, Heliops, MRO, or All-Inclusive package, with custom and full turnkey options.
Since it is robust, fully scalable software that follows actual aviation maintenance work steps, aviation maintenance professionals can easily understand WinAir software processes and procedures and take charge of the solution. That's why more and more maintenance departments worldwide are switching from outdated software and spreadsheets to WinAir Version 7 – because WinAir is powerful aviation maintenance software that can be implemented and managed easily and will grow with a company rather than force you to grow into it.
Are you attending the 2022 Ontario Aircraft Maintenance Conference? If so, contact us today to book a meeting with a member of the WinAir team at this event!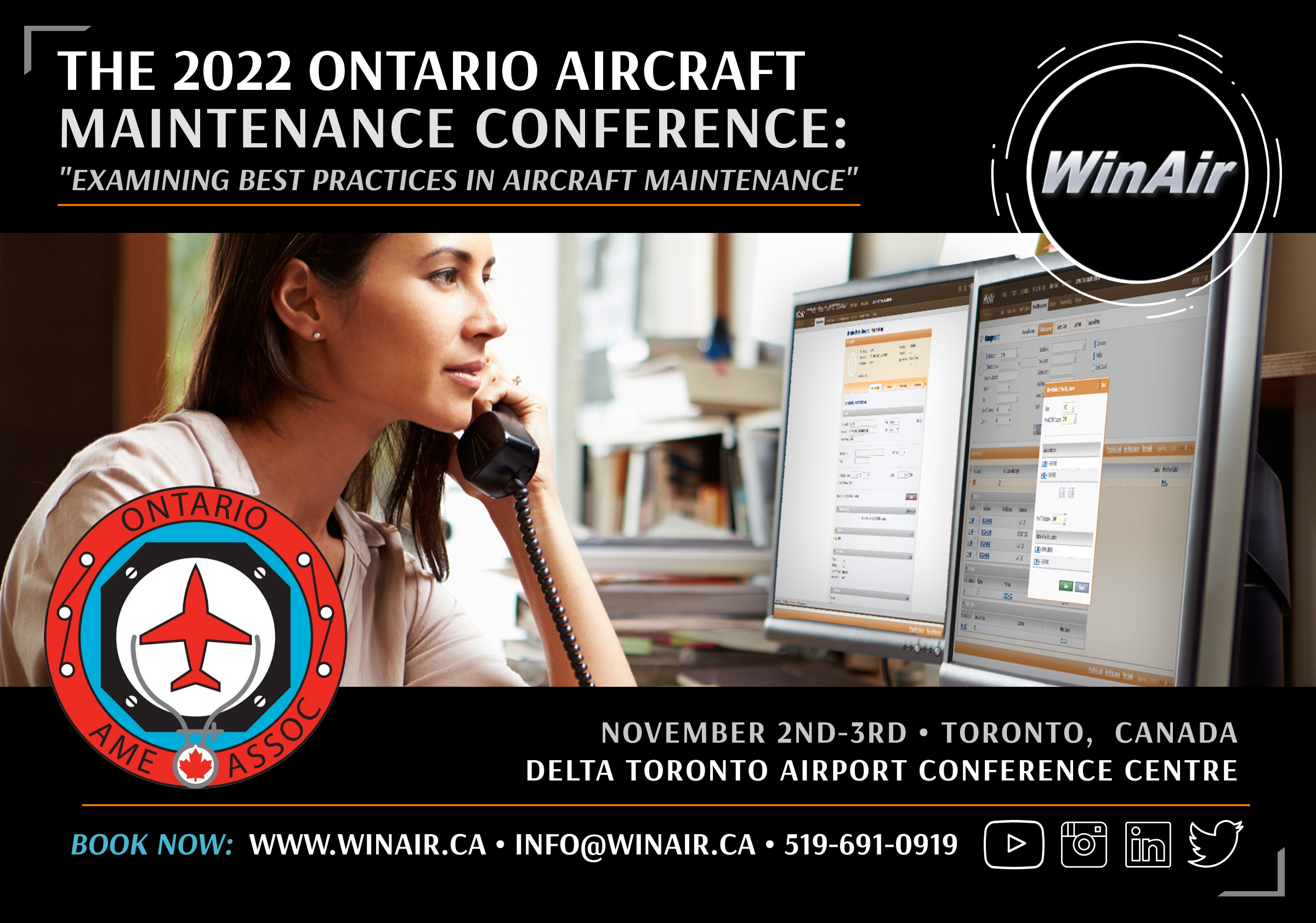 (WinAir displayed on dual computer monitors with details on the 2022 Ontario Aircraft Maintenance Conference © WinAir)
---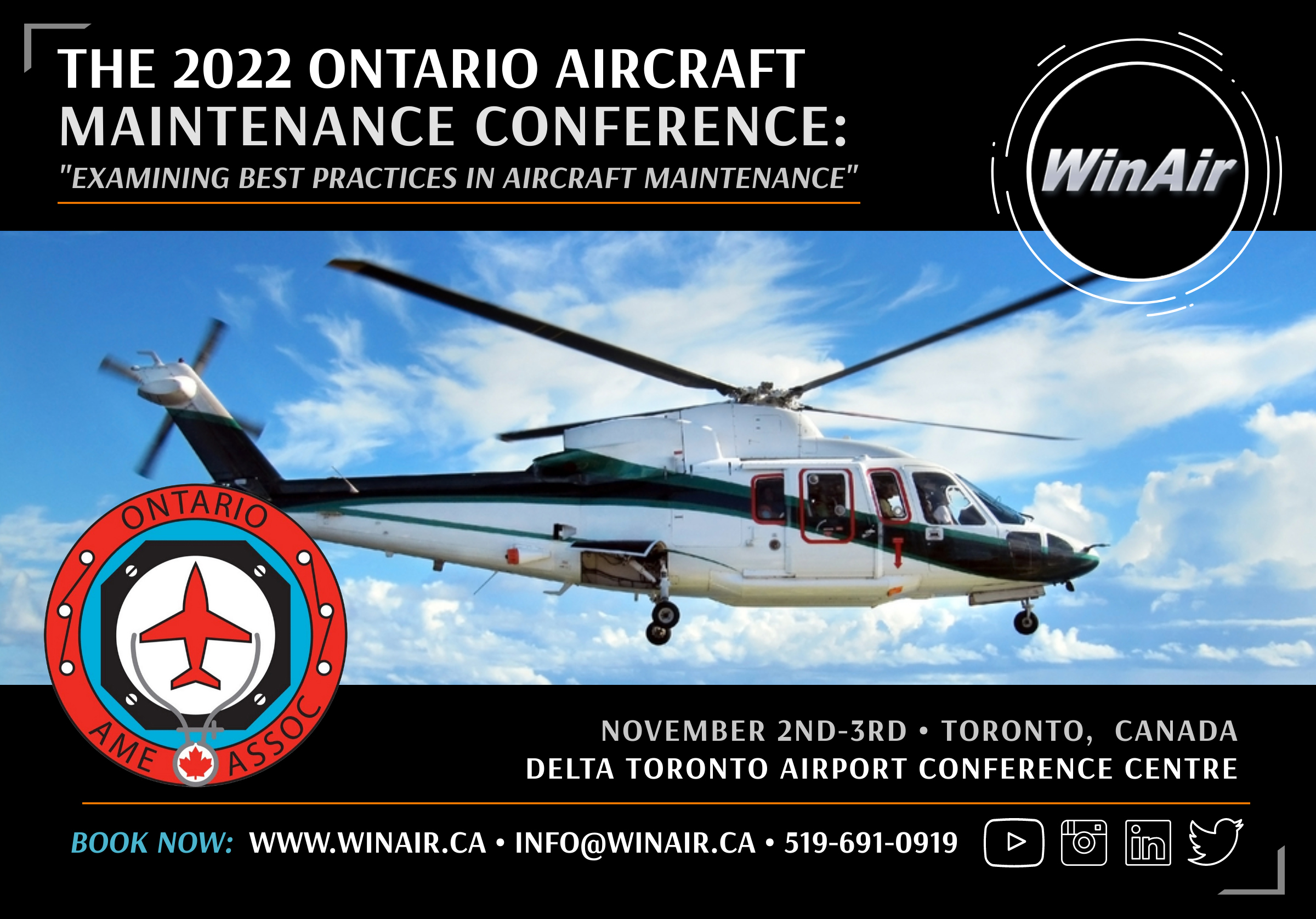 (Visit WinAir at The Ontario Aircraft Maintenance Conference to learn more about the company's software packages and services © WinAir)
---
About WinAir:

Based in London, Ontario, Canada, WinAir has over 30 years of experience as a leader in aviation management software. Companies rely on WinAir to efficiently and effectively track and manage aircraft maintenance and inventory control. WinAir is proud to lay claim to hundreds of installations at aviation-specific organizations worldwide. From airlines to heli-ops, law enforcement agencies, oil industry suppliers, MROs, CAMOs, medical evacuation response teams and more, businesses using WinAir regard the solution as a necessary component to the successful management of their fleet maintenance programs.
###