Global leader in aviation management software, WinAir, celebrates its 30th anniversary by taking the time to review its corporate success story—company reminisces on its past, from 1988 to now, and looks forward to future accomplishments, new technological advancements, and continued organizational growth
---
"Trusted, Proven, Effective"—that's the corporate motto that defines London, Ontario, Canada, based aviation management software solution provider WinAir. Recognized worldwide as an industry leader in aviation management software, WinAir's success story dates back to the 1980s and spans the course of three decades.
Identifying the Need for Aviation Management Software
In the mid-1980s, Bert and Helen Vergeer, WinAir's founders, recognized the need to utilize technology within the aviation maintenance industry, which at the time was very inefficient and operated primarily from paper and spreadsheets. Their original software solution was designed around the concept of providing a software controlled production management system to the hangar floor. Bert, an Aviation Management Engineer, and Helen, a Software Developer, turned their focus to developing additional functionality to handle activities such as purchasing, parts tracking, maintenance planning, and records keeping.
In 1988, they began full time development of the DOS-based AV-BASE system. AV-BASE was a true pioneer: it was one of the first digital record-keeping and live inventory management systems in the aviation industry. With the arrival of the Microsoft Windows® operating system, AV-BASE evolved into the popular WinAir program.
Introducing Aircraft Maintenance Template and Compliance Loading Services
In the early 1990s, senior management identified that companies from around the globe had a desire to fully implement and adopt business procedure controls as quickly as possible. A major challenge that was impacting this vision was the fact that software had to be loaded into client systems with accurately defined aircraft maintenance schedules—this required a certain degree of time and care. As a result, and in order to help accelerate the software implementation timeline, WinAir worked closely with clients and partnered with external industry experts to begin constructing aircraft maintenance templates.
This service was offered, and continues to be offered, to clients to this day as an on-request, time-saving mechanism. It expedites the time it takes to go live with the software solution and relieves businesses of a share of the administrative duties. This saves business owners valuable time, so that they can focus their efforts on their day-to-day operations.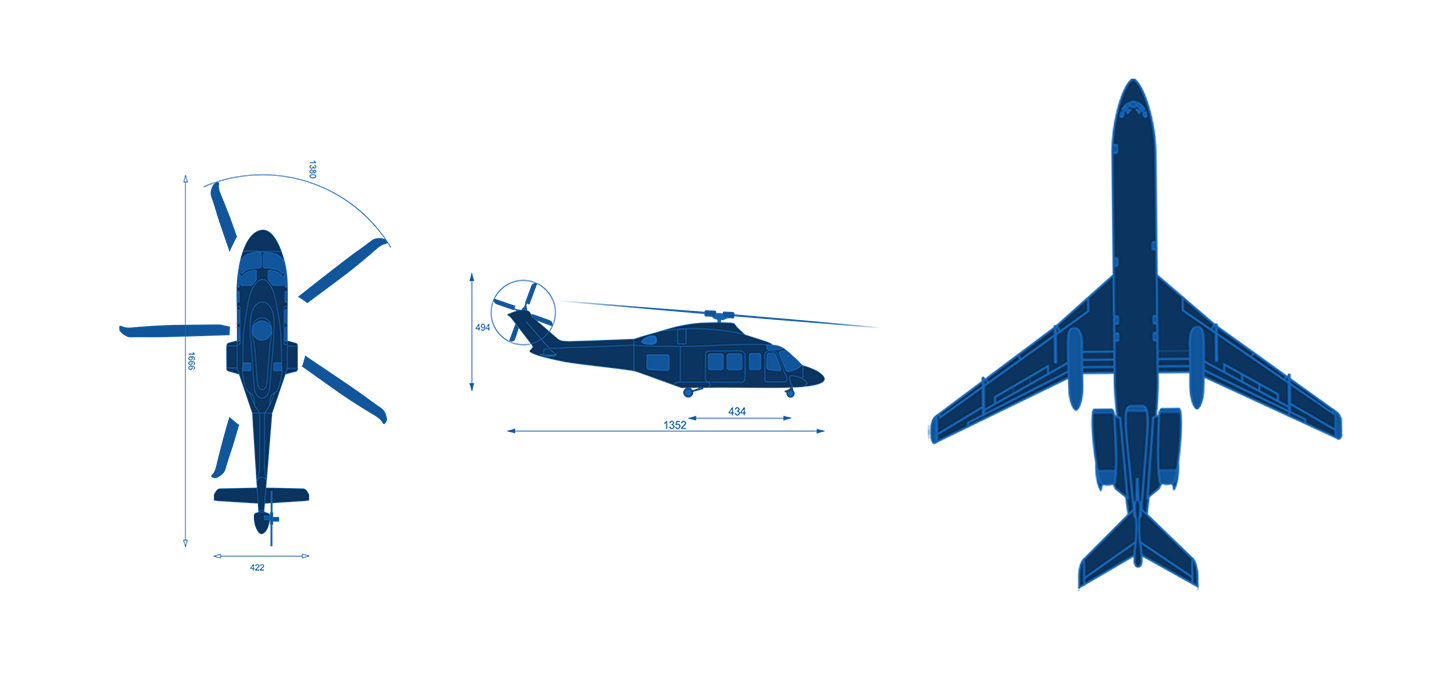 The process of template building was formalized and brought in-house, when the company established its own Aircraft Services department. This move provided WinAir with the opportunity to achieve greater operational synergies and to better serve its clientele.
To complement its aircraft maintenance template building service, WinAir initiated an aircraft compliance data loading service. Much like its template building service, compliance data loading was considered to be an efficient way to speed up the time it takes to get all company aircraft data into the system and reach full software deployment.
Once again, WinAir positioned itself as an aviation management software leader by expanding its business portfolio and offering maintenance template building services using an internal department dedicated to supporting Aircraft Services. This department also took over the full-time role of managing compliance data loading. With the addition of this department, WinAir experienced significant growth in terms of company size, but also with respect to its capacity to take on new business.
WinAir Version Releases and User Group Summits
Over the course of the next decade, WinAir continued to embrace technological advancements, releasing increasingly evolved versions of its software solution. New features and functionality were often added to the system as a result of recommendations stemming from its users—frequently, these requests for product enhancements were found to have originated from one of WinAir's two User Group Summits, hosted annually in North America, and at varying global locations.
Each Summit, spanning the course of three days, was designed to immerse client organizations in the WinAir software environment and to provide client attendees with a fantastic opportunity to network with industry colleagues also utilizing the product. In addition, participants from a variety of organizational departments are provided with the opportunity to liaise with WinAir Subject Matter Experts. Common objectives for each Summit included identifying client needs, determining best practices, and reviewing development priorities in order to ensure that organizations have direct input on how to maximize their investment in WinAir.
By bringing the particular requirements, requests, and goals of its users to the forefront at its User Group Summits, WinAir has been able to successfully manage the growth and development of its product in a manner that has directly aligned with the aspirations of its clientele. To this day, this continues to be the major focus of these events.
Establishing a Client Advocacy Department
In addition to its Aircraft Services, and Sales & Service department, WinAir established a Client Advocacy department. The goal of this department is to assist clients in achieving business success through effective and efficient usage of WinAir. To reach this goal, Client Advocates aim to promote client satisfaction through regular communication, often acting as a liaison both externally and internally with various departments at WinAir. This is to communicate and escalate client feedback, and to relay how WinAir program enhancements and new releases provide additional return on investment. Client Advocates are tasked with looking at the bigger picture, placing focus on long term client success, rather than short term solutions.
These operational developments allowed WinAir to expand, while simultaneously upgraded the company's product support, improved their overall software implementation transition and timeline, and assisted clients with streamlining business processes at their operations.
WinAir Goes Fully Browser-based with Version 7
Today, WinAir is a fully browser-based software solution, that serves hundreds of aviation-specific organizations, in over 30 countries. It is currently the aviation maintenance software solution of choice for over 15,000 end users and is used to manage the maintenance activities on over 9,000 aircraft globally.
Businesses using WinAir trust in the software solution to accurately and effectively track and manage their aircraft fleet maintenance and inventory control, along with compliance and safety. WinAir has proven, time and time again, that it is able to meet and exceed the unique business requirements of both its national and international clientele.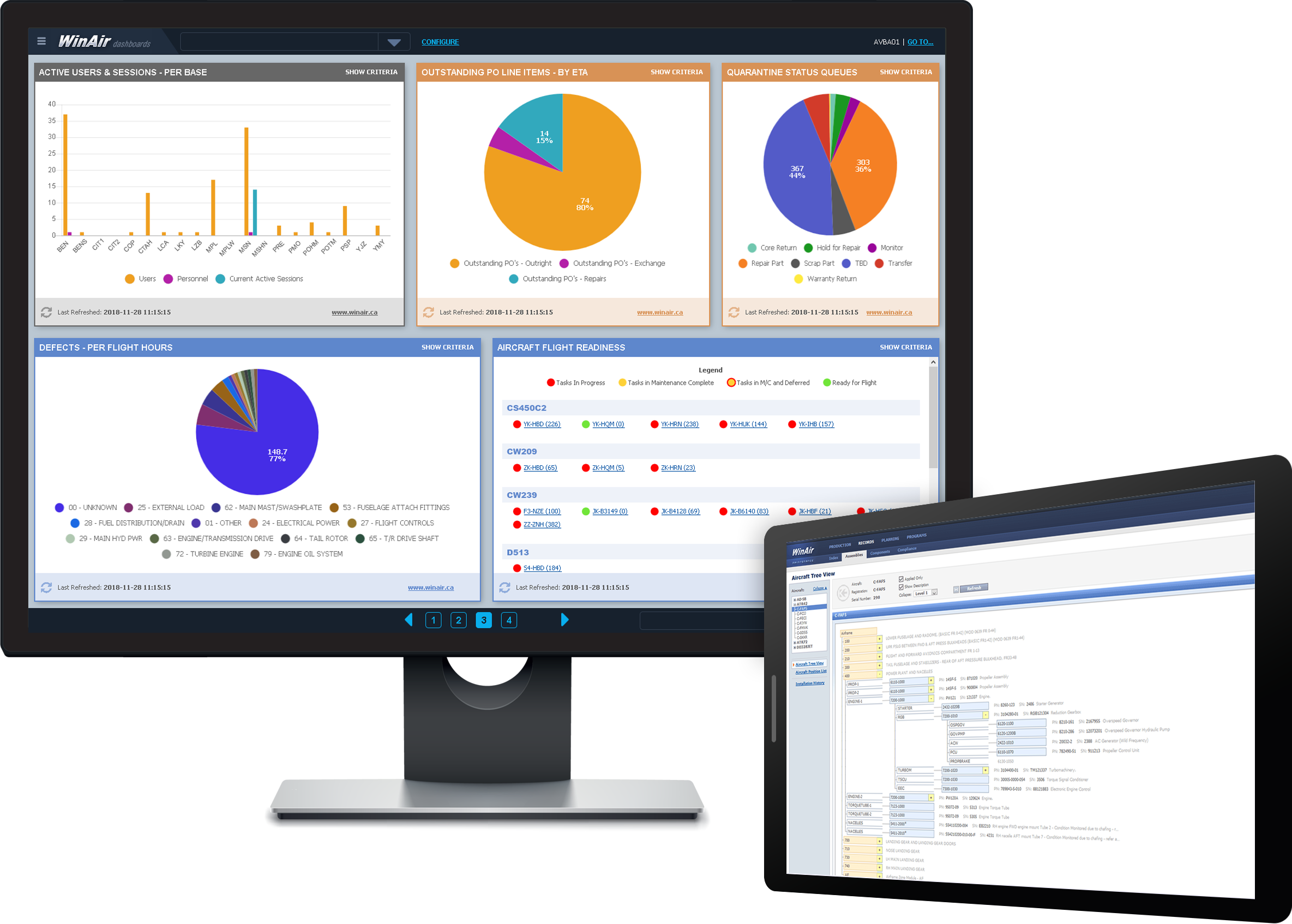 Celebrating 30 Years as an Industry Leader in Aviation Management Software
2018 marks a significant company milestone for WinAir: it is the 30th anniversary of the company. This is a monumental occasion for the organization, its team members, and the aviation maintenance industry as a whole, as WinAir becomes the first aviation management software provider—dedicated to continuously providing updates to its software—to achieve this feat. Although there may be other aviation management systems that are equally as old, the fact of the matter is that no other vendor has been able to steadily release updates to their software solution like WinAir has done for the past three decades.
Since its inception, WinAir has had a tremendous impact on the aviation industry and continues to do so across the map as the aviation industry's longest standing, consistently enhanced, and company supported, aviation management software solution provider. As the company begins its 30th year in operation, it is abundantly clear: WinAir is an absolute business success story for the aviation industry—it has remained a forerunner in aviation management software solutions and has been on the cusp of technological advancements from day one.
Are you ready to start your journey with WinAir? Contact us today to learn more about how WinAir will benefit your operation!
---
About WinAir:
Based in London, Ontario, Canada, WinAir has 30 years of experience as a leader in aviation management software. Companies rely on WinAir to efficiently and effectively track and manage aircraft maintenance and inventory control. WinAir is proud to lay claim to hundreds of installations at aviation-specific organizations worldwide. From airlines, to heli-ops, to law enforcement agencies, oil industry suppliers, MROs, CAMOs, medical evacuation response teams and more, businesses using WinAir regard the solution as a necessary component to the successful management of their fleet maintenance programs.