Managing aircraft maintenance and maintaining inventory control in spreadsheets is tedious, time-consuming, and has a high likelihood of resulting in compliance issues—when it comes to larger fleets or more complex aircraft, spreadsheets do not meet the standard
This article lists 10 pitfalls of managing aircraft maintenance in spreadsheets, proving that the risks associated with this approach far outweigh the rewards
(A technician performs maintenance on a helicopter at a maintenance facility—ALPHA PROD/Shutterstock.com)
---
Using spreadsheets for managing aircraft maintenance carries with it more burdens than it does benefits. These burdens can lead to many dire consequences for your business, from compliance violations to an AOG and more. While you can find value in managing aircraft maintenance activities in spreadsheets if you are operating with one or two small aircraft, overall spreadsheets can be a nightmare for any business when managing a fleet.
Generally speaking, businesses operating in the aviation industry that use spreadsheets to manage aircraft maintenance don't use them because they want to, but rather because they have become accustomed to doing things that way. Some understand that their approach is inefficient, but because they regard their data as confused and disorganized, the idea of migrating to another solution is often considered a colossal undertaking. The fact of the matter is that it is not.
With industry-leading aviation management software, such as WinAir Version 7, importing your aircraft maintenance and inventory data and transitioning to the solution can be accomplished with ease. With our proven software implementation methodology, which includes a training and implementation plan tailored to your unique business needs, we can ensure that your software implementation is a success. And with our additional services and full turnkey solutions, our Aircraft Services team can accelerate your software implementation timeline.
Here are 10 pitfalls of managing aircraft maintenance in spreadsheets: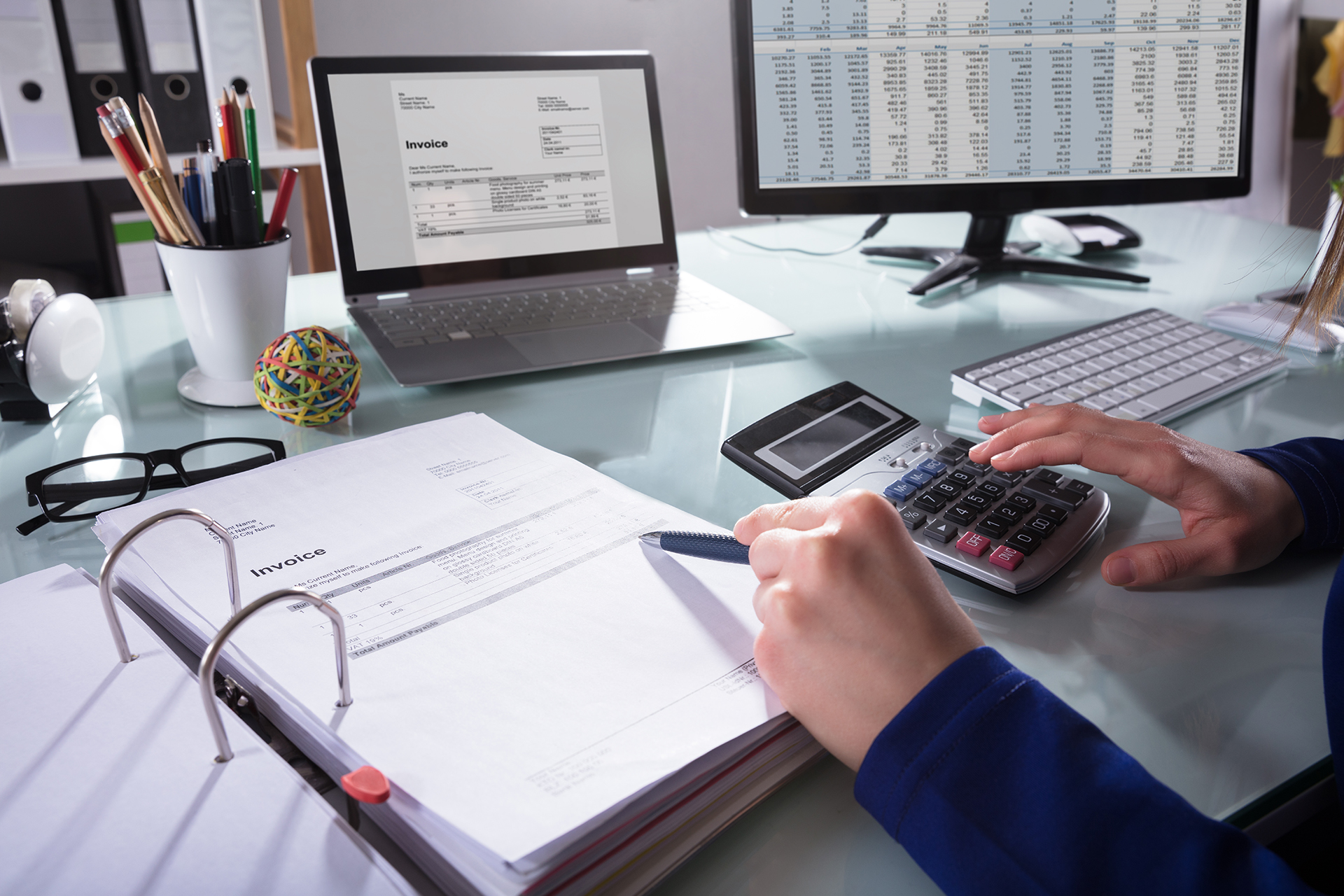 (A staff member meticulously scans a spreadsheet in an attempt to identify the source of an error—Andrey_Popov/Shutterstock.com)

10. Software is not Web Browser-based
As a business owner, you want the assurance that you can scale up the product you use for aircraft maintenance to accommodate business growth. However, if you are using spreadsheets to handle maintenance and inventory, then as your business grows, these documents will become increasingly large and more convoluted. As a result, accurately tracking maintenance and inventory becomes even more challenging as you will be spending more time managing these documents.
Overall, with spreadsheets, the more data you put in them, the more complicated they get. That is why businesses operating in the aviation industry using spreadsheets commonly regard their data as messy, which is an apt description. When data is cluttered and not logically organized, the user experience is poor, and navigating to required information is a slow undertaking. When it comes to aircraft maintenance, your business needs smooth, streamlined, and expedited processes to ensure operational efficiency. The fact of the matter is that you won't find them in spreadsheets.
9. No At-a-glance Awareness of Current Performance
If you are hoping to obtain at-a-glance awareness of your current fleet maintenance performance in a spreadsheet, you will most likely be disappointed. The reality is that it is extremely hard to glean important information about a fleet of aircraft, along with the corresponding maintenance program for each aircraft, from a quick look at a spreadsheet. Identifying and comprehending vital information at a moment's notice, such as aircraft utilization, top aircraft by flight hours, and total labour per base is next to impossible with a spreadsheet.
Unless you have developed a spreadsheet that updates a series of graphs on a tab each time you have manually updated aircraft maintenance data (which would make managing your spreadsheet a full-time job), you are not going to get at-a-glance awareness of fleet performance using this method. Instead, it is all the more probable that you will find your "glance" turning into hours of investigation, which can prove costly for your business. When you can swiftly identify trends in your maintenance, inventory, and financial data, then you have the opportunity to be proactive in your decision-making, which you can't do with a spreadsheet.
8. Difficult to Prove and Maintain Compliance
When you are handling aircraft maintenance using an excessive number of spreadsheet tabs and an endless number of lines and columns, it is hard to prove and maintain compliance. For instance, if you had an incident at your business wherein your aviation authority required that you produce maintenance and inventory data to demonstrate compliance, this could be exceptionally burdensome and potentially impossible for you to achieve. Depending upon the amount of information in your spreadsheets, you might even need to hire an outside company to audit your data.
Businesses using spreadsheets for maintenance can end up having exceptionally huge documents. When you consider the number of maintenance activities that occur fleet-wide on any given day, you will begin to realize how large some of these spreadsheets can get. Additionally, when you consider unforeseen circumstances that produce gaps in your data, like the accidental and overlooked deletion of a spreadsheet tab, you can understand how laborious it is to prove compliance in a spreadsheet.
7. Not Designed for Collaboration
Collaborating on a spreadsheet can be difficult, sluggish, and headache-inducing. While it is possible to work on a shared spreadsheet with a handful of staff, it is almost always challenging, especially when managing aircraft maintenance and ensuring compliance. Spreadsheets are not designed to be collectively worked on by several users at the same time. In actuality, they are better suited for a single user. While you can email a spreadsheet back and forth with other users to update maintenance and inventory information, this approach is prone to manual errors, is exceptionally slow, and is inefficient.
Even if you and your colleagues are working on the same spreadsheet (concurrent sessions) on a cloud-based server, it is often the case that you will encounter errors relative to saving and overwriting existing data. Very quickly, these saving and overwriting errors can turn into a big mess for your business. When you consider the current COVID-19 pandemic, your business needs a reliable and efficient way to track and manage aircraft maintenance, especially if one of your staff is required to quarantine for several days. In this scenario, regardless of whether you are working from a cloud-based spreadsheet or are sharing a spreadsheet via email, collaborating on aircraft maintenance from a remote location is not reliable or efficient. What your business needs for your staff to manage maintenance and inventory work remotely is a dependable and robust browser-based solution.
6. Vulnerable to Security Issues and Fraud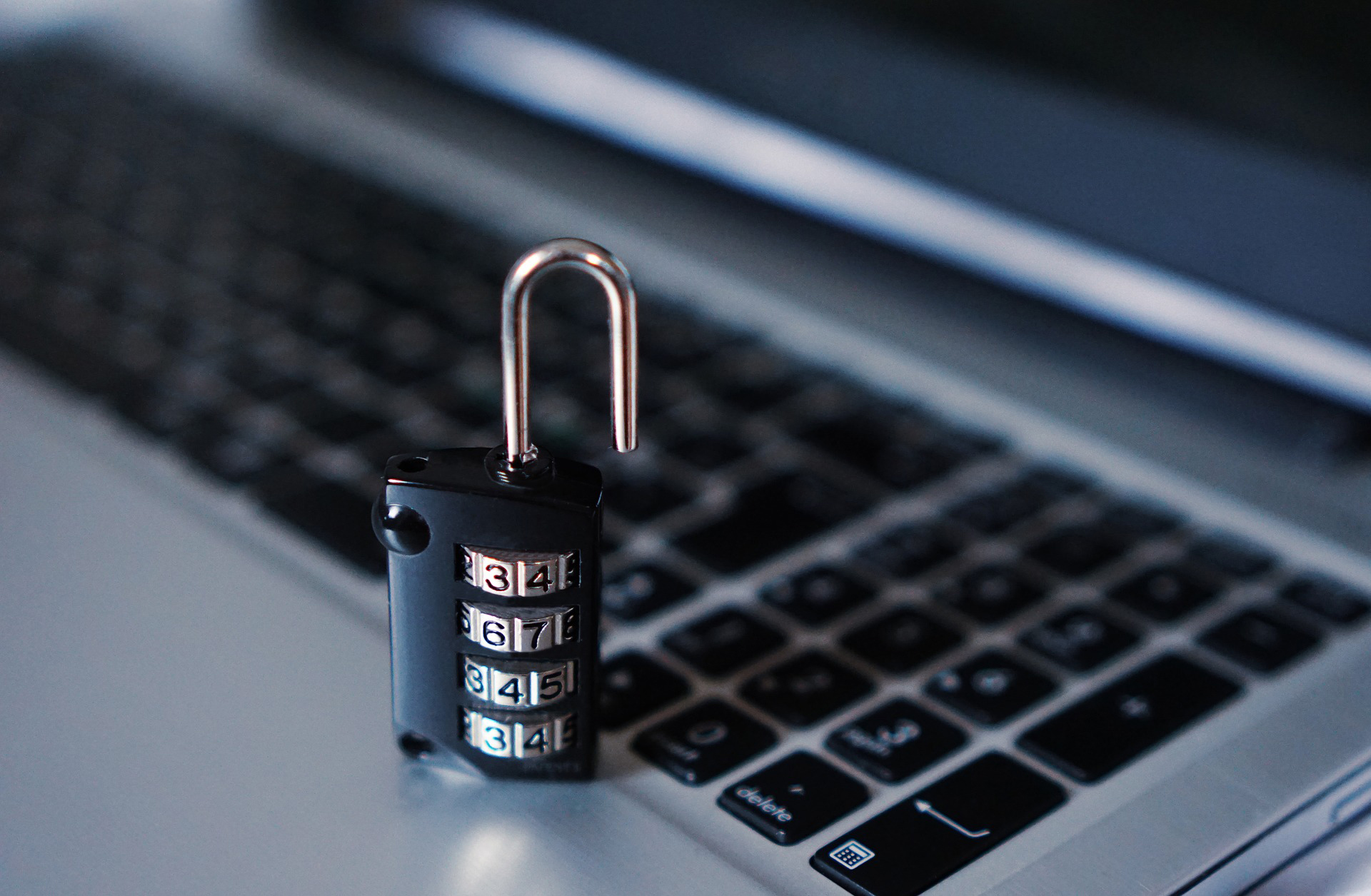 (Spreadsheets can easily be breached from outside a business or from within it—TheDigitalWay/Pixabay.com)

When it comes to aircraft maintenance and inventory data, you want to know that the information you are working with is secure and not vulnerable to security issues and fraud. Unfortunately, if you are handling these items in spreadsheets, you can't guarantee that your data is safe. Spreadsheets are prone to unwanted intrusions. While using passwords for spreadsheets and hiding spreadsheet tabs offers a degree of security, this protection is minimal. Nowadays, hackers can easily breach a spreadsheet using a series of computers to facilitate a brute-force attack algorithm to unlock your document. Alternatively, they can make use of one of the many freeware tools found online to crack your password.
Spreadsheets are also highly susceptible to fraud. If staff with malicious or self-serving intentions gain access to your spreadsheets, whether through direct access or by circumventing passwords, they can cause many issues for your business. For instance, they could insert incorrect data into your documents, change formulas for complex counters, delete information, remove tabs, or even make copies of your spreadsheets to sell to competitors. Instead of facing any of these dire scenarios, it is best to play it safe and stop using spreadsheets altogether for handling aircraft maintenance.
5. Performance Issues
Not only is the chance of manual errors heightened as your spreadsheet increases in size, but there are issues relative to the overall performance of your document. Massive spreadsheets comprised of an enormous amount of data are commonly slow, unresponsive, and crash frequently. As your business grows and you continue to add more data to your spreadsheet, these performance issues will become compounded. The reality is that performance issues resulting from spreadsheet size won't go away when your business expands because these documents are not scalable solutions (they will only become increasingly difficult to manage).
When spreadsheet performance issues begin to plague a business, its team often responds by dissecting and re-saving this material as several smaller documents. While breaking up large spreadsheets into smaller ones may sound like a good idea to some, this approach only raises the prospect of inserting manual errors. If you are using multiple spreadsheets, you will have more documents to manage, which means you will spend more time trying to keep information accurate and up-to-date. Eventually, these spreadsheets will become more complex and may need to be broken down into smaller and more manageable spreadsheets once again.
4. Not an Automated System
A spreadsheet cannot be considered an automated system because your team is responsible for the development of it. They must complete manual processes and execute formulas to automate particular work steps. The entire system is not automated – it is only those processes that you have developed. While you can automate some processes within a spreadsheet using a series of formulas (called macros), these formulas are a far cry from a full-fledged automated system.
Automation, by definition, minimizes human intervention in processes. Although creating formulas in a spreadsheet is possible, the actual act of putting together this information is, in and of itself, a manual process (and a time-consuming one at that). You will be responsible for continually maintaining this document from a technical standpoint. This approach is costly, both in terms of the time your team will invest in developing these documents and providing technical support for them.
3. Tendency to Carry Over Errors
Commonly, businesses that manage aircraft maintenance in spreadsheets attempt to save time by copying their maintenance program for one aircraft and updating it with the information for another. This approach can continue until an entire fleet is added to a series of spreadsheets or within one spreadsheet using multiple tabs. Depending upon the size of the fleet, this could entail one massive document or many large independent documents.
Unfortunately, this method is proven to be flawed when you examine the scenario where your team discovers an error in a copy of the original spreadsheet. Let's say that this copy is the seventh copy of the initial document. Your team will be required to review every previous spreadsheet until you can no longer identify the error. This review process is often long and drawn out, specifically if the error stemmed from an earlier copy of the initial spreadsheet. As a result, determining the source of an error in your spreadsheet can be extremely time-consuming.
2. Tracking Parts and Maintaining Inventory Control is a Challenge
If you're using spreadsheets for overseeing maintenance and inventory, then you've likely encountered the scenario where you can't find a part. Often, the error is the direct result of a manual touchpoint or lack thereof. For instance, when adding inventory to your spreadsheet, your Stores Room clerk may have incorrectly entered the last two digits of a part number, or they may have missed them altogether. This oversight could lead to significant issues later on down the line, especially if new ADs or SBs for that particular part are released.
Additionally, if you have challenges tracking parts, you likely have issues maintaining inventory control since the two go part and parcel with one another. Adequately maintaining inventory control requires that you have sufficient stock levels on hand at all times. So, if you have difficulties keeping tabs on parts and performing full part traceability, it is also highly likely that you have challenges ensuring stock is at economic levels. Ask yourself this: at the end of the day, wouldn't you prefer your team handling hands-on aircraft maintenance as opposed to meticulously scanning a spreadsheet line-by-line in search of a missing part?
1. No Built-in Data Validation
Without built-in data validation, anyone can insert any information into your system, including incorrect data. Data validation acts as a safeguard to ensure that no one can circumvent the rules established within your system. It is also the mechanism that many software products utilize to protect your information so only those users with the required permissions can access information and complete actions. The reality is that spreadsheets do not have this validation, so you can never guarantee that your data is precise.
Consequently, if you are using spreadsheets to track and manage aircraft maintenance, a member of your staff can enter incorrect maintenance or inventory information into your document that could go unnoticed for years and have the potential to result in an AOG or multiple AOGs. Identifying this error (as was mentioned above in point #3) will often require that you spend significant time reviewing your data. If you cannot locate the source of this error, your business may have to reach out to a third party to detect the incorrect information in your spreadsheet, which can be costly.
Depending upon the severity of the situation, your business may have to refrain from using this document for managing maintenance altogether until you resolve all of your issues. These auditing processes could take anywhere from weeks to months to complete. As a result, your business will have to find alternative means to track your maintenance and inventory data. Once you have rectified your spreadsheet issues, you will have to add your data to this document retroactively; a process that could once again result in a manual error due to the lack of data validation. Ultimately, when data validation is missing, there is no guarantee that you are working with accurate and trustworthy information.
Trusted, Proven, and Effective Software that Checks All the Boxes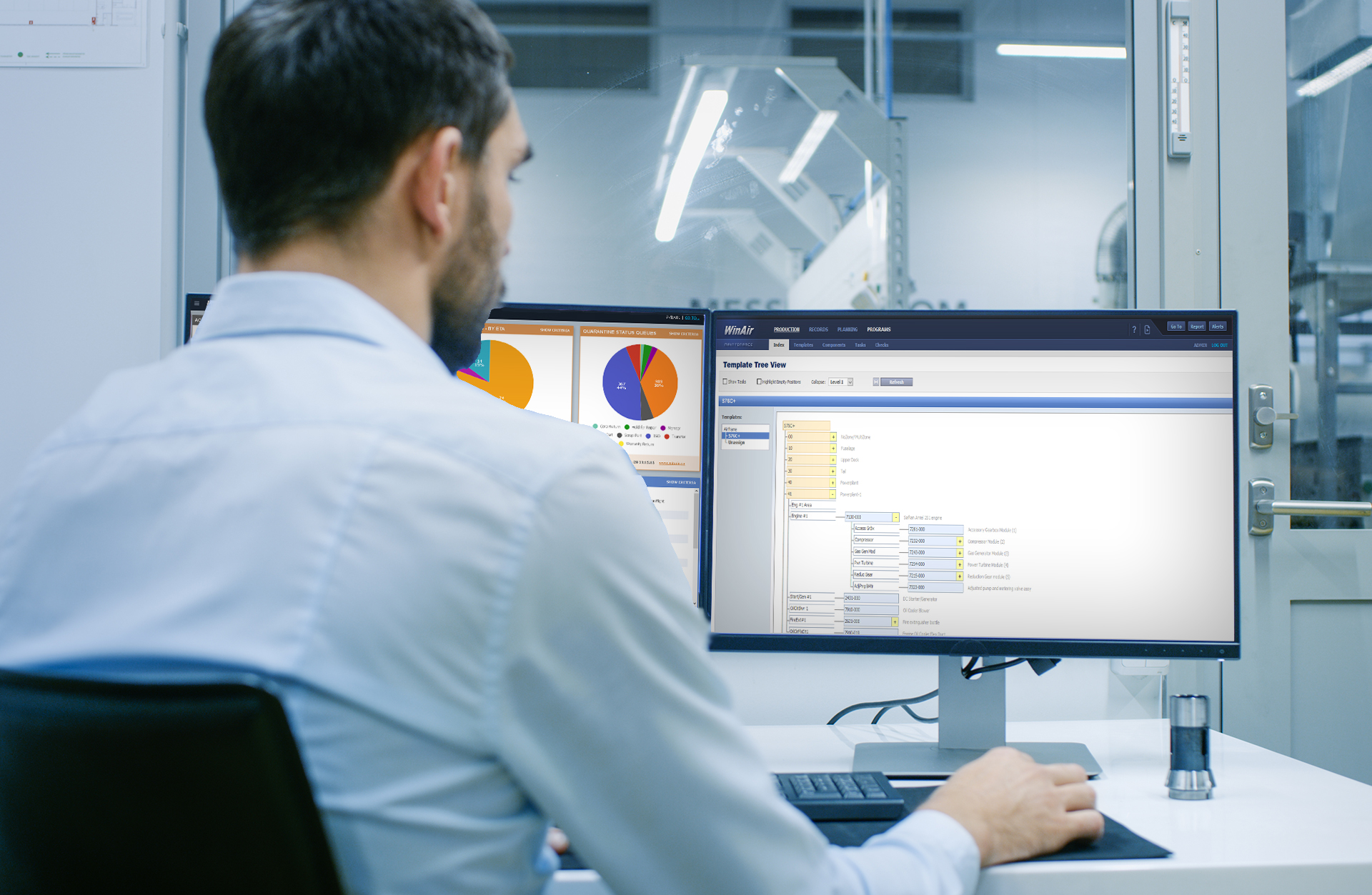 (WinAir Dashboards and an S-76 helicopter Template Tree View displayed within WinAir Version 7—Gorodenkoff/Shutterstock.com—modified—software image © WinAir)

If you are thinking about getting rid of your spreadsheets in favor of a trusted, proven, and effective solution, then look no further than WinAir Version 7. This web browser-based software streamlines, expedites, and automates processes, is secure and reliable, and can handle any number of concurrent sessions. Plus, with WinAir's Dashboards enhancement for WinAir Version 7, businesses have access to real-time visualizations of current maintenance, inventory, and financial data in WinAir to assist key personnel with making proactive decisions.
With WinAir Version 7, WinAir's industry-leading aviation management software, you will not encounter any of the pitfalls associated with spreadsheets because the software is powerful, comprehensive, and easy to use. Since WinAir has built-in software validation, you can always be sure that your data is accurate. As a result, you will not have to worry about issues relative to the carrying-over errors since the software won't allow you to add them in the first place.
With WinAir, tracking parts, updating information when regulatory authorities and manufacturers release new ADs and SBs, and maintaining and proving compliance is simple. And with WinAir's world-class support, you can rest easy knowing that there is always a team of skilled and knowledgeable aviation industry professionals that are ready to assist you in achieving operational success. That's why hundreds of Operators, Heliops, MROs, and CAMOs worldwide trust in WinAir every day—because they know that WinAir has the data validation, support, and over three decades of experience to rely upon to handle all of their maintenance and inventory needs.
Not only that, but the software is fully scalable, so no matter what, your business won't outgrow it, and you don't have to grow into it either. Instead, you can use the modules that work best for your requirements and then upgrade your software bundle as new items are required. This flexible approach to aviation maintenance management allows you to determine how your business will utilize the software.
Want to learn more about how you can improve business efficiencies and ensure data accuracy with WinAir? Contact us now!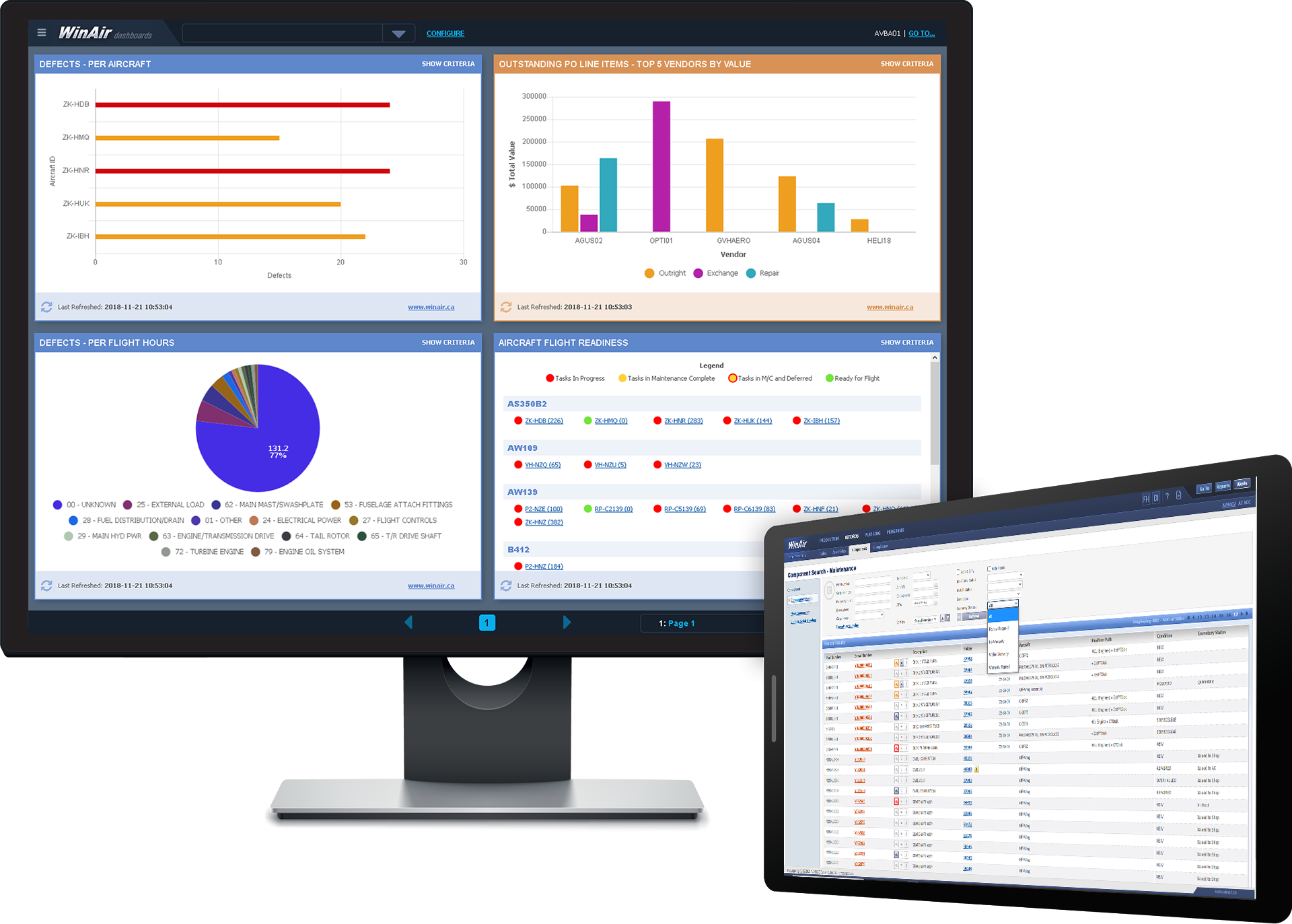 (Dashboards for WinAir Version 7 displayed on desktop and maintenance warranties information displayed on tablet © WinAir)
---
About WinAir:
Based in London, Ontario, Canada, WinAir has over 30 years of experience as a leader in aviation management software. Companies rely on WinAir to efficiently and effectively track and manage aircraft maintenance and inventory control. WinAir is proud to lay claim to hundreds of installations at aviation-specific organizations worldwide. From airlines to heli-ops, law enforcement agencies, oil industry suppliers, MROs, CAMOs, medical evacuation response teams and more, businesses using WinAir regard the solution as a necessary component to the successful management of their fleet maintenance programs.