Typically, aviation operators and MROs manage staff authorizations, qualifications, and personnel requirements as mutually exclusive activities that are not tracked relative to actual aircraft maintenance tasks. This approach is problematic since completing the latter is dependent upon having the former—but with WinAir's new Qualification and Training enhancement for WinAir Version 7, businesses can save time and ensure compliance by tracking staff credentials and aircraft maintenance together
This enhancement provides businesses with access to unique authorization profiles for each WinAir user—for ease of software navigation and to streamline and expedite processes, these authorization profiles can be directly accessed from a maintenance task in WinAir
(A business owner stands next to an aircraft in a maintenance hangar—Gorodenkoff/Shutterstock.com)
---
When you use different systems to manage aspects of your business that are contingent upon one another, you are bound to encounter issues related to data integrity. This has a lot to do with the fact that when two correlated items are handled independently, there is a significant chance for discrepancies in data. These discrepancies can be a result of manual processing errors, a lack of system notifications, or simply, two convergent systems that do not share data. This scenario is commonly the case when you consider how many businesses currently manage staff credentials relative to aircraft maintenance tasks.
Since completing maintenance tasks is dependent upon staff having particular credentials that directly correspond with the task at hand, aviation operators and MROs that are managing these items in tandem can ensure compliance with regulations and standards while simultaneously expediting processes. With WinAir's Qualification and Training enhancement for WinAir Version 7, the latest web-browser based edition of WinAir's industry-leading aviation management software, businesses can do all of this and more. Because credentials are built into this enhancement and directly tied to maintenance tasks in WinAir, staff using it cannot complete or sign off maintenance work where they are not permitted to do so.
As a result, business owners can rest easy, knowing that only those staff members with the appropriate and up-to-date credentials will have authorization within WinAir to complete particular maintenance tasks. The same, however, cannot be said for those aviation operators and MROs that are attempting to handle these items as disconnected entities. For those businesses that are managing these items independently, there is a real potential for compliance violations that could lead to AOG situations or even the loss of their maintenance approval.
Here are five operational advantages of tracking staff credentials and aircraft maintenance together in WinAir: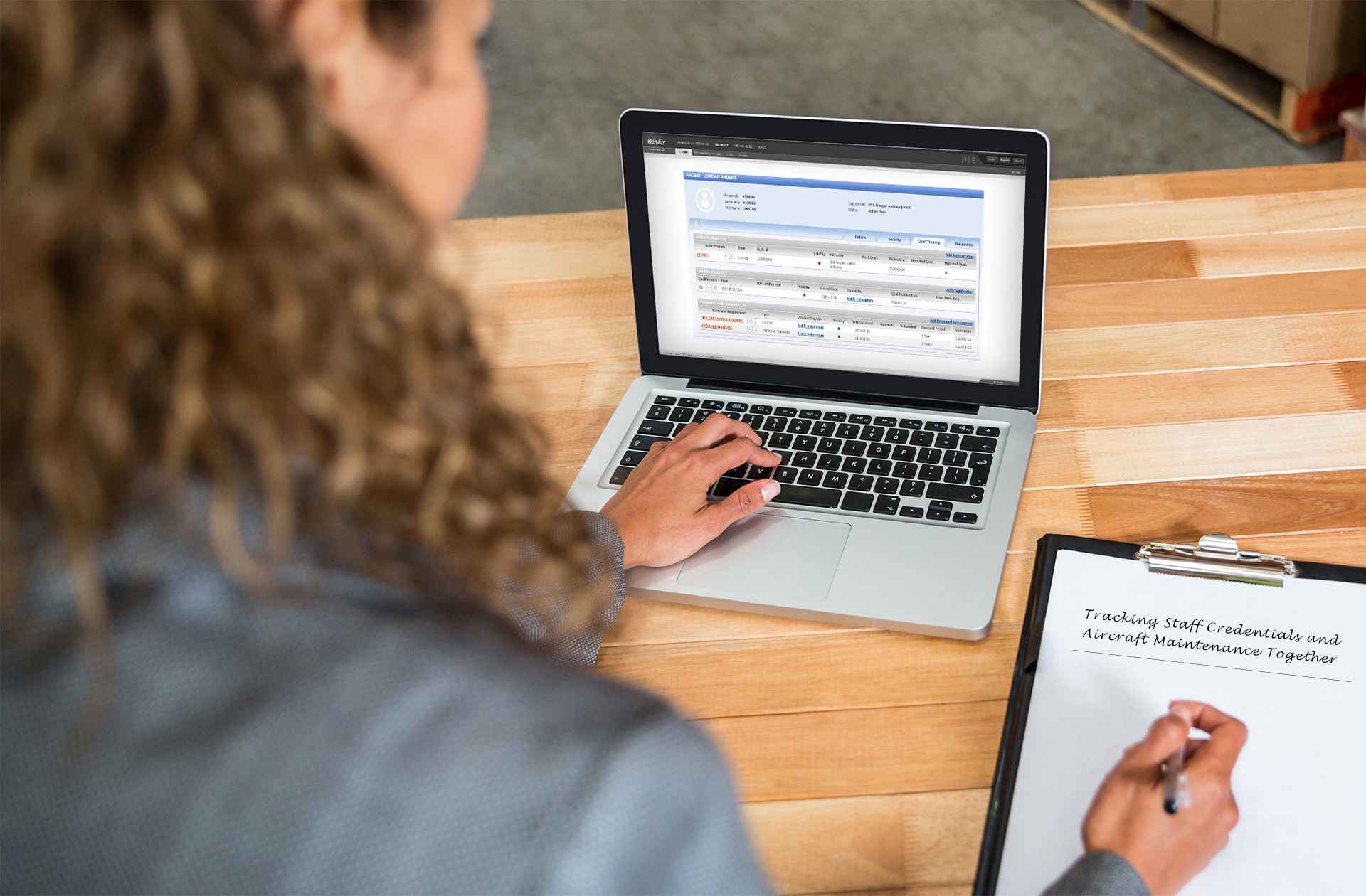 (An employee accesses WinAir's Qualification and Training enhancement from a laptop computer – © WinAir)

5. No Unauthorized Maintenance Task Completion

When you are tracking staff credentials in conjunction with maintenance activities, you will never encounter situations where maintenance work is being completed or certified by someone who lacks the requirements. WinAir Version 7 uses software enforced data validation to ensure that there is no unauthorized sign-off on, or completion of, maintenance tasks. What this means is that WinAir will not allow any users to circumvent permissions or rules established within the software. Users attempting to complete maintenance work or sign off maintenance tasks within WinAir Version 7 without the required credentials will receive a validation failed error message indicating the reason for the error and the user with which it is associated. As a result, business owners, DOMs, PRMs, and other vital stakeholders involved in aircraft maintenance can feel confident in their ability to maintain and prove compliance with the software.
They can also take comfort in knowing that if staff credentials have lapsed, then the software will block those users' attempts to complete these tasks. Consequently, because WinAir tracks the validity period for staff credentials in conjunction with maintenance activities and denies access when credentials are invalid, unauthorized maintenance task completion will never occur. When businesses use this Qualification and Training enhancement in conjunction with WinAir's Digital Signatures, there is an added level of security built into the system, as the release of aircraft cannot take place without the validation of all signatures within WinAir.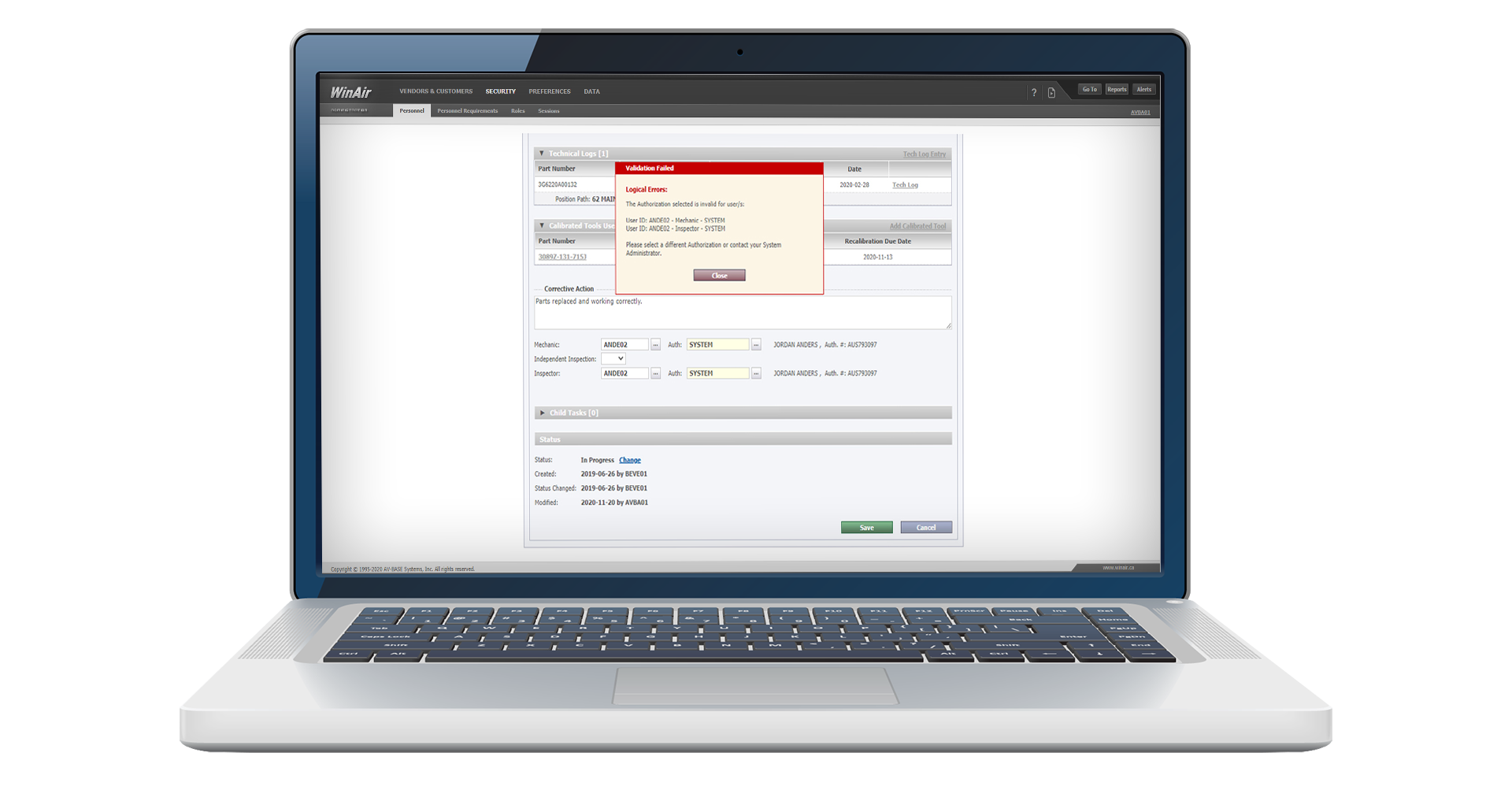 (WinAir's Qualification and Training Enhancement will not allow for the unauthorized sign-off on maintenance tasks – © WinAir)

4. Ability to Align Credentials with Your Procedure Manual Requirements

No two aviation operators or MROs are identical. So they shouldn't be forced to manage staff credentials using the same conventional setup. Instead, they should have the power and flexibility to customize staff credentials so that they align with the information in their procedure manual.
At WinAir, we recognize this fact, which is why we provide businesses using our new Qualification and Training enhancement with the ability to tailor these items to meet their unique needs. Aviation operators and MROs using this enhancement can build complex or simplistic requirement structures based upon the information that is housed within their procedure manual. They can also define each authorization, qualification, and personnel requirement within the software so that it directly corresponds with their internal documentation and processes.
3. Notifications when Credentials are Due for Renewal

When you don't know the validation period for credentials, then it is likely that they will expire without you even realizing. With WinAir's new Qualification and Training enhancement, users will rarely experience scenarios where they cannot complete maintenance work due to lapsed credentials since the system tracks these items and alerts staff when they are due for renewal. By keeping all appropriate parties informed of the status of these credentials, along with their renewal period, aviation operators and MROs can always be sure that staff authorizations, qualifications, and personnel requirements are maintained and valid.
Plus, since staff and management do not have to access external systems to obtain information on credentials, they save valuable time that they can redirect towards the completion of maintenance activities. This process streamlines and expedites work steps, as users, and their management, have instant access to their authorization profiles from within a maintenance task. These authorization profiles detail each user's credentials, along with the corresponding renewal time frames. As a result, users spend little time searching for information on whether staff certifications are valid because all of this information is at their fingertips.
2. Better Maintenance Planning and Forecasting

When you know which staff have the required credentials to complete upcoming scheduled maintenance, then you are in a position to make better and more sound decisions in terms of project management and labour assignments. When you have these credentials linked with the associated maintenance tasks within the same software, it makes maintenance planning and forecasting that much easier.
With WinAir's Qualification and Training enhancement, DOMs, PRMs, Maintenance Planners, and those in similar roles, can quickly determine which staff meet the maintenance, health and safety, and other project-specific requirements from within a particular maintenance task. They can also access each staff member's supporting documentation to view the details for each credential. This ability to quickly and accurately identify staff that meet specific project prerequisites is a tremendous benefit for any aviation operation or MRO, specifically when there are multiple overlapping requirements for a maintenance project.
For instance, if your business operates in multiple countries, you may often encounter scenarios where maintenance projects have visa, passport, and vaccination requirements, in addition to maintenance-specific requirements (For example, a stipulation that staff must have a valid certification to perform independent inspections). Knowing which staff meet all of these project prerequisites is time-consuming if this information is located in two or more systems. But when this data is located within one system, the information that you require is available in an instant.
By merging staff credentials with maintenance tasks, maintenance planning becomes simpler. Users in maintenance planning roles can promptly identify staff that meet project prerequisites and then plan the work accordingly. When new maintenance projects are secured, staff responsible for maintenance planning are well aware of their current labour assignments, which leads to improved maintenance forecasting. Consequently, accurately forecasting future maintenance work with WinAir's new Qualification and Training enhancement based upon staff credentials and staff availability can be handled with ease.
1. Ensure Compliance and Safeguard Against AOGs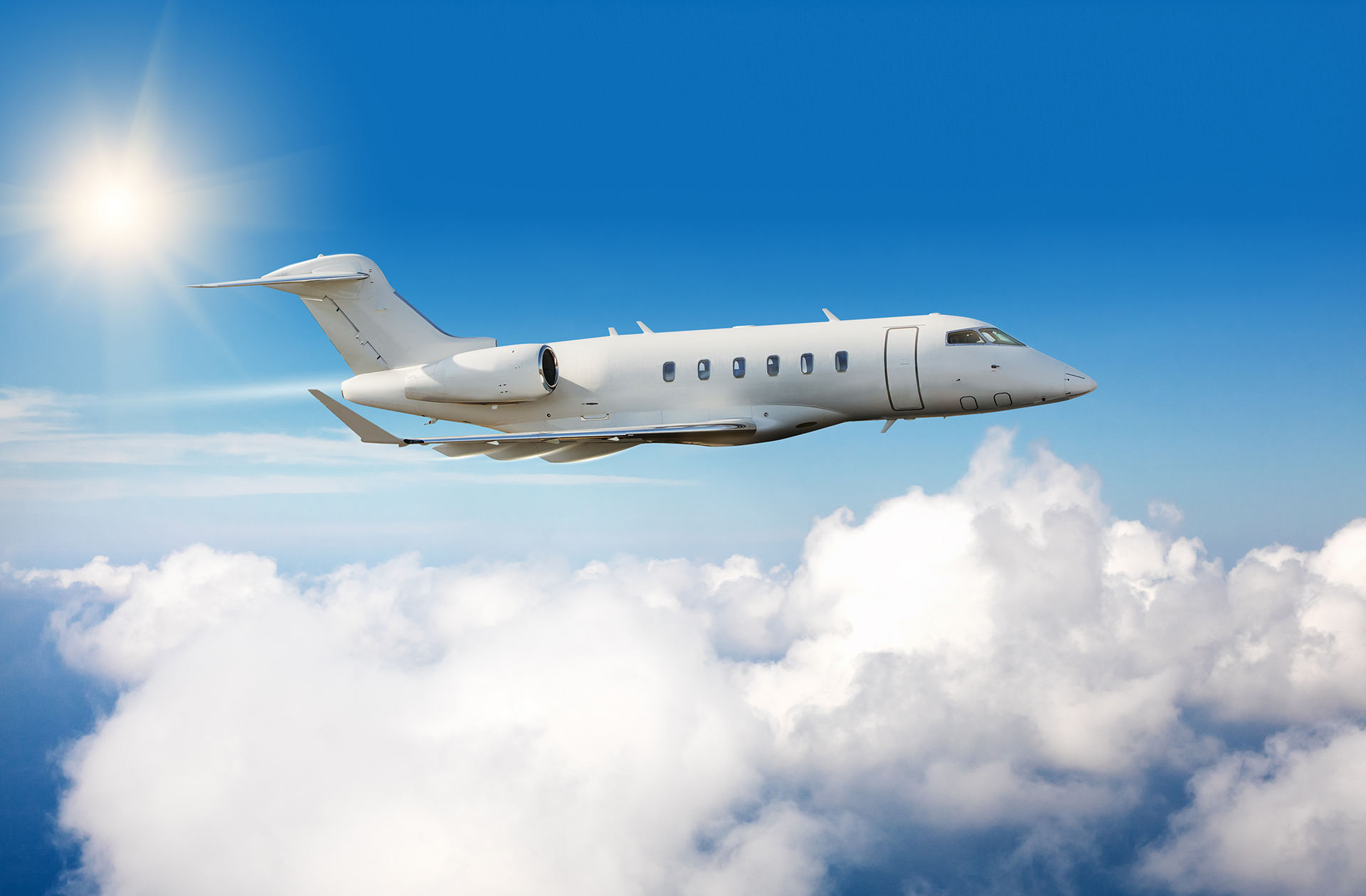 (A business jet in mid-flight—Jag_cz/Shutterstock.com)
If you are not managing authorizations, qualifications, and personnel requirements in conjunction with maintenance tasks, then there is always the potential for human error. When you manage processes for transferring information manually, then this problem is compounded, which can lead to a variety of issues and potential compliance infractions. Depending upon the severity of the violation, businesses could face aircraft groundings, fines, or even the forced closing of their aviation operation or MRO.
Rather than risk managing two correlated items independently, the safest approach is to handle them together. Because the authorized completion of maintenance tasks is dependent upon staff meeting the required credentials, having all of this information located within the same system is a significant gain to any business. With WinAir's Qualification and Training enhancement, you are always able to identify which staff fulfills the project prerequisites because all of this information is readily available.
Plus, you will not run into scenarios where your staff is completing maintenance tasks when they are not permitted to do so because the system will deny these types of requests. Since every maintenance task signed in WinAir requires the signature of an authorized person, there is added quality control already established within the software. This additional layer of security makes auditing after the fact easier, especially since all of the information that you need is located in one system.
So when an auditor says, "prove to me that this person had the correct authorization to certify this task," you can quickly access this information in WinAir and show them the corresponding authorization. These built-in software security measures ensure compliance on each maintenance task, which leads to successful job completion, safeguards against AOGs and provides aviation operators and MROs with the peace of mind that you can prove compliance at any given time.
Save Time and Ensure Compliance by Managing Staff Credentials and Aircraft Maintenance Together in WinAir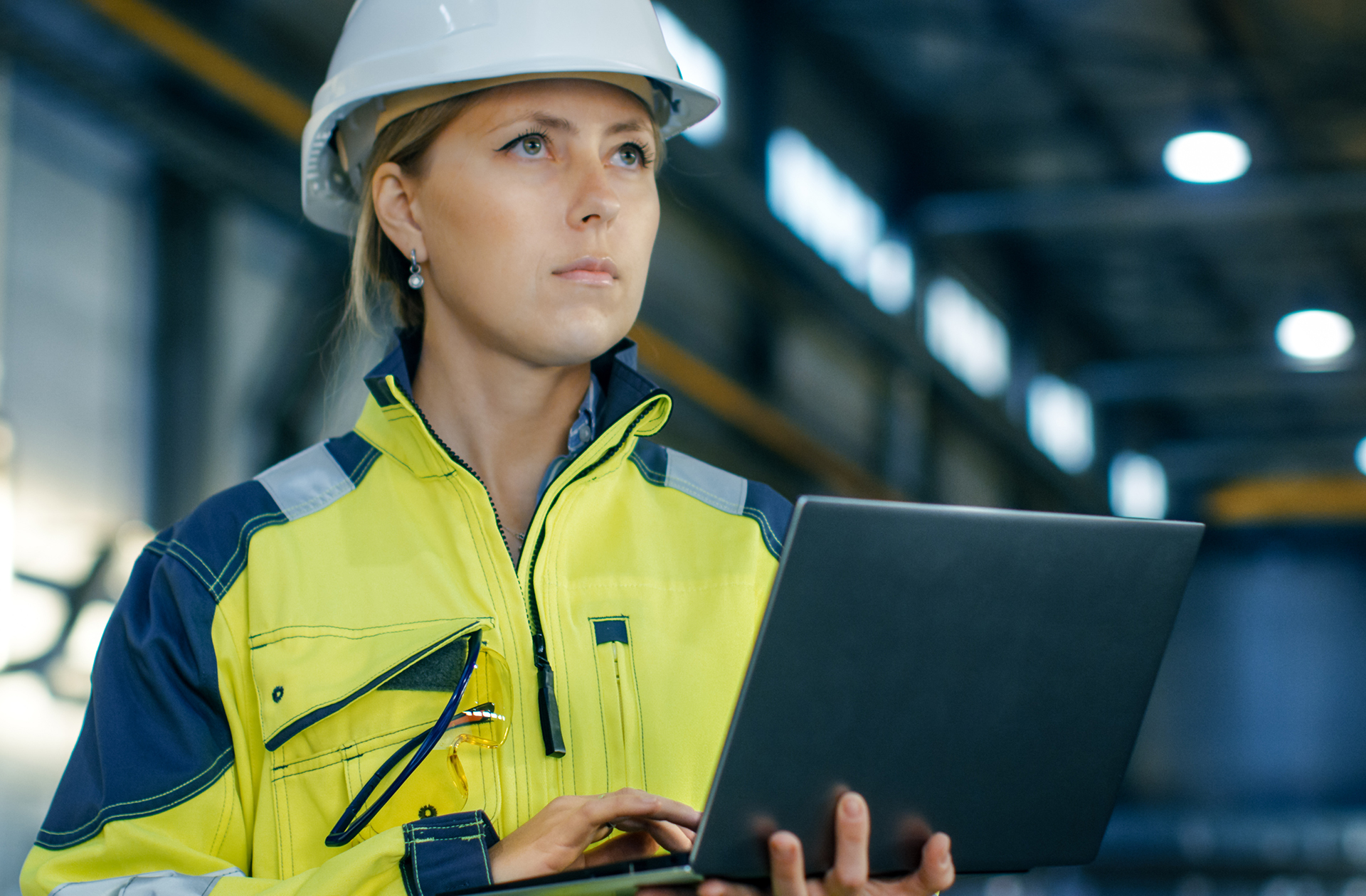 (An employee accesses WinAir from a laptop in an aircraft maintenance hangar—Gorodenkoff/Shutterstock.com)

With over 30 years of experience in the aviation maintenance industry, you can trust in WinAir to assist you with improving how you manage your aircraft fleet maintenance program. When you are tracking staff credentials and aircraft maintenance together in WinAir, your data is accurate and in sync, and your processes are streamlined and automated. These benefits will culminate in remarkable time-savings for your business and will assist your team in ensuring compliance.
WinAir Version 7 comes fully equipped with all the features and functionalities that businesses require to improve operational efficiencies. Since each facet of the aviation industry is unique, WinAir is available in an Operator Package, Heliops Package, MRO Package, and a CAMO Package. We also offer All-Inclusive, Inventory Only, and Part Sales Packages. Companies that are aiming to accelerate the software implementation timeline can take advantage of our full turnkey solutions. Our Aircraft Services team can handle the inventory data import, data migration, system configuration, and a variety of other activities so that you can go live with the software in an expedited manner.

Are you interested in learning more about WinAir and our new Qualification and Training enhancement? Contact us now to book a demo!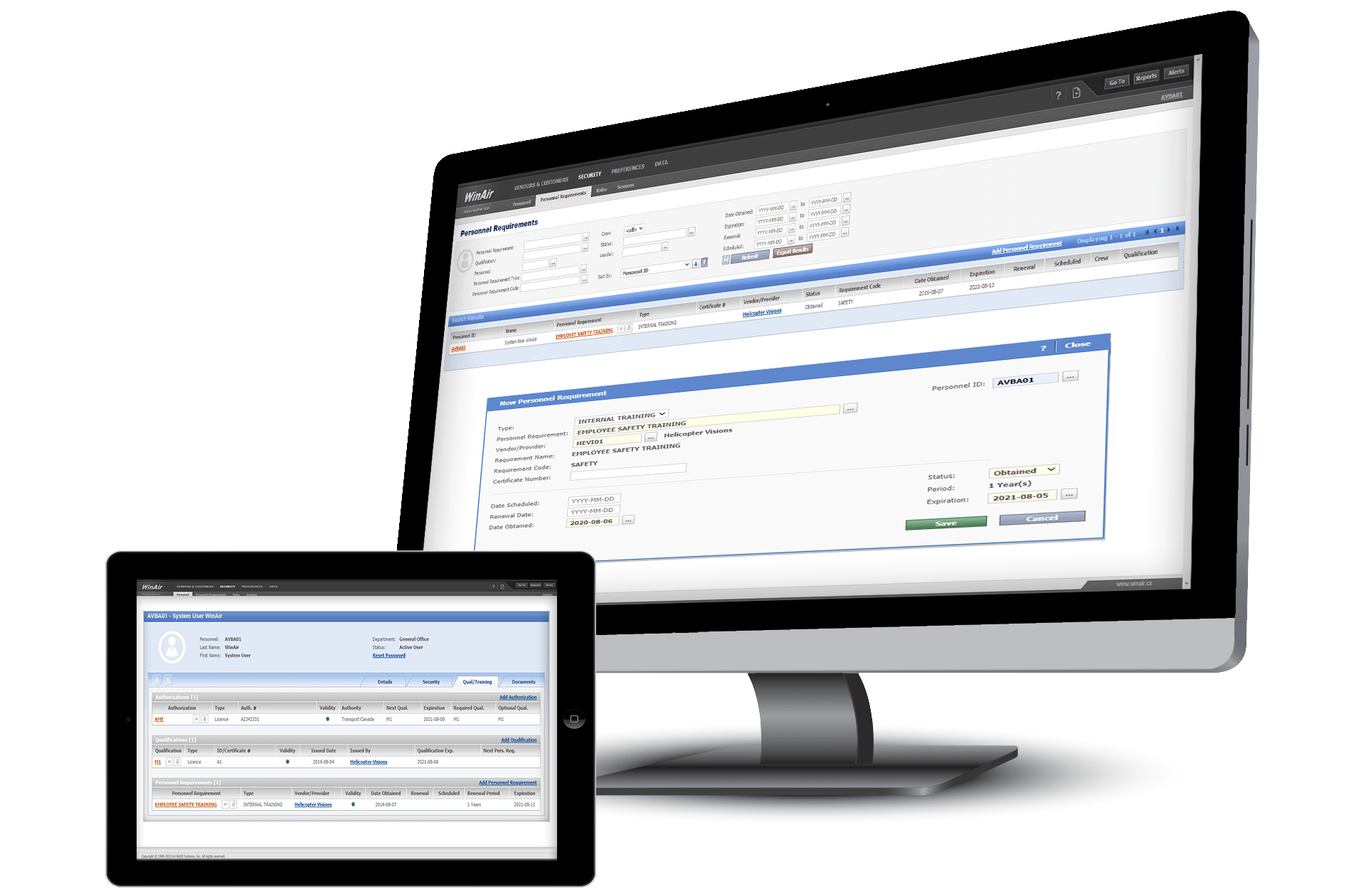 (WinAir's Qualification and Training Enhancement for WinAir Version 7 displayed on a tablet and a desktop computer – © WinAir)
---
About WinAir:
Based in London, Ontario, Canada, WinAir has over 30 years of experience as a leader in aviation management software. Companies rely on WinAir to efficiently and effectively track and manage aircraft maintenance and inventory control. WinAir is proud to lay claim to hundreds of installations at aviation-specific organizations worldwide. From airlines to heli-ops, law enforcement agencies, oil industry suppliers, MROs, CAMOs, medical evacuation response teams and more, businesses using WinAir regard the solution as a necessary component to the successful management of their fleet maintenance programs.