Making the switch from outdated aviation management software to a more robust solution can play a profound role in improving operational efficiencies at your business—the fundamental challenge is knowing when it is time to abandon the old product
This article outlines seven common red flag scenarios that will help you identify that your legacy software is not meeting your needs and that the time for change is now
(An employee struggles with outdated aviation management software that is heavy on paper and manual processes—Mr. Whiskey/Shutterstock.com)
---
If you constantly grapple with aviation management software and can't recall the last time you have received a system update, you are likely using an outdated product. If you reach this realization, then it is time to start thinking about making the switch from your inferior software to a more modern, robust, and cutting-edge solution. Yet, quite often, businesses that experience ongoing software challenges commonly overlook the red flags associated with their software because they have learned to endure these issues for so long, or they have become accustomed to applying many temporary fixes.
To help you identify that the product you are utilizing for tracking and managing aircraft maintenance and maintaining inventory control is inefficient and draining on your resources, we have compiled a list of seven common red flag scenarios. If any of these scenarios resonate with your particular situation, then it is time to migrate to a better solution.
Here are seven red flag scenarios that signify that it is time to discard your current aircraft maintenance software: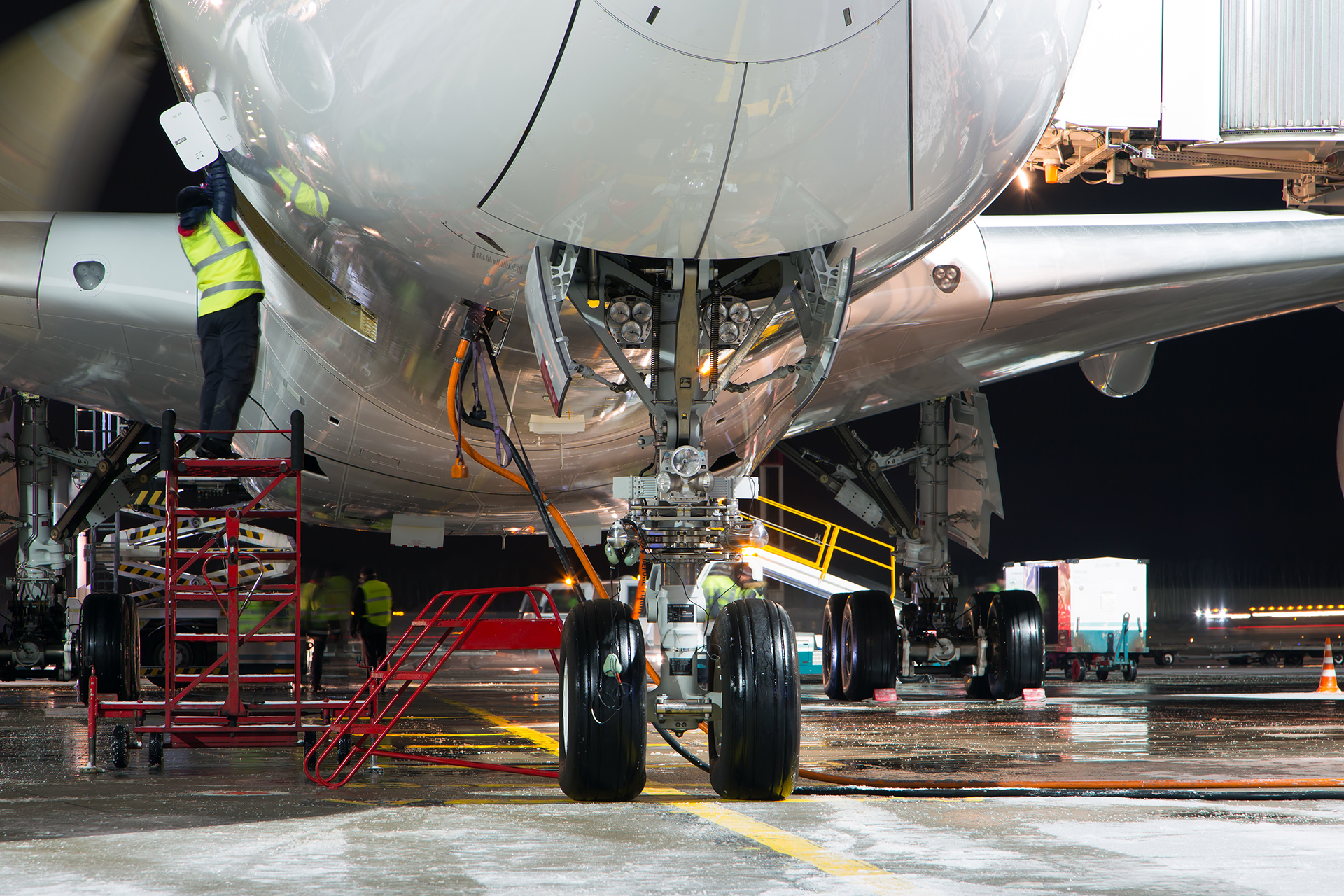 (Staff perform maintenance on an aircraft—Skycolors/Shutterstock.com)

7. You are Unable to Restrict Permissions or Define User Roles
If you can't restrict permissions or define user roles within your software, then any staff member can enter incorrect data into your system. This lack of control can be disastrous for your business, as it can result in compliance infractions, the grounding of an aircraft, or even worse. Without the ability to restrict permissions or set up user roles within your software, your system is akin to the wild west; it is lawless, chaotic, and potentially dangerous.
Not only that, but when all users have full access to your system, they are also privy to any sensitive client or company data. If only specific staff are to have access to sensitive data within your system, then without predefined permissions and established user roles, protecting this information at all times is extraordinarily difficult. If an unauthorized staff member has reviewed this information, then you may be in breach of your contract, which could lead to you losing this client and facing legal ramifications.
However, with WinAir Version 7, WinAir's industry-leading aviation management software, businesses can restrict permissions and define user roles for all staff using the solution. This ability to set individual user controls, regulate access to material, and establish the parameters for navigating the system ensures that only those staff that are permitted to access material and complete specific actions can do so on their own accord. To safeguard against unwanted intrusions into restricted program areas or the circumvention of pre-established software rules, WinAir utilizes software-enforced validation. So, no matter how hard they try, users cannot complete actions when and where they are not permitted.

6. Software is not Web Browser-based
Web browser-based aviation management software is no longer regarded as a nice to have item. In this day and age, it is the industry standard. When you consider the COVID-19 pandemic, having browser-based software in place offers the ability to manage aircraft maintenance activities from a remote environment, which is vital to successfully adapting and moving forward. At the end of the day, if your business operates without an online system, you can't handle maintenance planning and forecasting from outside your local network, so you will continue to struggle with inefficiencies.
Plus, when you factor in some of the many new scenarios that have come to the fore since the onset of the pandemic, from lockdowns to mandatory quarantine periods, online aviation management software like WinAir Version 7 is now essential for survival. Without online functionality, your business will suffer from an inability to complete maintenance work on schedule or encounter AOGs.
Ask yourself this: what would you do if your Director of Maintenance (DOM), Maintenance Manager, or Person Responsible for Maintenance was required to quarantine for seven or even 14 days? With web browser-based software, they could continue to fulfill their maintenance duties but from their remote workspace, thereby keeping all staff safe and healthy and allowing for business as usual.
5. It Takes Too Many Clicks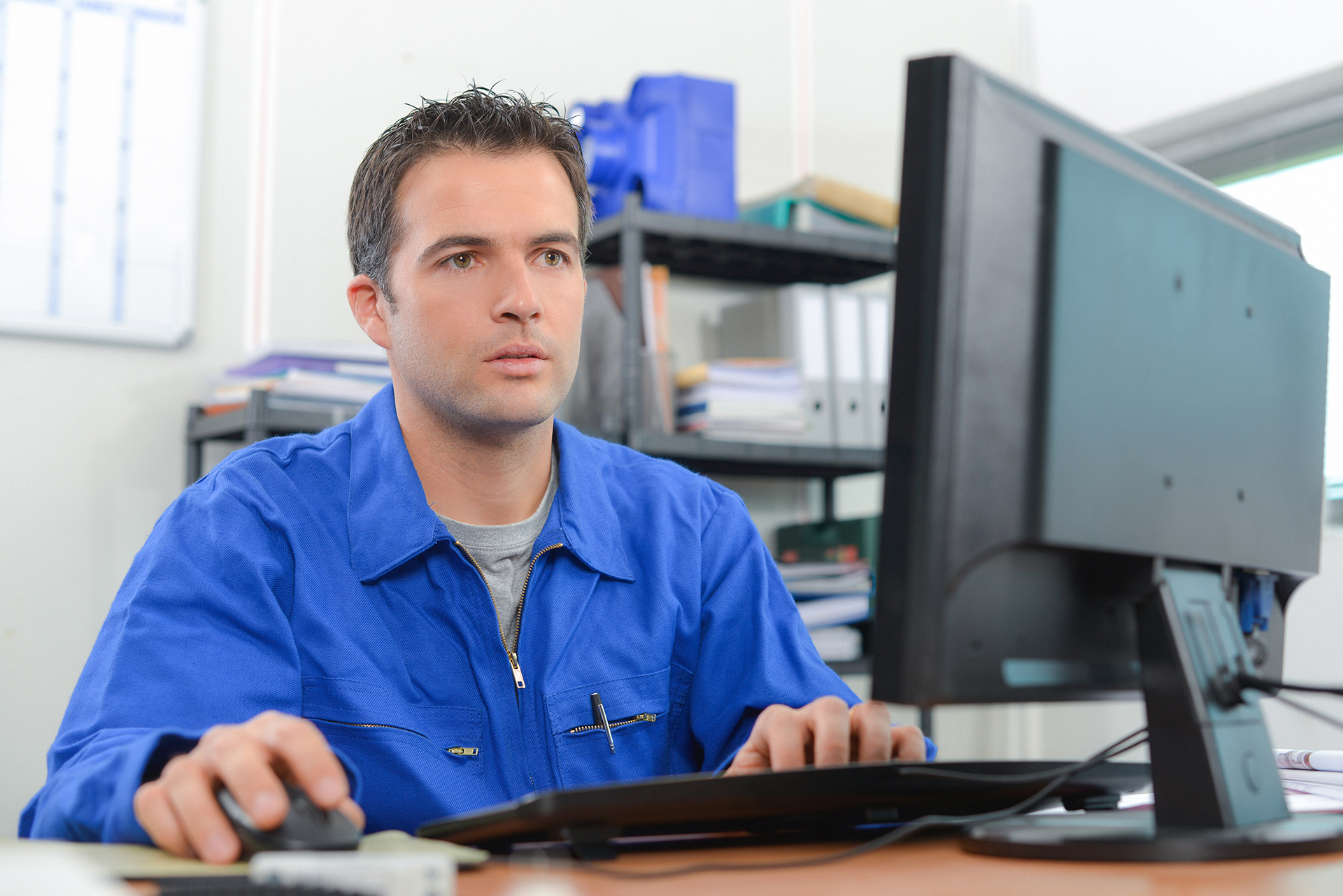 (Outdated aviation management software characterized by "too many clicks" often leads to longer times at workstations—Phovoir/Shutterstock.com)

When it takes too many clicks or an excessive number of work steps to complete routine aircraft maintenance tasks, your operational performance is severely affected, or it may even grind to a halt. A key indicator that this is happening at your business is when you notice that your aircraft maintenance technicians spend more time at workstations and less time performing aircraft maintenance. In actuality, your software should save these Technicians valuable time by automating conventional tasks whenever possible.
WinAir Version 7 can do all of this and more. With WinAir's recently enhanced task triggers feature, businesses can overcome these challenges associated with too many clicks. By automating the creation and assignment of predefined tasks based upon system input, regular maintenance processes are streamlined and expedited, and staff saves significant time. To elucidate this point, consider how often a torque check is required when installing a new component. By establishing a task trigger to manage this routine task, businesses no longer have to configure this information in their software each time a follow-up task is required. Instead, the required maintenance task is instantly triggered once the corresponding maintenance information is input into the system.
4. Only One Person Knows the System (and they are Retiring)
If only one person at your company knows how to use your outdated software, and they are about to retire, then it is time to think about making the switch to a better product. Often, businesses using legacy software have a product expert on staff that acts as the gatekeeper to their data—without them, they are at a loss. This person is generally aware of this power dynamic, which is why they have been reluctant to migrate to another solution or why they have not imparted their particular product knowledge to other staff.
With up-to-date and innovative aviation management software, the situation is quite the opposite, as software providers are keen on ensuring that all staff utilizing its software are well-trained and have access to learning content and other support mechanisms. As a result, it is common for software providers to offer on-site and online training delivered to a software Champion or group of software Champions using a "train-the-trainer'' software learning approach. It is also typical for these software providers to offer learning platforms and other opportunities to expand product knowledge. At WinAir, this is exactly how we manage our software onboarding process and ongoing user learning.
We work with your team to create a training and implementation plan tailored to your business processes and procedures. We also provide your team with access to online training videos, learning exercises, and downloadable documentation. If additional support is required, we offer telephone and email support and provide users with access to an online ticketing system. Along with that, we pair each client up with a WinAir Client Advocate, who works diligently to ensure your success with the software.
3. Difficult to Track Parts and Part Traceability is a Nightmare
If you find that it is difficult to accurately track parts with your aviation management software and part traceability is considered to be an arduous, and sometimes, next to impossible task, then chances are you are working with an outdated product. If this is the case at your business, then you are most likely unable to properly and routinely maintain inventory control. Thus, if your company had an incident wherein your aviation authority requested information related to parts, their history, and so on, your team would find it extremely challenging to prove compliance.
With WinAir Version 7, it is easy to track the extensive history for any part or component. Since WinAir requires that a valid purchase order and vendor information are attached to all items added to inventory, users can easily manage part traceability. When adding rotables to the system, users must enter the serial number of each part along with its condition. In terms of calibrated tools, they must include a re-calibration date. For consumables, they need to append a vendor batch number. By following these established software best practices, businesses using WinAir can consistently prove compliance.
Consequently, when regulatory authorities release new ADs or SBs relative to particular parts or components on your aircraft, if you are managing aircraft maintenance in WinAir, then you know that you have access to the complete history on that item. This assurance that comprehensive and accurate information is always readily available provides business owners using WinAir with the peace of mind that they can effectively respond to any challenges that may lie ahead. Additionally, WinAir users have access to an audit trail for every part and component, along with access to a variety of built-in reports, including a Component Report, Part Number Report, and Purchase History Report.
2. Data is Consistently Inaccurate and Untrustworthy
When system data is consistently inaccurate, then the system is untrustworthy. If you are utilizing a product that is not providing you with precise information, then every item in your system will require manual cross-referencing. This process is not only inefficient, but it is time-consuming. In this day and age, software that purports to automate processes should also ensure accurate data and factual reporting. Otherwise, you are merely using software to guide you through your manual processes, which is about as efficient as using paper and a pencil. After all, process automation should safeguard against data inaccuracies without the need for manual oversight.
Aside from the time-related costs, managing aircraft maintenance in an outdated system that frequently produces incorrect information can lead to many dire consequences, such as a compliance infraction, the loss of your AOC, or even worse. Rather than taking the chances of coming face-to-face with any of these scenarios, when data irregularities are commonplace within your maintenance software, it is safe to conclude that continuing to use this product will be an ongoing compliance issue. If this red flag is waving at your business, then it is time to respond swiftly and appropriately by ditching your current software and investigating alternative solutions.
With WinAir Version 7, automating processes and ensuring data authenticity happen simultaneously. Since WinAir uses software-enforced data validation, users cannot bypass any rules established in the system, so you can be certain that you are working with correct information. That's why hundreds of businesses from a variety of industry subsets worldwide trust in WinAir. Because they know that the software has a proven track record for providing businesses with accurate and trustworthy information, every time. To further improve overall system visibility, users can configure unique home pages to display specific real-time maintenance, inventory, and financial data using WinAir's Dashboards enhancement. This enhancement provides businesses with the ability to set up as many Dashboards and corresponding gadgets as they require to offer at-a-glance awareness of current performance and to assist key personnel with making proactive decisions.
1. Product is No Longer Supported or Technical Assistance is Virtually Non-existent
If there is one red flag that is the mother of all red flags, then it is this one. If your aviation maintenance software is no longer supported, improvements to your current product are impossible. In this scenario, your team is left on its own to manage your software. When problems arise, it is up to them to solve them, and if they cannot do so on their own accord, then your team must endure work-around after work-around. Not only can this process get messy and lead to compliance issues, but it is time-consuming, and therefore costly.
If your business faces this predicament, then today is the day to make plans to switch your software. Ultimately, when a software provider pulls the plug on a product that they created, they are essentially letting the world know that they no longer consider it to be a viable solution for this day and age. If they don't see value in the product, then why should you?
If your software provider has made it difficult to obtain technical assistance and has yet to discontinue your outdated software, it is plausible to assume your situation will not improve. At this stage, it is also highly likely that you haven't received a product update in years. The reality of this situation is that when technical assistance becomes virtually non-existent, then your software provider has essentially taken the initial step towards terminating support for its product altogether.
In the grand scheme of things, why would you continue to wait for your software provider to get their act together when you can transition to an industry-leading product that already has all your bases covered? With WinAir Version 7, your business is always well-supported, whether it is by our Technical Support team, our Aircraft Services team, or through your company's dedicated Client Advocate. Business Owners will also take comfort in the fact that our software is the longest-standing, most frequently updated, and continually supported aviation management software focused on maintaining compliance.
An Aviation Management Software Leader Since 1988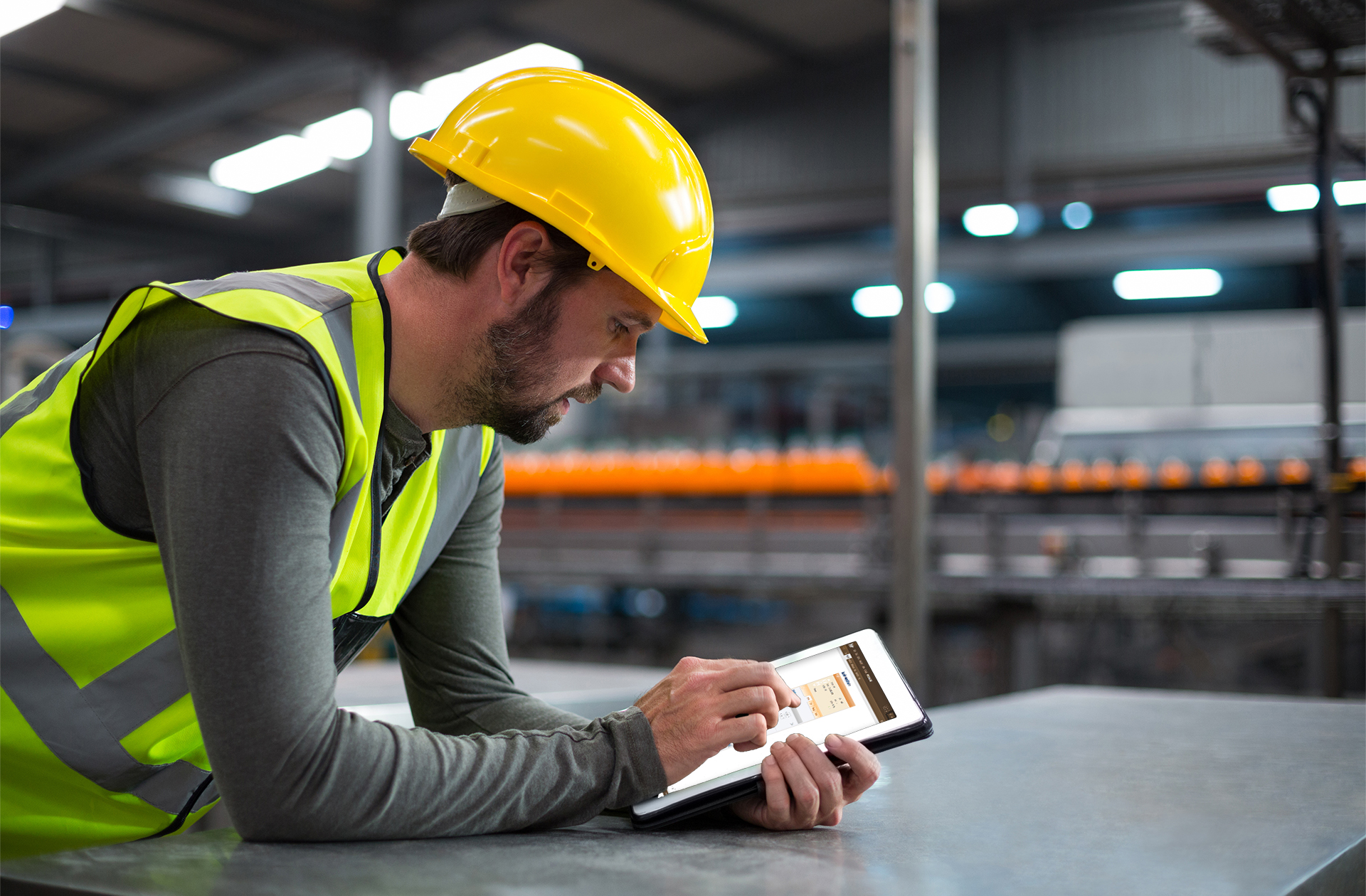 (An AME accesses WinAir Version 7 from a tablet at an aircraft maintenance hangar—lightwavemedia/Shutterstock.com—modified—software image © WinAir)

At WinAir, you can trust in our over 30 years of experience in the aviation maintenance industry to ensure that your fleet is always mission-ready. Businesses worldwide that have switched from their outdated aviation management software to WinAir Version 7 have benefitted from a smooth and seamless transition to the product. Since WinAir's software incorporates a hangar floor-up approach to aviation maintenance management that aligns with actual aviation maintenance work steps, it is easy for staff to learn and understand the software's processes and procedures and apply their knowledge. As a result, completing a WinAir Version 7 software implementation is simple, and taking charge of the product comes naturally for aviation maintenance professionals.
If any of the red flags discussed above resonate with your particular situation, it is safe to say that you are using outdated aviation management software. If you can recognize this fact, your next course of action should be to stop toiling with an inefficient product and move to an efficient solution like WinAir Version 7. In the end, the benefits of making the switch to a superior product will far outweigh the burdens of staying the course with your current software.
WinAir Version 7 is available in Operator, Heliops, MRO, CAMO, All-Inclusive, and Custom packages. The company also offers full-turnkey solutions. To further assist and expedite the transition to WinAir, businesses can lean on our expertise by utilizing our available services.
Are you interested in making the switch to WinAir? Contact us today to learn more!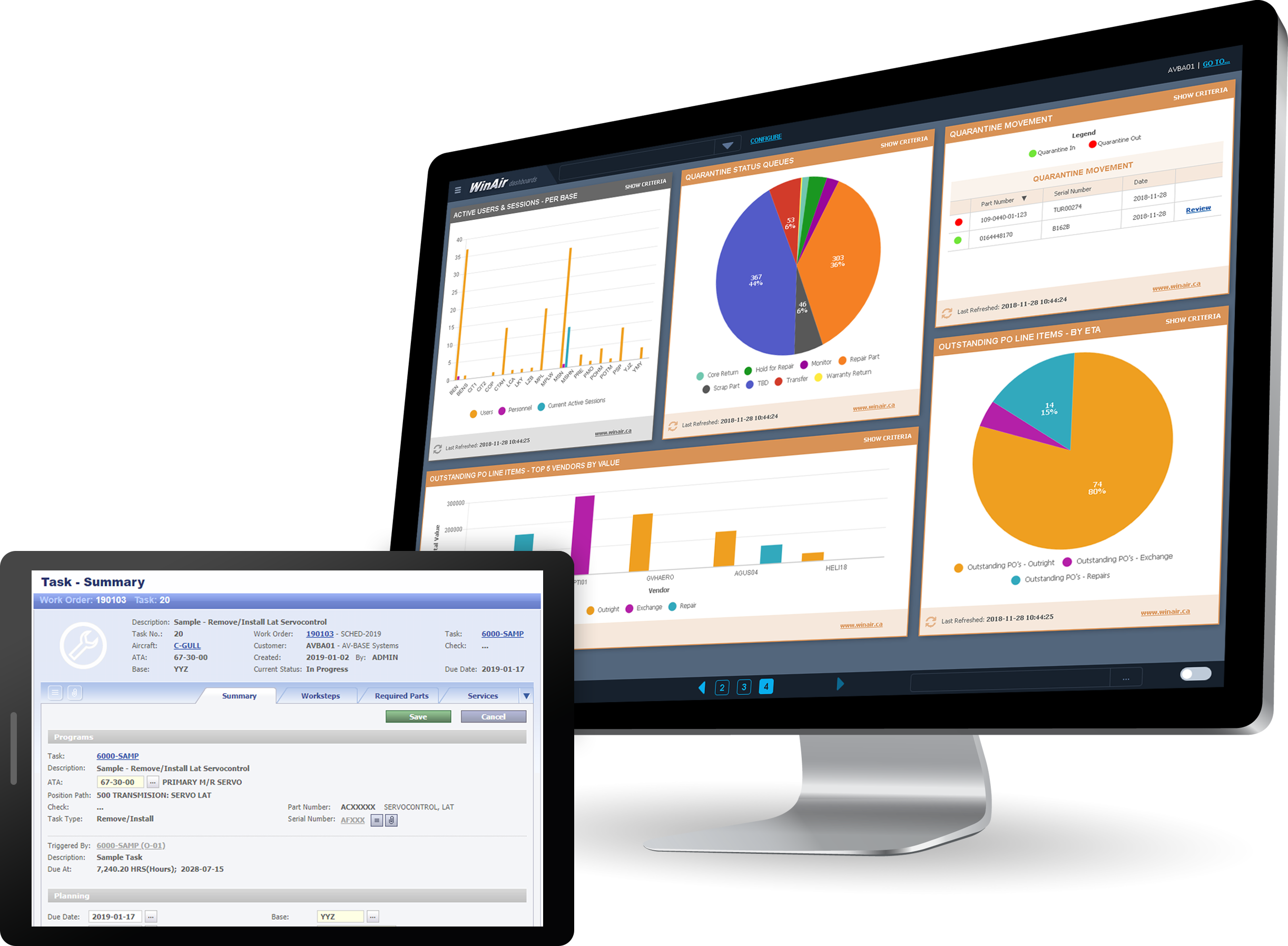 (A WinAir Task card summary displayed on tablet and Dashboards for WinAir Version 7 displayed on desktop computer © WinAir)
---
About WinAir:
Based in London, Ontario, Canada, WinAir has over 30 years of experience as a leader in aviation management software. Companies rely on WinAir to efficiently and effectively track and manage aircraft maintenance and inventory control. WinAir is proud to lay claim to hundreds of installations at aviation-specific organizations worldwide. From airlines to heli-ops, law enforcement agencies, oil industry suppliers, MROs, CAMOs, medical evacuation response teams and more, businesses using WinAir regard the solution as a necessary component to the successful management of their fleet maintenance programs.