Ensure maintenance compliance with WinAir at HAI Heli-Expo 2022—industry-leader in aviation management software for helicopter operations will be available at exhibit hall Booth #3606 to explain how businesses can track and manage their fleet maintenance programs, harmonize departments, and prove compliance with ease using WinAir
The company looks forward to reconnecting with aviation professionals, establishing new working relationships, and demonstrating the latest cutting-edge features and functionalities in its Heliops Package for WinAir Version 7
(HAI Heli-Expo 2022 promotional Image displaying WinAir Dashboards on a desktop and a template tree view on a tablet © WinAir)
---
London, ON, Canada/Dallas, TX, USA – November 15th, 2021 – WinAir is thrilled to announce that the company will be returning to the Kay Bailey Hutchison Convention Center in Dallas, Texas, USA, for the Helicopter Association International's HAI Heli-Expo 2022. From March 8th to 10th, WinAir team members will be at booth #3606 to demonstrate how helicopter operators can ensure compliance and be mission-ready with WinAir Version 7, the latest and fully web browser-based edition of its aviation management software. They will also be on-hand to explain the benefits of implementing WinAir's Heliops Package, specifically geared towards the needs of rotary-wing operations, and to discuss the company's available services, which streamline and expedite the transition to the software.
From providing an easier way for managing complex counters to improving processes by using a template approach to aviation maintenance management, going paperless with Digital Signatures and beyond, with WinAir, you've got all of your bases covered. Plus, with WinAir's data-enforced software validation, you can always be sure that you are dealing with accurate and trustworthy data. That's why WinAir Version 7 is the top choice for helicopter operators focused on maintaining compliance while simultaneously harmonizing their various departments in a centralized digital hub. It's because WinAir knows what helicopter operations require to continually be in a position where their aircraft are airworthy and fully prepared for the next mission.
"We're looking forward to meeting with our clients and familiar faces and forging new business relationships with helicopter operators from around the globe at HAI Heli-Expo 2022," says WinAir Managing Director Kyle Vergeer. "Our Heliops Package for WinAir Version 7 has played a leading role in assisting rotary-wing operations with boosting business efficiencies across all departments. For these businesses, the software is an essential tool that provides them with the ability to maintain their commitment to their clients by facilitating maintenance duties from a remote environment, particularly if they had to quarantine due to COVID-19."
To assist businesses in accelerating their move to WinAir Version 7 and save them time so that they can focus on their daily business activities, WinAir offers a variety of services. These services include Process Consultation, Project Management, Data Migration, Training, Aircraft Template Building, Hosting, and Integrations (with Flight Ops software and Accounting systems). Additionally, if businesses are keen on boosting their implementation timeline, WinAir also offers full turnkey solutions.
Are you attending HAI Heli-Expo 2022? Contact us now to book your VIP meeting with the WinAir team at Booth #3606!
---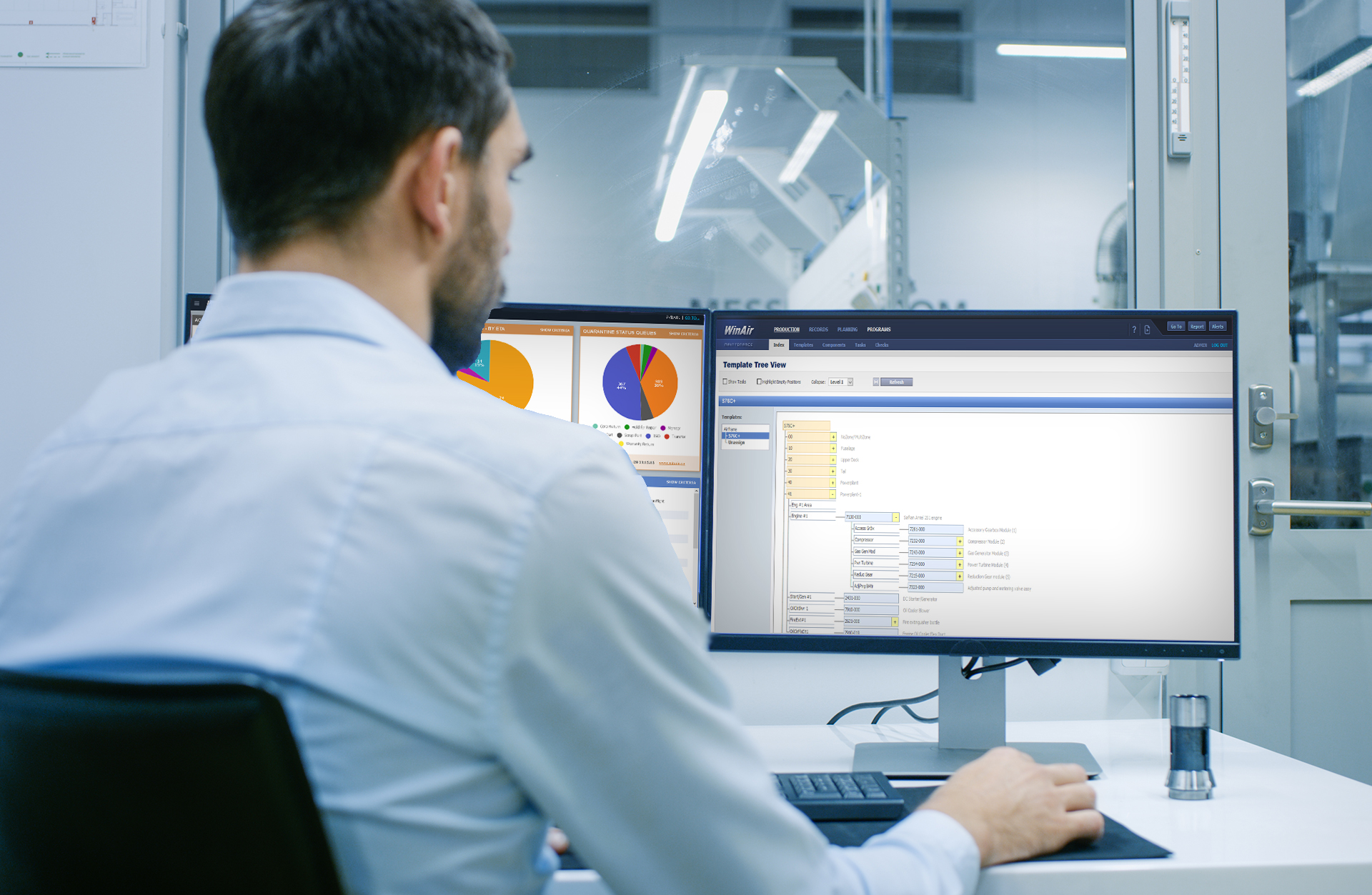 (An employee views WinAir Dashboards and a Sikorsky S-76 Helicopter Template Tree View on Dual Computer Monitors © WinAir)
---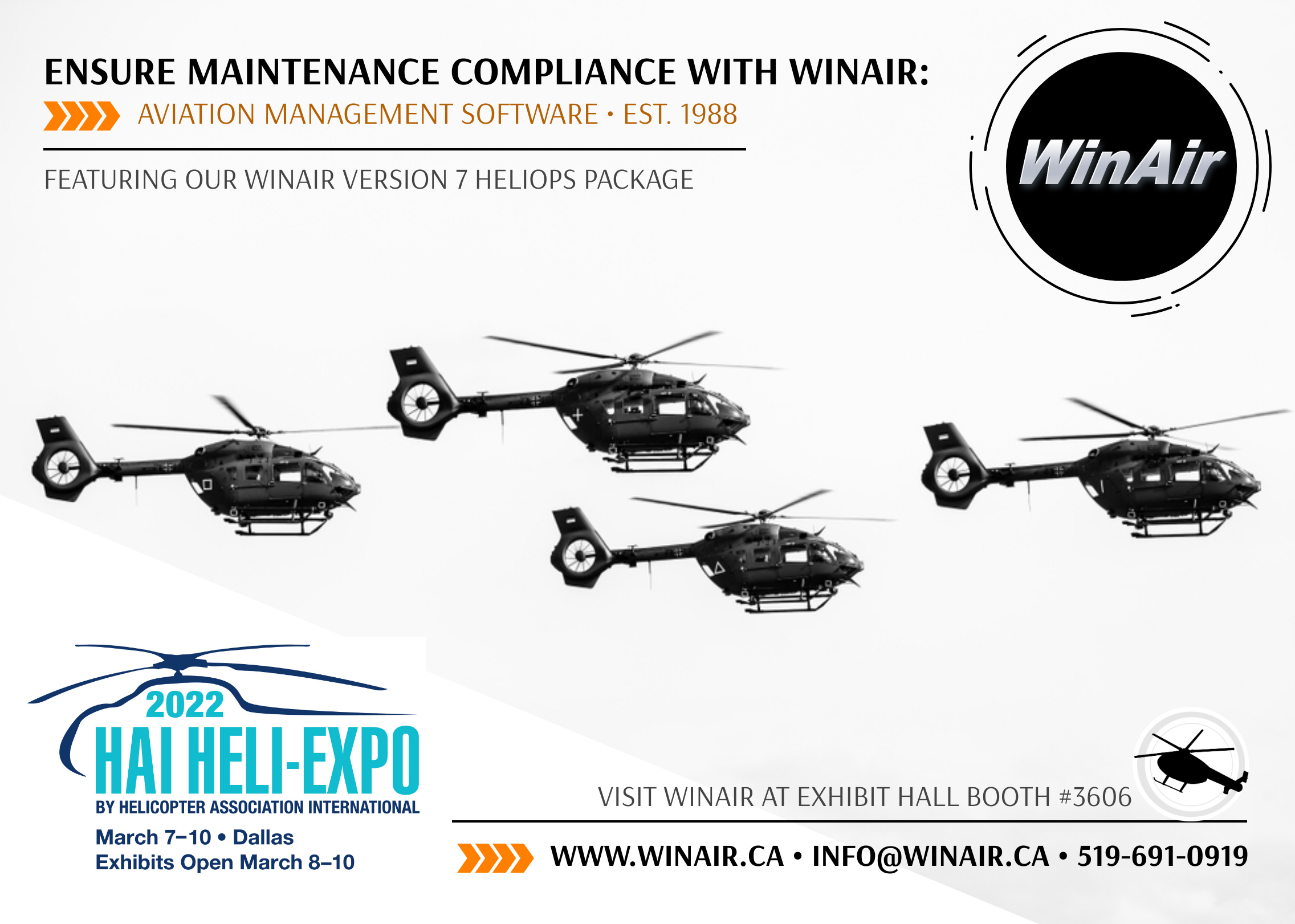 (Ensure Maintenance Compliance with WinAir – HAI Heli-Expo 2022 Promotional Image © WinAir)
---
About WinAir:

Based in London, Ontario, Canada, WinAir has over 30 years of experience as a leader in aviation management software. Companies rely on WinAir to efficiently and effectively track and manage aircraft maintenance and inventory control. WinAir is proud to lay claim to hundreds of installations at aviation-specific organizations worldwide. From airlines to heli-ops, law enforcement agencies, oil industry suppliers, MROs, CAMOs, medical evacuation response teams and more, businesses using WinAir regard the solution as a necessary component to the successful management of their fleet maintenance programs.
###