If you are a business owner, then you understand the value of providing your departments with the tools that they require to effectively and efficiently manage their work
By examining the procedural gains of a flight log integration with aviation management software, business owners will realize that the benefits of having dedicated solutions for Flight Operations and Maintenance departments that integrate are significant and will provide a consistent return on investment. Benefits include instant access to real-time information, a faster turnaround on maintenance work, and the capacity to leverage flight log data to improve maintenance planning and enhance flight operations
(A DOM and an AME view a tablet in an aircraft maintenance hangar—Gorodenkoff/Shutterstock.com—modified)
---
A paradigm shift is happening in the world of aviation maintenance. Business owners, if they haven't already, are beginning to recognize the inherent value in having dedicated systems for their Maintenance and Flight Operations departments that have the power to integrate. They are discovering that by integrating their aviation maintenance and inventory software with their flight ops system, their Maintenance and Flight Operations teams can use the software that works best for their particular departments' needs and in tandem with one another. In doing so, they are noticing that each department gains enhanced visibility, instant access to maintenance and inventory-related information, and has the opportunity to leverage the data between these systems to improve flight operations, along with maintenance planning and forecasting. This insight has prompted many business owners to re-evaluate their current processes and procedures to identify whether their maintenance software has the power and versatility to integrate with their flight ops system. The unfortunate news for those with all-in-one software is that due to the nature of their system, they are unable to integrate.
Traditionally, Flight Ops and Maintenance departments have been considered to be at odds with each other based on their competing requirements and agendas. This has led many business owners into the false conclusion that with all-in-one software they can adequately control all aspects of their daily operations. While the idea of having all data in one centralized location is appealing, it often causes business owners to overlook the underdevelopment of various facets of these systems. When forced to decide which department to favor, business owners generally opt for appeasing the Flight Ops department. While this decision works out well for Flight Ops personnel, the unique needs of the Maintenance team are compromised as they are shoehorned into a system that was originally developed for another department's needs.
What these business owners fail to recognize is that they can satisfy the requirements of both the Maintenance and Flight operations departments by using best-of-breed software that has the capacity to integrate. Best-of-breed software focuses on excelling within its particular niche, which means that departments using it can easily understand the software processes and procedures, and take charge of the solution. By allowing these departments to utilize the systems that were designed for their unique needs, business owners stand to benefit from an improved software learning curve, the removal of duplicate data entry, and the capacity to readily share crucial data between these departments. All of which culminates in a boost to overall business efficiencies.
Why Best-of-Breed Aviation Maintenance Software Trumps All-in-One Systems
While all-in-one software may do a good job at managing flight operations and finance, it is generally comprised of weak maintenance functions and inventory control that does not address the complexities of managing stock for aviation maintenance. Most often, integrations cannot occur with this type of software because it is supposed to be able to do everything for everyone. Essentially, with all-in-one software, there is no ability to integrate since the software already purports to have the functionality. If it doesn't, then it is rare to see an all-in-one solution provider that is willing to consider integrating with other software. It is more likely the case that they would have their software developers piece together a series of simple functions to work with their current system.
However, with best-of-breed aviation management software, like that of WinAir Version 7, your aviation operation can use the industry's top solution for tracking and managing maintenance and inventory, unifying departments, and ensuring compliance, and then integrate it with nearly any flight ops system. From the perspective of a business owner that is considering switching software, this means that you can take the best maintenance and inventory control software and use it together with the best flight ops system to improve how you manage your business.
Instant Access to Maintenance and Flight Log Information

(An overview of the workflow for WinAir's Flight Log Integration for WinAir Version 7 – © WinAir)
By integrating WinAir with your flight ops system, you gain instant access to vital flight log information. This information includes aircraft-specific flight log data concerning flight hours logged and other relevant maintenance information. All of which is transferred from your aircraft to your SAT/COM System, to your flight ops system, and then over to WinAir Version 7.
With this integration, aviation operations can also upload next due/tech dispatch data from WinAir Version 7 over to a flight ops system. Information that can be transferred includes values per flight log input, next due maintenance per counter, most recent/next due inspections, and deferred tasks. By automating the transfer of this information between a flight ops system and WinAir, Maintenance and Flight Operations departments become better organized, more informed, and can operate in sync.
This means that your staff in Maintenance and Tec Records no longer have to wait for pilots to record their flight log hours and submit them to their respective departments. Rather, this information is automatically transferred over to the maintenance software. When the Maintenance department receives it, it provides the Director of Maintenance with a head start on assigning maintenance tasks.
By automating the transfer of this flight log information to WinAir, aviation operations also receive data that is more precise and less prone to error. This is due to the fact that manual processes are minimized, which means there are fewer human interactions in the overall process. This automation minimizes the potential for discrepancies in regards to flight log hours. It also provides Maintenance departments with the assurance they require to know that they are working with reliable data. As a result, aviation operations can improve the accuracy of their reporting and eliminate all scenarios related to being unable to decipher what number a pilot wrote in their flightlog book (is that 90 or 70 hours?), which if interpreted or logged incorrectly, can result in a compliance issue.
Quicker Turnaround on Maintenance Work
In terms of procedural gains, by expediting and automating the transfer of fight log data to aviation management software, your aviation operations stands to benefit from significant time savings. Since the transfer of flight log data is automated via an open API, Maintenance departments can start tasks earlier. This scenario leads to a quicker turnaround on maintenance work, improved business efficiency, and provides your departments the ability to be forward-thinking in maintenance decision making. It also helps to mitigate safety risks and minimize AOG situations. For Flight Ops departments, a quicker turnaround on maintenance work means that they can always have the appropriate aircraft ready to dispatch for the next flight.
With this comprehensive knowledge and capacity to commence maintenance work earlier, your aviation operation, and in particular, your Maintenance department, can be one step ahead of the game. As opposed to waiting to receive and process the data that they require, they can focus on preparing in advance with this instant access to vital flight log information. Consequently, DOMs no longer have to be reactive to circumstances but can be proactive in their approach to maintenance.
Capacity to Leverage Flight Log Data to Improve Maintenance Planning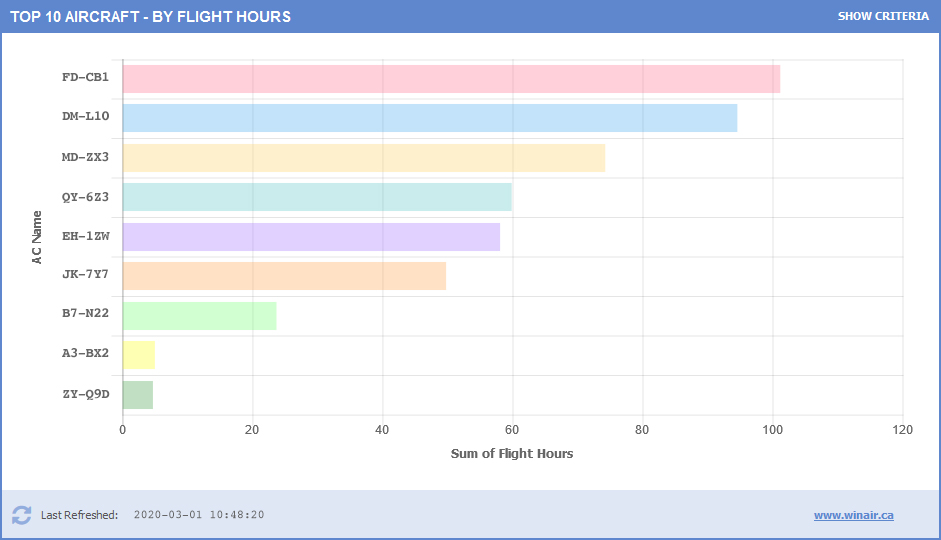 (Top 10 Aircraft by Flight Hours Gadget – presents users with the top 10 aircraft with the most flight hours for a specific date range – © WinAir)

WinAir's Dashboard gadgets for Top 10 Aircraft by Flight Hours and Aircraft Defects Per Flight Hours are prime examples of how aviation operations can take advantage of the data from a flight log integration with WinAir Version 7. Both of these Dashboard gadgets leverage flight log information that is specific to each aircraft within a fleet. This information is then transferred to WinAir to offer insight into maintenance and inventory-related problems so that they can be handled in their early stages.
For instance, if your DOM can identify that a particular aircraft will be grounded for maintenance, they can prepare in advance so that other aircraft are available to ensure minimum or no gaps in service. Similarly, if parts on aircraft with specific life limitations are due for an overhaul, then DOMs can plan for this maintenance well in advance. They can also account for any penalty factors by utilizing the flight log data that is transferred from the Flight Ops system to WinAir.
With the Top 10 Aircraft by Flight Hours gadget, users can view a graphical representation of the top 10 aircraft with the most flight hours for a given date range. For DOMs, this information is vital for ascertaining the airworthiness of an aircraft, along with improving maintenance planning and forecasting. With the Aircraft Defects per Flight Hours gadget, users can view the number of defects by ATA Chapter for a particular template or aircraft based on the specified number of flight hours and date range. This gadget also has remarkable value in terms of maintenance planning.
Boost Efficiencies and Integrate Flight Ops Software with WinAir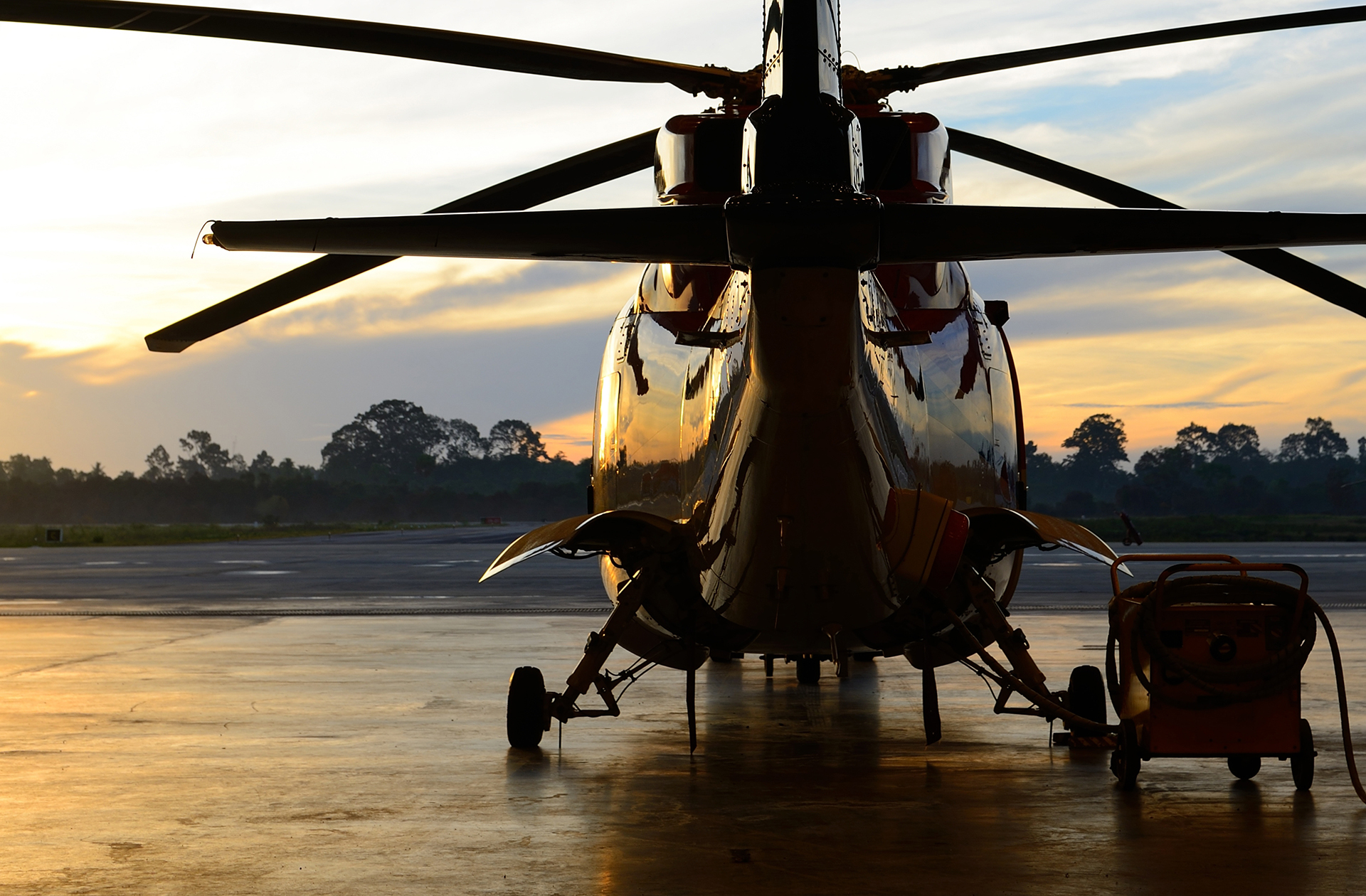 (A helicopter undergoes routine maintenance in an aircraft hangar)

By integrating flight ops software with WinAir Version 7, aviation operations can improve the accuracy of their reporting, ensure that they are working with trustworthy information, and gain instant access to real-time flight log data. They benefit from a faster turnaround on maintenance work and a reduction in AOG instances, which is a direct result of streamlined processes and expedited work steps. Plus, they gain a unique insight into maintenance and inventory-related data by leveraging flight log inputs to improve planning and make more informed proactive decisions.
For members of Flight Ops and Maintenance departments, the procedural gains of a flight log integration with WinAir are tremendous and evident every day. For a business owner, these gains will likely result in a boost to overall business efficiencies. By expediting work steps and removing manual processes, a flight log integration with aviation maintenance software frees up valuable time that can be redirected towards other facets of the company's business. Therefore, more time can be devoted to planning, undertaking new maintenance work, or expanding the scope of your services.
Are you interested in learning more about the procedural gains of a flight log integration with WinAir? If so, visit our Flight Log Integration webpage to download our brochure and then contact us today!
---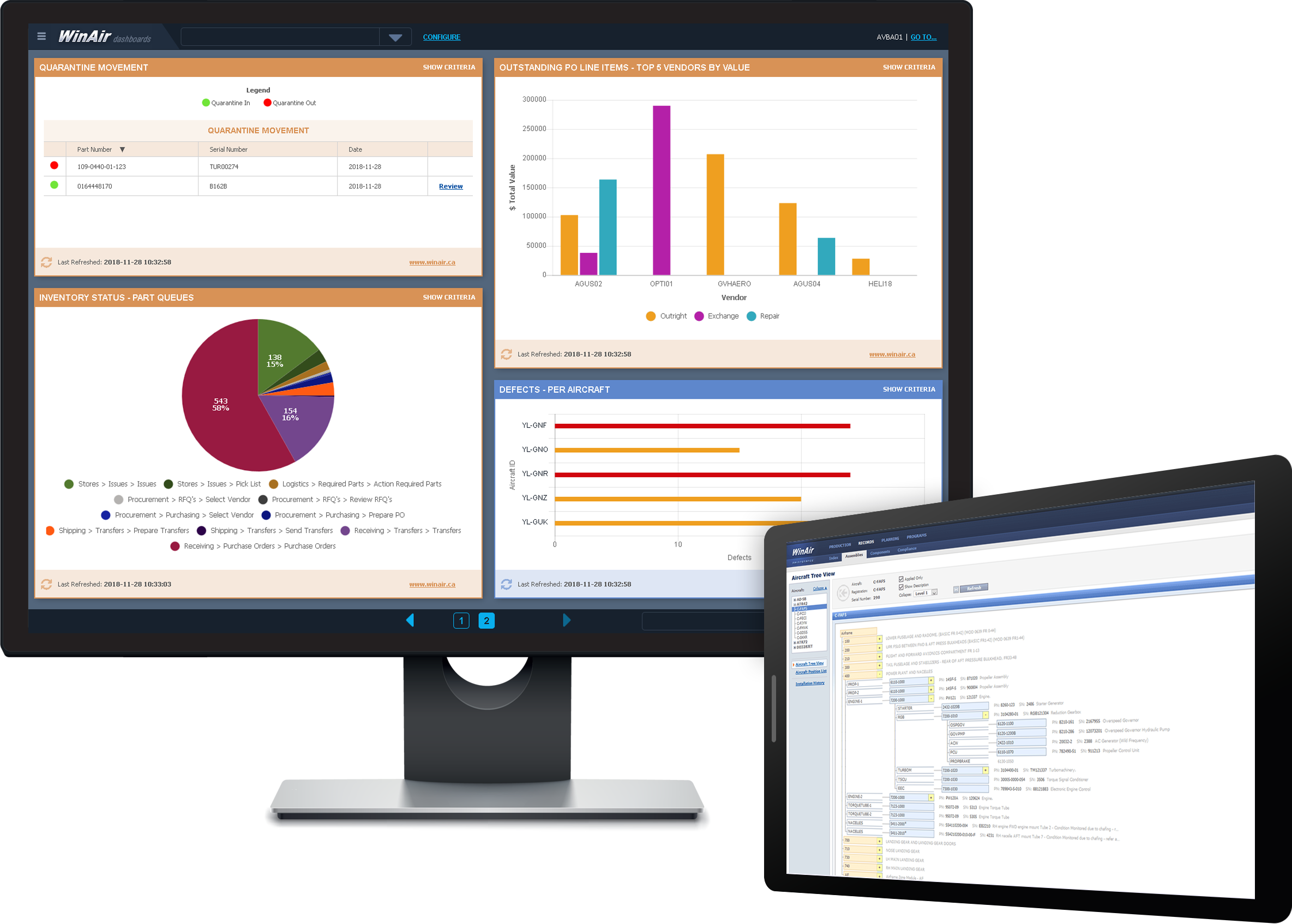 (WinAir Dashboards, including the Aircraft Defects per Flight Hours gadget, displayed on a desktop computer and a WinAir Aircraft Template Tree View, which makes use of flight log data, displayed on a tablet – © WinAir)
---
About WinAir:
Based in London, Ontario, Canada, WinAir has 30 years of experience as a leader in aviation management software. Companies rely on WinAir to efficiently and effectively track and manage aircraft maintenance and inventory control. WinAir is proud to lay claim to hundreds of installations at aviation-specific organizations worldwide. From airlines to heli-ops, law enforcement agencies, oil industry suppliers, MROs, CAMOs, medical evacuation response teams and more, businesses using WinAir regard the solution as a necessary component to the successful management of their fleet maintenance programs.