With a maintenance schedule template built by WinAir, managing multiple aircraft variances for aircraft of the same type, or similar aircraft from within a series, is a straightforward and streamlined process
Operators select the applicability capability to determine which task or check applies to which aircraft or component—this saves time, increases data accuracy, and ensures compliance across an entire fleet
(A maintenance technician views a tablet in an aircraft hangar—Gorodenkoff/Shutterstock.com—modified)
---
Managing variances between multiple aircraft within a series can be a challenge without the appropriate tools for organizing data and deciphering the items that apply to each aircraft. With WinAir Version 7 and WinAir's aircraft template building service, operators can easily manage an unlimited number of aircraft of the same type, or aircraft of similar models from within a series. By determining the applicability per aircraft or part number (PN), operators can conveniently manage all relevant aircraft by utilizing the same template.
What is an Aircraft Template?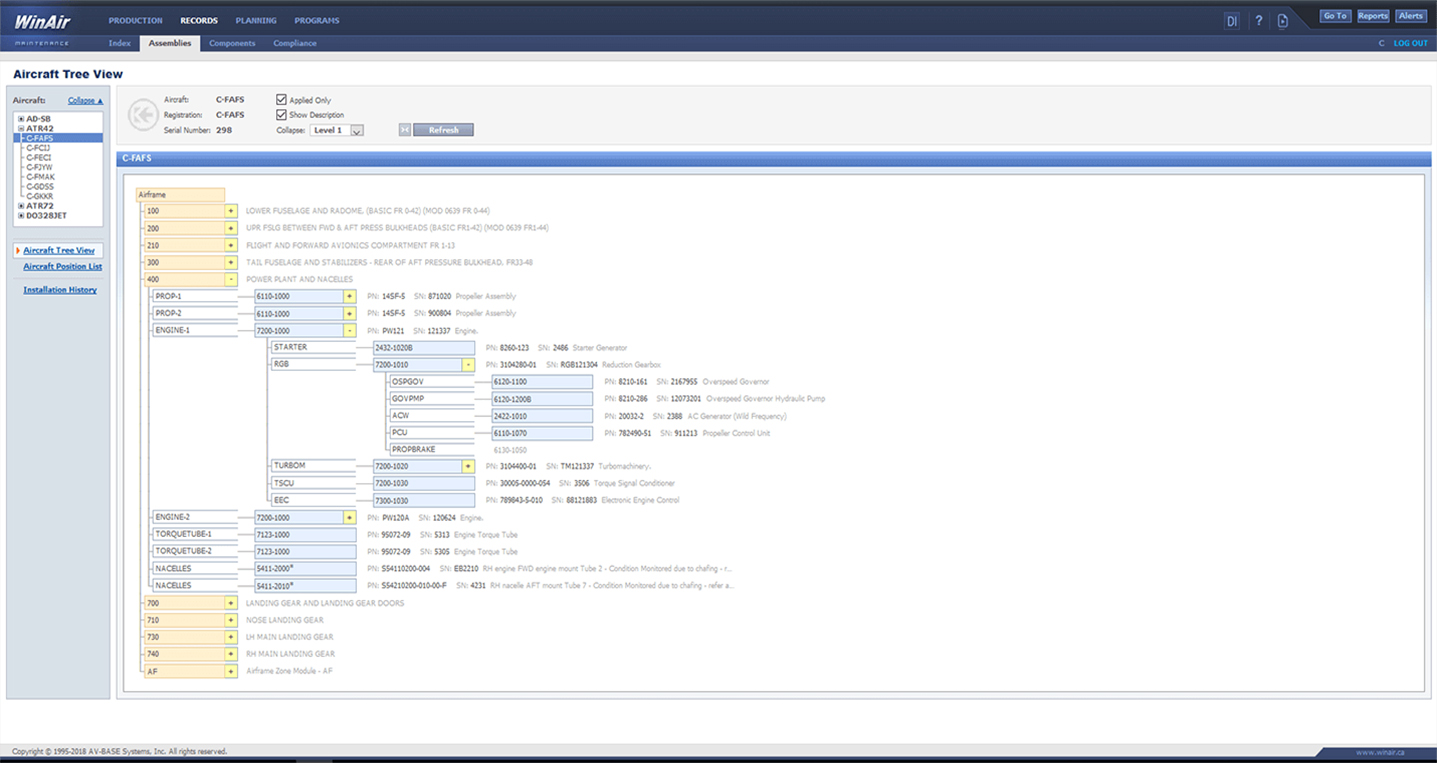 (A WinAir Aircraft Template in Tree View for an ATR-42 aircraft—© WinAir)
An aircraft template is an electronic version of an aircraft maintenance program. It displays all tasks, SBs, ADs, checks, zones, positions, components, and sub-components that might apply to a specific aircraft model. When a new aircraft registration is added to WinAir, all aircraft series information is available to be applied to this aircraft.
Each aircraft template represents a set of technical publications from an original equipment manufacturer (OEM) of an aircraft type. Depending upon the aircraft series, a variety of models can be managed under a single template, so long as those aircraft have the same set of maintenance requirements. To account for any variations between models, WinAir users select the items that apply to each aircraft by using the applicability capability. This saves time, streamlines processes, and ensures that changes to the template will cascade down to all applicable aircraft within the series.
Airframe Tasks, Component Tasks, and Applicability Levels Explained
Airframe tasks can be applied to specific aircraft registration numbers in an aircraft template. They can also be linked into checks, which can be customized per each aircraft. This offers operators significant flexibility in terms of how they utilize their template.
Component tasks can be applied to specific PNs and positions. They are determined dynamically by the system in virtue of the PNs installed, along with where they are installed on the aircraft. For instance, the main engine starter PN 123 might have an overhaul requirement of 1000 hours, but if the same PN is installed on the APU, or an entirely different aircraft, it could require a completely different interval.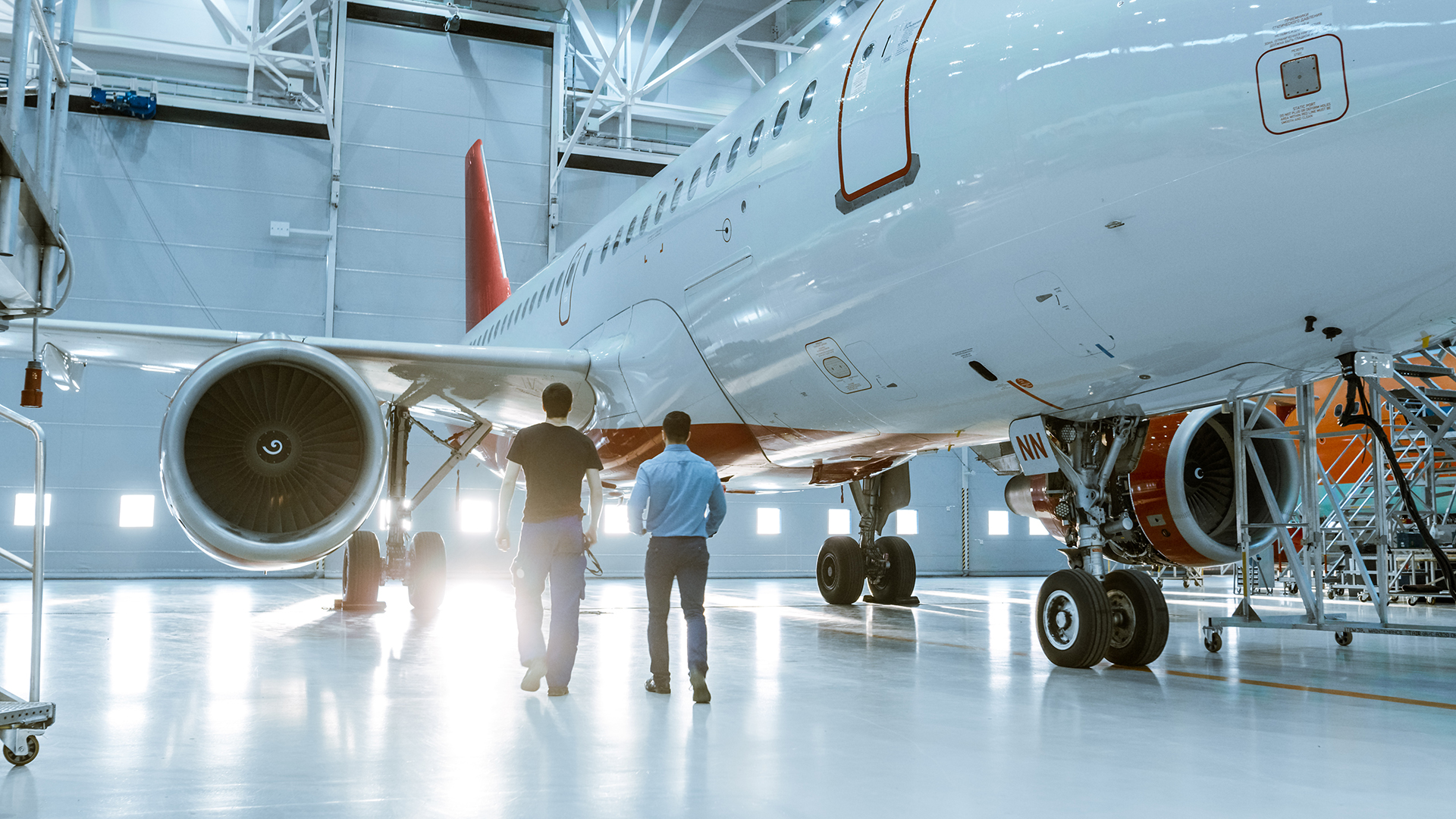 (There are three levels of applicability in a WinAir Aircraft Template; applicability per template, aircraft, and part number—Gorodenkoff/Shutterstock.com)
There are three levels of applicability in an aircraft template in WinAir. Each level is crucial for ensuring data accuracy, proving compliance, and maintaining safety. The first is applicability to all fleet requirements in a template, which applies to all aircraft of a particular type. The second is applicability per aircraft. Here, operators using WinAir and an aircraft template can drill-down to determine the applicability of variances per each aircraft tail number. The third level of applicability goes one step further and applies to actual PNs. Once a part is installed on an aircraft in WinAir, task applicability is automatically applied.
Managing Aircraft Variances within a Series for Similar Models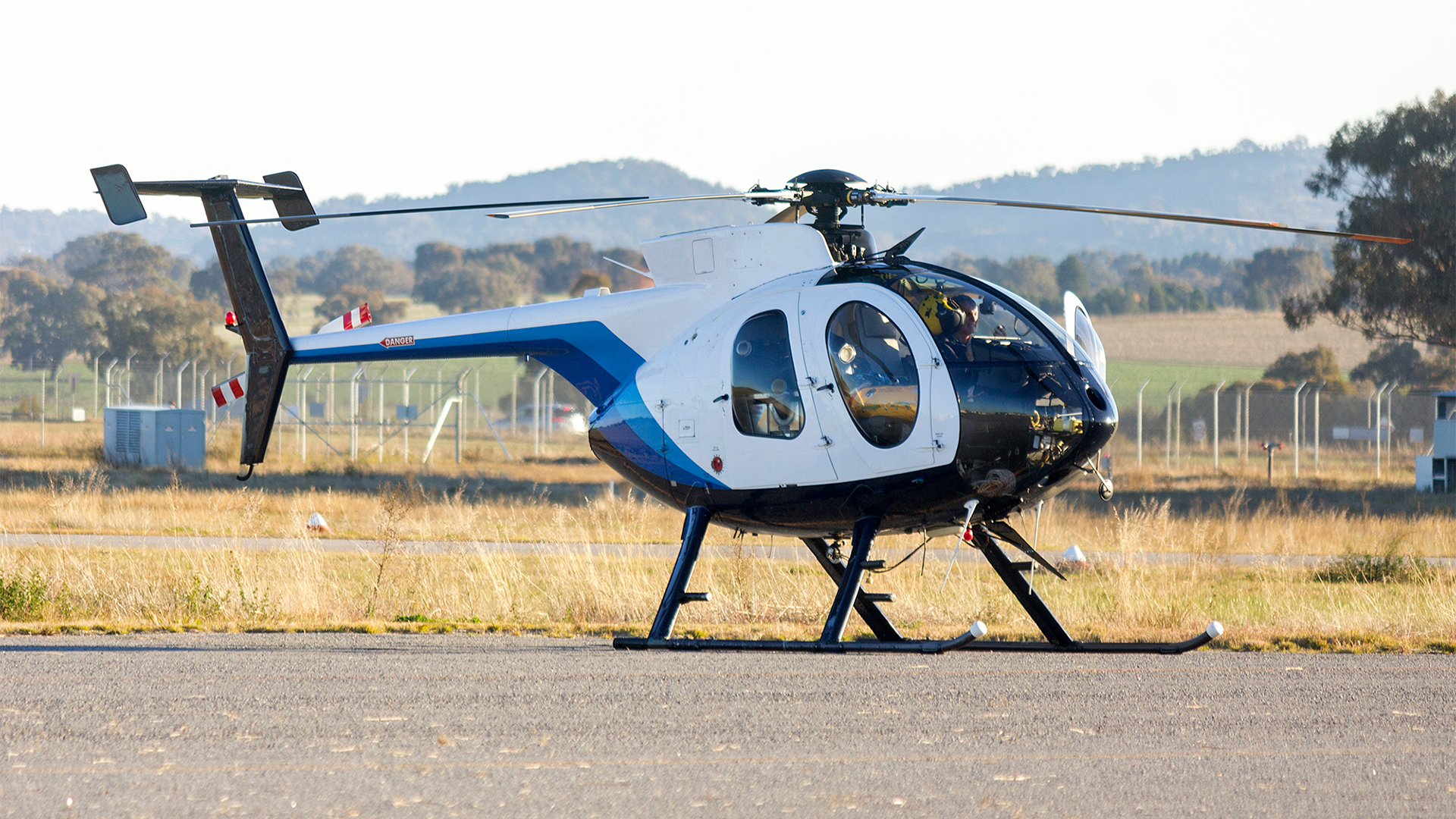 (Since the MD369 utilizes the same maintenance requirements for all aircraft within the series, all of these helicopters can be managed using the same Aircraft Template built by WinAir—Bidgee [CC BY-SA 3.0 au], via Wikimedia Commons)
In terms of rotary-wing aircraft, the MD369 is a prime example of a series of aircraft of a particular model that can be handled with a single template. Since one set of maintenance requirements covers the 369D/E with an RR 250-C20B engine, the 369D/E or 500N with RR 250-C20R/2 engine, the 369F/FF with an RR 250-C30 engine, and the 600N with an RR 250-C47M engine, all of these helicopters can be managed with one aircraft template built by WinAir. Any variances between these aircraft can be managed with the applicability capability.
On the fixed-wing side of things, take the example of the Boeing 737 "Next Generation" aircraft series. This series is comprised of the -600, -700, -800 and -900 aircraft models. Since each of these aircraft models share the same engines and maintenance requirements, they can all be managed under the same aircraft template in WinAir. Any differences between these models can be taken care of by utilizing the applicability capability to indicate which variances apply versus those that do not apply.
Handling Different Engine Types in One Template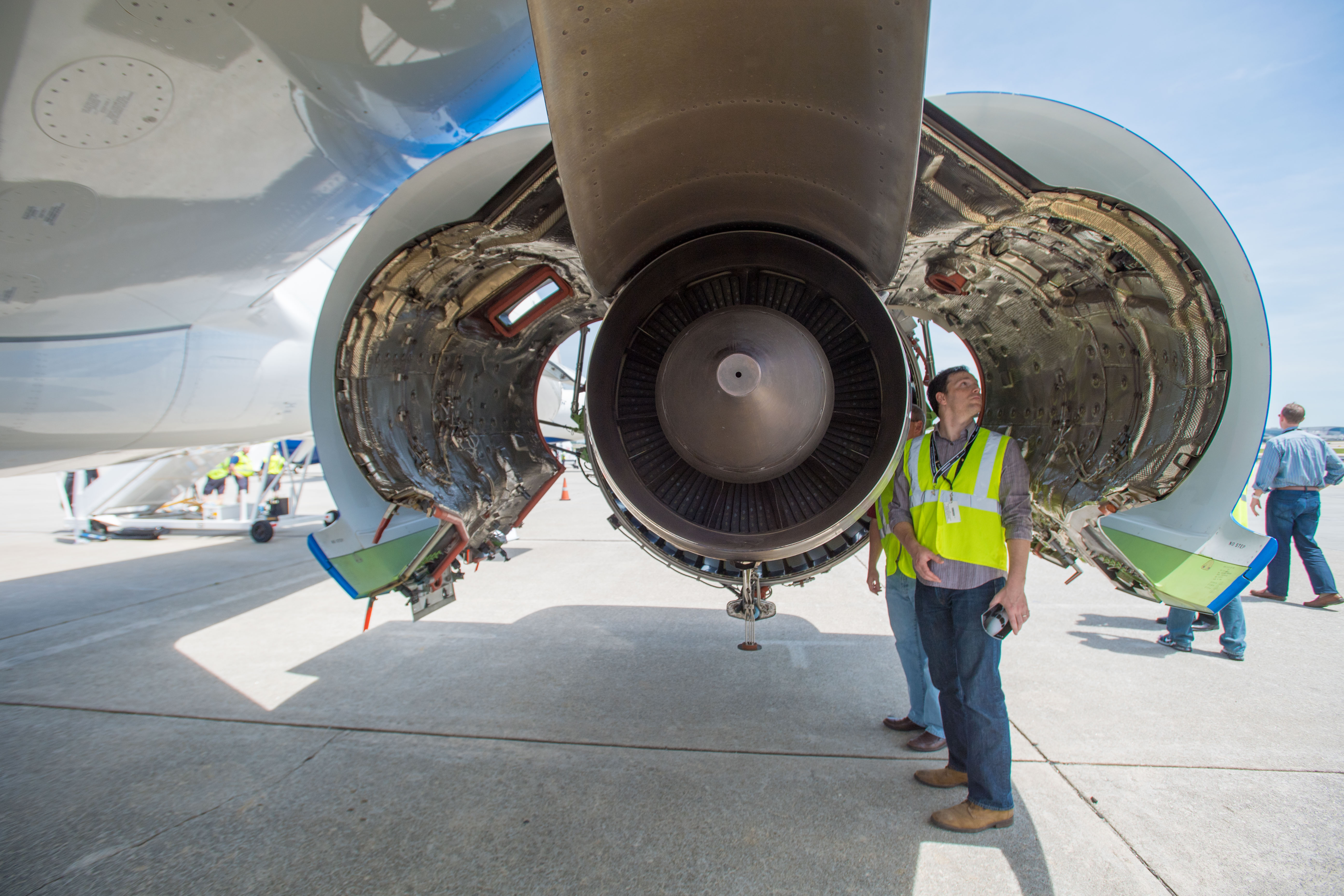 (Underneath the wing of an Airbus A220 aircraft with cowlings open and a Pratt & Whitney PW1000G engine displayed—Delta Delta News Hub [CC BY 2.0], via Wikimedia Commons)
Aircraft of a similar type that have the same maintenance requirements, but a different engine, can also be handled with ease with a single aircraft template. Consider the fact that many Airbus aircraft have optional CFM or Pratt & Whitney engines. To account for these differences in engine type, our Aircraft Services team would build two different engine assemblies into a single template and you would only apply those components/tasks that are specific to the aircraft in question.
The same can be said about the DHC-6 Twin Otter aircraft series. In this case, the -100, -200, -300, and -400 series can all be managed using the same aircraft template. By utilizing the applicability capability, operators select the engine type that applies to each Twin Otter aircraft from the list of available engine assemblies. This process makes managing maintenance programs on a fleet of DHC-6 aircraft that much easier.
Managing Aircraft of the Same Type that Carry Different Equipment
Since not all aircraft are outfitted with the same gear, being able to differentiate between aircraft of the same type, is mission-critical. For instance, a helicopter used for electronic newsgathering (ENG) operations will carry vastly different equipment from a helicopter used for aerial firefighting operations. The former will likely require cameras and strobe lights, while the latter may make use of hoists and buckets. WinAir users can manage these types of variances efficiently and effectively in an aircraft template.
This adaptable approach to managing differences in equipment between multiple aircraft of the same type by utilizing the same aircraft template is not only cost-effective, but it assists with maintaining data integrity and expedites work steps. Since all aircraft of the same type are managed with the same template, operators don't have to make changes to multiple copies of maintenance requirements, and they never carry over past mistakes. Rather, all that is required is an update to the aircraft template, and all aircraft associated with it will be revised accordingly.
Accounting for Weather and Environmental Conditions in Maintenance Programs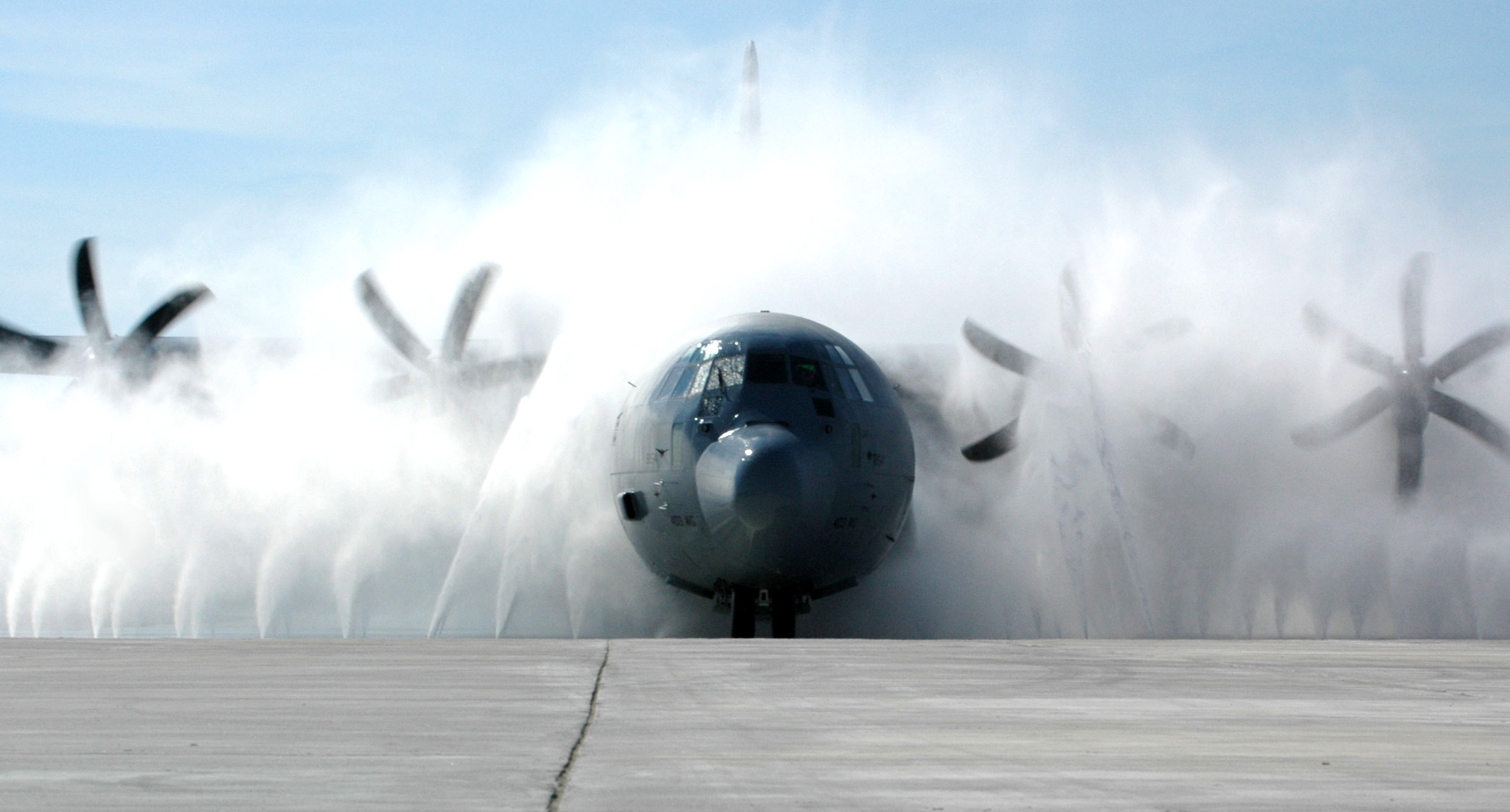 (A Lockheed C-130J Hercules aircraft undergoes routine cleaning to avoid corrosion associated with salt and water—United States Air Force photo by Technical Sergeant James Pritchett [Public domain])
It's not only the equipment that is installed on an aircraft that can affect its maintenance program, but also weather and environmental conditions. Various weather conditions can dramatically change how maintenance is managed on a particular aircraft, so having the ability to account for these deviations is vital for safeguarding against AOG situations. Aircraft operating in hot, arid, and desert-like conditions will have significantly disparate maintenance requirements from those same aircraft that fly in cold, icy, polar-like climates.
Similarly, aircraft that fly near or over salt water will have significant additional maintenance requirements over those that do not. Rather than managing these aircraft in a completely separate template, these variances can easily be managed in the same template by applying the appropriate applicability capability.
Updating ADs and SBs in an Aircraft Template
When new ADs or SBs are released, operators update the corresponding template to ensure compliance for all applicable aircraft. This process also applies to managing updates to aircraft templates for models within a series that have the same maintenance requirements. Regardless of the number of aircraft that you have associated with a template, all that is needed is a change to this template to affect all aircraft.
This process of making updates to an aircraft template is a huge time-saver, particularly in instances when multiple ADs and SBs are issued for specific aircraft, parts, and/or components within a similar timeframe. Instead of issuing updates per each aircraft, operators only have to make the required updates to the template.
Save Time, Maintain Data Accuracy, and Ensure Compliance with an Aircraft Template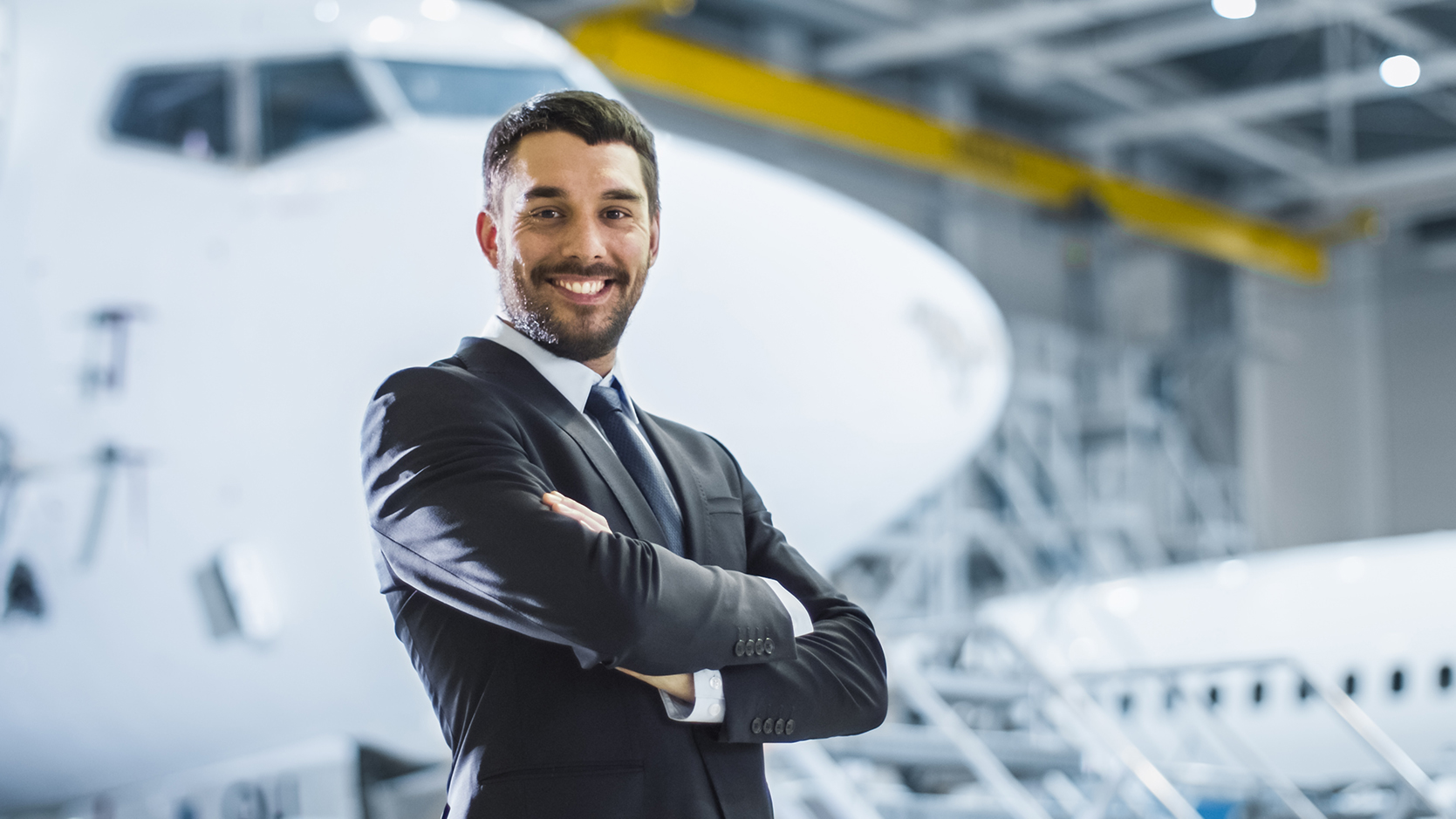 (A business owner stands next to multiple aircraft in a hangar—Gorodenkoff/Shutterstock.com)
With an aircraft template built by WinAir, aviation operations have the opportunity to boost business efficiencies, streamline processes, and expedite work steps. They will also simultaneously ensure compliance and assure data authenticity and integrity. Since WinAir's Aircraft Services team develops each aircraft template based on actual maintenance manufacturer requirements, operators can rest assured knowing that they will be working with precise data from the beginning. Changes to the template can be made easily to accommodate local requirements, and as their operation grows, they can easily incorporate new aircraft of the same type into their fleet by using the same template.
When aircraft maintenance program information is housed within a template, operational efficiency is improved and data accuracy is maintained. Because all changes are made at the template level and are then narrowed-down per each aircraft or by PN by using the applicability capability in WinAir, the trustworthiness of data within a template will always remain intact. By following these processes, aviation operations can ensure operational success and be fully prepared for the next flight.
Want to learn more about WinAir and the company's aircraft template building service? If so, then contact us today to speak with a member of the WinAir team!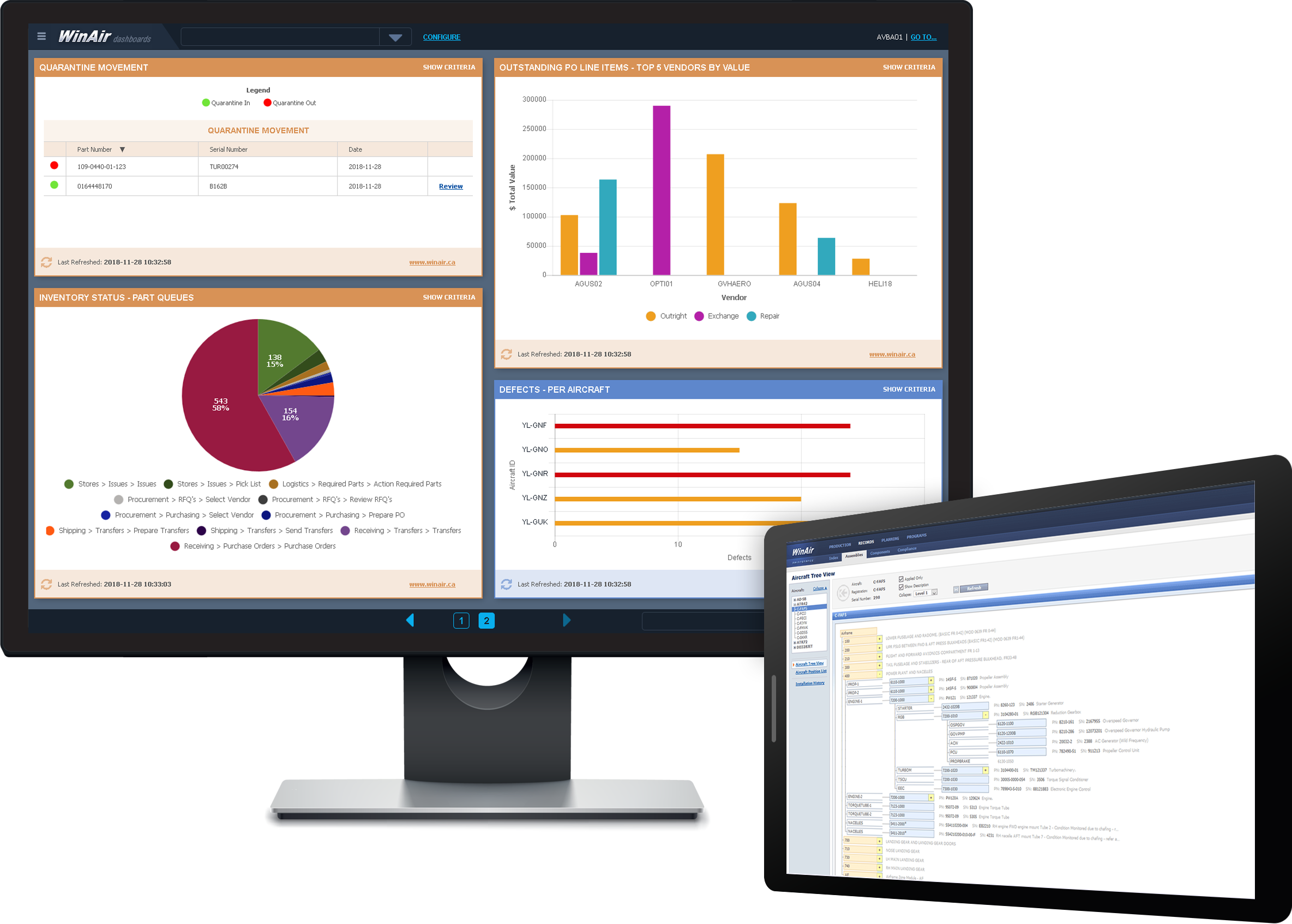 (A WinAir Aircraft Template Tree View displayed on a tablet and WinAir Dashboards displayed on a desktop computer – © WinAir)

---
About WinAir:
Based in London, Ontario, Canada, WinAir has 30 years of experience as a leader in aviation management software. Companies rely on WinAir to efficiently and effectively track and manage aircraft maintenance and inventory control. WinAir is proud to lay claim to hundreds of installations at aviation-specific organizations worldwide. From airlines to heli-ops, law enforcement agencies, oil industry suppliers, MROs, CAMOs, medical evacuation response teams and more, businesses using WinAir regard the solution as a necessary component to the successful management of their fleet maintenance programs.