WinAir Presents: The Lockheed C-130 Hercules Infographic—image highlights key information on the aircraft commonly referred to as "The Herc;" one of the world's most powerful and versatile military transport aircraft
---
The Lockheed C-130 Hercules Infographic was created using information obtained from Wikipedia's "Lockheed C-130 Hercules" article. It showcases information on the C-130s vital statistics, general specifications, performance outputs, and avionics.
The C-130 Hercules is an extremely robust and multipurpose four-engine turboprop military transport aircraft, developed by Lockheed Martin. It is capable of performing a variety of military, civilian, and humanitarian functions, which is due in part to its ability to use unprepared runways for takeoffs and landings. Couple this with a wingspan of over 132 ft, and a payload that surpasses 44,000 lbs, and you have what many consider to be a "cargo hauling beast." This aircraft achieved first flight on August 23, 1954, and has been in service since this date. It is currently operated by approximately 70 countries worldwide.
In addition to troop, medevac, and cargo transportation, the Lockheed C-130 Hercules can participate in an array of challenging missions. It can act as a gunship, perform airborne assault, assist with search an rescue (SAR), facilitate aerial delivery, lead weather reconnaissance missions, take part in aerial firefighting, perform aerial refueling, and so on. During the 2018 Farnborough Airshow in Hampshire, United Kingdom, Lockheed Martin displayed the latest civilian variant of its C-130J Super Hercules, the LM-100J. The LM-100J showed off its advanced capabilities by flying a demonstration routine that featured an incredible loop maneuver that wowed the Farnborough Airport crowd.
For ease of reference, an infographic summary is located below the image.
(Click on the image to zoom into the material)

WinAir Presents: The Lockheed C-130 Hercules Infographic Summary
Introducing the Lockheed C-130 Hercules:
The Lockheed C-130 Hercules is a four-engine turboprop military aircraft designed and built by Lockheed Martin.[2]
The aircraft is extremely versatile due to its ability to use unprepared runways for takeoffs and landings.[5]
Typical Aircraft Uses[5]
Transportation (Troops, medevac, and cargo)
Gunship
Airborne Assault
Search and Rescue (SAR)
Scientific Research
Weather Reconnaissance
Aerial Refueling
Maritime Patrol
Aerial Firefighting
Paratrooper
Aerial Delivery
Vital Statistics[20]
Role: Military transport aircraft
Nation of Origin: United States of America
Manufacturer: Lockheed; Lockheed Martin
First Flight: August 23rd, 1954
Current Status: In Service
Production Period: 1954–present
Number Built: Over 2,500 as of 2015
Unit Cost: C-130E: $11.9 Million; C-130H $30.1 Million
Variants: Lockheed AC-130; Lockheed DC-130; Lockheed EC-130; Lockheed EC-130H Compass Call; Lockheed HC-130; Lockheed Martin KC-130; Lockheed LC-130; Lockheed MC-130; Lockheed RC-130; Lockheed WC-130; Lockheed L-100 Hercules; Lockheed Martin C-130J Super Hercules
Military Operators of the C-130 Hercules Aircraft[23]
Afghanistan
Algeria
Argentina
Australia
Austria
Bangladesh
Belgium
Bolivia
Botswana
Brazil
Cameroon
Canada
Chad
Chile
Republic of China (Taiwan)
Colombia
Denmark
Ecuador
Egypt
Eritrea
Ethiopia
France
Gabon
Greece
Honduras
Hungary
India
Indonesia
Iran
Iraq
Israel
Italy
Japan
Jordan
Kuwait
Liberia
Libya
Malaysia
Mexico
Morocco
Netherlands
New Zealand
Niger
Nigeria
Norway
Oman
Pakistan
Peru
Philippines
Poland
Portugal
Romania
Saudi Arabia
Singapore
South Africa
South Korea
Spain
Sri Lanka
Sudan
Sweden
Thailand
Tunisia
Turkey
United Arab Emirates
United Kingdom
United States
Uruguay
Venezuela
Yemen
Zambia
Angola
South Vietnam
Specifications (C-130H)[26]
Crew: five (two pilots, navigator, flight engineer and loadmaster)
Capacity:

C-130E/H/J cargo hold: length, 40 ft (12.19 m); width, 119 in (3.02 m); height, 9 ft (2.74 m). Rear ramp: length, 123 in (3.12 m); width, 119 in (3.02 m)
C-130J-30 cargo hold: length, 55 ft (16.76 m); width, 119 in (3.02 m); height, 9 ft (2.74 m). Rear ramp: length, 123 in (3.12 m); width, 119 in (3.02 m)

92 passengers or
64 airborne troops or
74 litter patients with 5 medical crew or
6 pallets or
2–3 Humvees or

2 M113 armored personnel carriers or
1 CAESAR self-propelled howitzer
Payload: 45,000 lb (20,400 kg)
Length: 97 ft 9 in (29.8 m)
Wingspan: 132 ft 7 in (40.4 m)
Height: 38 ft 3 in (11.6 m)
Wing Area: 1,745 ft2 (162.1 m2)
Empty Weight: 75,800 lb (34,400 kg)
Useful Load: 72,000 lb (33,000 kg)
Maximum Takeoff Weight: 155,000 lb (70,300 kg)
Powerplant: 4 x Allison T56-A-15 turboprops, 4,590 shp (3,430 kW) each
Propellers: 4 propellers
Propeller Diameter: 13.5 ft (4.1 m)
Performance & Avionics
Performance29
Maximum Speed: 320 knots (366 mph, 592 km/h) at 20,000 ft (6,060 m)
Cruise Speed: 292 knots (336 mph, 540 km/h)
Range: 2,050 nmi (2,360 mi, 3,800 km)
Service Ceiling: 33,000 ft (10,060 m) empty; 23,000 ft (7,077 m) with 42,000 lb payload (19,090 kg)
Rate of Climb: 1,830 ft/min (9.3 m/s)
Takeoff Distance: 3,586 ft (1,093 m) at 155,000 lb (70,300 kg) max gross weight; 1,400 ft (427 m) at 80,000 lb (36,300 kg) gross weight
Avionics32
Streamline Maintenance and Inventory Processes on Military Transport Aircraft in WinAir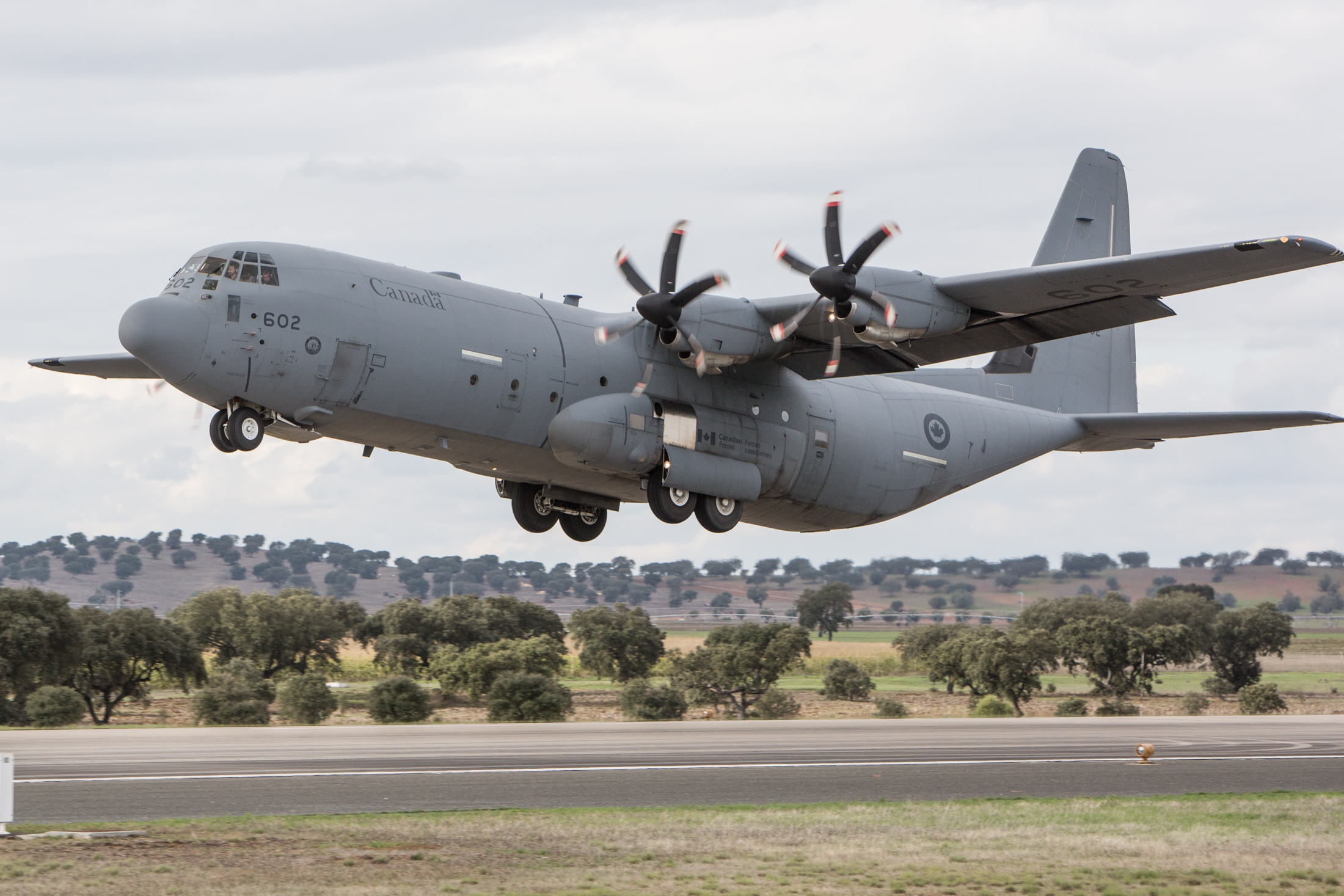 (A Canadian C-130J taking off at Beja Air Base, Portugal for Exercise Trident Juncture)
With WinAir Version 7, the latest release of the aviation industry's most trusted and effective aviation management software, you can oversee maintenance activities and inventory processes on military transport aircraft like the C-130 Hercules rather simply. The software has the power and adaptability to track and manage nearly any fixed-wing or rotary-wing aircraft type. No matter the size of your operation or the aircraft that you command in your fleet, with WinAir Version 7, you can expect that processes will be streamlined, expedited, and fully transparent.
"I worked on the C-130 as an Aircraft Maintenance Supervisor for the Royal Canadian Air Force for over 7 years," says WinAir Aircraft Services Representative Todd Raycraft WO (Ret'd). "This aircraft is the workhorse of the RCAF. At WinAir, our Aircraft Services team has the knowledge and expertise to assist you with managing the maintenance activities on the C-130 Hercules and nearly any other aircraft."
By providing aviation operations with newfound business efficiencies, business owners using WinAir have the opportunity to redirect their focus to more pressing matters, like revenue maximization, fleet acquisition, and operational expansion. They can also rest assured knowing that as their operation increases in size, they will never outgrow the software—WinAir Version 7 is an entirely scalable solution. This means that as a company evolves, you can simply add new required features to an existing software package to boost functionality.
WinAir has software packages that are bundled with all the essential features and functionality that Operators, Heliops, MROs, and CAMOs require to better manage their business. In order to meet the unique requirements of aviation operations worldwide, the company also has Custom and All Inclusive software packages. For businesses looking to relieve their operations of some of the administrative duties associated with implementing new software, or for those that are seeking a full turnkey solution, WinAir offers additional services such as hosting, inventory data import, aircraft template building, compliance and data loading, procedural consultations, and project management.
Would you like to learn more about how WinAir will streamline and expedite maintenance and inventory processes at your aviation operation? If so, then contact us today to book your time for a demo of WinAir Version 7!
---
About WinAir:
Based in London, Ontario, Canada, WinAir has 30 years of experience as a leader in aviation management software. Companies rely on WinAir to efficiently and effectively track and manage aircraft maintenance and inventory control. WinAir is proud to lay claim to hundreds of installations at aviation-specific organizations worldwide. From airlines, to heli-ops, to law enforcement agencies, oil industry suppliers, MROs, CAMOs, medical evacuation response teams and more, businesses using WinAir regard the solution as a necessary component to the successful management of their fleet maintenance programs.