Managing complex counters on fixed-wing and rotary-wing aircraft can be a time-consuming and cumbersome challenge without the proper tools for handling these unique aircraft-specific calculations
WinAir Version 7 makes it easy for operators to set up and apply these calculations directly within the software—this article lists the operational gains of managing complex counters in WinAir and includes a downloadable summary document that highlights these benefits
(A pilot walks towards a Leonardo AW139 helicopter in Froðba, the Faroe Islands circa May of 2019—Photo Credit: kallerna [CC BY-SA 4.0], via Wikipedia Commons—modified)
---
For those of you familiar with the multiplicity of mathematical equations for managing the variety of counters, dynamic components, variable cycles, and penalty factors that are unique to each aircraft type, even mention of the phrase "complex counters" may make you cringe. Traditionally, managing complex counters has been considered by many aviation maintenance professionals to be a headache in and of itself. However, it doesn't have to be that difficult. WinAir Version 7 provides a straightforward and user-friendly way to manage these complex counters.
Simply put, a counter is used to drive the maintenance on an aircraft. It is defined as being either an airframe or component type and depends upon a variety of flight log inputs, which are used to schedule checks and tasks on an aircraft and the corresponding components. While some of these counters may have a direct one-to-one correlation with a flight log input, often, a formula is used to account for a corresponding penalty factor. When this is the case, this type of counter is considered to be a complex counter.
Complex counters can be calculated by utilizing the aircraft specific formula provided by the OEM. Depending on the aircraft, the part/component, and the scenario (mission profile), they may involve the use of a formula that incorporates flight log inputs for Hours or A/F Cycles, Eng 1 Cycles, Eng 2 Cycles, Gravel Landings, Heater Hours, RINs, Heavy Lifts, and so on. In the past, many operators have fallen victim to the trap of manually managing these complex counters in a spreadsheet, which is not only a convoluted process, but it can result in a nightmare scenario if you determine that you are working with incorrect data. But with WinAir, managing these complex counters for any rotary-wing or fixed-wing aircraft is a streamlined and simplified process.
Here are the Top Five Advantages of Managing Complex Counters in WinAir: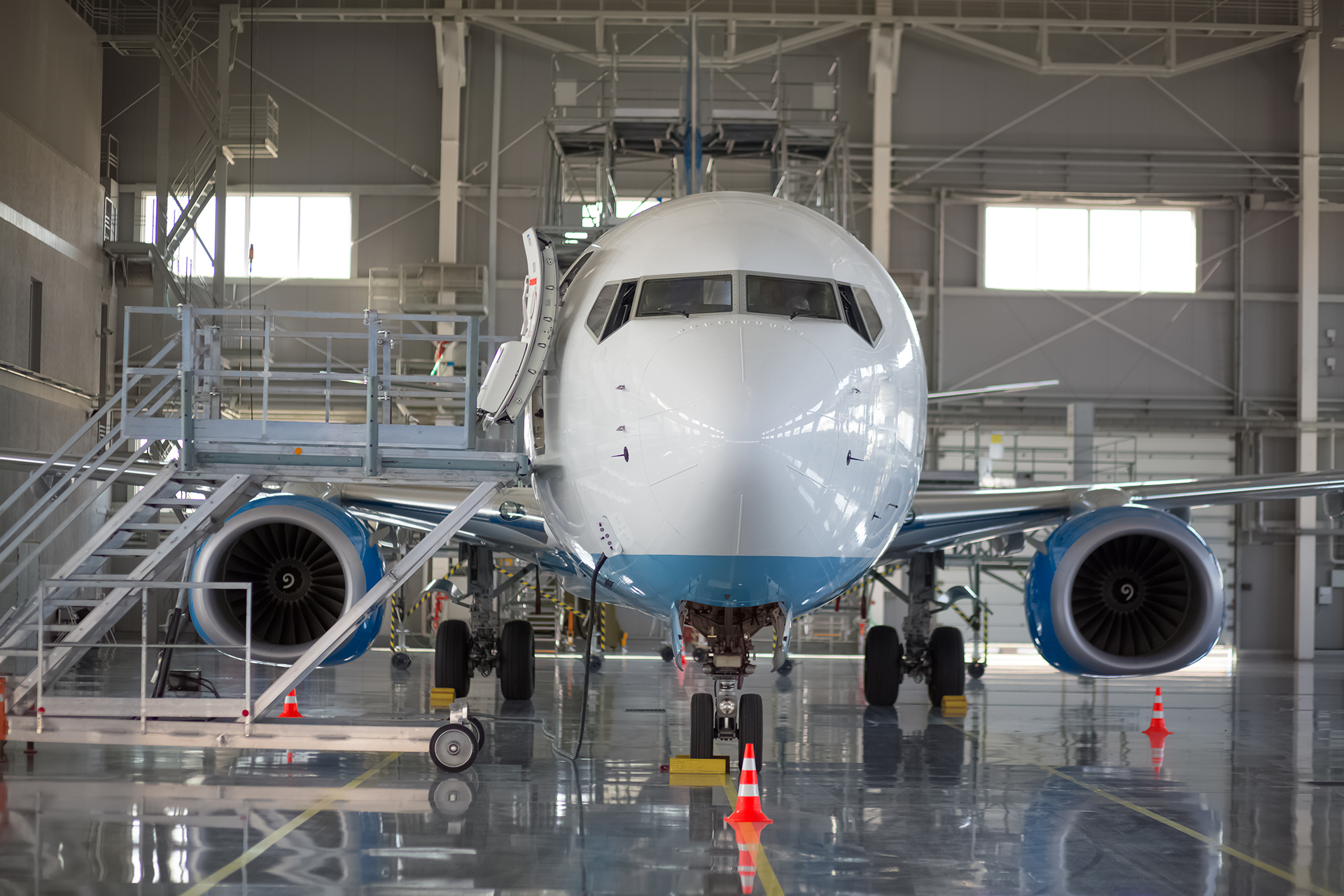 (A fixed-wing aircraft sits in the hangar at a maintenance facility—Photo Credit: renatsadykov/Shutterstock.com)
5. Simple Part Traceability
When regulatory authorities release new ADs or SBs that apply to specific parts or components on your aircraft, you need to know the complete history of that item. This means being aware of any penalty factors that may affect the life limitation of any part or component. Otherwise, your company may encounter compliance issues that could lead to an AOG situation. When tracking this information on a spreadsheet, part traceability can be a long and drawn-out process. If you determine that you're working with inaccurate information, having to scan spreadsheet data to find the source of an error can be daunting.
With WinAir, it is easy to access comprehensive and precise information on the history of any part or component that requires complex counters. Since the software automatically handles penalty factors based on flight log inputs that are entered into the system, business owners can feel confident knowing that all complex formulas are accounted for. WinAir provides users with an accurate audit trail for every part and component.
WinAir users have access to a variety of reports that contain historical part or component information, including a Component Report, Part Number Report, and Purchase History Report. Concerning the Component Report, users have access to installation history, maintenance history, current task compliance status, sub-component positions, and all relevant counters. The Part Number Report provides users with an overview of all stock on hand, which can be sorted by part number or base/bin location. The Purchase History report produces a list of parts purchased from a particular vendor that lists purchase data, receiving order number, batch number, quantity, and so on.
4. Streamlined Processes and Expedited Work Steps
Put away your calculator and close your spreadsheets. When you're managing complex counters in WinAir Version 7, you don't have to make any external calculations. Each complex counter only requires a single set-up to be built into WinAir. Once it is added to the system, it is available fleet-wide. This process is a huge time-saver when incorporating new aircraft into a fleet, which adds to the versatility of the software.
If a particular aircraft meets the conditions of the complex counter, then the system automatically applies the corresponding formula and calculates it within the aircraft template. As a result, processes are streamlined, which saves aviation operations tremendously in terms of time spent handling these calculations. Since operations no longer have to devote an extraordinary amount of time to managing these formulas and recreating them per each aircraft, they can focus their efforts on more pressing matters, like managing their day-to-day business.
3. No Readjusting to Account for Penalty Factors
Since parts and components carry unique life limitations, your operation must have the ability to account for these penalty factors. If you're using managing this information using a spreadsheet or basic maintenance system that is manually driven, then each penalty factor will require that you adjust it accordingly. Even if you are the most meticulously minded individual, there is no escaping the fact that making countless adjustments to accommodate for penalty factors will devour a significant amount of your time.
By automating the calculation of these complex formulas in the back end of WinAir based on the flight log inputs entered into the system, users do not need to worry about altering these figures. Rather, through process automation, they are instantly updated in WinAir.
2. Improved Maintenance Forecasting
When you can accurately manage complex counters, dynamic components, and variable cycles, then being able to forecast your maintenance is that much easier. With WinAir Version 7, users can accomplish all of the above effectively and efficiently. The software provides the ability to record daily usage for all hours and cycles, which minimizes errors, maximizes efficiencies, and results in more informed planning.
To further improve your maintenance planning, WinAir has developed an open API for integrating your flight ops system with WinAir Version 7. With this integration, aviation operations reap the rewards of having flight log data automatically sent over to WinAir. This process saves valuable time, increases efficiency on maintenance tasks, and provides instant access to information.
1. Ease of Maintaining Compliance
By managing complex counters in WinAir, businesses can continue to ensure compliance. This is a direct result of the process automation that is built into WinAir. Consequently, there is no tinkering with external calculations, nor is there any requirement for tracking complex formulas per each aircraft on a spreadsheet. Everything that you need to do can be accomplished within the system, and when you need it, all historical records for parts and components are at your fingertips. This comprehensive access to information makes it easy to maintain compliance in WinAir.
Also, with WinAir's software enforced validation and sequential workflow, operations can trust that their data is precise. This is due to the fact that this advanced functionality acts as a safeguard against the introduction of inaccurate data. This only further assists aviation operations with being able to prove compliance and maintain it on an ongoing basis.
Ensure Accuracy and Save Time by Managing Complex Counters in WinAir
Having the ability to manage all complex counters and associated formulas within a single software platform is a significant benefit to any aviation operation. It saves time and reduces inefficiencies. Plus, with the ability to apply each of these counters to any aircraft within a fleet, you have a win/win situation.
With WinAir Version 7, you can ensure data accuracy and simultaneously save time, which increases productivity and helps with maintaining compliance. Not only that, but you also have access to all historical data relative to parts and components. If your operation is seeking a more efficient way to manage complex counters, without the hassle of handling calculations and penalty factors by using an external system, then WinAir is the solution for you.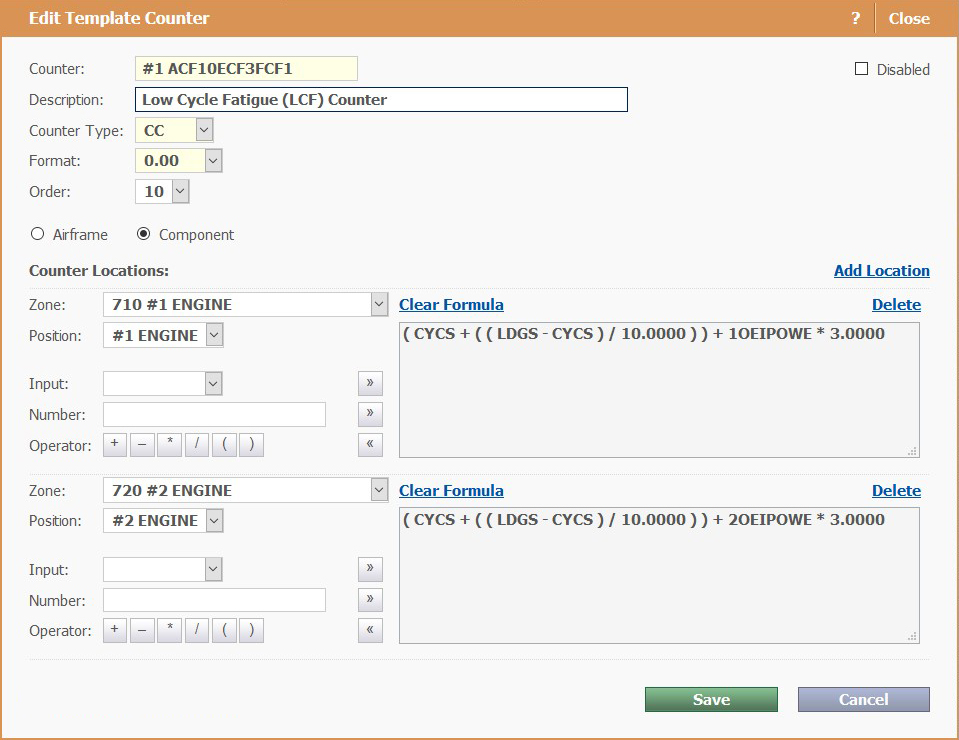 (A complex counter in edit mode in WinAir Version 7 presenting formulas for position-specific counters on a Leonardo AW139 helicopter – © WinAir)
Are you interested in learning more about the benefits of managing complex counters in WinAir? If so, then download our Top Five Advantages of Managing Complex Counters in WinAir summary document and contact us now to speak with a member of the WinAir team!
---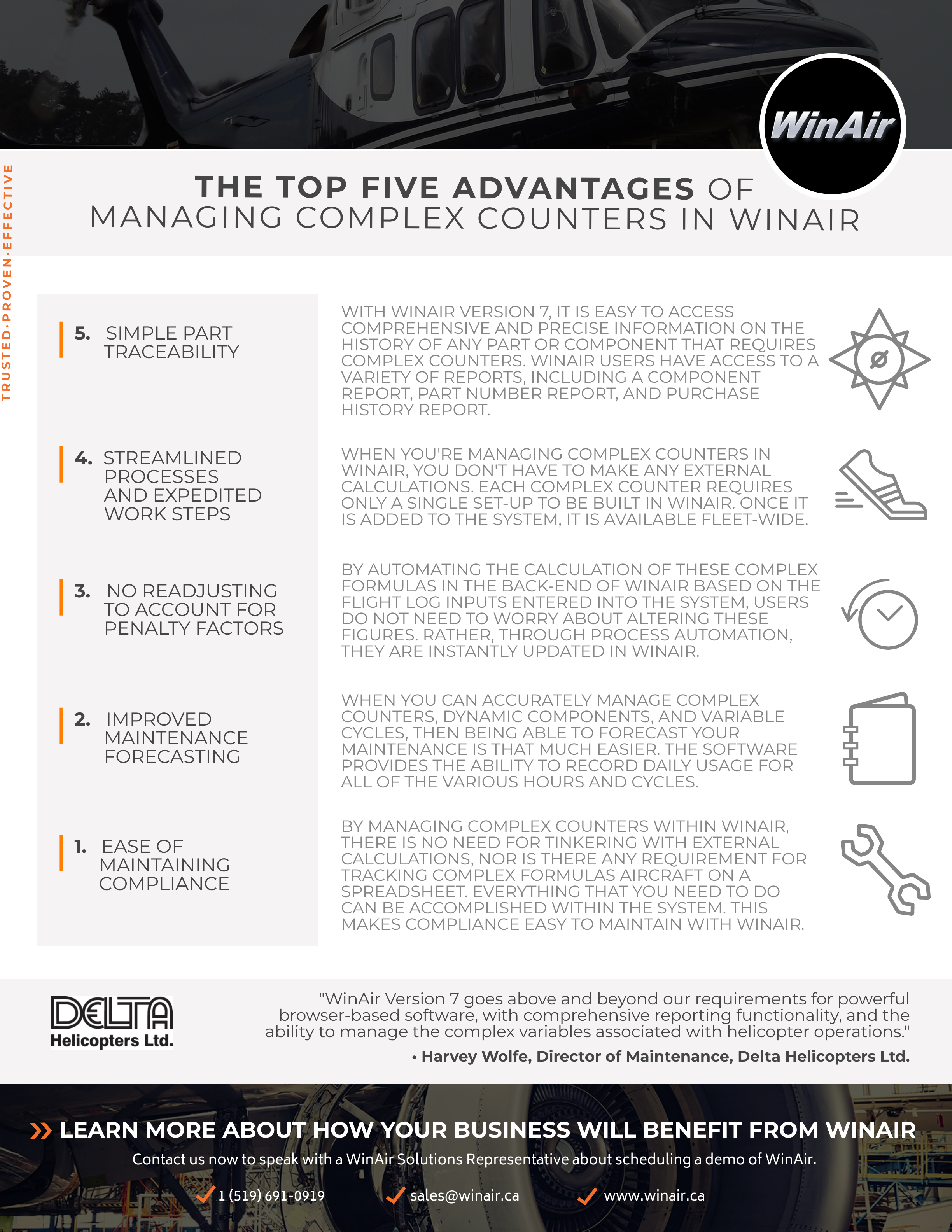 (Click on the image above to download the material)
---
About WinAir:
Based in London, Ontario, Canada, WinAir has 30 years of experience as a leader in aviation management software. Companies rely on WinAir to efficiently and effectively track and manage aircraft maintenance and inventory control. WinAir is proud to lay claim to hundreds of installations at aviation-specific organizations worldwide. From airlines to heli-ops, law enforcement agencies, oil industry suppliers, MROs, CAMOs, medical evacuation response teams and more, businesses using WinAir regard the solution as a necessary component to the successful management of their fleet maintenance programs.