Boost Efficiency with WinAir – 2022 NBAA Maintenance Conference—aviation management software leader gearing up to exhibit at Booth #804 at the aviation industry's only business aviation maintenance-focused event to explain how companies can streamline, expedite, and improve maintenance processes with WinAir
The company is excited to meet with aviation maintenance professionals to demonstrate the power and versatility of WinAir Version 7
(2022 NBAA Maintenance Conference Promotional Image displaying WinAir on dual computer monitors © WinAir)
---
London, ON, Canada/San Antonio, TX, USA – April 26th, 2022 – WinAir is delighted to announce that the company will be exhibiting at the 2022 NBAA Maintenance Conference at the Henry B. González Convention Center in San Antonio, Texas, USA. From May 3rd to 5th, members of the WinAir team will be on hand at booth #804 to show aviation maintenance professionals firsthand how they can improve operational efficiencies with the company's latest and fully web browser-based software, WinAir Version 7. This industry-leading software is available in software packages dedicated to the needs of MROs, Heliops, and Operators and can be customized based on the unique requirements of each business. The company also offers All-Inclusive, Part Sales, and turnkey solutions.
With WinAir Version 7, business aviation operations and the maintenance organizations that support them have the opportunity to improve maintenance processes and procedures from the hangar floor and up in an accelerated timeframe. Since software work steps within WinAir mimic actual aviation maintenance work steps, staff can easily comprehend the product knowledge and apply it to their production environment. As a result, businesses implementing WinAir can go live and take charge of the software quickly and seamlessly.
Additionally, since WinAir is best-of-breed aviation maintenance software that integrates with the solutions that work best for Flight Operations and Accounting departments, businesses can integrate it with their current flight ops and financial systems. This integration between solutions improves maintenance planning and forecasting and automates processes. So, in addition to utilizing the aviation industry's top aviation maintenance software for streamlining and expediting maintenance processes while simultaneously ensuring compliance, businesses can continue to use those products that work best for their various teams and in tandem with WinAir. To take these efficiency gains one step further, companies utilizing WinAir can go completely paperless by implementing Digital Signatures within the software to have mechanics and inspectors electronically sign-off on maintenance tasks.
"We're looking forward to meeting with our clients and forging fruitful relationships with businesses in attendance at this year's NBAA Maintenance Conference," says WinAir Managing Director Kyle Vergeer. "WinAir has been proven to be instrumental in assisting businesses with improving processes throughout all facets of their operation. We are thrilled to be returning to the trade show floor to demonstrate the latest cutting-edge features and functionalities in WinAir Version 7."
WinAir is the aviation industry's longest-standing aviation management software focused on improving operational efficiencies and ensuring compliance without compromising safety. That's why businesses from around the globe trust in WinAir to track and manage their aircraft maintenance activities and maintain inventory control. It's because they know that WinAir has the capabilities, back-end software data validation, and extensive boots-on-the-ground experience to help them achieve operational success. To further assist businesses with their product implementation and ongoing use of the software, WinAir offers Process Consultation, Project Management, Data Migration, Training, Aircraft Template Building, Hosting, and Integrations services.
Are you attending the 2022 NBAA Maintenance Conference? If so, contact us today to secure your VIP meeting with WinAir at Booth #804!
(WinAir Maintenance Programs Overview Video © WinAir)
---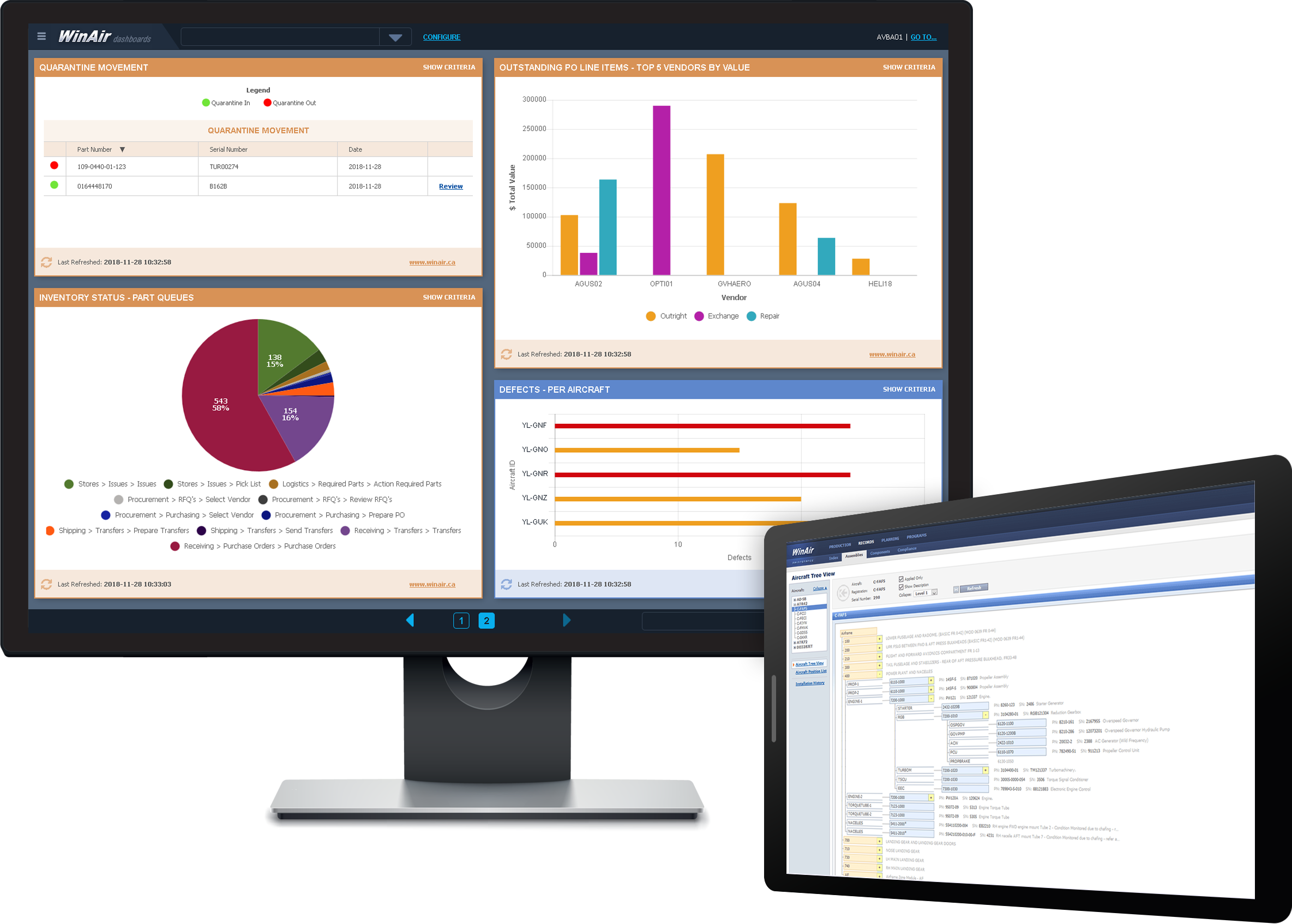 (WinAir Dashboards displayed on a desktop computer and a Template Tree View for an ATR-42 Aircraft displayed on a tablet © WinAir)
---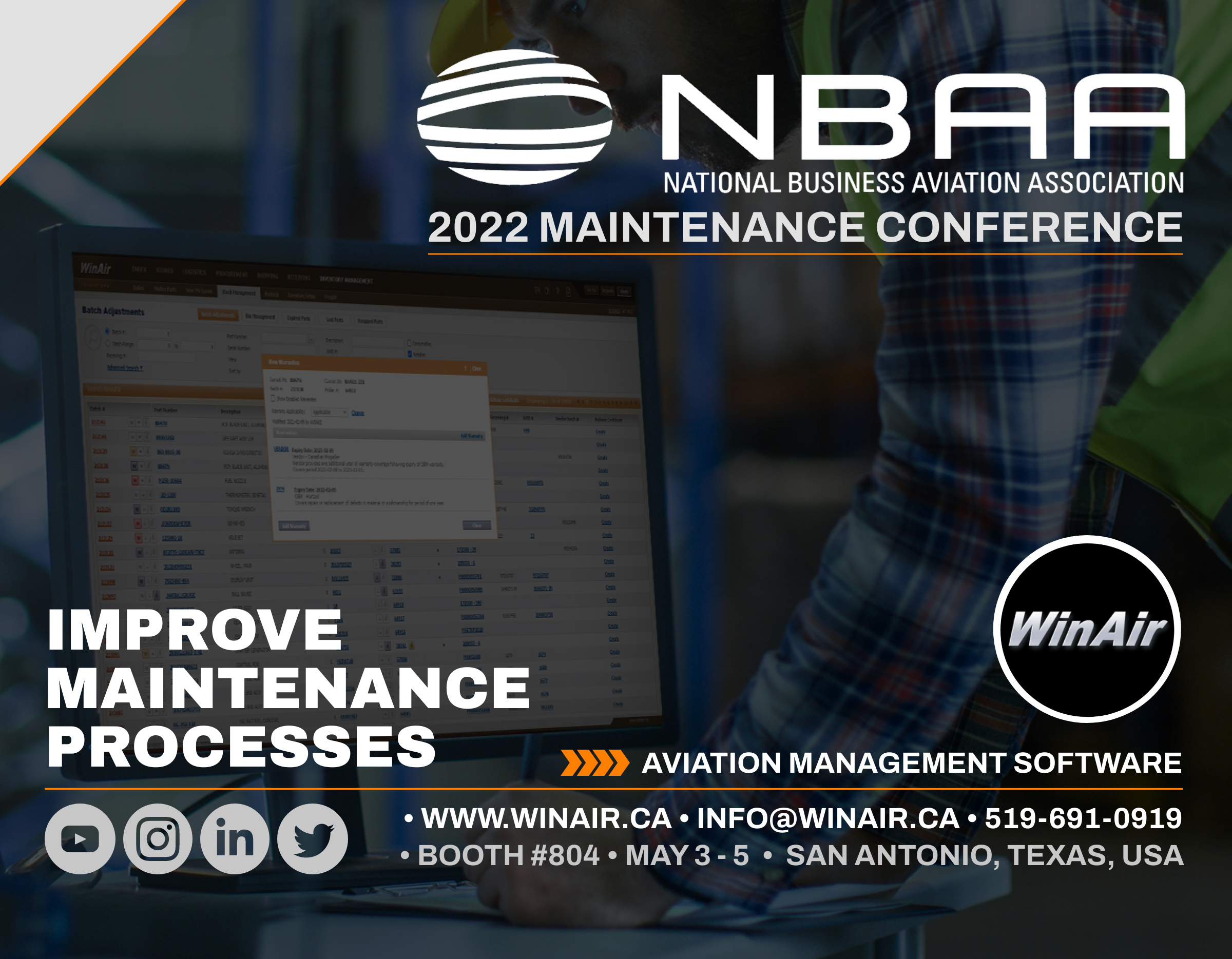 (Improve Maintenance Processes with WinAir—2022 NBAA Maintenance Conference © WinAir)
---
About WinAir:

Based in London, Ontario, Canada, WinAir has over 30 years of experience as a leader in aviation management software. Companies rely on WinAir to efficiently and effectively track and manage aircraft maintenance and inventory control. WinAir is proud to lay claim to hundreds of installations at aviation-specific organizations worldwide. From airlines to heli-ops, law enforcement agencies, oil industry suppliers, MROs, CAMOs, medical evacuation response teams and more, businesses using WinAir regard the solution as a necessary component to the successful management of their fleet maintenance programs.
###