Managing part sales is often regarded by various sectors of the aviation industry as a convoluted and time-consuming process. However, with WinAir's Part Sales package for WinAir Version 7, handling all aspects of part sales, including generating quotes, creating orders, shipping parts, and accepting returns, can be accomplished with ease
This article lists the top five benefits of managing part sales in WinAir
(An employee at an aviation operation views WinAir's Part Sales on a desktop computer—Gorodenkoff/Shutterstock.com—modified)
---
If you are in the business of selling aircraft parts, then you are well aware of the challenges associated with creating, processing, and fulfilling an order. When you factor in variables such as markups, exchanges, transfers, and core returns, managing the entire sales processes has the potential to get messy. This is typical if you are using software for part sales that was not designed for aviation or if you are using spreadsheet-driven methods. But, managing part sales doesn't have to be difficult, and with WinAir's Part Sales package for WinAir Version 7, it is quite simple.
Part Sales for WinAir Version 7 is fully integrated with the WinAir's Inventory, Maintenance, and Accounting products, providing instant access to all historical information on parts and inventory. What this means is that when you need comprehensive data on the lifecycle of any particular part before completing a transaction, or if you require information on past pricing, it is readily available. With this robust facet of WinAir's industry-leading aviation management software, aviation operations can generate quotes, ship orders, and receive and process sales returns and core returns. The software even has the capacity to manage multiple currencies, reserve parts, and approve quotes internally.
Whether you currently offer part sales or are considering expanding upon the scope of your services, WinAir's Part Sales will be a significant benefit to your business. It will streamline and expedite your sales process, provide you with detailed and accurate information on all aspects of sales, and will offer your business full operational transparency to keep all decision-makers informed concerning the status of quotes, orders, and exchanges. Part Sales is also fully scalable, so no matter the size of your operation, it will always satisfy your business needs.
Here are the top five benefits of managing part sales in WinAir: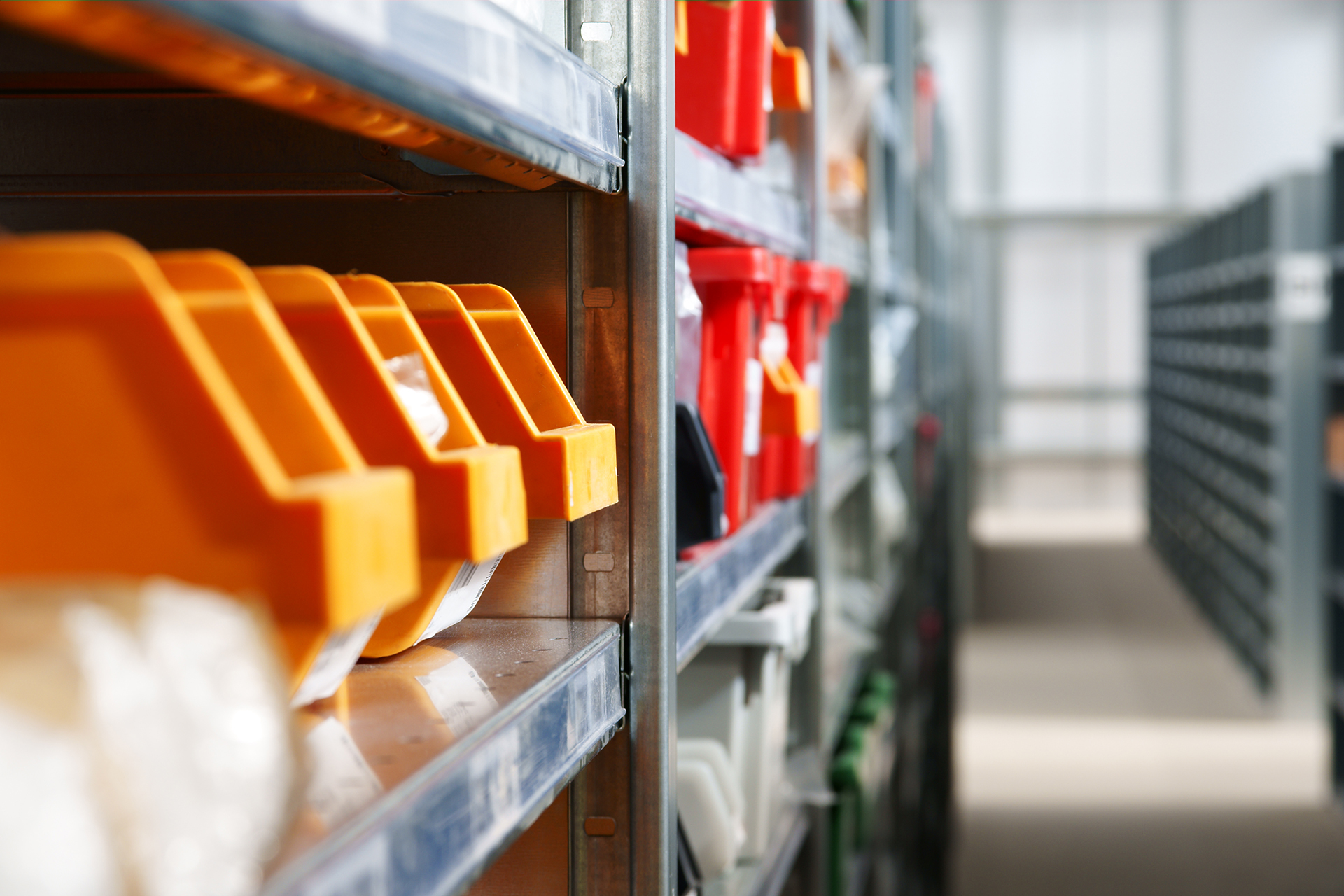 (Storage bins and ranks for storing parts and components at an aviation operation—D. Pimborough/Shutterstock.com)

5. Improved Accuracy in Sales Quotes and Orders

By providing access to a robust pricing calculator within Part Sales, WinAir can assist aviation operations with improving the accuracy of sales quotes. This pricing calculator can determine pricing based on your cost, vendor pricing, or a custom input, with the ability to apply predefined or custom markups. WinAir users with access to this pricing calculator can utilize it to determine the price for any part on a quote or a sales order and to reserve a batch to be sold. With the appropriate system permission, they can also adjust the price of a part before adding it to a quote or order.
Part Sales can also handle variable currencies and exchange rates. These capabilities are a tremendous gain to any aviation operation that is looking to enhance the accuracy of their quotes, as you will never encounter an instance where you misquote a client due to an incorrect exchange rate calculation and end up incurring costs. Rather, with this versatile pricing calculator, your quotes will always be precise. In terms of your clientele, an improvement in the accuracy of your quotes ensures that they are always receiving the correct price. This ability to provide better quotes reinforces their trust in your company, and helps with attracting and generating new business.

4. Ability to Reserve Parts for Precise Order Fulfillment

Secure the exact parts that your clients require, and even before an order is submitted. With WinAir's Part Sales, users can reserve parts quickly and effectively from directly within the software, removing the need for an external tool for part management and logistics. Once you have reserved a particular serialized part for a client in Part Sales, it is locked down as being allocated for that order.
Afterward, users can continue to expedite the part sales process by using the drop-shipping feature. With this feature, users can ship items directly from another location, such as a manufacturer or an external base, rather than having it shipped to their base and then to the customer. This process eliminates the need for facilitating a base-to-base transfer, as users can conveniently drop-ship items from another location.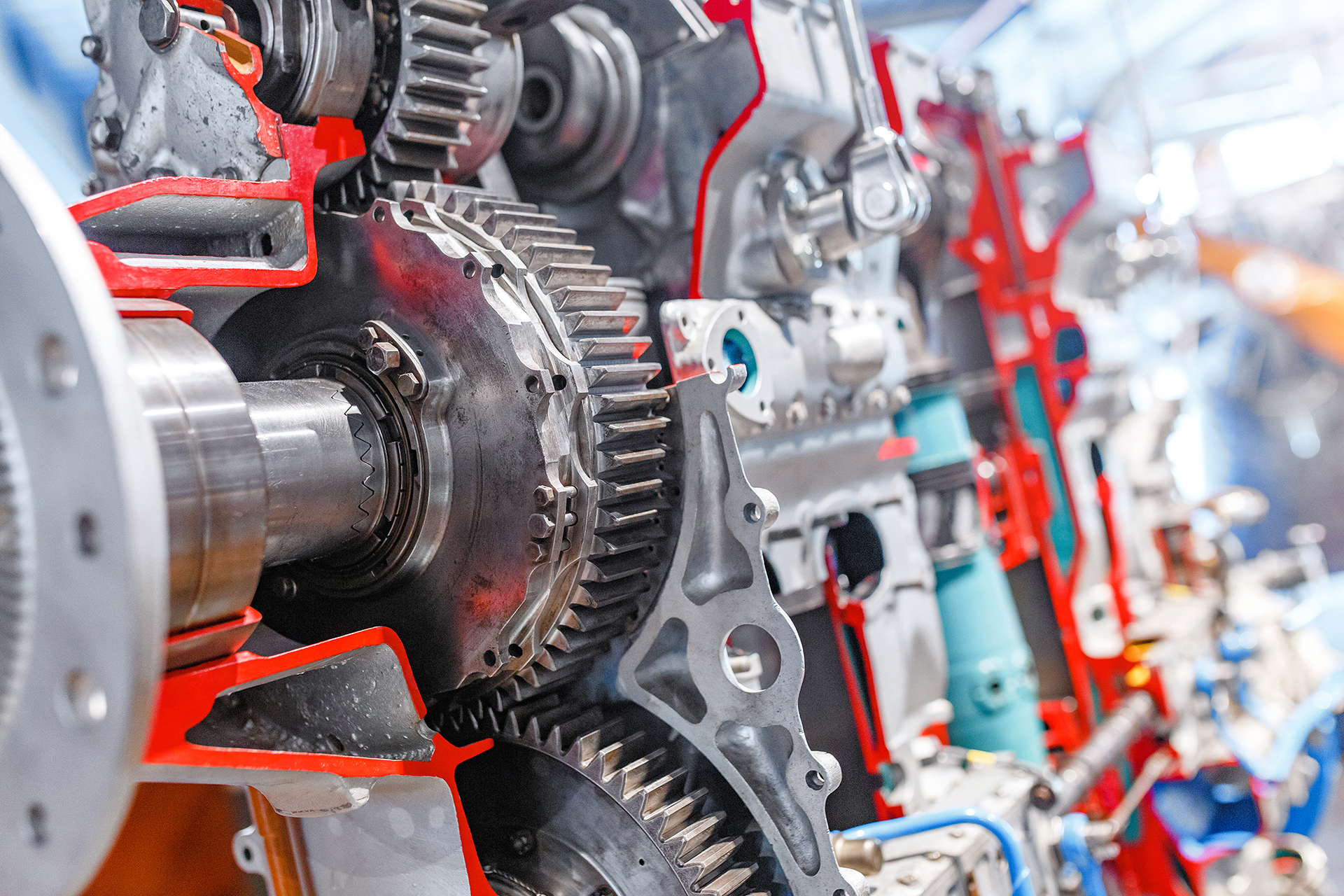 (A close-up view of an aircraft engine—frantic00/Shutterstock.com)

3. Increased Productivity with Quick Access to Comprehensive Historical Data

Knowing the comprehensive history of a part, component, consumable, or collection of items is vital to processing a sales order. Since part condition and maintenance history are intrinsically tied to the sale of a part, having access to the complete history of a particular part makes justifying the cost structure easier. With Part Sales, users have instant access to all of this information, including data on the number of hours logged on a part, recent issuing of that part, relevant ADs and SBs, maintenance activities performed, as well as other historical part movement information such as repairs, transfers, and quarantines.
WinAir users can also view extensive history for sales quotes and orders for each part when creating a quote or a sales order. As a result, users spend less time searching for the information that they require and have more time available for completing sales. From the perspective of a business owner, making it easy for users to access necessary part information in Part Sales improves productivity and boosts internal processes.
2. Time-savings Resulting from an Expedited Quote Approval Workflow

With WinAir's built-in quote approval workflow, aviation operations can provide entry-level sales staff with the ability to draft sales quotes and have them approved by designated staff before submitting to the client. In doing so, they speed up the quote generation process, while staff members gain valuable experience within the department. This straightforward internal quote approval process also saves aviation operations significant time, ensures that no information is overlooked, and alleviates senior staff of administrative duties, offering them the opportunity to focus on more pressing matters.
When reviewing a quote, WinAir users with the appropriate designation can approve the quote and make it final so that it can be sent to the customer, or decline and resubmit to the staff member that created it. In the case of the latter, to improve the sales workflow when a revision is required, WinAir provides a warning note informing this user of the issue and how it can be corrected. Once this information is rectified, it can be resubmitted using the same process and approved accordingly.
1. Ability to Streamline, Track, and Manage the Entire Sales Process

From building quotes to creating sales orders, through to shipping parts, receiving sales returns and core returns, and invoicing the client, with WinAir's Part Sales, aviation operations can streamline, track, and manage the entire sales process. By providing users with a sophisticated, all-encompassing, and user-friendly solution that can handle even the finer details associated with part sales, WinAir simplifies the sales process. With functionality for producing packing slips to working with multiple tax profiles, and generating stock activity and inventory value reports, Part Sales can improve every aspect of the sales and inventory workflow.
Because it works seamlessly and utilizes data from other sections of WinAir, aviation operations using Part Sales will ensure compliance, harmonize departments, and receive full operational transparency. All of which contribute to business success by improving efficiencies, removing redundancies, and providing a framework that encourages and sustains growth. With this framework in place, aviation operations can scale up all facets of their business.
Elevate Your Aviation Operation with Part Sales and WinAir Version 7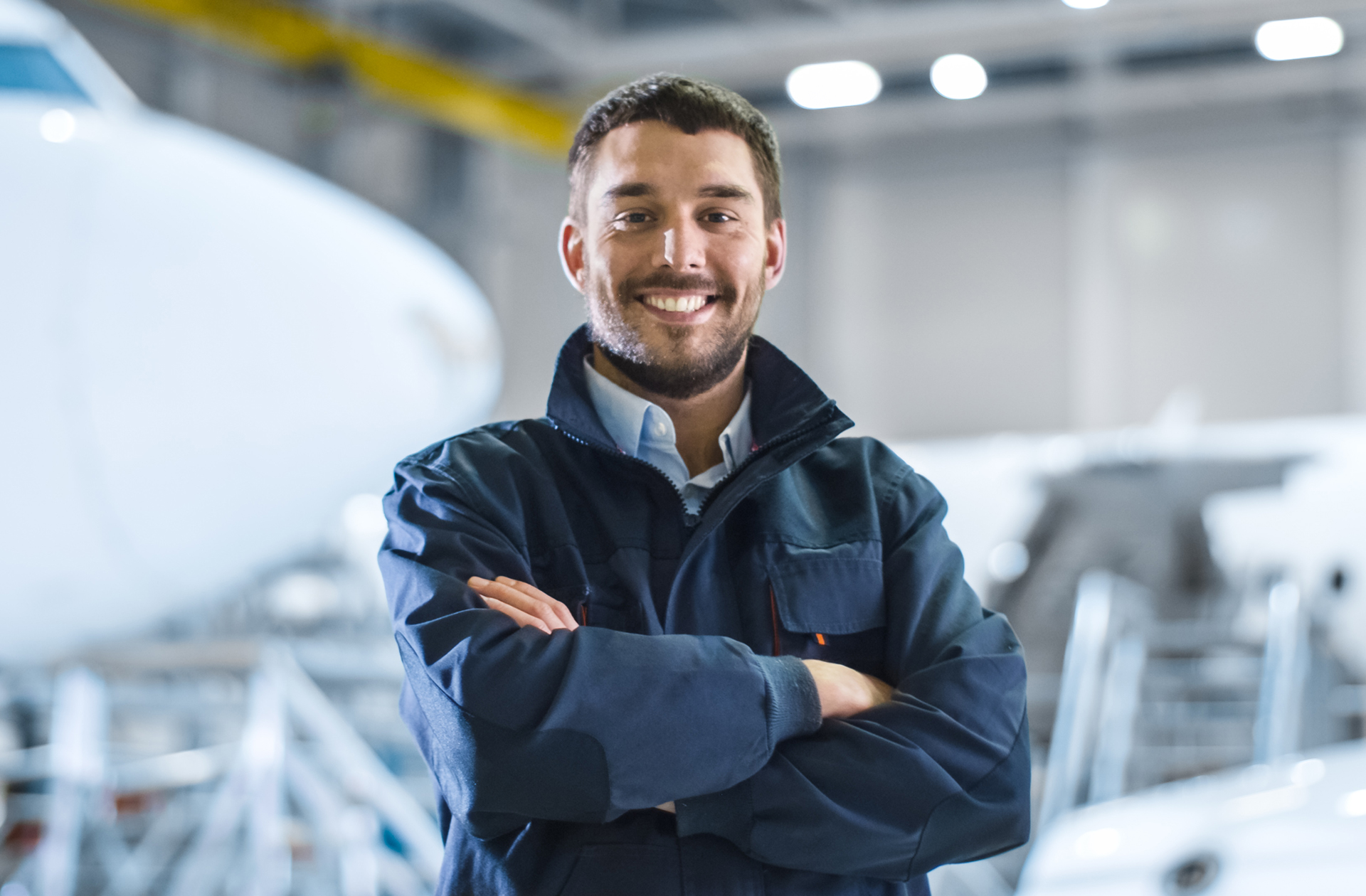 (A business owner stands next to aircraft in a maintenance hangar—Gorodenkoff/Shutterstock.com—modified)

Streamline and expedite part sales with WinAir's Part Sales for WinAir Version 7 and elevate your aviation operation to new heights. By unifying all departments into the sales workflow with a single aviation management software package, WinAir has the power to transform aviation operations. After implementing Part Sales, businesses can expect to see a significant improvement in the accuracy of their inventory counts and reporting, along with a boost to their transaction fulfillment timelines.
With a software package catered to the needs of aviation operations that sell aircraft parts, WinAir meets the specific requirements of this unique aviation industry subset. Rather than working in multiple incongruent systems to achieve the same end goal of selling aircraft parts, aviation operations with a focus on part sales can now take care of all aspects of the sales process in WinAir. From tracking and managing maintenance and inventory to handling sales quotes, orders, invoices, and more, WinAir's Part Sales package is a surefire way to improve efficiencies at any aviation operation.
Want to learn more about WinAir's Part Sales package? If so, visit our Part Sales webpage to download our brochure and then contact us now to book an online demo!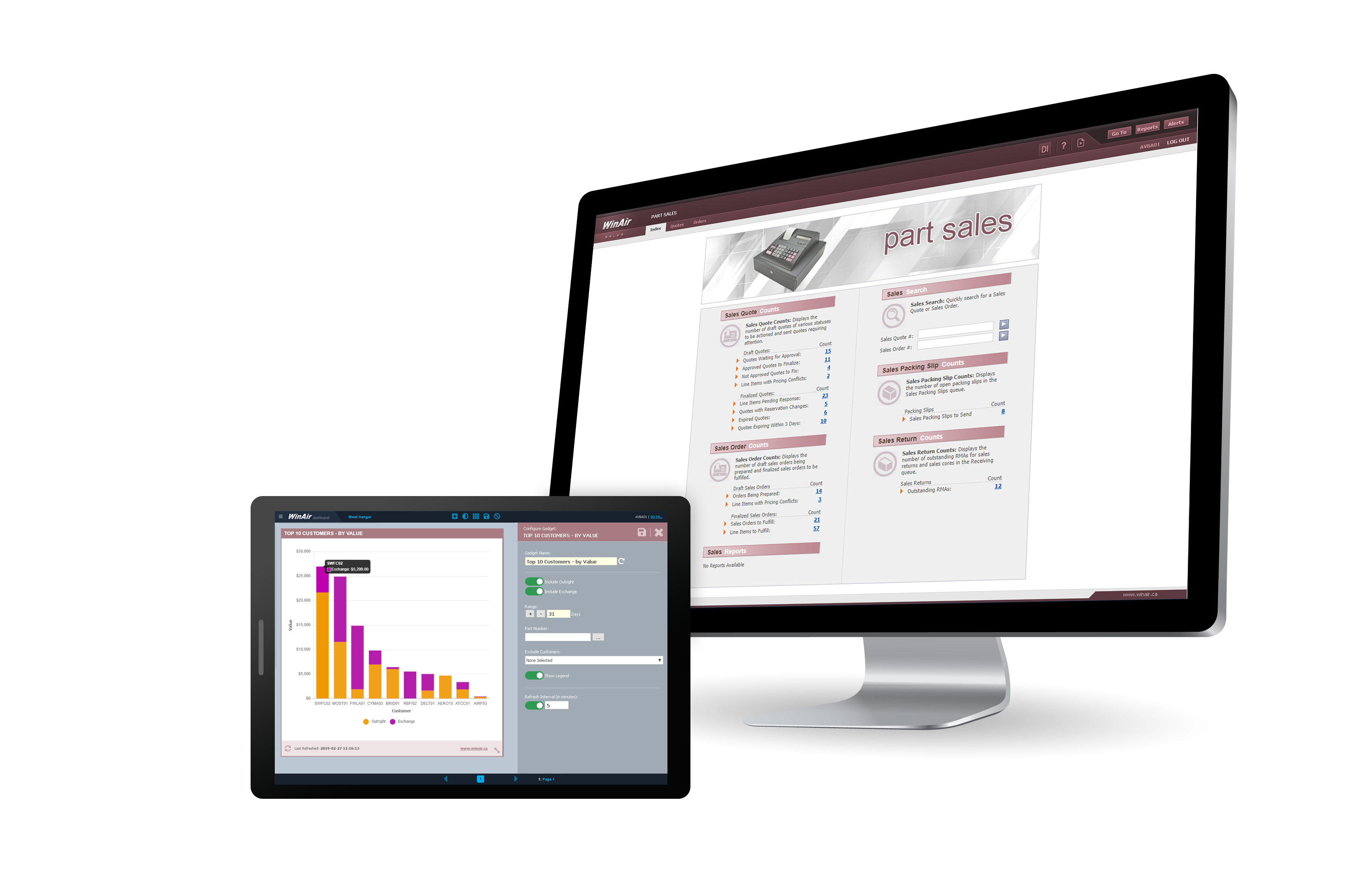 (A WinAir Part Sales Dashboard gadget for the Top 10 Customers by Value displayed on a tablet, and the Part Sales main index page with sections for Sales Quote Counts, Sales Order Counts, Sales Reports, Sales Search functionality, Sales Packing Slip Counts, and Sales Return Counts displayed on a desktop – © WinAir)
---
About WinAir:
Based in London, Ontario, Canada, WinAir has over 30 years of experience as a leader in aviation management software. Companies rely on WinAir to efficiently and effectively track and manage aircraft maintenance and inventory control. WinAir is proud to lay claim to hundreds of installations at aviation-specific organizations worldwide. From airlines to heli-ops, law enforcement agencies, oil industry suppliers, MROs, CAMOs, medical evacuation response teams and more, businesses using WinAir regard the solution as a necessary component to the successful management of their fleet maintenance programs.