WinAir releases new and improved Part Sales module for WinAir Version 7—redesigned module rebuilt from the ground up, with all the power and versatility that WinAir provides
The new queue-based module offers enhanced functionality for managing the entire sales process; from quoting to creating sales orders, through to shipping parts and invoicing the client—available now for all WinAir Version 7 software packages
---
London, ON, Canada – May 8, 2019 – Worldwide leader in aviation management software, WinAir, is thrilled to announce the release of an enhanced Part Sales module for WinAir Version 7. "Part Sales" is the next-generation of WinAir's part sales module. It offers aviation operations advanced functionality and robust features for managing all aspects of the sales process. With this module, users can create sales quotes, convert quotes into sales orders with ease, and ship parts to customers with user-friendly processes to complete the transaction.
This revamped Part Sales module for WinAir Version 7 is available for WinAir's Part Sales, Operator, Heliops, and MRO packages. It can also be obtained as part of a Custom or All Inclusive package option.
This new module is fully integrated with the WinAir Version 7's Maintenance and Inventory modules and follows a sequential workflow. This is a significant benefit to any aviation operation, as all information is housed within one system and is available at your fingertips. As a result, users can make part requests for Part Sales and have that information automatically processed through to Inventory, based on the existing Master Part required part workflow. This process ensures that all affected departments have instant access to sales-related activities and assists in expediting the order fulfillment timeline.
In addition, this fusion of WinAir's Part Sales module with its Maintenance and Inventory modules makes it easy to access the required details when receiving an inquiry about a particular part, when processing an order, or when generating a quote. It also assists with justifying your cost structure, as maintenance history directly relates to the condition and sale of parts. For instance, when selling parts, you have access from this Part Sales module to comprehensive part condition history, data on the number of hours logged on that part, information on any relevant ADs, and much more.
Part Sales is also as intuitive as it is robust. When users make changes to the underlying data in WinAir that could affect the pricing or reservations on a sales quote or sales order, the system will flag the affected quotes and orders as requiring attention. WinAir will also direct these users to the corresponding change in the system and will allow them to make the necessary updates.
WinAir's Part Sales module can also manage sales quotes and track historical part information. Users can conveniently access sales quote history and sales order history by part number while they are generating a quote or sales order. They can also utilize a built-in internal quote approval process to allow junior staff members to create draft quotes, which can then be approved by designated senior staff prior to submitting to the customer.
In terms of reserving quoted or sold parts, users of WinAir's Part Sales module can complete these tasks simply and quickly from within the part sales interface. By using the drop-shipping feature, members of the sales team can choose whether to ship a reserved part from its current location or to initiate a base-to-base transfer. This new feature saves time and can help to reduce overall shipping costs.
"We are very excited to release our new and improved Part Sales for WinAir Version 7," says WinAir Managing Director, Kyle Vergeer. "Part Sales offers advanced sales quoting and order processing functionality that is intrinsically tied to a company's maintenance and inventory data in WinAir. This provides aviation operations with accurate inventory counts, improves the transaction processing timeline, and unifies all required departments into the sales workflow."
Along with its ability to manage the sale of parts, WinAir's enhanced Part Sales module can handle sales returns. This includes having a dedicated system queue for receiving regular returns and expected incoming sales core returns, which makes for simple processing of return transactions.
Also bundled with this updated Part Sales module is a powerful and versatile pricing calculator. With this tool, users can easily determine the cost or vendor price of each part, apply pre-defined or custom markups, and calculate pricing in both system and customer currencies.
In addition to the company's new Part Sales module, WinAir is introducing a corresponding Part Sales Dashboard gadget for its Dashboards enhancement for WinAir Version 7. "Dashboards" provides aviation operations with the ability to monitor real-time system data in a highly visual manner for instant awareness of current performance. This new Part Sales Dashboard gadget, titled "Top 10 Customers – by Value," highlights a WinAir client's top 10 customers with the greatest sales and identifies them by type, which includes whether they are outright or exchange sales.
WinAir's new Part Sales module for WinAir Version 7 is out now! Would you like to learn more about how your company will benefit from this game-changing module for managing aircraft part sales? If so, then contact us today to speak with a member of the WinAir team!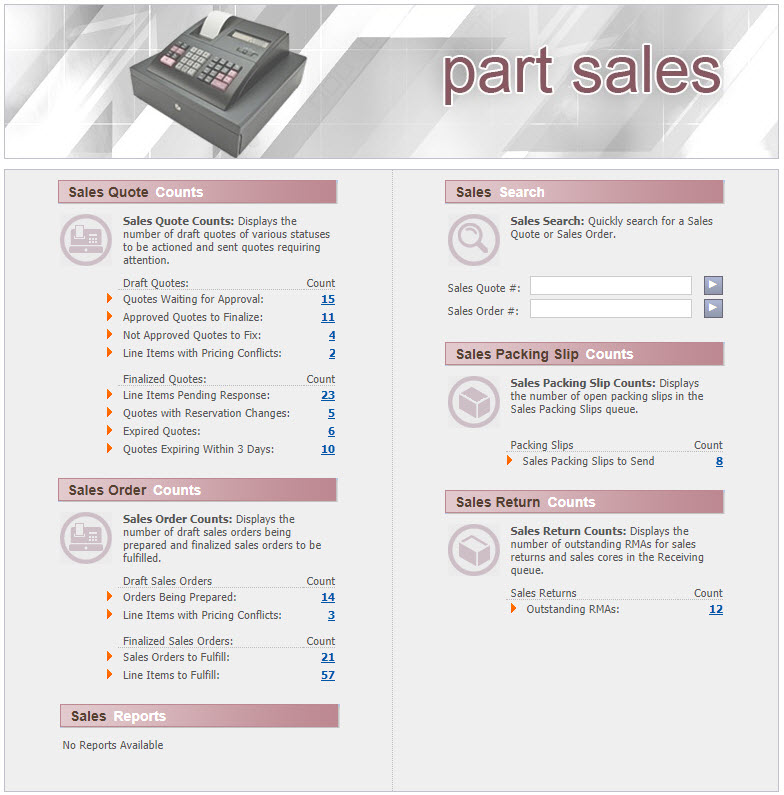 (Main Part Sales index page displaying sections for Sales Quote Counts, Sales Order Counts, Sales Reports, Sales Search functionality, Sales Packing Slip Counts, and Sales Return Counts – © WinAir)
---

(Prepare Quote page displaying search results for the most recent sales quotes based on sales quote number – © WinAir)
---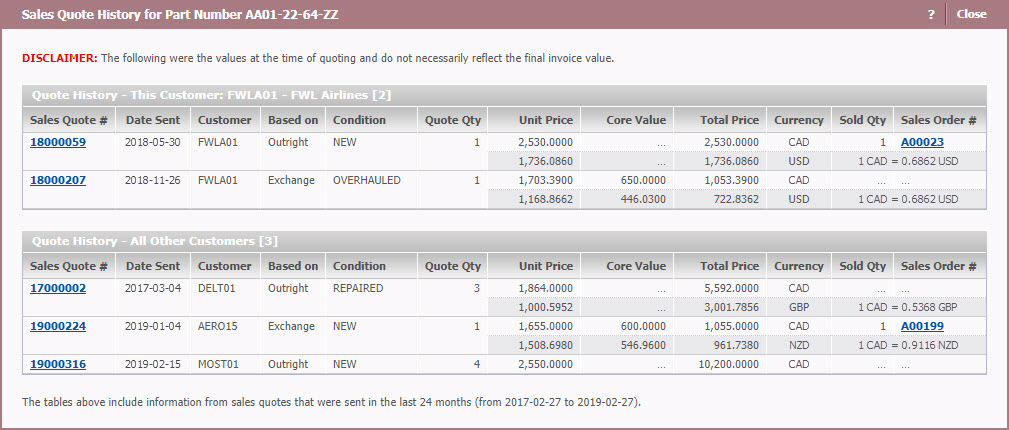 (Sales Quote History interface displaying historical pricing information for a particular part – © WinAir)
---

(WinAir Pricing Calculator displaying the options and method for determining the price of a part for an exchange sale – © WinAir)
---

(Outstanding orders page displaying the current status of a part request that is in progress to fulfill a sales order – © WinAir)
---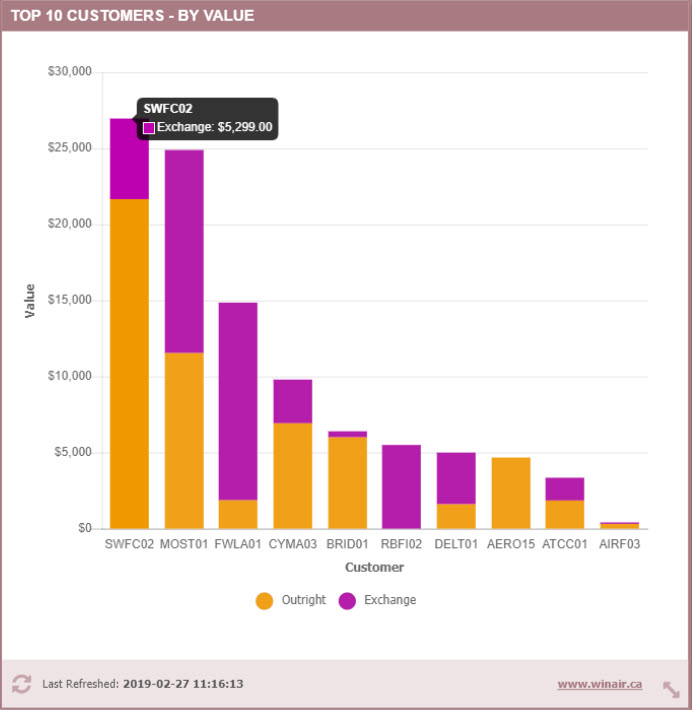 (Dashboard gadget for the Part Sales module displaying the Top 10 Customers by Value – © WinAir)
---
About WinAir:
Based in London, Ontario, Canada, WinAir has 30 years of experience as a leader in aviation management software. Companies rely on WinAir to efficiently and effectively track and manage aircraft maintenance and inventory control. WinAir is proud to lay claim to hundreds of installations at aviation-specific organizations worldwide. From airlines to heli-ops, law enforcement agencies, oil industry suppliers, MROs, CAMOs, medical evacuation response teams and more, businesses using WinAir regard the solution as a necessary component to the successful management of their fleet maintenance programs.
###