Streamline, integrate, and save—aviation management software leader, WinAir, confirmed to attend the NBAA 2020 Maintenance Conference
Company excited to display how aviation operations from the business aviation sphere can accelerate processes, harmonize departments, and find significant savings in their maintenance budgets with WinAir Version 7
---
*This event is canceled due to the global COVID-19 pandemic
London, Ontario, Canada/Hartford, Connecticut, USA – February 27, 2020 – WinAir is thrilled to announce that the company will be attending the National Business Aviation Association's NBAA 2020 Maintenance Conference at the Hartford Convention Center (Connecticut Convention Center) in Hartford, Connecticut, USA. From May 5th to 7th, WinAir team members will be on hand at Booth #1230 at the trade show exhibition hall to demonstrate how companies involved in business aviation will benefit from WinAir Version 7, WinAir's industry-acclaimed maintenance and inventory control software. They will also shine the spotlight on exciting features, robust functionalities, and software enhancements that are sure to impress event attendees from this facet of the aviation industry.
With WinAir Version 7, business aviation operations and, their supporting entities stand to gain from streamlined processes, true-to-life work steps, and the ability to integrate their current flight ops software and financial system with WinAir. By integrating these systems and leveraging the flight log data and accounting information, companies discover business efficiencies that boost processes, improve interdepartmental communication, and provide their various teams with instant access to information. As a result, these newfound business efficiencies lead to savings, both in terms of time spent and overall costs.
This leveraging of data continues with WinAir's recently released Dashboards enhancement for WinAir Version 7. This groundbreaking, cutting-edge enhancement provides businesses with real-time visual representations of current maintenance, inventory, and financial data within WinAir. These data visualizations, or gadgets, can be displayed within any number of customizable Dashboards to offer businesses enhanced operational visibility, which assists them with making proactive decisions. With this high level of operational transparency, business aviation operations can identify and remove inefficiencies in their infancy to safeguard against AOG situations. They can also operate their business more economically by maintaining a lean, yet prepared inventory.
WinAir's Dashboards enhancement was first unveiled at NBAA's Business Aviation Convention and Exhibition (BACE) in 2018. Since that time, WinAir has released new Dashboard gadgets for tracking and monitoring a variety of items of particular interest to staff in key decision-making roles (ex. Director of Maintenance, Inventory/Parts Manager, Chief Financial Officer, IT Manager, and Owner/CEO). For instance, a Director of Maintenance will be keenly interested in gadgets for Total Labour per Template, Aircraft Flight Readiness, and Aircraft Defects per Flight Hours.
Digital Signatures is another impressive feature in WinAir Version 7 that is a potential game-changer for business aviation operations. This newly enhanced feature for WinAir Version 7 replaces the manual processes for signing off and approving maintenance work using a paper task card. With digital signatures, all authentications can occur digitally, which improves overall productivity on maintenance work, saves significant time, and ensures data integrity. By implementing digital signatures, business aviation operations have the opportunity to automate maintenance processes, save tremendously on labour and office supply costs, and can go completely paperless.
To further assist with going fully digital and improving productivity, business aviation operations can take advantage of Real-Time Labour Tracking (RTLT) in WinAir Version 7. This application is considered by the vast majority of WinAir users to be a real time-saver for their respective operations. With RTLT, operations can nearly eliminate the need for supervisors to enter timecards for employees manually within the software. RTLT records time against work orders and tasks in a web-based, real-time format, and is available for regular and overtime hours, breaks, and all task skill types. To expedite these processes even more, businesses can use barcoding technology in conjunction with WinAir Version 7. By utilizing a real-time scanning kiosk for adding timecard entries, supervisors can review this information directly and instantaneously within the Labour Management section of WinAir.
"We are excited to take WinAir Version 7 to the NBAA Maintenance Conference," says WinAir Business Development Representative, Jason Street. "By automating processes, removing inefficiencies, and integrating with flight ops and financial systems, aviation operations receive remarkable savings with our software. We look forward to conversing with NBAA attendees to learn more about how we can assist them in taking their business to new heights."
With dedicated software packages for Operators, Heliops, MROs, and CAMOs, that can be customized to meet any company's unique requirements, WinAir Version 7 has all the features and functions that businesses require to reach their operational goals. If business owners are looking to speed up the transition to the software, they can rest assured knowing that full turnkey solutions are available. To provide additional support, WinAir also offers a variety of services. These include process consultation, project management, data migration, training, aircraft template building, hosting, integrations, and client success services. Transform the way you manage your business for the better, and capitalize on WinAir's over 30 years of aviation industry experience to provide you with a compelling return on your investment.
Are you attending the NBAA 2020 Maintenance Conference and interested in learning about how your business can streamline, integrate, and save with WinAir? If so, then contact us today to schedule your VIP time to meet with WinAir at Booth #1230!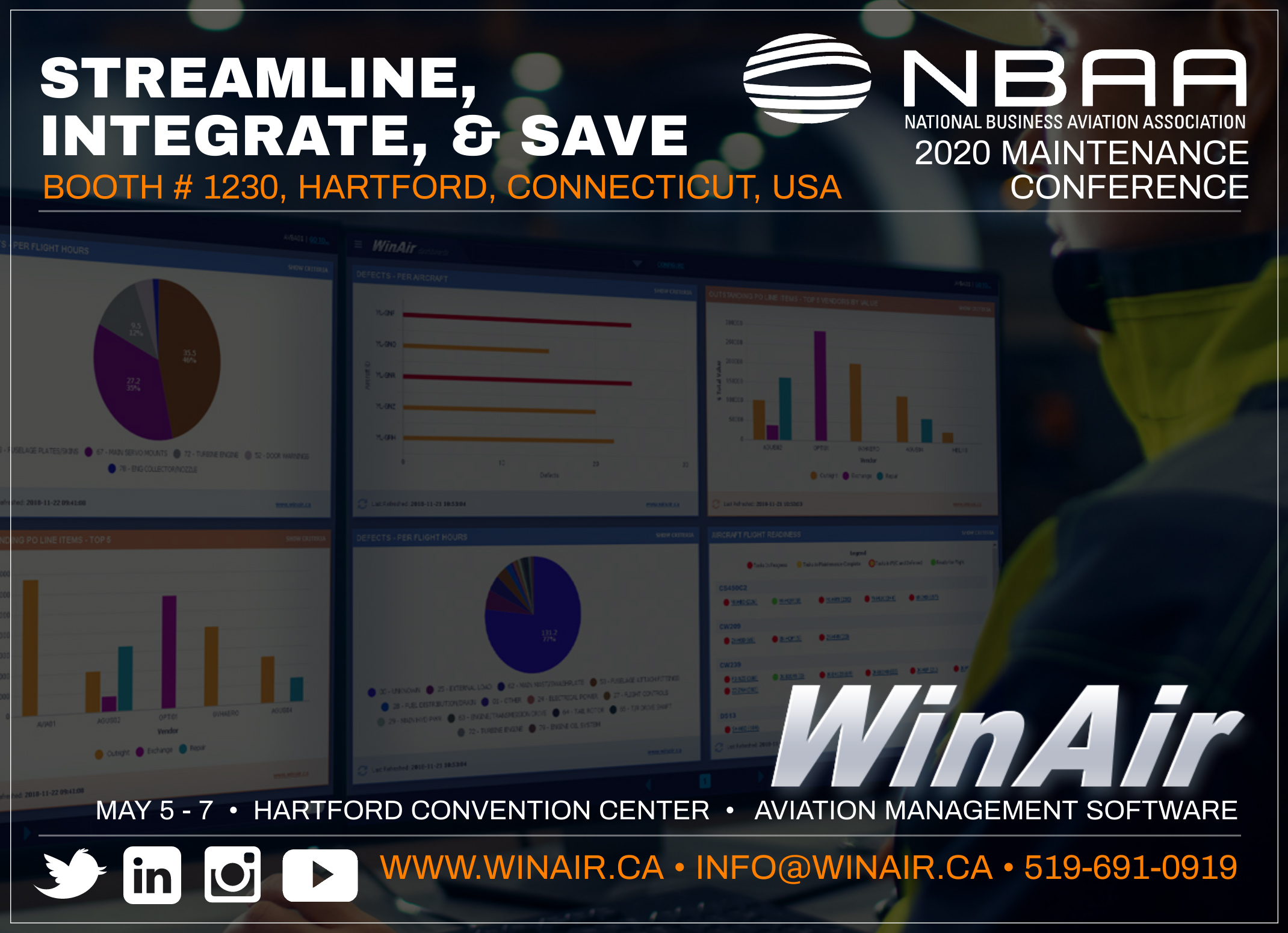 ---
About WinAir:

Based in London, Ontario, Canada, WinAir has 30 years of experience as a leader in aviation management software. Companies rely on WinAir to efficiently and effectively track and manage aircraft maintenance and inventory control. WinAir is proud to lay claim to hundreds of installations at aviation-specific organizations worldwide. From airlines to heli-ops, law enforcement agencies, oil industry suppliers, MROs, CAMOs, medical evacuation response teams and more, businesses using WinAir regard the solution as a necessary component to the successful management of their fleet maintenance programs.
###