WinAir to host Virtual Site Tour this March for National Engineering Month—event jointly organized by WinAir, the Professional Engineers Ontario – London Chapter, and the Ontario Society of Professional Engineers
Company looking forward to facilitating a presentation on how Engineers use WinAir to improve aircraft maintenance processes—registration now open
(An AME views WinAir's Dashboards for WinAir Version 7 at an aircraft maintenance hangar—Engineer studio/Shutterstock.com—modified—software images © WinAir)
---
London, ON, Canada – March 2nd, 2021 – WinAir is delighted to announce that the company will host a virtual technology site tour on March 4th from 2:00 p.m. to 3:30 p.m. EST to promote National Engineering Month (NEM). This event has been coordinated by WinAir in conjunction with the Professional Engineers Ontario (PEO) – London Chapter and the Ontario Society of Professional Engineers (OSPE). It will provide students, professionals, and the public with the opportunity to learn about the company, WinAir, its industry-leading aviation management software, WinAir Version 7, and network with the company. Individuals interested in attending this free event can register for it online.
WinAir has been a forerunner in the aviation industry since the company introduced its software in 1988, based upon the vision and expertise of an Aircraft Maintenance Engineer (AME) and a software developer. Over the years, the company has enhanced its software by adhering to industry best practices and released new versions of the product while simultaneously expanding its global footprint and growing the company. Today, over 15,000 users utilize WinAir to manage maintenance activities on more than 9,000 fixed-wing and rotary-wing aircraft at hundreds of aviation-specific organizations in over 30 countries worldwide—from Operators to Heliops, MROs, CAMOs, and beyond.
"We are looking forward to welcoming engineers, students, and other interested parties at our Virtual Tour of WinAir," says Kyle Vergeer, WinAir Managing Director. "Our presentation will provide attendees with a comprehensive overview of the history of our company, our global client base, the industries that we serve, and the ongoing evolution of our industry-leading software. Thank you to the Professional Engineers Ontario and the Ontario Society of Professional Engineers for providing WinAir with the opportunity to deliver this presentation to coincide with National Engineering Month."
George Biljan, P.Eng., M.Eng., PEO – London Chapter Advisor, also expressed his enthusiasm about this upcoming virtual site tour: "Our National Engineering Month Virtual Technology Visit Program offers a unique insight into technology-focused companies from within the region. WinAir's presentation will provide our members and other attendees with a wealth of information on the company, its impact on aviation maintenance management, and its influence on the international stage. We are excited to have WinAir on board for this event."
National Engineering Month (NEM) is the largest celebration of engineering in Canada. Each year, Canadian provincial and territorial engineering regulatory bodies, such as the PEO and the OSPE, organize learning events throughout March to offer information on the benefits of a career in engineering and to explore technology-focused businesses. WinAir's presentation will demonstrate how engineers use its software to streamline and expedite aircraft maintenance work steps and ensure compliance with aviation standards and regulations.
Are you interested in learning more about WinAir? Contact us today!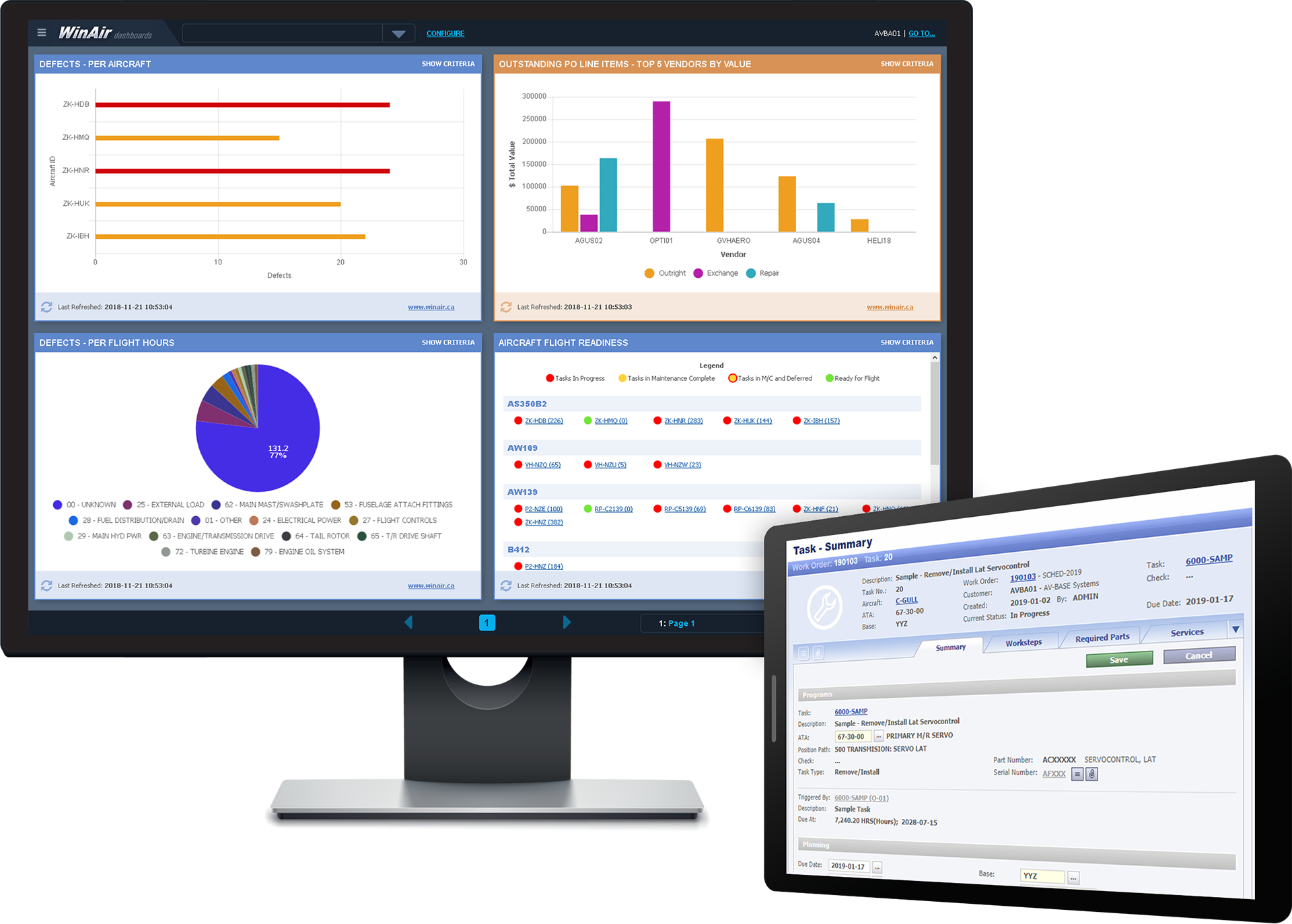 (WinAir Dashboards for WinAir Version 7 displayed on desktop and a task card summary displayed on a tablet © WinAir)
---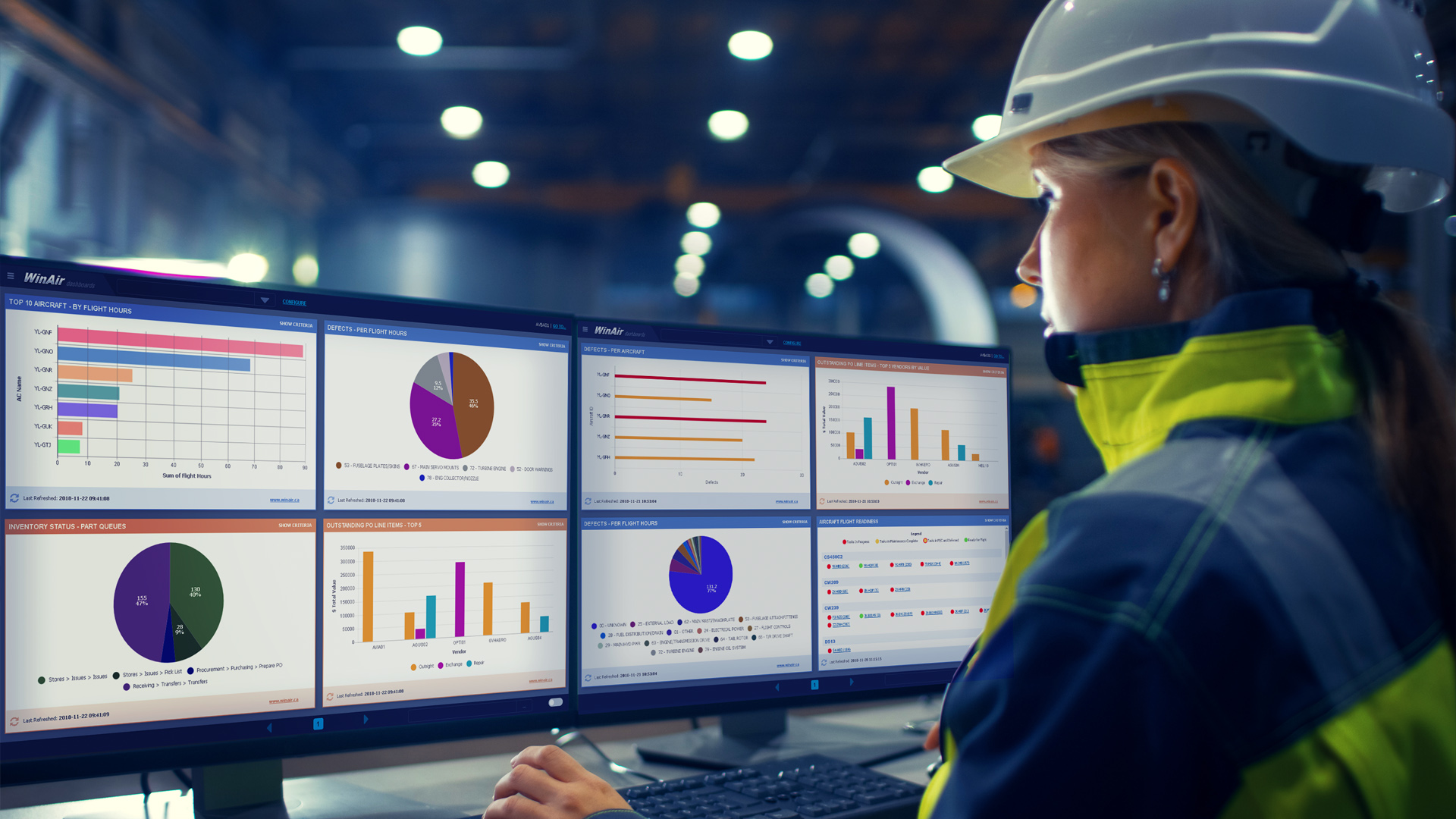 (An AME views WinAir Dashboards for WinAir Version 7 on dual computer monitors at an aircraft maintenance hangar © WinAir)
---
About the Professional Engineers Ontario:

Through the Professional Engineers Act, PEO governs over 85,000 licence and certificate holders and regulates professional engineering in Ontario to serve and protect the public. Professional engineering safeguards life, health, property, economic interests, the public welfare and the environment. Professional engineers can be identified by the P.Eng. after their names. Holders of limited licences can be identified by LEL after their names.
---
About the Ontario Society of Professional Engineers: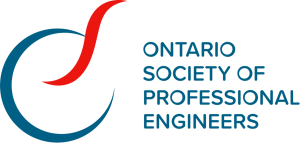 OSPE is the advocacy body and voice of the Ontario engineering profession. Ontario has more than 85,000 Professional Engineers and 293,600 engineering students and graduates in Ontario. OSPE provides strategic engineering input to the government, industry, and academia, often through work undertaken by its committees and task forces. Most recently, OSPE has showcased how the engineering community will assist Ontario and Canada with economic recovery post-COVID-19.
As a member-driven professional association, OSPE welcomes the entire engineering community to contribute knowledge, skills, and leadership to help create a better future for the profession and society. For more information about OSPE, please visit www.ospe.on.ca.
---
About National Engineering Month:

Each March, the engineering community across Canada celebrates National Engineering Month, Canada's largest celebration of engineering excellence. Created in 1992 by Engineers Canada and the provincial and territorial engineering regulators, National Engineering Month sees the engineering profession spark an interest in the next generation of engineering professionals and to the engineering community to celebrate the role that engineers play in society. With its theme, "There's a place for you in engineering!," National Engineering Month celebrates the diversity of thought, opportunities, and people that make up the engineering profession, and demonstrates that there's a place for everyone in engineering.
---
About WinAir:

Based in London, Ontario, Canada, WinAir has over 30 years of experience as a leader in aviation management software. Companies rely on WinAir to efficiently and effectively track and manage aircraft maintenance and inventory control. WinAir is proud to lay claim to hundreds of installations at aviation-specific organizations worldwide. From airlines to heli-ops, law enforcement agencies, oil industry suppliers, MROs, CAMOs, medical evacuation response teams and more, businesses using WinAir regard the solution as a necessary component to the successful management of their fleet maintenance programs.
###