WinAir Owner/Founder, Bert Vergeer, inducted into the Aircraft Maintenance Engineers of Canada's (AMEC) AME Hall of Fame
AME Hall of Fame award recognizes the outstanding work performed by an AME to keep Canadian aircraft flying safely and economically
(Photo Credit: WinAir Owner/Founder, Bert Vergeer, accepts his AME Hall of Fame Award from AMEC President, Sam Longo © WinAir)
---
London, ON, Canada/Mississauga, ON, Canada – September 19, 2019 – WinAir is proud to announce that the company's Owner/Founder, Bert Vergeer, has been inducted into the AMEC's (formerly known as the Canadian Federation of Aircraft Maintenance Engineers Associations or CFAMEA) AME Hall of Fame. AMEC President, Sam Longo, presented Bert with this award during the industry awards presentation ceremony at the 2019 Ontario AME Conference in Mississauga, Ontario, Canada.
Along with his wife Helen, Bert is responsible for developing one of the first computerized aviation maintenance software products for digital record-keeping and live inventory management. The original release of this software preceded the initial wave of digitization of aviation maintenance management and would go on to revolutionize the industry, making Bert a leader, innovator, and a true pioneer in the industry.
"I am honoured to be inducted into the AME Hall of Fame," says Bert. "Assisting aviation operations with maintaining compliance, boosting business efficiencies, and improving maintenance processes based on industry best practices has always been my top goal. I would like to express my sincere gratitude to my wife Helen, our team at WinAir, our customer base, fellow AMEs, and to AMEC and the regional associations for supporting my vision and acknowledging me for this award."
AMEC President, Sam Longo, added to this sentiment: "It was a pleasure to present Bert Vergeer with the AME Hall of Fame award. Bert's contribution to the aviation maintenance community is a shining example of what an AME can aspire to achieve with vision and collaboration as their guide. He joins a list of outstanding AMEs, who have gone above and beyond throughout their careers. Congratulations to Bert and the entire WinAir family!"
Today, WinAir's impact on aviation maintenance compliance continues to have a profound influence on aviation operations. After decades of success, WinAir has grown to over 50 staff to become the world's top aviation management software for operations that are concerned with compliance, reliability, and having access to accurate data. Currently, there are over 15,000 users that use WinAir to manage the maintenance and inventory activities on more than 9,000 aircraft.
What was once a vision in the mind of an AME has taken off to transform how maintenance is tracked and managed at aviation operations worldwide. Congratulations to Bert for receiving this award.
Are you interested in learning about how your aviation operation will benefit from WinAir? If so, then contact us now to discuss your unique requirements for an online demonstration!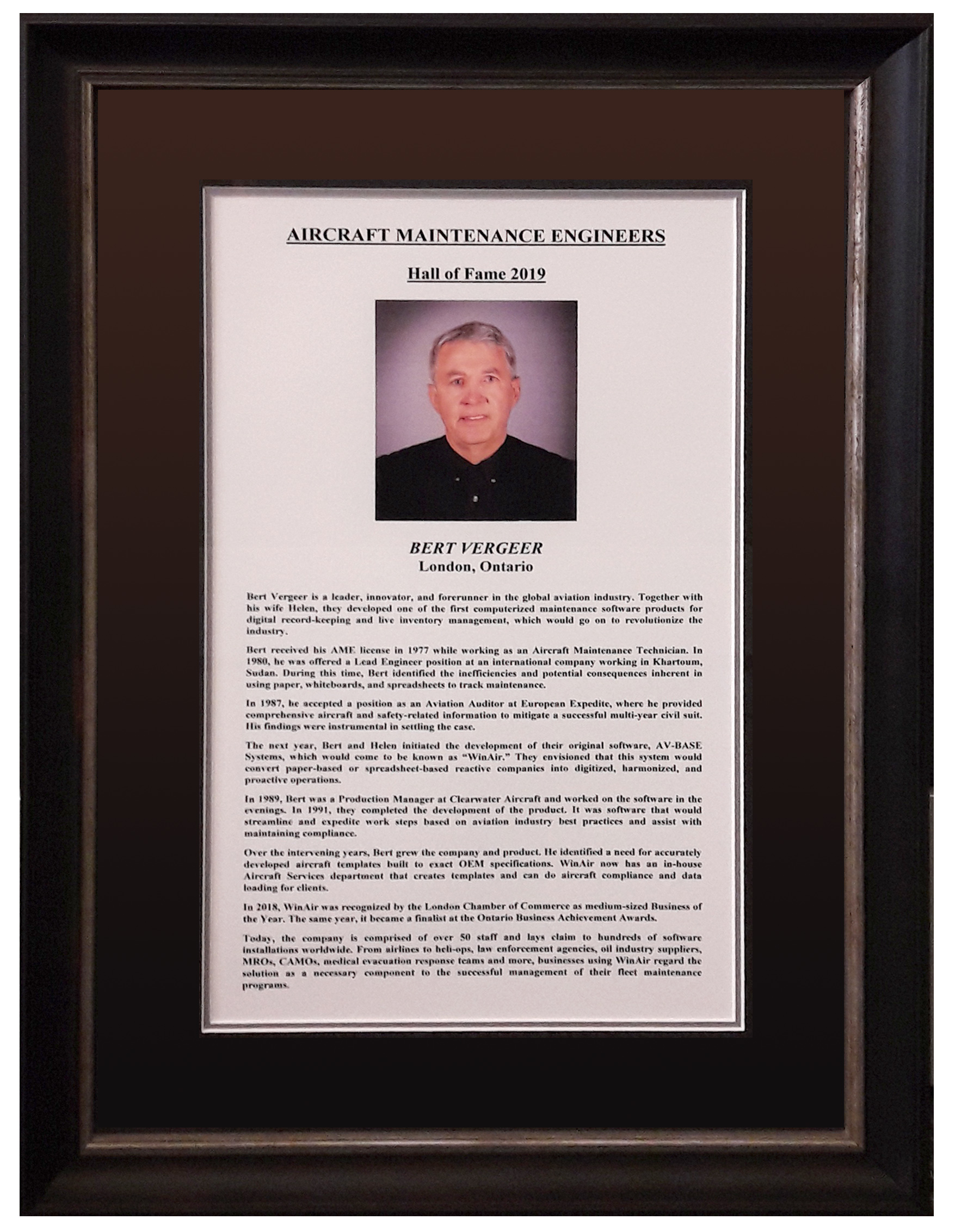 ---
About WinAir:
Based in London, Ontario, Canada, WinAir has 30 years of experience as a leader in aviation management software. Companies rely on WinAir to efficiently and effectively track and manage aircraft maintenance and inventory control. WinAir is proud to lay claim to hundreds of installations at aviation-specific organizations worldwide. From airlines to heli-ops, law enforcement agencies, oil industry suppliers, MROs, CAMOs, medical evacuation response teams and more, businesses using WinAir regard the solution as a necessary component to the successful management of their fleet maintenance programs.
###