WinAir Presents: The Fundamental Guide to the Bell 206 Helicopter—infographic showcases information on the world's most popular multipurpose utility helicopter
(Photo Credit: Arpingstone [Public domain])
---
Are you looking to learn more about the Bell 206 helicopter? If so, then look no further. The Fundamental Guide to the Bell 206 Helicopter infographic shines the spotlight on the Bell 206 helicopter's vital statistics, aircraft specifications, performance outputs, and available variants. At WinAir, we have a comprehensive understanding of this helicopter, along with the maintenance requirements associated with it to prove compliance and maintain airworthiness. We also have an abundance of clients from around the globe that operate with this aircraft in their fleet. Many of which, have taken advantage of our aircraft template building service to have our Aircraft Services team develop aircraft templates for their Bell 206 helicopters to exact maintenance manufacturer requirements (this service is available for operators of any fixed-wing and rotary-wing aircraft). For these clients, WinAir is considered to be an essential element for ensuring that they are always mission-ready.
The Bell 206 helicopter is a series of two-bladed, single and twin-engined helicopters that were manufactured by Bell Helicopter.(3) This series has a longstanding legacy that spans more than four decades, making it the world's third most-produced helicopter. Much of its popularity is due in part to its dependability and adaptability. This helicopter has a proven track record for successful participation in a variety of civilian, commercial, and military missions. It is also well-known for its ease of maintenance and is an extremely cost-effective helicopter to operate since parts are widely available. Its production period began in 1962 and lasted until 2017, when the final Bell 206L4 LongRanger was rolled off the assembly line at Mirabel, Quebec, Canada. Although it is no longer in production, Bell has continued to support models from this series.
The Bell 206 helicopter was developed for the United States Army's Light Observation Helicopter (LOH) program and was one of 12 manufacturers to enter the competition.(4) While it was not chosen by the Army, it achieved first flight on December 8th, 1962. Subsequently, it was rebranded and marketed commercially as the five-place Bell 206A JetRanger, which would go on to have a colossal impact on the global helicopter industry.
The Bell 206A JetRanger achieved first flight on January 10, 1966, received FAA approval later that year, and was introduced into service in 1967. Eventually, it was selected by the Army as a training aircraft. It was then chosen for the LOH program as the OH-58 Kiowa when the competition was reopened due to the Hughes Tool Co. Aircraft Divisions' inability to meet contractual demands.(6) In addition to the JetRanger, Bell also developed a seven-place LongRanger that was later offered with a twin-engined option as the TwinRanger.(7) Ultimately, more than 30 variants of the Bell 206 helicopter have been created.
For quick reference, an infographic summary is included below the image.
(Click on the infographic to zoom into the material)

The Fundamental Guide to the Bell 206 Helicopter
The Fundamental Guide to the Bell 206 Helicopter
It was initially developed as the Bell YOH-4 for the United States Army's Light Observation Helicopter (LOH) program but was not selected by the Army.[4]
As a result, Bell redesigned the aircraft and marketed it commercially as the five-place Bell 206A JetRanger, which was eventually selected by the Army as the OH-58 Kiowa.[6]
Bell also developed a seven-place LongRanger that was later offered with a twin-engined option as the TwinRanger.[7]
Vital Statistics[9]

Role: Multipurpose Utility Helicopter
National Origin: United States/Canada
Manufacturer: Bell Helicopter
First Flight: December 8, 1962 (206), January 10, 1966 (206A)
Introduction: 1967
Status: In service
Produced: 1962-2017
Number Built: 7,300
Unit Cost: US$900,000 to $1.2 million
Developed From: Bell YOH-4
Variants: OH-58 Kiowa
Developed Into: Bell 407
Aircraft Specifications (206B-B3)[11]

Crew: One Pilot
Capacity: Four Passengers
Length: 39 ft 8 in (12.11 m)
Rotor Diameter: 33 ft 4 in (10.6 m)
Height: 9 ft 4 in (2.83 m)
Disc Area: 872 ft2 (81.1 m2)
Empty Weight: 2,331 lb (1,057kg)
Maximum Takeoff Weight (MTOW): 3,200 lb (l,451 kg)
Powerplant: 1 x Allison 250-C20J turboshaft, 420 shp; derated to 317 shp; due to drivetrain limitations (310 kW)
Performance Outputs[14]

Never Exceed Speed: 130 knots (241 km/h, 138 mph)
Maximum Speed: 120 knots (222 km/h, 138 mph)
Range: 374 nmi (430 mi, 693 km)
Service Ceiling: 13,500 ft (4,115 m)
Rate of Climb: 1,350 ft/min (6.9 m/s)
Disc Loading: 4 lb/ft2 (177 N/m2)
Power/Mass: 0.26 hp/lb (430 W/kg)
Variants Civilian[14]

BELL 206
BELL 206A
AGUSTA-BELL 206A
BELL 206A-1
AGUSTA-BELL 206A-1
BELL 206B
AGUSTA-BELL 206B
BELL 206B-2
BELL 206B-3
BELL 206L LONGRANGER
BELL 206L-1 LONGRANGER II
BELL 206L-1+ LONGRANGER
BELL 206L-3 LONGRANGER III
BELL 206L-3+ LONGRANGER
BELL 206L-4 LONGRANGER IV
BELL 206LT TWINRANGER
BELL 407
BELL 417
HESA SHAHED 278
AURORA FLIGHT SCIENCES TACTICAL AUTONOMOUS AERIAL LOGISTICS SYSTEM TEST PLATFORM
Variants Military[17]

BELL 206AS
BELL CH-139 JETRANGER
HKP 6A
HKP 6B
OH-58 KIOWA
TH-57A SEA RANGER
206L TEXASRANGER
TH-57B
TH-57C
TH-57D
TH-67 CREEK
Manage Bell 206 Helicopter Maintenance with Ease in WinAir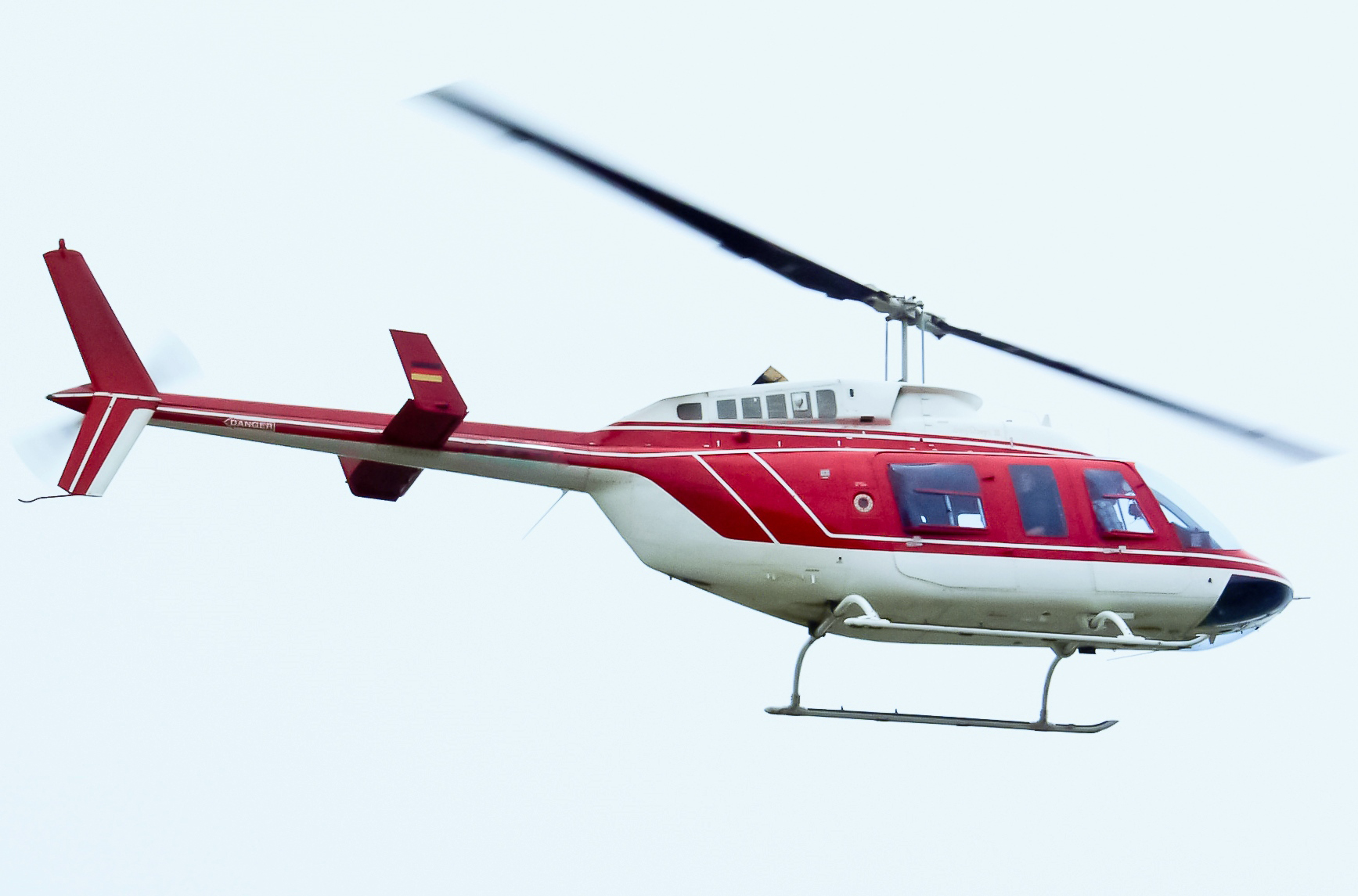 (A Bell 206L-3 helicopter in mid-flight during the Niederrhein Airport Air Show in May of 2004—© Raimond Spekking—modified)

Managing maintenance activities and maintaining inventory control on helicopters like the Bell 206 can be achieved with ease in WinAir. The software is the solution of choice for Bell 206 helicopter operators that are concerned with building reliability cases, ensuring compliance, and having access to accurate data. At WinAir, we understand the unique requirements of helicopter operators worldwide. We know that they must always be in a mission-ready state. That's why we offer a Heliops Package for our latest and fully web-based version of the software, WinAir Version 7.
WinAir Version 7 provides helicopter operators with a streamlined and simplified way to oversee all aspects of their fleet maintenance programs. The software is robust, comprehensive, and completely scalable, making it the perfect solution for a well-established business or a growing company. Not only that, but it has the power and built-in functionality to assist personnel with completing an array of tasks efficiently and expeditiously—from making assembly changes on the fly to tracking parts, managing complex counters, updating dynamic components, handling variable cycles, and beyond. No matter the mission, or helicopter type, we've got you covered. Much like the Bell 206, WinAir also has an extensive history of successfully assisting clients that spans multiple decades. With this experience, our team can handle even the most complex aircraft.
Plus, with our available Services and dedicated Aircraft Services team, helicopter operators can feel confident in their ability to consistently remain fully prepared for the next mission. This team has the skills and industry knowledge to help you overcome any challenge. Our services include an implementation consultation, project management, data migration, training, hosting, integrations, client success, and aircraft template services.
"The Bell 206 helicopter is a rugged, reliable, and adaptable machine," says WinAir Aircraft Services Representative, Todd Raycraft. "I thoroughly enjoyed building this helicopter template for operators from a variety of industries. Regardless of your fleet composition, our Aircraft Services team has the know-how and advanced expertise to save you tremendous time by accurately building aircraft templates on your behalf."
By taking advantage of these available services, our clients have saved countless hours, which they have been able to redirect towards managing other aspects of their business. They have also ensured that they are only working with trustworthy information, which provides them with the confidence that they require to make better and more informed business decisions. When time is of the essence, knowing that you are working with precise data is key to achieving operational success.
Would you like to learn more about how your aviation operation can boost business efficiencies and be mission-ready with WinAir Version 7 and our available services? If so, then contact us now to speak with a member of the WinAir team about your unique requirements!
---
About WinAir:
Based in London, Ontario, Canada, WinAir has 30 years of experience as a leader in aviation management software. Companies rely on WinAir to efficiently and effectively track and manage aircraft maintenance and inventory control. WinAir is proud to lay claim to hundreds of installations at aviation-specific organizations worldwide. From airlines to heli-ops, law enforcement agencies, oil industry suppliers, MROs, CAMOs, medical evacuation response teams and more, businesses using WinAir regard the solution as a necessary component to the successful management of their fleet maintenance programs.