While using a remote desktop protocol, or RDP, might be beneficial when working from outside of a business network for tasks such as reviewing and downloading files, the disadvantages of accessing and utilizing aviation management software via an RDP are hard to ignore
This article examines 5 issues with using an RDP for accessing aviation management software, demonstrating that when it comes to performance and security, using an RDP is more problematic and riskier than it is convenient
(An employee struggles with accessing aviation management software with an RDP—everything possible/Shutterstock.com—modified)
---
While a Remote Desktop Protocol, or RDP, might be useful for retrieving files from a company server when working from outside of the business network, when it is used as a conduit to reach software, it can result in many issues. These issues can vary from minor to catastrophic depending upon the particular situation and nature of the business. Regarding aviation management software, utilizing an RDP to access it carries significant risks that far outweigh the benefits.
While some aviation management software products available on the market today are only accessible from inside a business' network or outside of that network using an RDP, using online software, which is widely available, is a much better approach. Since these products are web browser-based, like our industry-leading aviation management software, WinAir Version 7, there is no need to use an RDP, as staff can access the solution from anywhere in the world where there is an internet connection.
However, for one reason or another, whether it be convenience, cost, opposition to change, or a variety of other factors, many businesses operating in the aviation industry continue to use aviation management software via an RDP. The fact of the matter is that utilizing an RDP for any software can result in poor performance and security issues. To help businesses identify the risks and challenges associated with this RDP approach, we've compiled a list of common problems with utilizing aviation management software via an RDP.
Here are five issues with using an RDP for Aviation Management Software: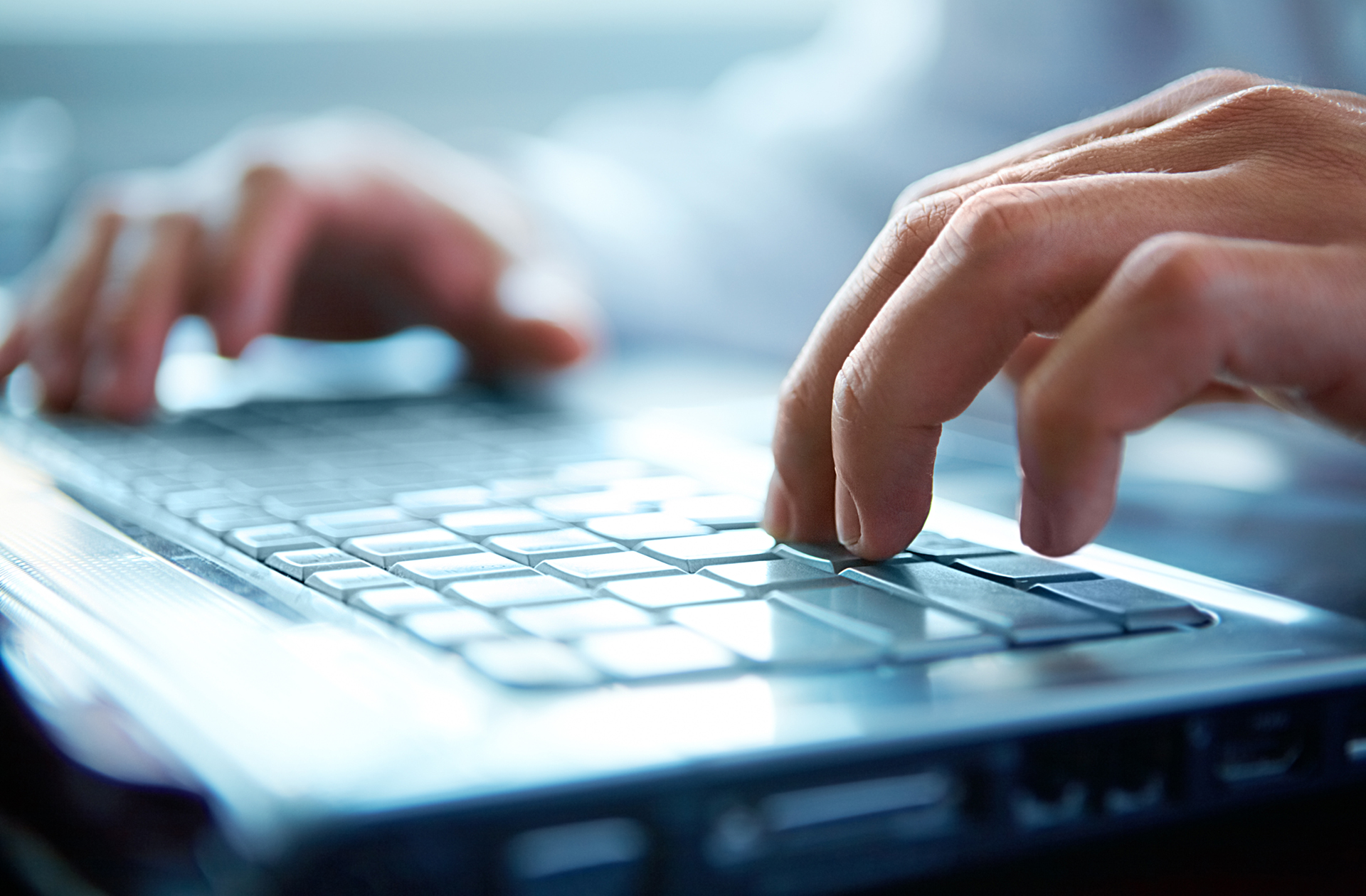 (RDP connections are often subject to many issues relative to connectivity and security—Pressmaster/Shutterstock.com—modified)

5. Lagging Issues and Poor System Performance
If you're accessing maintenance software via an RDP, the user experience can be mediocre and plagued by slow system speed that, if bad enough, may lead to connectivity issues. Businesses reaching their software using an RDP often complain about connections dropping and having to reconnect to continue their session. Not only does this make processes inefficient, but it also lowers productivity and frustrates the software user.
Believe it or not, when staff struggle to complete their daily work due to hardware or software issues that affect their performance, they will consider leaving their position to work elsewhere. Lagging issues or poor system performance can contribute to these career-changing decisions. Quite frequently, it's not only the employee's lacklustre experiences with accessing their software with an RDP that are the source of their frustrations but also their company's lack of investment in viable, robust web-based software that is a cause of their concern. After all, supporting staff in completing their daily work activities by providing them with the tools they require to efficiently and effectively complete tasks is vital to retaining employees.
4. Challenges with Running Concurrent Sessions
Multiple users attempting to reach aviation management software using an RDP is trouble in and of itself. Nowadays, most businesses operating in the aviation industry have numerous staff utilizing the same product at the same time. When they are all working in powerful web browser-based software, like WinAir Version 7, the experience is seamless. However, if they are working with software that is not online but requires an RDP to access it from outside of the network, then the more simultaneous users you have in the software, the more challenges you will encounter relative to system performance.
It is common for businesses accessing aircraft maintenance software via an RDP to experience connectivity issues that directly result from poor system performance. Companies using software platforms that require an RDP typically encounter challenges with running concurrent sessions. When two or more users are "RDPing" into the same product section, and one loses their connection, they will lose the data from their session if they did not save it. If their colleague that is also working within this section of the software saves their work, it will overwrite any data from the user's previous session.
The problems are worse for businesses that are not even using software but are managing maintenance activities on a shared spreadsheet and accessing it using an RDP. Because only one person can use a spreadsheet on shared drives at a time, if your session is disconnected, it will often appear active for a period before the session expires. What this means is that others cannot work within this spreadsheet until your session has ended, which contributes to decreased overall productivity.
WinAir, on the other hand, is session-based aviation management software, so businesses can run concurrent sessions online seamlessly without encountering performance or connectivity-related challenges. In addition, contrary to how sessions remain active for some time if an RDP session is disconnected, with WinAir Version 7, the software will automatically end the session for you if it is left inactive and hanging.
3. Investment in Set-up and Ongoing IT Support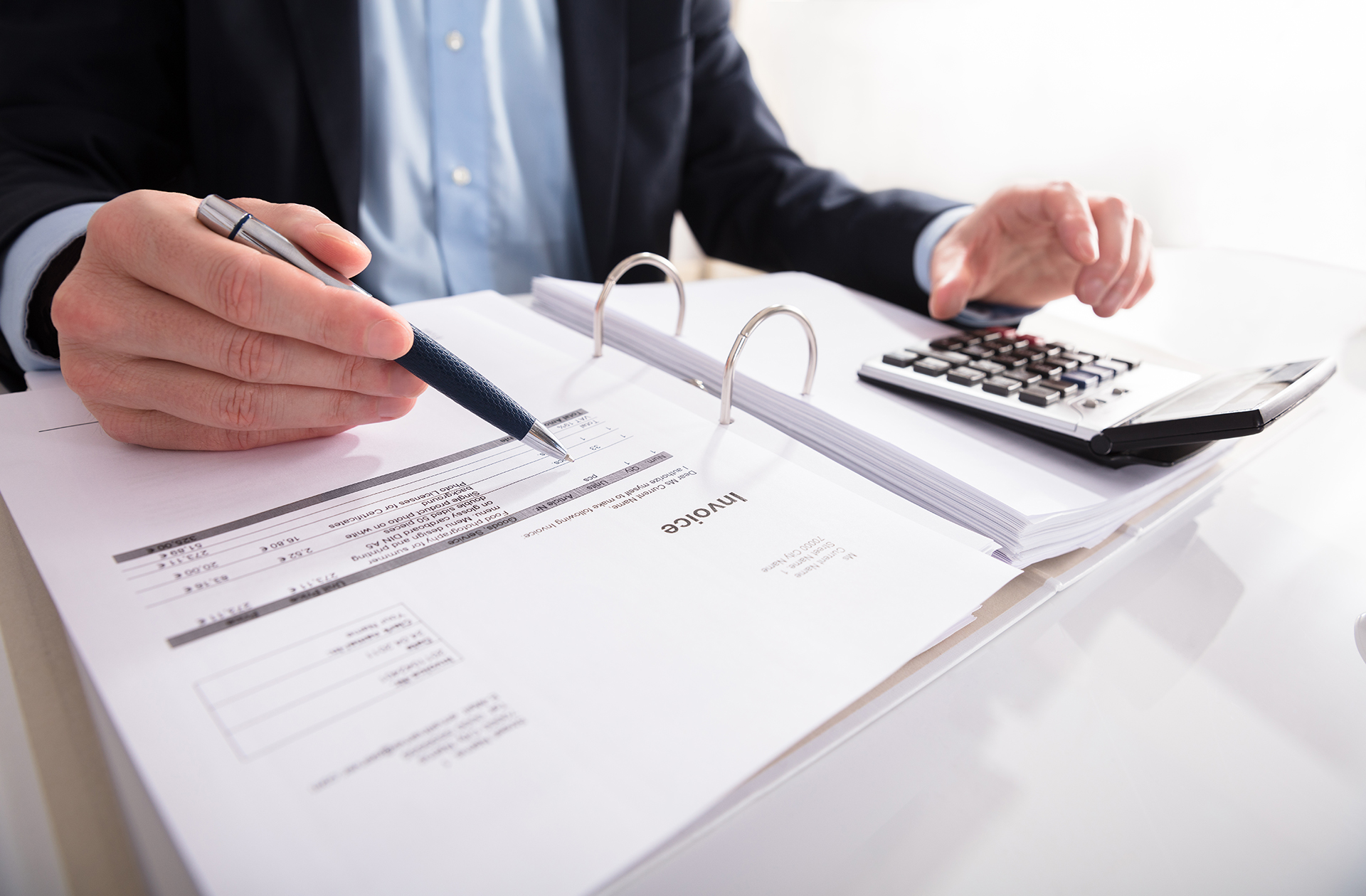 (IT costs for setting up and managing an RDP often outweigh solution provider hosting costs—Andrey_Popov/Shutterstock.com—modified)

Unless you and your staff are incredibly tech-savvy, if your company relies on an RDP to access your software, you will, without a doubt, need someone to handle the technical tasks. Generally speaking, this means that you will require at least one IT staff member to oversee the set-up and ongoing technical upkeep relative to using an RDP to connect to your software. When you consider the cost of having this additional staff member on hand, it can be too much of an investment for some operations. Plus, when you only have one person on staff fulfilling those duties, you're at a massive loss if they cannot work or quit their position.
Unless you're a large operation, you likely don't have the capital to invest in an IT team or even a lone staff member to manage your technology. That's why you shouldn't even consider utilizing aviation management software that requires using an RDP from outside your network; it's both costly and risky.
When it comes to aviation maintenance software, much like any other software, the ideal situation is to have a cloud-based product that is continually updated and supported by a team of industry professionals. When you use cutting-edge, scalable software, like WinAir Version 7, your team won't have to worry about handling technical tasks relative to using an RDP to access the solution. Because the product is entirely web browser-based, businesses can focus their efforts on their daily activities instead of managing the technical infrastructure and logistical elements relative to using an RDP.
2. If Host is Unavailable, the RDP won't Work
When you're accessing software with an RDP, if the host network is down, you're not using it until it's back online. End of story. There are no workarounds, nor is there an ability to work offline and push the data live when the connection is re-established. Instead, it all becomes a waiting game, where your ability to continue working rests upon the network issue being resolved. Because these network issues are internal to your business, your IT team or a third-party IT group will be responsible for rectifying the network issue. When you're attempting to access aircraft maintenance software via an RDP on an offline business network, depending upon the severity of this issue, the downtime could amount to several hours or, in worse case scenarios, days before the network is back online.
For aviation maintenance professionals, having to wait days to log their aircraft maintenance tasks is not feasible. Consequently, when businesses using an RDP encounter a network outage, they are forced to track information manually, which they then add to the software retroactively. Because this process relies solely on human inputs, it can result in several issues, including missing data or errors relative to manually inserting incorrect data into the system. Additionally, depending upon the duration of downtime, it can take a tremendous amount of time to enter the backlog of data into the system.
However, with WinAir, businesses can self-host the software on their own business server, or they can take advantage of our hosting services and have their database hosted on our safe and secure server. If they elect to have us host their WinAir database for them, then they can rest easy knowing that WinAir guarantees a 99.9% uptime percentage. Since WinAir uses a load-balancing server to handle proxies, the chance of any network downtime is next to none. In essence, by using load-balancing, traffic can be routed across several different servers to optimize traffic distribution and improve overall system performance, which is akin to the role of a traffic officer who is responsible for sending traffic through varying paths to ensure a smooth flow and safeguard against delays. Consequently, if there is an issue with one host network, the traffic will flow to another available online network.
If a business chooses to self-host WinAir, then it can also implement a load-balancing approach to manage its traffic. Yet, it is vital to note that the simplest and most effective approach to managing your database is to have our experienced IT team handle it for you by signing on with our Hosting services.
1. Hacking and Other Security Threats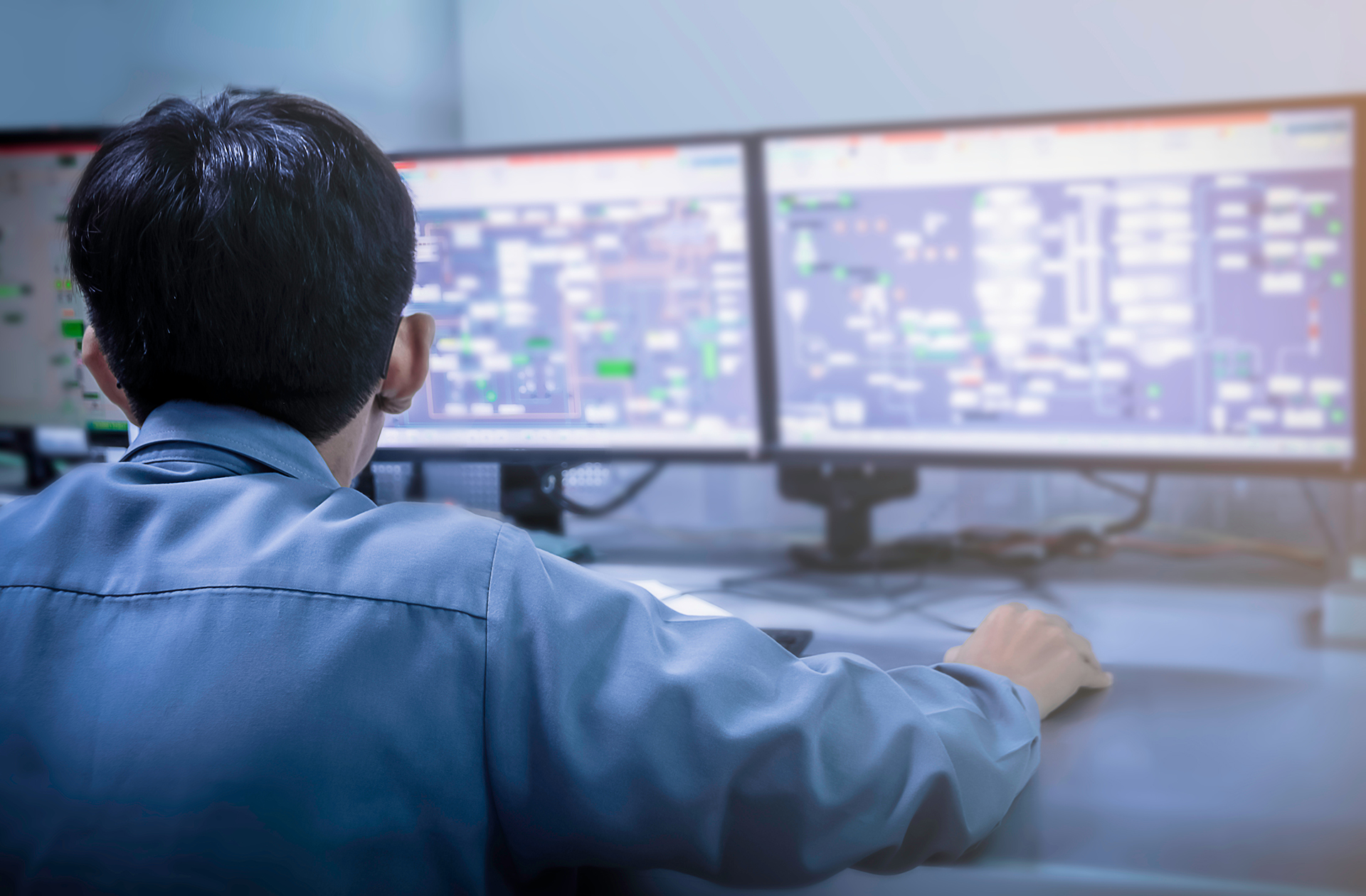 (RDP connections are prone to hacking and other unwanted intrusions—Mr.B-king/shutterstock.com—modified)

It's plain as day; hacking and other network intrusions are the biggest threat to your business when attempting to access aviation management software via an RDP. These types of security breaches could result in a variety of troubling outcomes for your business, including data theft, compliance infractions, or even a total network outage. When it comes to aviation operations, a network-wide outage would likely make all vital systems inaccessible, including aviation maintenance software, flight ops systems, and flight scheduling programs. This type of scenario could easily culminate in an AOG situation or, quite plausibly, the total grounding of a fleet.
When it comes to weighing risks versus benefits, it should be unmistakably evident that for any business in the aviation industry, the risk of managing software via an RDP far outweighs the rewards. While there might be monetary savings in the short term when using an RDP, any network intrusion will likely nix those savings. When you consider the price tag associated with network downtime and the cost of rectifying the issue, it's optimal to implement a reliable online solution. Additionally, there are also the "opportunity costs" that should be factored into the equation. These "opportunity costs" are the opportunities that your business misses out on because of time investments in RDP-related IT issues. For instance, if your internal IT staff are responsible for fixing a security breach, then they are missing out on the opportunity to work on other technical tasks, which could result in pushing your IT team and their associated projects behind schedule.
Often, the strength of user passwords, or lack thereof, leaves the network vulnerable to network intrusions. When users have weak RDP passwords for accessing software on your business network, your business is open to a hack. For a hacker, identifying these weak passwords provides them with an opportunity to exploit them and create a direct conduit to your network, which houses all of your sensitive data.
Rather than accepting the risks of using an RDP to access aviation maintenance software, investing in a web-based password-protected product is the safest, most effective, and most prudent approach for handling aircraft maintenance management. Additionally, as highlighted above, businesses implementing WinAir Version 7 can choose to host the software on their server or take advantage of our various tiered hosting options. These hosting options are structured so companies of any size can benefit and find value in this service.
With our hosting services, your team will save on time and effort by having our IT team manage the technical upkeep of your database, handle all system updates, and take care of other administrative tasks. Not only that, but by signing on with our hosting services, you can rest easy knowing that your data is safe, secure, and accessible from anywhere in the world with an internet connection. Our experienced IT team and protected cloud environment will safeguard your database against hacking and other security threats. This team will also ensure that your information is consistently backed up and retained for a timeframe defined by the hosting service option selected for your software package
Trust Industry-leading Web Browser-based Aviation Maintenance Software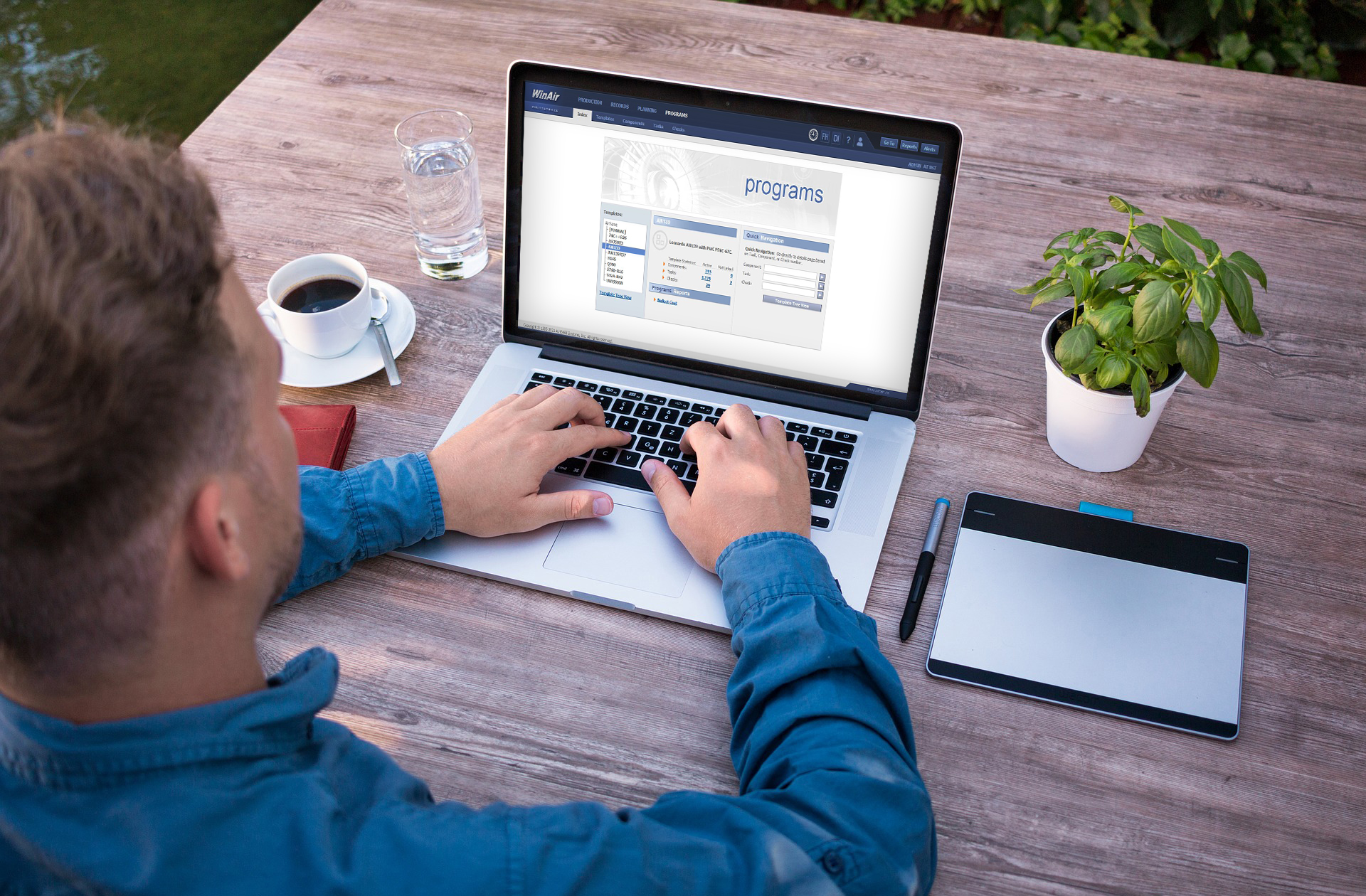 (An employee accesses the Maintenance Programs area of WinAir's fully web browser-based aviation management software from a laptop computer © WinAir)

You can trust WinAir's aviation maintenance software to get the job done while simultaneously protecting your data. Since system data is accessible online from anywhere in the world, there is no need to utilize an RDP to reach the system. As a result, network intrusions are minimized. Plus, with our hosting options, you can save on time and technical upkeep, as our team can manage those tasks on your behalf.
When you make the switch to WinAir Version 7, know that you're investing in secure and innovative online software with a proven track record in assisting aircraft maintenance professionals with streamlining and expediting processes since 1988. No other aviation maintenance software provider in the aviation industry has the product longevity, focus on compliance, and dedication to continually updating, improving, and enhancing its software like that of WinAir.
Are you interested in learning more about how your company can improve maintenance processes with WinAir? Contact us now!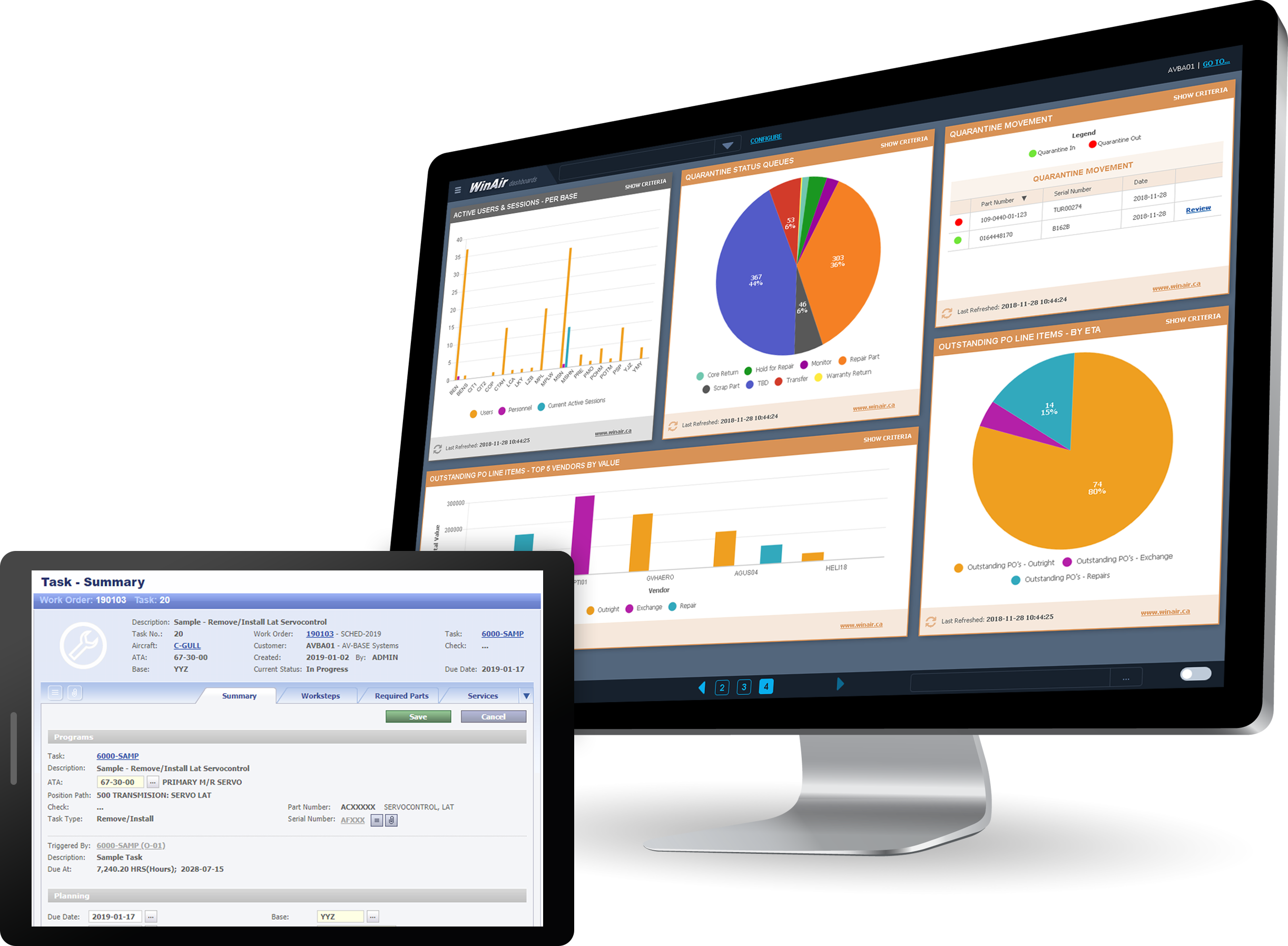 (A WinAir Task Card Summary is displayed on a tablet, and a dashboard with various gadgets is displayed on desktop computer © WinAir)
---
About WinAir:
Based in London, Ontario, Canada, WinAir has over 30 years of experience as a leader in aviation management software. Companies rely on WinAir to efficiently and effectively track and manage aircraft maintenance and inventory control. WinAir is proud to lay claim to hundreds of installations at aviation-specific organizations worldwide. From airlines to heli-ops, law enforcement agencies, oil industry suppliers, MROs, CAMOs, medical evacuation response teams and more, businesses using WinAir regard the solution as a necessary component to the successful management of their fleet maintenance programs.