The benefits of utilizing WinAir's Hosting services (and the burdens of self-hosting)—this article lists the top 5 reasons why an aviation operation should consider using WinAir's Hosting services versus a do-it-yourself self-hosting approach
Article also includes a downloadable document that summarizes each of these hosting options—see link located at the bottom of the article to download the material
---
Throughout the business world, there is a common misconception that only large companies benefit from, and can afford, hosting services. While this may have been the case a decade ago, nowadays solution providers offer a variety of options to appeal to businesses of all sizes.
At WinAir, we offer a tiered approach to software hosting that is tailored to each company's unique needs. This means that regardless of the size of your operation or your current budget, we have a hosting option that will benefit your business. While self-hosting is often regarded as the most cost-effective option, the fact of the matter is that when technical upkeep, system updates, and a variety of other administrative factors are taken into consideration, self-hosting can actually involve more effort than most business owners think.
To save you time, effort, and money we suggest leveraging the expertise of our IT team and using our Hosting services. Let us handle the heavy lifting so that you can focus on what you do best—being flight ready.
Here are the top 5 reasons to use WinAir's Hosting Services: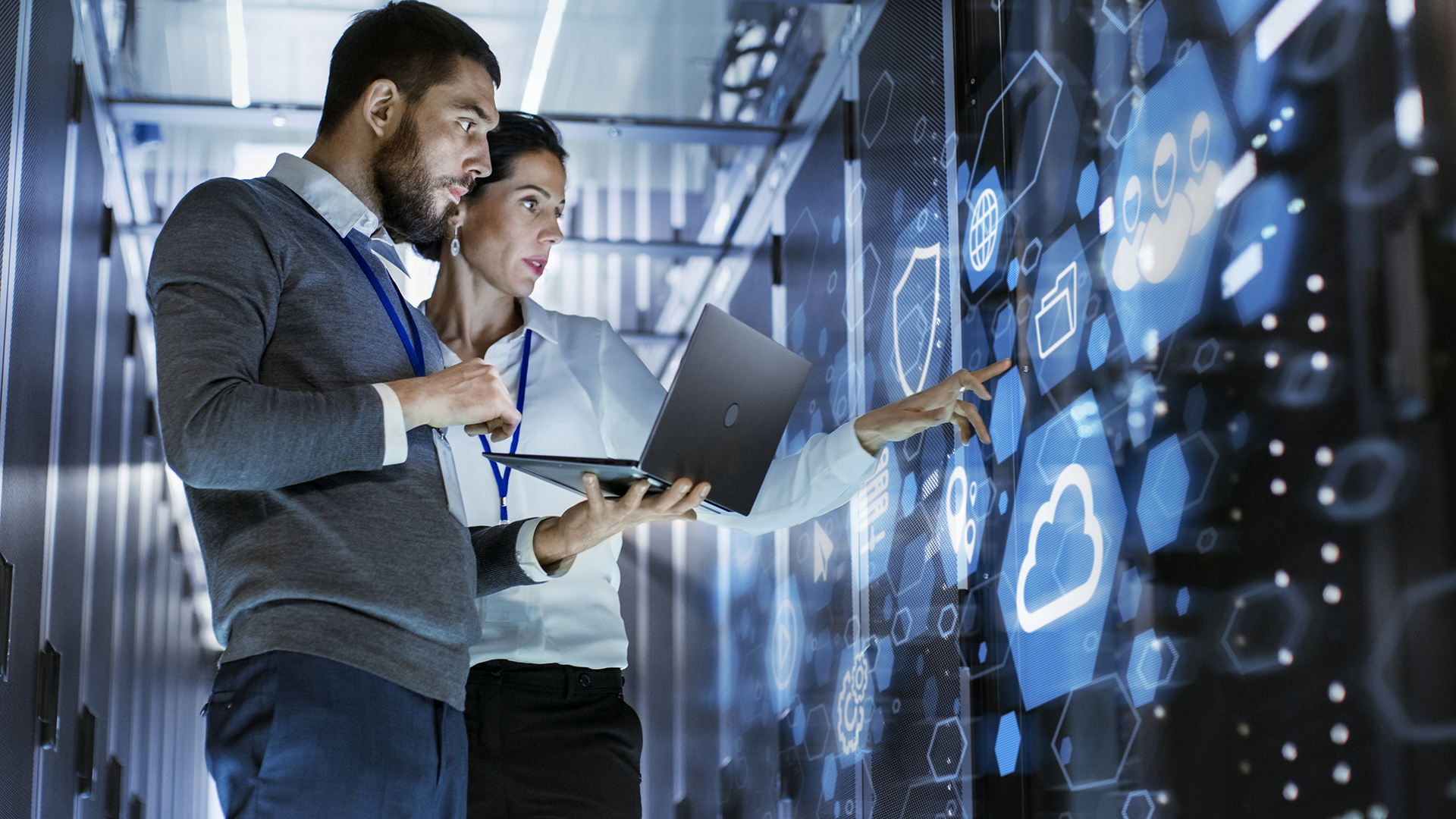 5. Data Security and Integrity
You can trust in our experienced IT team and protected cloud environment to ensure that your data is safe, secure, and always accessible from anywhere in the world. We can oversee the technical maintenance of your database and manage all system updates. Plus, when unexpected changes occur, our team is adequately prepared to overcome any technical challenge. Not only that, but with our industry know-how and experience, you can expect complete data integrity—we safeguard against network intrusion and malicious third party attacks and backup all system data.
4. Lower Overall Operating Costs
There are many unknown costs associated with managing hosting internally. Commonly, these items go unnoticed by businesses until they begin to add up. For instance, companies that choose a self-hosting approach must first address whether they have the available labour force to manage their database. If the required resources are not available, then companies that are self-hosting will have to hire additional staff. This may include hiring a Database Administrator for database maintenance and a Systems Administrator to oversee the daily operation of your network. When these unknown costs are taken into account, and compared with WinAir's Hosting services, self-hosting may not be the most cost-effective option.
3. Automatic Product Updates
Managing system updates internally can be an onerous task if you're lacking the time or resources. When you make use of WinAir's Hosting services, you no longer have to worry about handling software-specific updates or even updates to any third party supporting applications—all of these updates are managed by our IT team and are automatically updated in your WinAir database. This makes it easy for staff to remain focused on their day-to-day use of the software without having to deal with interruptions resulting from system updates. As a result, you will save time and expedite processes by having WinAir's IT team to take care of your database.
2. System Backups and Data Retention
When you make the decision to use WinAir's Hosting services, know that you are also investing in system backups and data retention. Depending on the Hosting service approach that you select for your operation, data storage can last for any length of time; we can tailor storage options to your unique industry needs. These system backups can act as a lifeline for any company that is undergoing an audit or are dealing with the aftermath of an incident. By retaining system data for a defined period of time, business owners can rest assured knowing that no matter what challenges lay ahead, they will always have access to system backups and historical data.
1. Expertise in Managing Client Databases
Capitalize on WinAir's expertise in managing client databases. Our IT team has the experience, skills, and first-hand industry knowledge to efficiently and effectively manage all technical aspects of your WinAir database. Let our team oversee the technical upkeep of your database to assure that your operation is always running smoothly. After all, if you regard your time as money, then any course of action that will save you time can save your operation money.
What generally makes a company reluctant about taking advantage of an opportunity is a lack of confidence in the offer. Most often, this lack of confidence in an opportunity is a direct result of a perceived lack of experience.
At WinAir, we have been managing client databases successfully for decades now and are well-versed in the art of database management. Our IT team has what it takes to instill confidence in our Hosting services. When adding to the time equals money equation, confidence in time-savings is what ensures for a compelling return on investment. Currently, we host over 50% of our WinAir Version 7 client databases.
Save Time and Money with WinAir's Hosting Services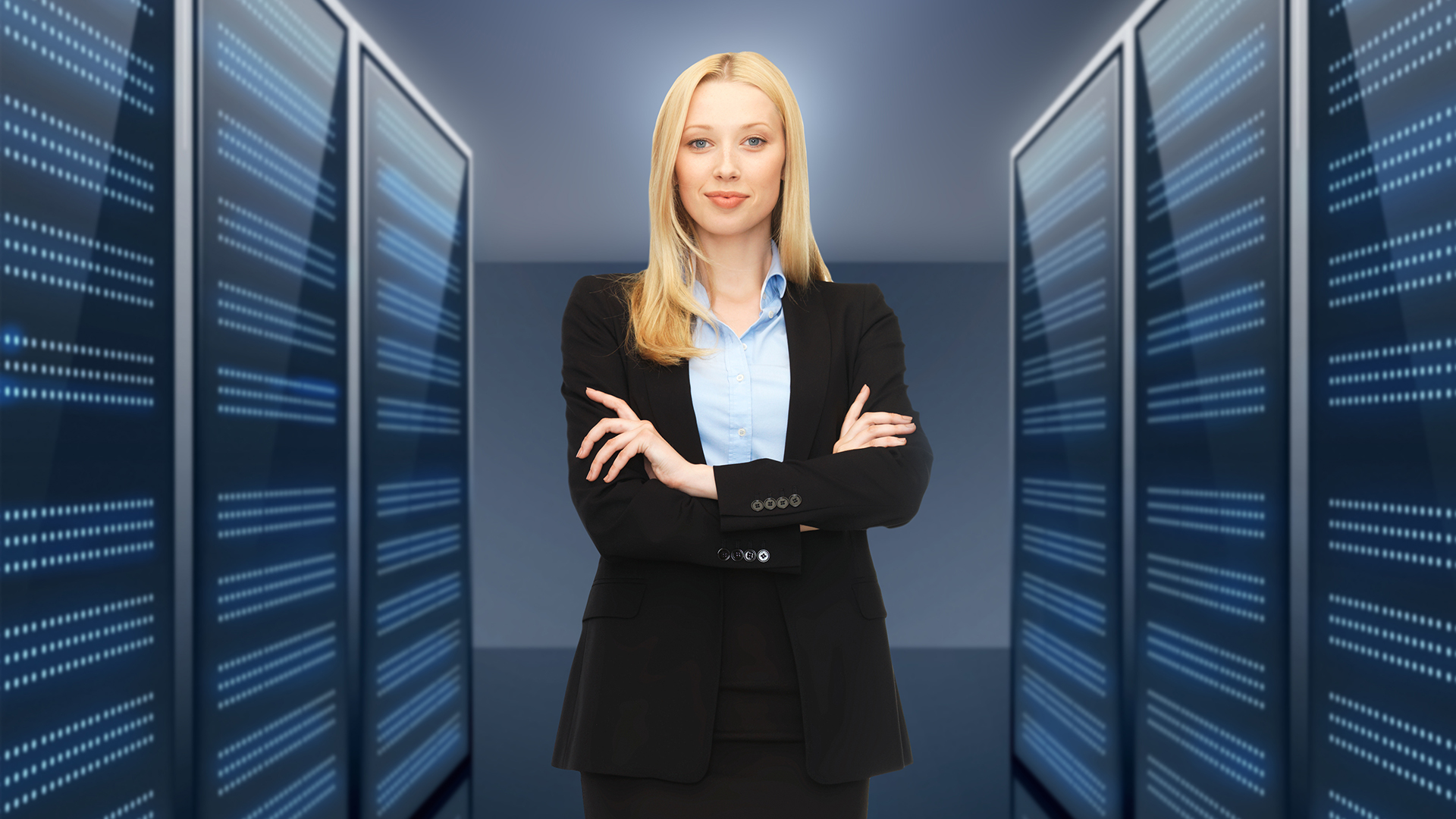 With WinAir's tiered approach to Hosting services, aviation operations of any size can realize the benefits of having an experienced IT team manage their WinAir database. From system backups to automatic updates and beyond—we've got you covered! Our Hosting services will save you time, effort, and money that can be redirected towards managing your daily business activities. You can trust in our over 30 years of aviation industry experience to ensure that your data is protected and always available at your fingertips.
Would you like to learn more about WinAir's Hosting Services and WinAir Version 7? If so, then download our Hosting Services document and contact us today to speak with a member of the WinAir team about your operation's unique needs!
---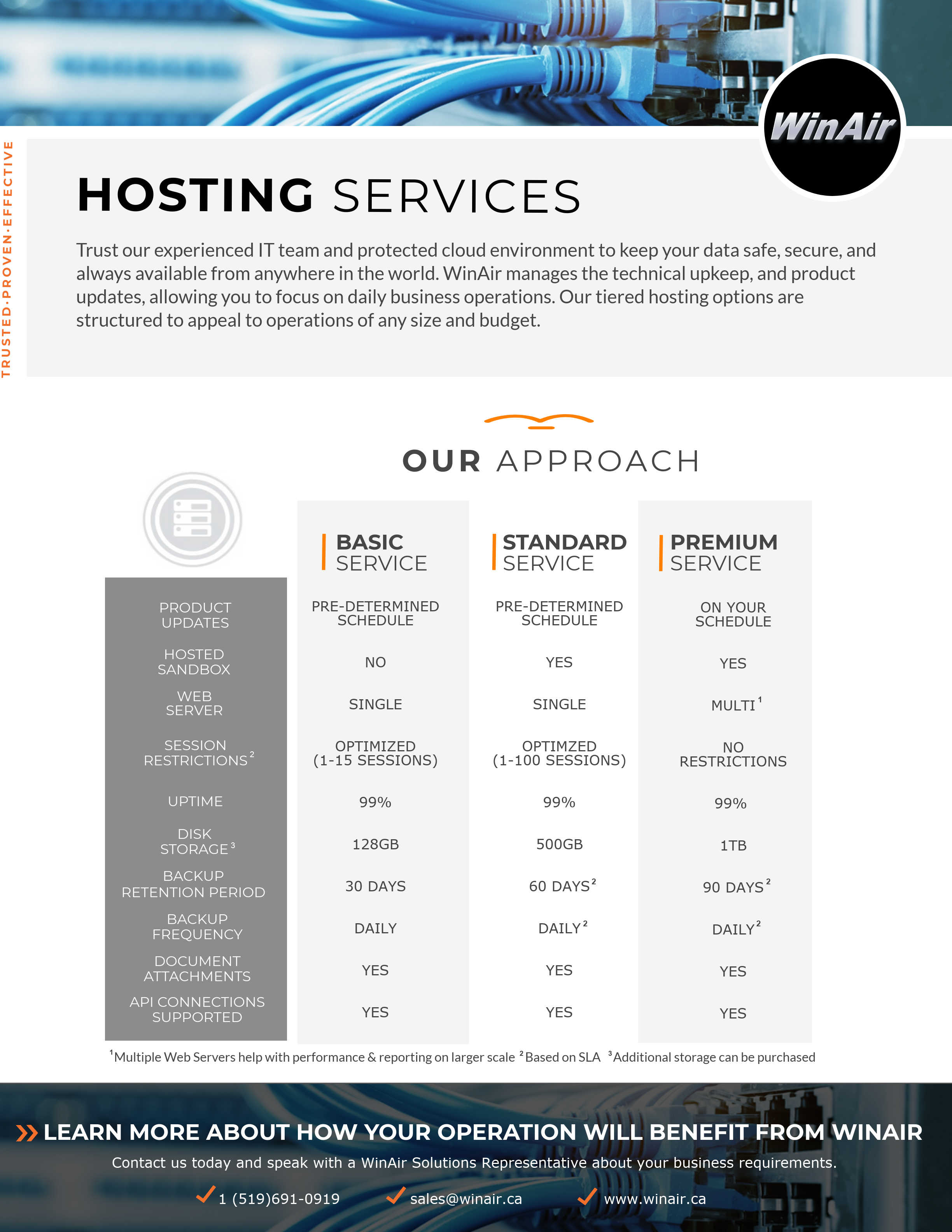 ---
About WinAir:
Based in London, Ontario, Canada, WinAir has 30 years of experience as a leader in aviation management software. Companies rely on WinAir to efficiently and effectively track and manage aircraft maintenance and inventory control. WinAir is proud to lay claim to hundreds of installations at aviation-specific organizations worldwide. From airlines to heli-ops, law enforcement agencies, oil industry suppliers, MROs, CAMOs, medical evacuation response teams and more, businesses using WinAir regard the solution as a necessary component to the successful management of their fleet maintenance programs.