Let's go west: WinAir to speak and exhibit at WAMEA Airworthiness Symposium—Managing Director at industry-leading aviation management software company to deliver seminar presentation on "Tips to Manage an Aviation Stores Room More Effectively"
Company looks forward to meeting with current clients and networking with industry professionals at Western Canada's largest event that is devoted to aviation maintenance engineers from British Columbia, Alberta, and Saskatchewan
---
London, ON, Canada/Calgary, AB, Canada – February 28, 2019 – WinAir is excited to announce that the company is confirmed to exhibit at the Western AME Association's (WAMEA) Airworthiness Symposium in Calgary, Alberta, Canada from March 21st to 22nd, 2019. Along with attending the event, WinAir's Managing Director, Kyle Vergeer, will be facilitating a technical presentation from 2:00 PM to 3:00 PM on March 21st on tips for assisting aviation operations with managing their Stores Room more effectively. This seminar is based on WinAir's proven training methodology, which has its roots deeply entrenched in aviation industry best practices.
With the latest release of WinAir's fully web-based aviation maintenance and inventory control software, WinAir Version 7, operations are benefiting from a bottom-up approach to aircraft maintenance that directly aligns with actual maintenance work steps. This makes it easy for new users to grasp the product knowledge and take charge of the solution. Operations are also gaining from the software's focus on compliance, reliability, and having access to trustworthy data. To ensure this data integrity, WinAir utilizes software enforced data validation.
WinAir Version 7 is available in software packages that are bundled with all the essentials that Operators, Heliops, MROs, and CAMOs require to improve all facets of their business. When additional features or functionality are required, aviation operations can boost their package to include all that is needed. This flexible approach to aviation maintenance management provides business owners with the confidence that they require to consider growing their business with WinAir. Since the solution is fully scalable, operations will never have to grow into WinAir, and they won't outgrow it either.
With the company's recently released Dashboards enhancement for WinAir Version 7, operations are taking their business to the next level by having access to highly visual real-time representations of their current system data. This new enhancement offers insight into maintenance and inventory performance through a variety of data visualizations that provide at-a-glance awareness. As a result of this enhancement, key personnel can identify potential maintenance and inventory challenges, so that they can be proactive and strategic in their decision-making.
"We are very happy to exhibit at the Western AME Association's Airworthiness Symposium and are pleased to be speaking at the event," says Kyle. "Improving Stores Room management is vital to assisting operations with streamlining processes, remaining compliant with standards and regulations, and ensuring that they are adequately prepared for the next mission. We are grateful for the opportunity to deliver this technical presentation at the event and look forward to many engaging and productive conversations."
For over three decades, WinAir has been a forerunner in aviation management software. The company is the aviation industry's longest standing and most trusted software provider that has consistently released updates to its product. This is why operations from around the globe continue to gravitate to WinAir—because they know from speaking with industry peers that the software has a tremendous track record for enhancing business efficiencies for numerous operations.
Companies from Western Canada that are seeking to improve maintenance and inventory processes should attend the 2019 WAMEA Airworthiness Symposium, and while there, discuss their particular business needs with WinAir. They should also attend WinAir's seminar on "Tips to Manage Your Aviation Stores Room More Effectively," a topic that was originally discussed in a WinAir blog and was later published by Wings Magazine and Helicopters Magazine. It was also presented as a technical seminar at the 2018 Ontario AME Conference and received a significant positive response.
Are you planning on attending the 2019 WAMEA Airworthiness Symposium in Calgary, Alberta? If so, then contact us today to converse with a member of the WinAir team about scheduling your VIP meeting at the event!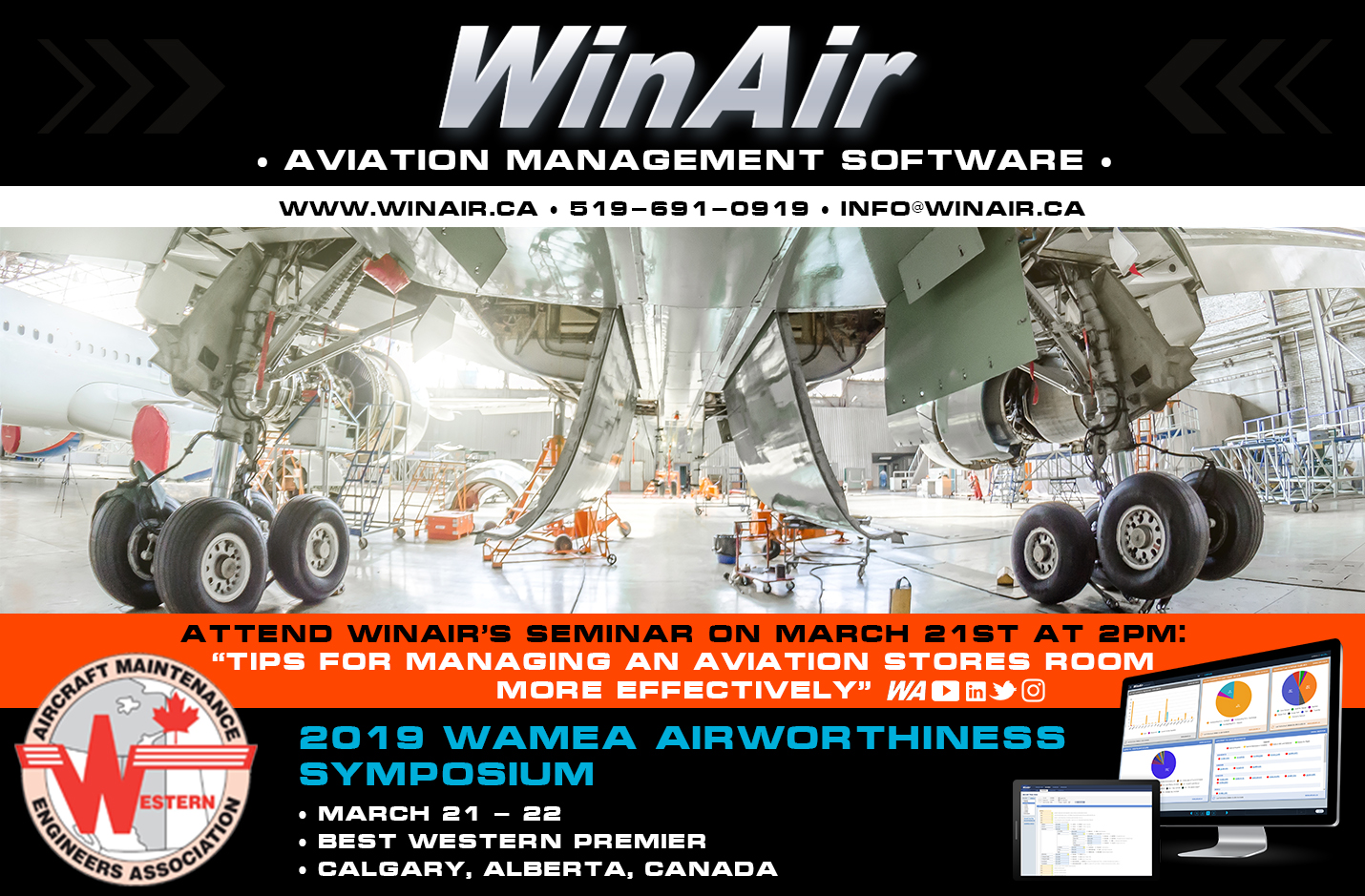 ---
About WinAir:
Based in London, Ontario, Canada, WinAir has 30 years of experience as a leader in aviation management software. Companies rely on WinAir to efficiently and effectively track and manage aircraft maintenance and inventory control. WinAir is proud to lay claim to hundreds of installations at aviation-specific organizations worldwide. From airlines to heli-ops, law enforcement agencies, oil industry suppliers, MROs, CAMOs, medical evacuation response teams and more, businesses using WinAir regard the solution as a necessary component to the successful management of their fleet maintenance programs.
###