WinAir Developer, Devon Ferns, named a winner of Aircraft Maintenance Technology magazine's 2020 AMT 40 Under 40 Maintenance Professionals award—industry-leading aviation maintenance technology publication recognizes Devon for his contributions to the development of WinAir Version 7, its software enhancements, and the ongoing evolution and success of the product
Editorial cover story appears in the October edition of Aircraft Maintenance Technology magazine—available now on newsstands and in digital format on the Aircraft Maintenance Technology magazine website
(Cover of the October 2020 issue of Aircraft Maintenance Technology magazine alongside the "AMT 40 Under 40 Maintenance Professionals 2020 Winners" article © AMT Magazine)
---
London, ON, Canada – October 21, 2020 – WinAir is excited to announce that its Senior Software Developer, Devon Ferns, has been selected for Aircraft Maintenance Technology (AMT) magazine's AMT 40 Under 40 Maintenance Professionals award. With this award, Devon joins a unique class of 40 young aviation maintenance professionals under the age of 40 that have been identified by AMT magazine for their passion for aviation and ambition to drive the industry forward. While each of this year's award recipients has followed their own path to success, all are united by their enthusiasm for their career and their desire to improve their particular facet of the aviation industry.
For Devon, these leadership qualities have propelled him into a key stakeholder role within WinAir's software development team. It is here where he collaborates with fellow Java developers to plan out new software features and functions that will assist aviation operations with improving their processes, while simultaneously ensuring that WinAir is at the forefront of technological advancements. Regarded for his high quality of workmanship, Devon is commonly leaned upon to assist with the mentorship of new employees within his department. It is through these efforts that he helps to continually evolve the WinAir product to advance it into new and exciting areas.
Devon's journey into aviation maintenance software began in his late teens with a passion for flight and an aptitude for software development. His studies in Computer Programing began at Fanshawe College in London, Ontario, Canada, in 2000, where he excelled in the program and earned his diploma in 2003. He expanded his knowledge and gained new insight into software development by enrolling in the Software Engineering program at The University of Western Ontario in 2004. Devon thrived in this environment and achieved his degree in 2008.
In 2010 Devon joined WinAir, and shortly afterward, he completed the requirements for his Private Pilot License, an achievement that would have an immense influence on his career path. With his combination of software development skills and an understanding of flight and aviation, worked diligently within WinAir's software development team to transform WinAir into browser-based software. He expanded upon the features and functions in WinAir's Inventory product, helped complete WinAir's Shipping section, and assisted with enhancing the Maintenance Records product. These milestones culminated in the release of WinAir Version 7 in 2016, a solution that would go on to be implemented by hundreds of businesses worldwide.
In the years following, Devon worked with the development team to create WinAir's Digital Signatures enhancement, which would provide the ability to have mechanics and inspectors electronically sign-off on maintenance tasks and job completion, thereby allowing them to go paperless. WinAir's launch client for this enhancement, Geisinger Life Flight, received FAA approval to use this feature in 2019 and successfully implemented it shortly thereafter. The company estimated this feature would save it more than 2,200 hours in labour and $10,000 in labour costs and office supplies annually.
Devon was also crucial in WinAir's development of its Flight Log Integration, released in 2019. For this initiative, he utilized his pilot's knowledge to help design the software architecture and layout the framework for an open API for automating the transfer of flight log data from a Flight Ops system to WinAir. He worked with the team to enhance this integration, which provided the ability to upload next due/tech dispatch data from WinAir directly into a flight ops system. This two-way integration would offer aviation operations instant access to maintenance and flight log information, streamline and expedite processes, improve maintenance planning and forecasting, and minimize AOG situations.
"It's an honour to be chosen for the AMT 40 Under 40 Maintenance Professionals award," says WinAir Senior Developer, Devon Ferns. "Working as a member of WinAir's software development team has offered me many opportunities to expand upon my development skills and apply my aviation knowledge to the continual advancement of the product, which has been both rewarding and exciting. Thank you to Aircraft Maintenance Technology magazine for your recognition and congratulations to all other recipients of this award."
From assisting with the development of WinAir Version 7 to ensuring that WinAir is on the cusp of technological innovations, Devon's contributions to the aviation industry are significant and make him a vital asset to WinAir. Together with his enthusiasm for aviation and software development, coupled with his ambition to help operations improve processes and maintain compliance, he is worthy of recognition as a flourishing and talented individual in the aviation maintenance industry.
Do you want to learn more about WinAir? Contact us now to book a meeting!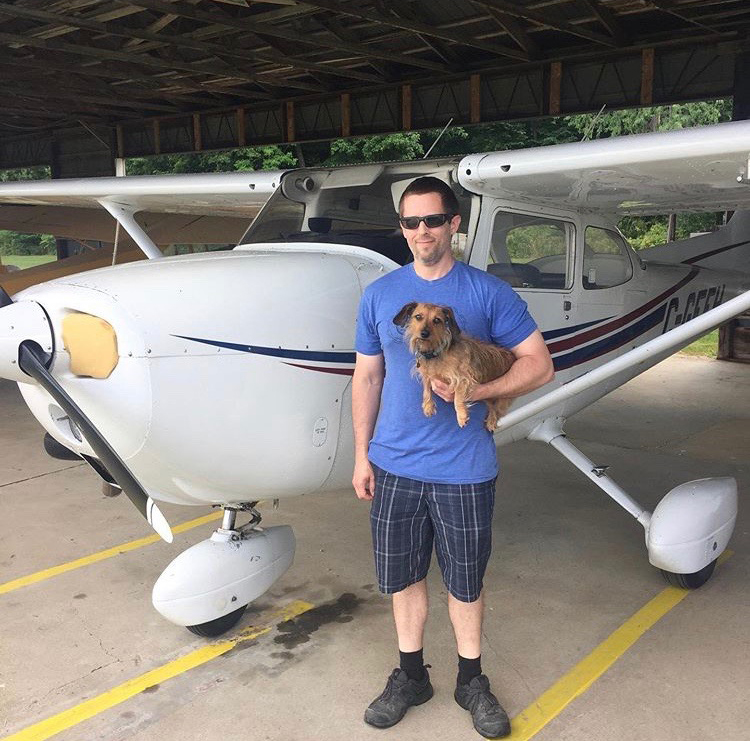 (WinAir Senior Software Developer, Devon Ferns, with his dog, Ruby, and a Cessna 172 aircraft)
---
About WinAir:

Based in London, Ontario, Canada, WinAir has over 30 years of experience as a leader in aviation management software. Companies rely on WinAir to efficiently and effectively track and manage aircraft maintenance and inventory control. WinAir is proud to lay claim to hundreds of installations at aviation-specific organizations worldwide. From airlines to heli-ops, law enforcement agencies, oil industry suppliers, MROs, CAMOs, medical evacuation response teams and more, businesses using WinAir regard the solution as a necessary component to the successful management of their fleet maintenance programs.
###