Wondering where your career as an AME is headed? WinAir set to present "Evolving Your Career as an AME: Multiple Roads to Success" at 2019 Ontario AME Conference
Define Your Career Success as an AME—attend an insightful WinAir seminar to learn about how industry professionals have evolved their careers into leadership roles in varying capacities
---
London, ON, Canada/Mississauga, ON, Canada – August 9, 2019 – Whether you are new to the aviation maintenance workforce or are an experienced AME looking to broaden your career path, the seminar on "Evolving your Career as an AME" will provide insight and resources on how to plan for future success in the aviation maintenance industry. Join WinAir on September 12th at 2:00 PM (exhibitor hall open from September 12th to 13th) at the Aircraft Maintenance Engineers (AME) Association of Ontario's 2019 Ontario AME Conference at The Hilton Meadowvale Resort in Mississauga, Ontario, Canada to benefit from the expertise, unique insights, and invaluable tips offered by aviation maintenance professionals on evolving your career as an AME.
Implementing maintenance management software at repair facilities from around the globe has provided the WinAir team with the opportunity to get to know AMEs firsthand. This provided a unique insight into the multiple roads to success for AMEs. To assist AMEs with growing and expanding their careers in the aviation industry, WinAir will deliver a presentation at the 2019 Ontario AME Conference on how to evolve your career as an AME. This conference session is based on interviews with key industry professionals, which proves that while success includes varying pathways, it is united by several common traits.
Individuals featured in this presentation have welcomed the chance to offer advice and share their experiences on how they have achieved remarkable success as AMEs. Featured interviews include Gail Marek, Geisinger Medical Center Logistics Coordinator, Daryl Balmer, Thai Aviation Services Lead AME, Julian Chin, JD Aero Managing Director of Operations and Finance, Bruno Thuot, Government of Canada—Air Services Branch Director of Maintenance, and Sam Longo, Canadian Federation of Aircraft Maintenance Engineers Associations (CFAMEA) President.
"We are delighted to return to the Ontario AME Conference to discuss career evolution as an AME based on the success of industry colleagues and professionals," says WinAir Managing Director, Kyle Vergeer. "Lending support to our regional AME association is something that we feel strongly about here at WinAir. We look forward to facilitating this seminar and networking with our peers at the exhibition."
WinAir is the aviation industry's longest-standing aviation management software provider that has continued to enhance, expand, and release new versions of its software based on aviation maintenance best practices. Businesses that are looking to harmonize departments, maintain compliance, and improve processes should attend the 2019 Ontario AME Conference and speak with WinAir about their specific needs. They should also attend WinAir's presentation on "How to Evolve your Career as an AME" to gain insight into how AMEs can progress their careers in the aviation industry.
Are you attending the 2019 Ontario AME Conference, in Mississauga, Ontario? If so, then contact us today to indicate that you will be attending this presentation or to schedule a meeting with WinAir at Booth #6 at the event!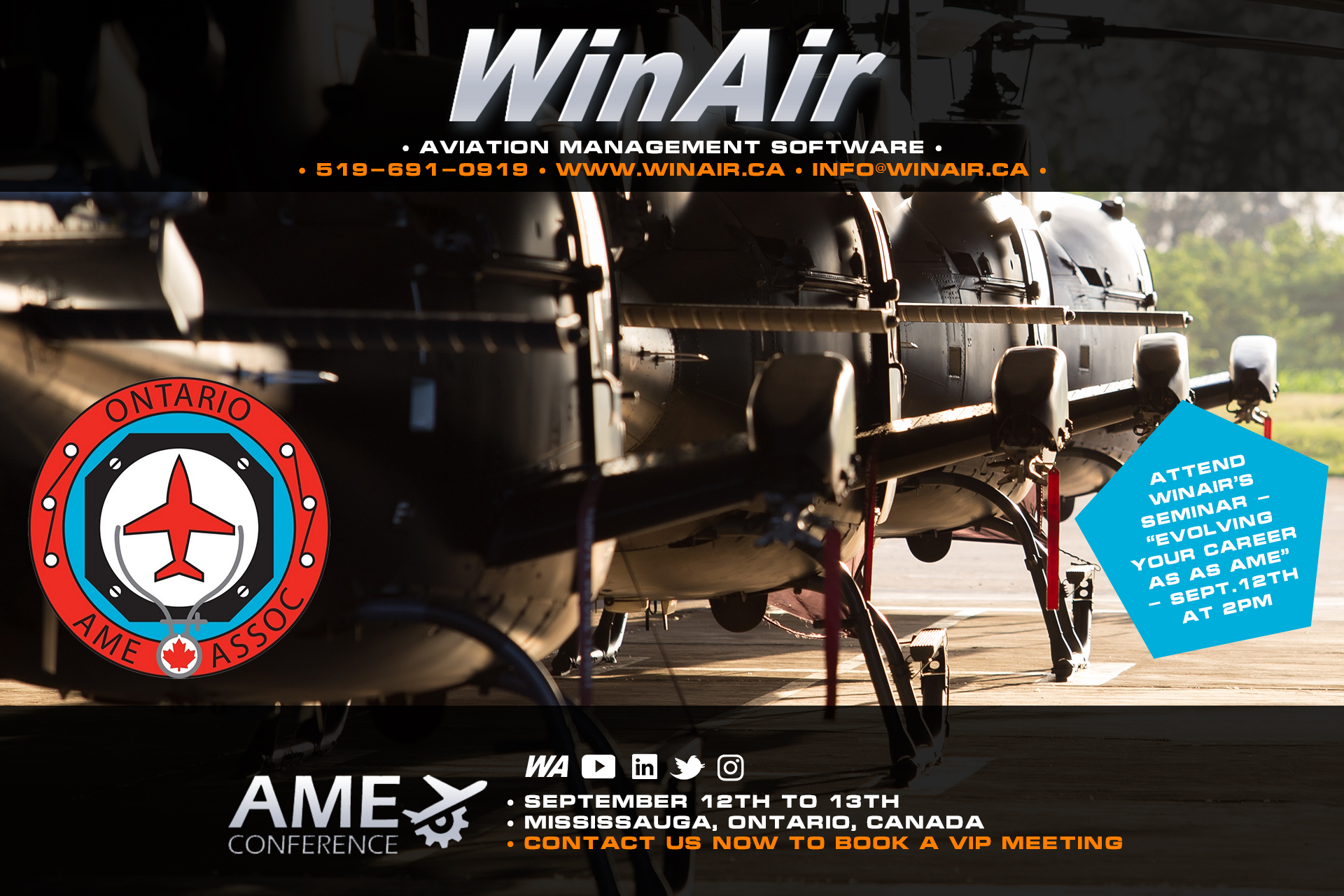 ---
About WinAir:
Based in London, Ontario, Canada, WinAir has 30 years of experience as a leader in aviation management software. Companies rely on WinAir to efficiently and effectively track and manage aircraft maintenance and inventory control. WinAir is proud to lay claim to hundreds of installations at aviation-specific organizations worldwide. From airlines to heli-ops, law enforcement agencies, oil industry suppliers, MROs, CAMOs, medical evacuation response teams and more, businesses using WinAir regard the solution as a necessary component to the successful management of their fleet maintenance programs.
###