Ensuring compliance: WinAir confirmed to return to the Regional Airline Association's RAA Convention—global leader in aviation management software excited to meet with North American regional airlines to explain how WinAir Version 7 will assist them in fulfilling their mandate for "promoting a safe, reliable, and strong regional airline industry"
In addition to improving safety, introducing software-controlled production management to the hangar floor will help airlines find savings in maintenance budgets
---
London, ON, Canada/Nashville, TN, USA – August 14, 2019 – WinAir is pleased to announce that the company will be attending the Regional Airline Association's (RAA) 44th Annual Convention. From September 4th to 7th, WinAir team members will be at Booth #517 at the trade show exhibition hall at the Music City Convention Center in Nashville, Tennessee, USA.
With aviation maintenance management being a topic of interest at this year's RAA Convention, WinAir is looking forward to meeting with regional airlines and associate members to discuss how WinAir provides a mechanism for collecting, tracking and analyzing maintenance data including the ability to record defects and trends, which can be used to build reliability cases. Reliability data can in turn be analyzed to assist in implementing a formal risk management strategy which supports a high safety rating and reduces AOG situations. When software is developed based on aviation maintenance best practices, it can accelerate an operation's ability to implement new procedures and streamline them across all departments.
Software-controlled production management can also help regional airlines find savings in their maintenance budget. By optimizing processes and capturing inefficiencies, operations have the unique opportunity to maintain a lean, yet prepared inventory. These maintenance savings can then be used to offset other operational expenditures, such as the rising cost of fuel.
"Regional airlines are focused on advancing safety and aviation management software can help them achieve this," says WinAir Software Solutions Consultant, Kara Briggs. "By automating processes and enforcing data integrity with software validation, airlines can minimize errors, reduce redundancy, and improve data accuracy. We are thrilled to return to the RAA Convention to demonstrate how WinAir can play a leading role in assisting regional airlines in ensuring safety."
For over 30 years, WinAir has led the aviation maintenance software industry by remaining committed to helping maintenance operations ensure compliance through software-controlled production management and the establishment of aviation industry best practices. The company has continued to advance and improve its product based on new software developments and aviation industry changes. As a result, WinAir has remained in tune with the aviation maintenance industry and at the forefront of technological change.
With the latest release of the software, WinAir Version 7, aviation operations are benefitting from expedited processes, enhanced visibility, and a consolidation of all departments into one fully functioning and cohesive unit. All of which improves safety and helps airlines keep their aircraft in the sky.
Are you a member of a company that is attending the Regional Airline Association Convention in Nashville, Tennessee? If so, then contact us today to book your VIP meeting with WinAir!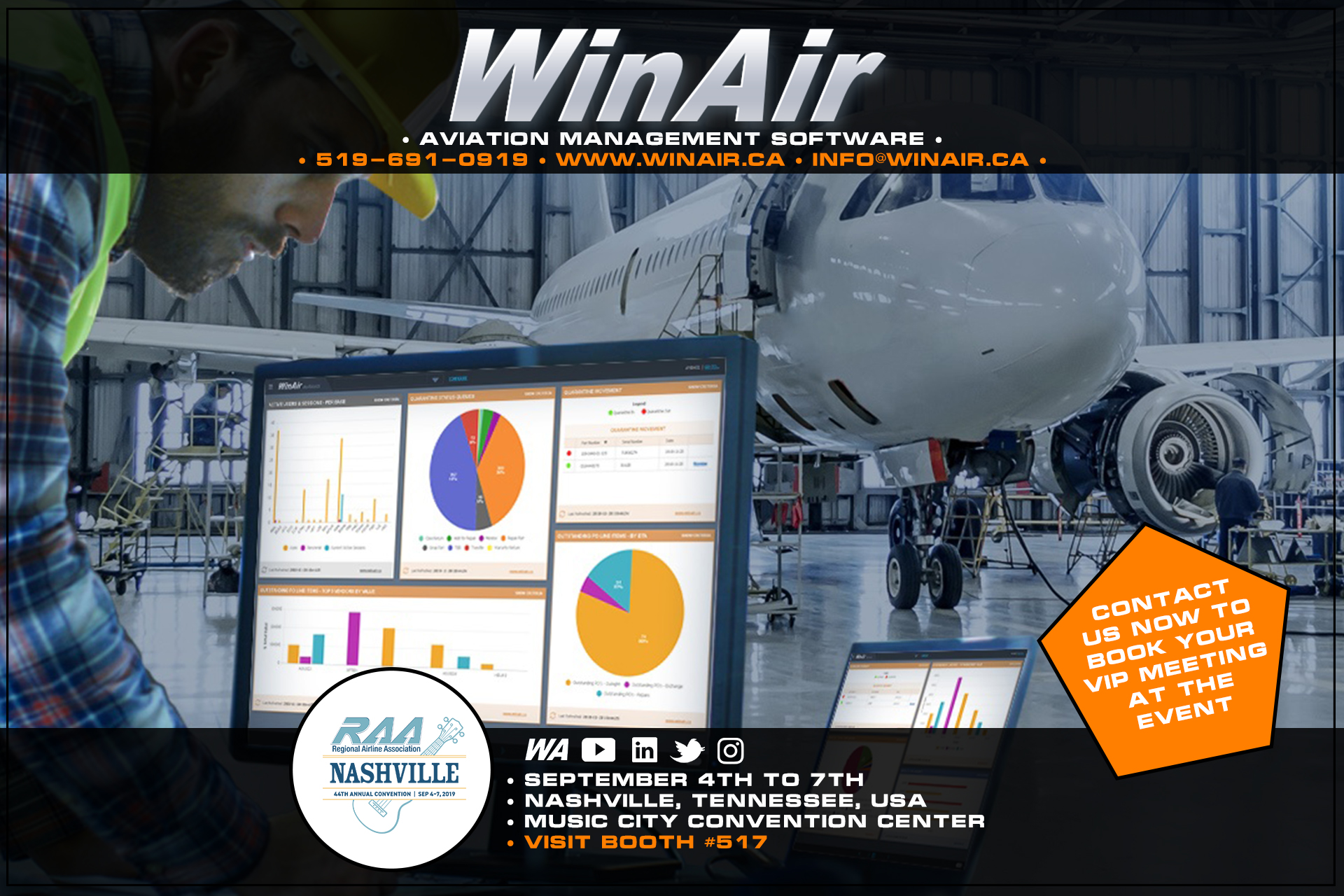 ---
About WinAir:
Based in London, Ontario, Canada, WinAir has 30 years of experience as a leader in aviation management software. Companies rely on WinAir to efficiently and effectively track and manage aircraft maintenance and inventory control. WinAir is proud to lay claim to hundreds of installations at aviation-specific organizations worldwide. From airlines to heli-ops, law enforcement agencies, oil industry suppliers, MROs, CAMOs, medical evacuation response teams and more, businesses using WinAir regard the solution as a necessary component to the successful management of their fleet maintenance programs.
###