Defining future development at The WinAir User Summit 2021—annual client conference set to return to a virtual environment this October for in-depth discussions about the new and exciting game-changing features and functionalities in forthcoming releases of the product
The company is delighted to bring its clients together to demonstrate the latest software capabilities currently in development and is looking forward to receiving their feedback to learn more about how it can optimize the product to maximize investment
(The Virtual WinAir User Summit 2021 displayed on a laptop in a business jet © WinAir)
---
London, ON, Canada – September 29th, 2021 – WinAir is pleased to announce that the company will be hosting its 2021 Virtual WinAir User Summit online on October 27th from 10:00 a.m. to 12:00 noon EST. With ensuring the health and safety of its clients and staff being top-of-mind, WinAir has elected to run this year's event virtually. While the company is hopeful that the COVID-19 pandemic will subside so that it can return to facilitating these events in London, Ontario, Canada, and Brisbane, Queensland, Australia for 2022, its team is thrilled to present many new additions and enhancements to its software at this online event. WinAir clients are highly encouraged to register to attend The Virtual WinAir User Summit 2021 by speaking with their WinAir Champion or Client Advocate, who can direct them to the event registration email.
Attendees at this year's event will assist in shaping the software development path for an assortment of features and functionalities in WinAir Version 7 by providing their feedback on how their business will benefit from these items. They will also be instrumental in helping WinAir solidify its grand vision for the product by offering insight into their use of the software. WinAir users will:
Learn about exciting Labour Planning enhancements,
Discover a new way to audit required part requests,
Assess new electronic Inventory Count and auditing functionality,
Analyze and provide input for new projects in development, including simplified user interfaces, streamlined workflows, and operational Performance Trends,
Examine Statements and Signatures, and
Explore Template relationship opportunities.
"We are thrilled to gather our WinAir users together from around the globe for our Virtual WinAir User Summit," says WinAir Managing Director Kyle Vergeer. "We have a series of innovative features, cutting-edge functionalities, and robust software enhancements that we are excited to unveil at this year's event. We look forward to receiving client feedback on these items, as it will assist us tremendously in shaping our development path to ensure that it aligns with their unique business goals."
WinAir is the most trusted, proven, and effective aviation management software for tracking and managing aircraft maintenance, maintaining inventory control, and ensuring compliance. Since 1988, the company has remained on the cusp of technological advancements to assist businesses worldwide in safeguarding against AOGs and ensuring that their fleet is always airworthy and mission-ready. To achieve this, WinAir prioritizes meeting with its clients at its WinAir User Summit to understand their unique needs and discover how it can optimize the software. To secure their space at this event and avoid missing out on the opportunity to provide feedback and help define the future direction of WinAir Version 7, WinAir clients should register for this event without delay.
Want to learn more about how WinAir supports client success? Contact us now to speak with a member of the WinAir team!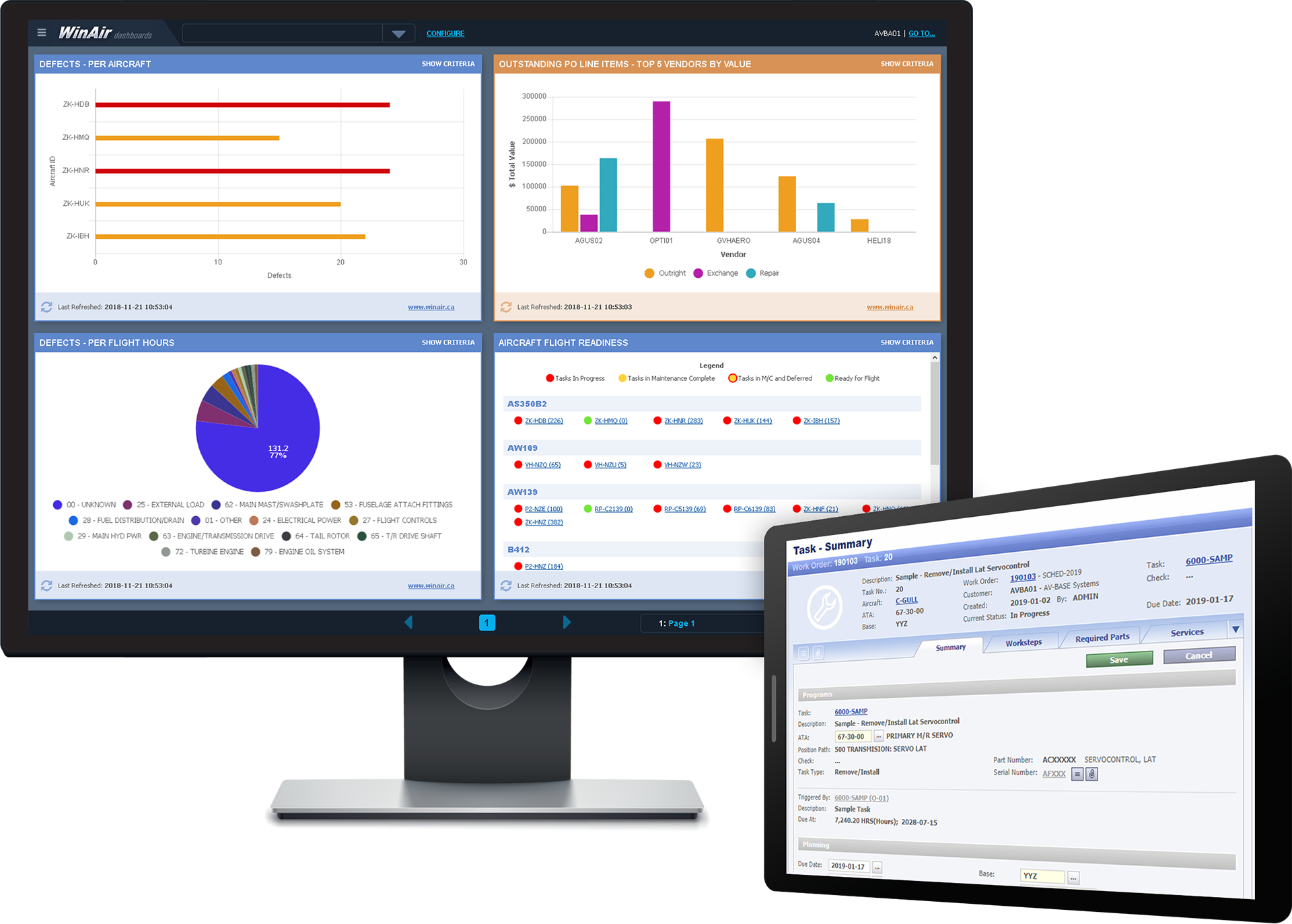 (WinAir Dashboards displayed on a desktop computer and a Task Card Summary displayed on a tablet © WinAir)
---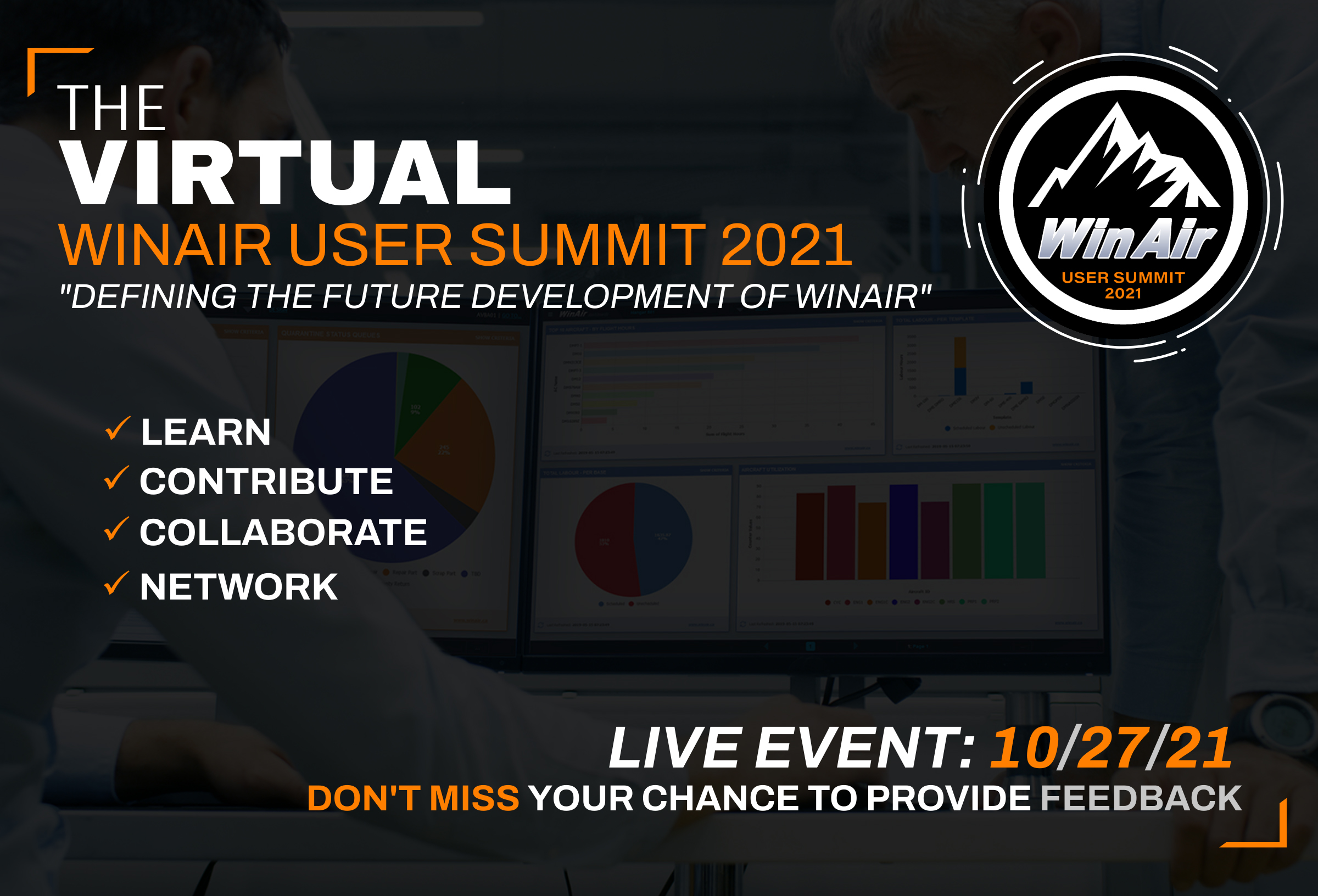 (The Virtual WinAir User Summit 2021 event promotional image © WinAir)
---
About WinAir:

Based in London, Ontario, Canada, WinAir has over 30 years of experience as a leader in aviation management software. Companies rely on WinAir to efficiently and effectively track and manage aircraft maintenance and inventory control. WinAir is proud to lay claim to hundreds of installations at aviation-specific organizations worldwide. From airlines to heli-ops, law enforcement agencies, oil industry suppliers, MROs, CAMOs, medical evacuation response teams and more, businesses using WinAir regard the solution as a necessary component to the successful management of their fleet maintenance programs.
###