Advance Aerospace boosting business efficiencies with WinAir—after recently completing its WinAir Version 7 implementation, the premier MRO for S-61 helicopter maintenance is now live with the software and realizing operational gains
The company credits WinAir's Implementation team for playing a leading role in assisting with a smooth transition to its aviation management software by adhering to a remote software implementation strategy amidst the backdrop of the current pandemic
(A Sikorsky S-61 helicopter performs a water drop during an aerial firefighting mission—Wayne Riggs, CC BY 3.0, via Wikimedia Commons—modified)
---
London, ON, Canada/Delta, BC, Canada – February 11th, 2021 – WinAir is delighted to announce that MRO, Advance Aerospace Inc., has implemented WinAir Version 7 and is now live with the software. After concluding a seamless product implementation this past January using entirely remote processes and procedures, including completing a data migration, inventory import, and user training, the MRO is now using the software daily to track and manage maintenance and maintain inventory control. It is also beginning to identify some of the many benefits of utilizing the aviation industry's top aviation management software for companies focused on reliability, compliance, and having access to data that they can trust.
Established in 2013, Advance Aerospace operates out of Boundary Bay Airport (CZBB) in Delta, British Columbia, Canada. The company works with military and civilian operations and is a Transport Canada and EASA Approved Maintenance Organization. Since its inception, businesses throughout the helicopter industry have recognized Advance Aerospace as the "go-to" maintenance facility for the General Electric CT58/T58 engine series. Over the years, the company has diversified its capabilities and has naturally progressed into providing support for all dynamic components on the Sikorsky S-61 platform. Today, Advance Aerospace continues to expand upon these capabilities by venturing into other platforms wherein WinAir serves as the foundation for incorporating additional product lines.
Advanced Aerospace and WinAir began their business relationship in 2020 at the Helicopter Association International's (HAI) Heli-Expo. At the time, the company was handling its maintenance activities using a combination of Excel spreadsheets and Word documents, methods that were not meeting its needs. Advance Aerospace identified that it required an integrated maintenance and inventory control solution that could streamline and expedite its maintenance processes, improve part traceability, and allow them to attach and manage documents, and handle multiple currencies. The company decided that WinAir was the perfect fit for tracking and managing its MRO maintenance program.
In late August, Advanced Aerospace commenced its WinAir Version 7 software implementation. Since WinAir had already established a company-wide remote work policy in response to the COVID-19 pandemic back in March, it had all the necessary tools and infrastructures in place to seamlessly facilitate this software implementation for the MRO. Now that Advance Aerospace is live with WinAir Version 7, its team is enthusiastic about improving business efficiencies.
"We reviewed multiple products on the market, but WinAir's browser-based software stood out as the ideal solution for our MRO," says Darryl Nicolas, Advance Aerospace General Manager. "With WinAir Version 7, we can manage engine maintenance using a template approach, which accelerates processes and saves us valuable time while simultaneously ensuring data authenticity and assisting with maintaining compliance. We are pleased with the results of our remote software implementation and are excited to grow our business with WinAir."
WinAir Business Development Representative Jason Street echoed this sentiment: "We are happy that Advance Aerospace is benefitting from an easy transition to WinAir Version 7. We look forward to assisting this MRO in reaching its operational goals and building a strong business relationship for years to come."
WinAir is the longest-standing, continually updated aviation management software developed from the hangar floor up. Since it incorporates processes that follow actual aviation maintenance work steps, understanding how to utilize the product comes naturally for aviation maintenance professionals. Knowing that WinAir is both flexible and dependable regarding its implementations and product support provides businesses with the assurance that they can adapt and move forward. Our WinAir Version 7 MRO Package comes fully equipped with all the features and functions that MROs require to improve how they manage their maintenance facility—from the initial planning and maintenance activities and through to the final invoicing stage—we've got you covered.
Are you interested in learning more about how you can improve business efficiencies with WinAir Version 7? Contact us today to book an online demo!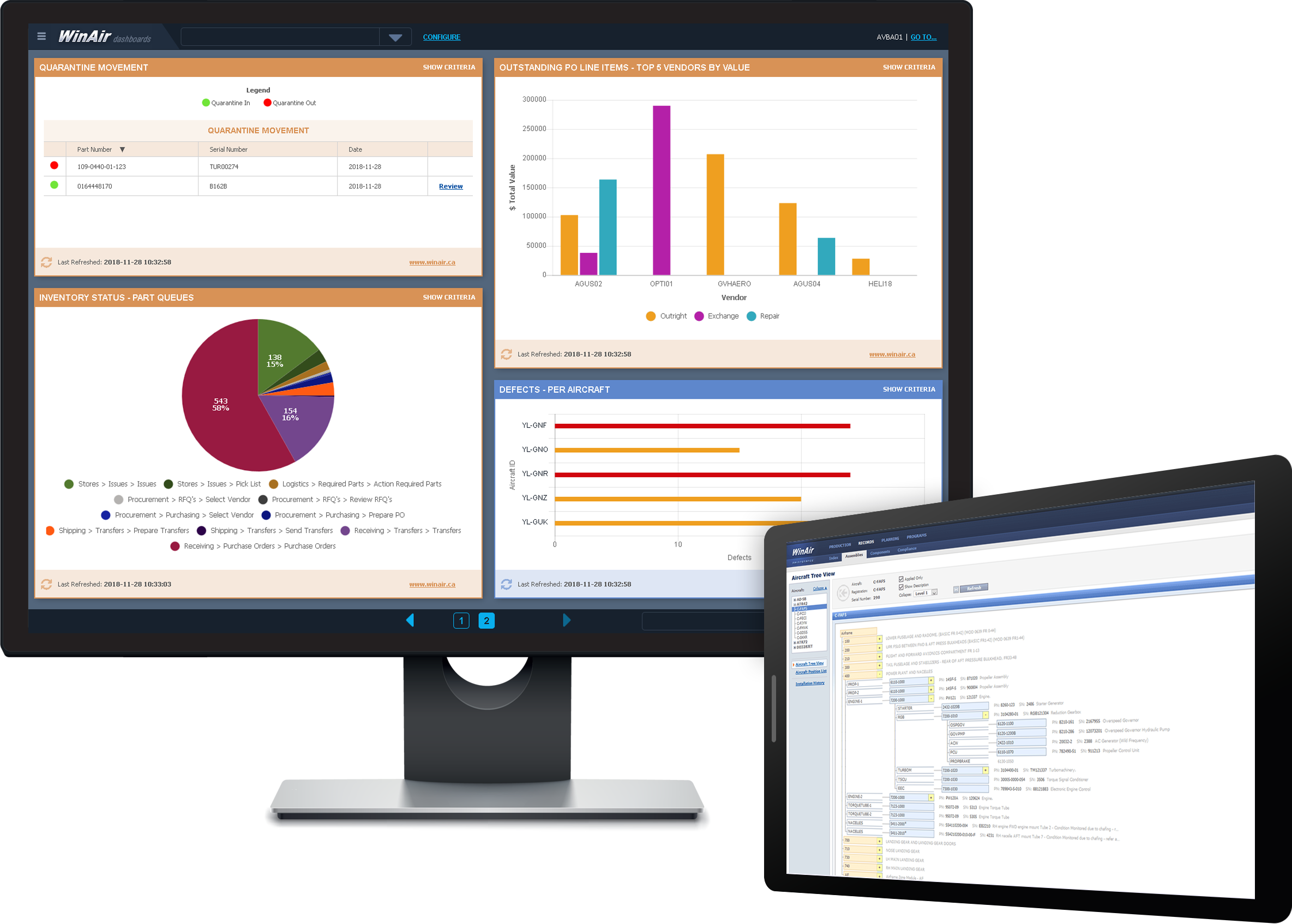 (WinAir – Aviation Management Software – Dashboards and Template Tree View Displayed on Desktop and Tablet)
---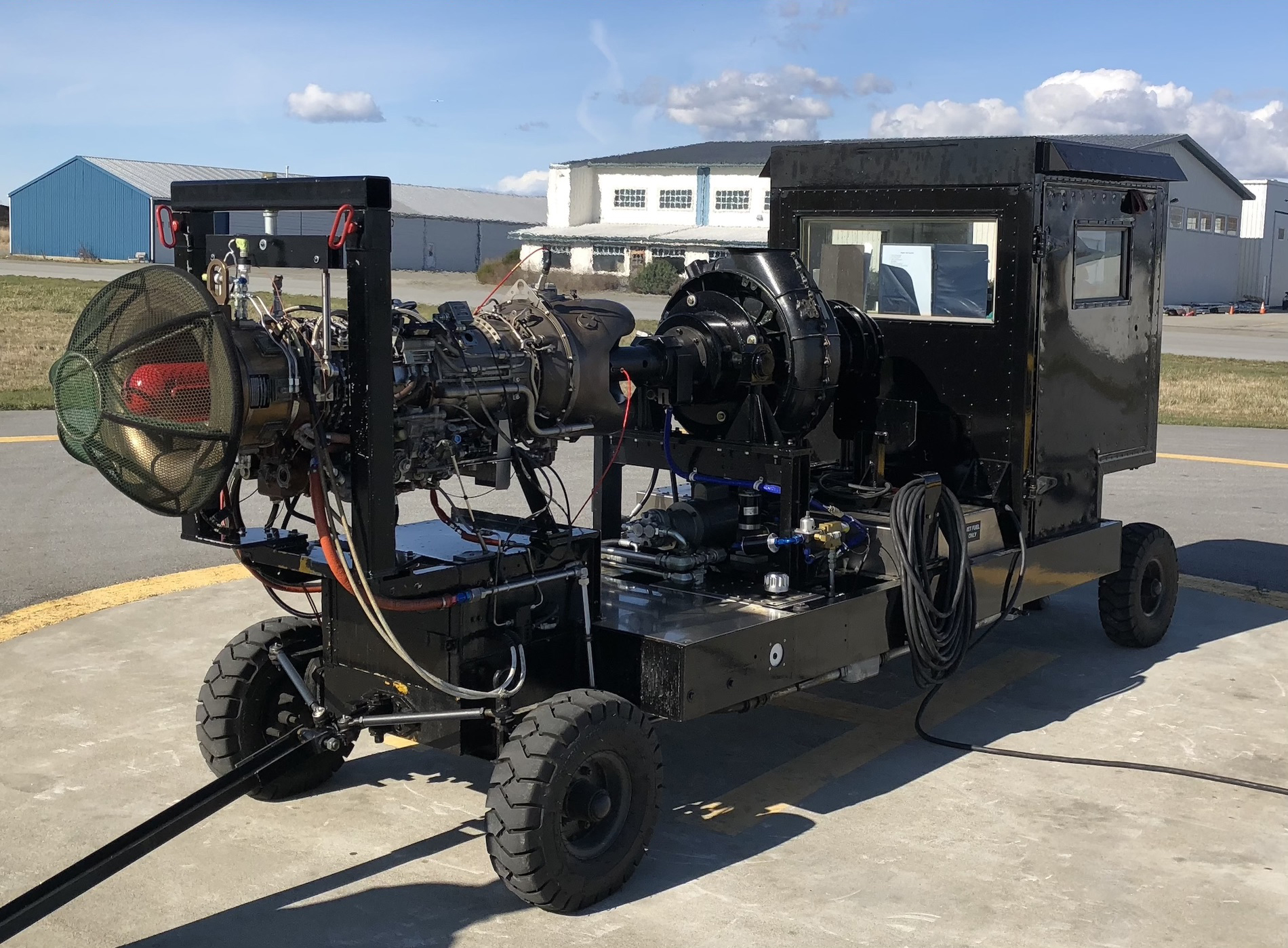 (Advance Aerospace performs an engine test at its maintenance facility on a CT58 helicopter engine © Advance Aerospace)
---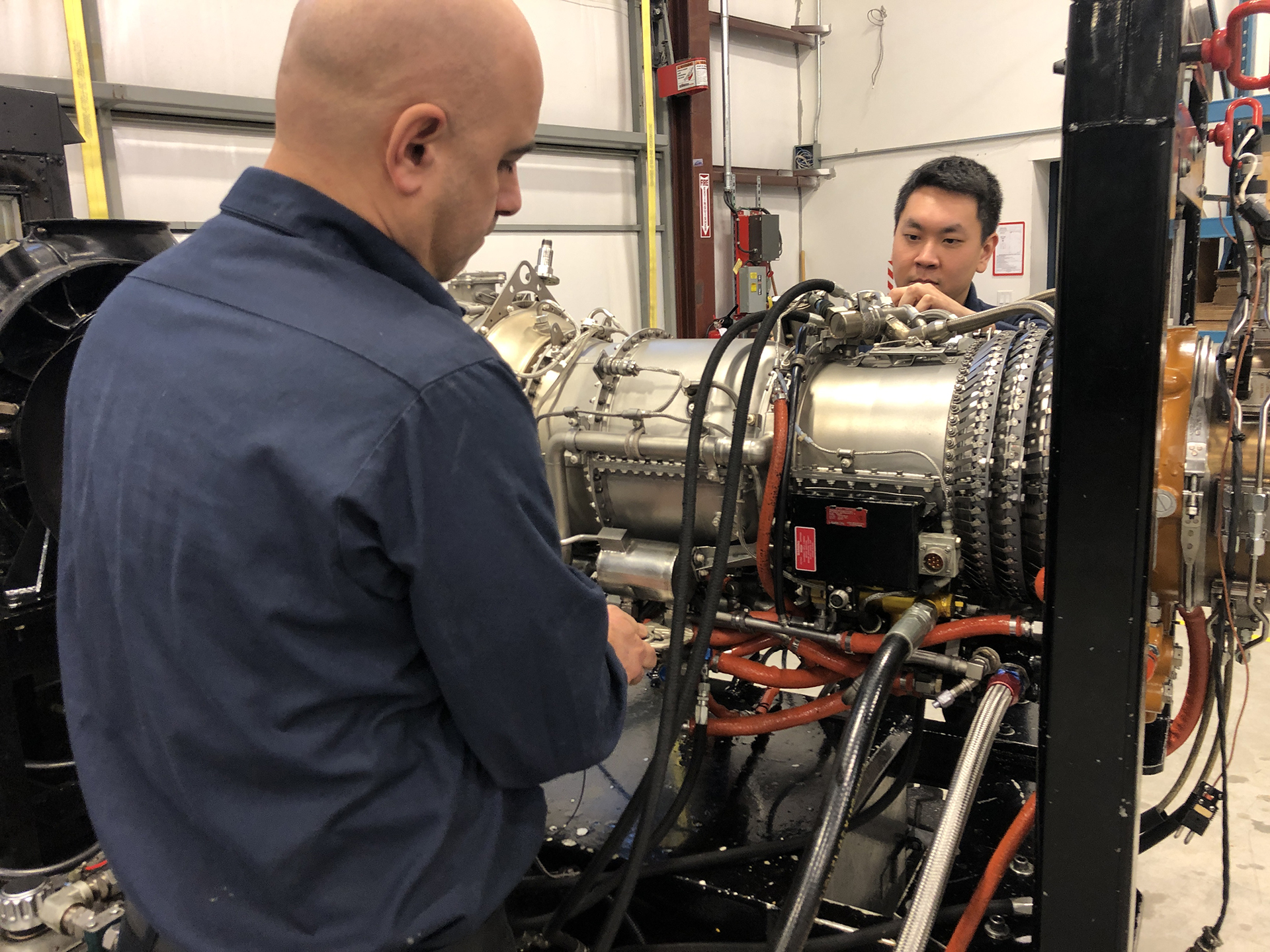 (Staff facilitates engine maintenance at Advance Aerospace © Advance Aerospace)
---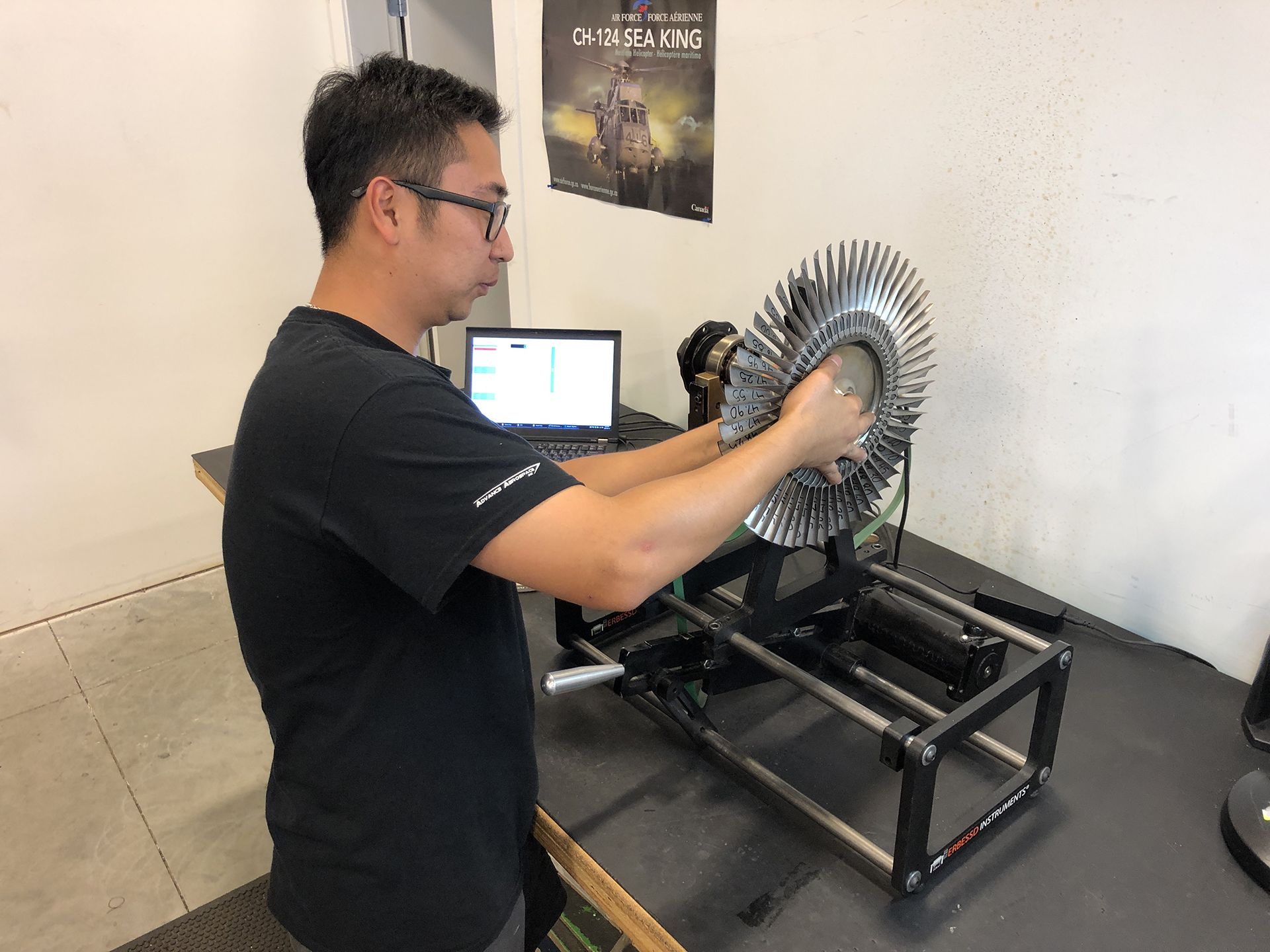 (An Advance Aerospace employee works on Turbine wheel weight balancing © Advance Aerospace)
---
About Advance Aerospace:

Advance Aerospace Inc. (AAI) is the premier maintenance facility for the Sikorsky S-61. We are a Transport Canada Approved Maintenance Organization, operating out of Boundary Bay Airport in Delta, British Columbia. Whether its engines, transmissions, or parts support, we can help. AAI has decades of experience working on the General Electric CT58/T58 engine series. We can tailor the maintenance requirements to your budget. Contact us for your next service.
About WinAir:

Based in London, Ontario, Canada, WinAir has over 30 years of experience as a leader in aviation management software. Companies rely on WinAir to efficiently and effectively track and manage aircraft maintenance and inventory control. WinAir is proud to lay claim to hundreds of installations at aviation-specific organizations worldwide. From airlines to heli-ops, law enforcement agencies, oil industry suppliers, MROs, CAMOs, medical evacuation response teams and more, businesses using WinAir regard the solution as a necessary component to the successful management of their fleet maintenance programs.
###