Without software designed for handling aircraft part sales, working with variable currencies can lead to miscalculations—but with WinAir's Part Sales package for WinAir Version 7, managing variable currencies and exchange rates is simple thanks to a robust pricing calculator, automated processes, and a streamlined workflow
This article lists the top six operational advantages of managing variable currencies using WinAir's Part Sales
(Staff view WinAir's Part Sales on desktop and laptop computers—ESB Professional/Shutterstock.com—modified)
---
Managing variable currencies and multiple exchange rates for part sales without the proper tools can result in errors in sales quotes. Miscalculations can culminate in time-consuming revisions, poor relationships with clients when invoices are drastically different than initial quotes, or even financial burdens if your company absorbs the costs of errors in calculations. If you are using more than one system to manage part sales, using software not developed for aviation, or using a calculator and spreadsheets, miscalculations can become commonplace and a significant issue for any business.
However, with Part Sales for WinAir Version 7, businesses can avoid these scenarios altogether with automated processes that will ensure precision on each quote. Since WinAir's Part Sales works seamlessly with its Inventory, Maintenance, and Accounting products, handling all aspects of aircraft part sales can be accomplished in one powerful solution. Plus, with WinAir's built-in quote approval process, businesses can rest easy knowing that an additional mechanism for oversight is in place so that quotes are always perfect before submitting to the client.
If you are looking to improve how you manage aircraft part sales at your aviation operation or MRO, then WinAir's Part Sales will boost overall efficiencies, provide you with a competitive edge, and take your business to the next level. You can trust in WinAir's 30 plus years of aviation industry experience to help guide your business towards operational success. After all, why would you settle for processes that are sluggish and prone to errors, when you can accelerate work steps, build accurate quotes, improve relationships with clients, and save time and effort by using WinAir?
Here are six operational advantages of managing variable currencies in Part Sales for WinAir: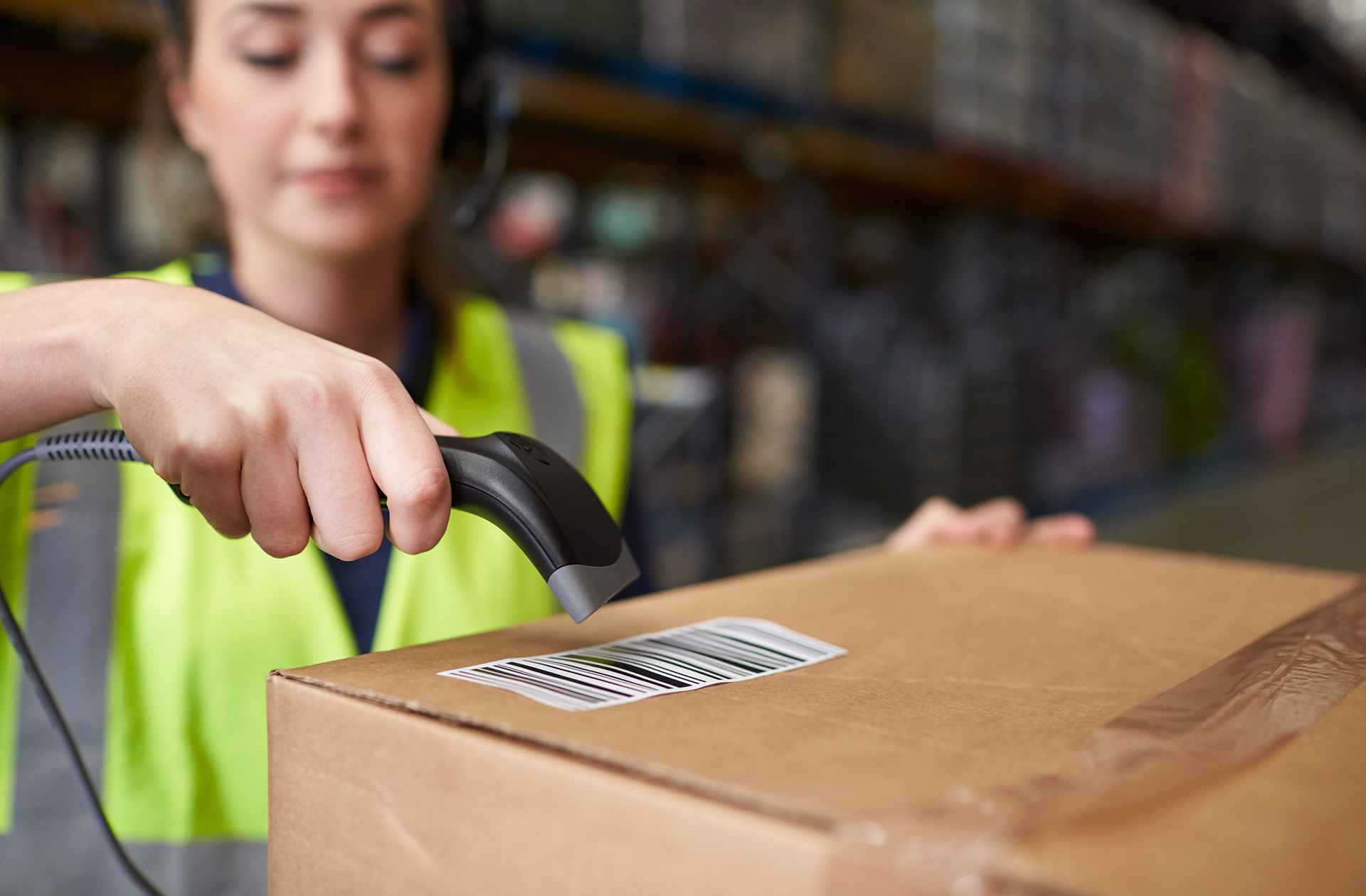 (An employee uses a barcode scanner for aircraft part sales—Monkey Business Images/Shutterstock.com—modified)

6. Automated Processes

With automated processes for handling variable currencies and exchange rates, WinAir's Part Sales can ensure accuracy on every quote. For instance, if you are working with a client price that is different from your system price, exchange rates are automatically applied by the system per line item. These rates remain fixed and do not change as the quote moves through the sales process.
In terms of operational gains, these automated processes remove the need for manually amending exchange rates and save businesses valuable time. They also safeguard against errors when preparing sales quotes and streamline the sales workflow. With these time-savings, coupled with the assurance that quotes are always correct, aviation operations and MROs can redirect their focus towards generating sales, managing maintenance, and overseeing other facets of their business.

5. No More Sticker Shock

If there is one thing that is bound to upset your clients every time, it is receiving an invoice that is vastly different from the initial sales quote. The fact of the matter is that no one likes feeling mislead about a purchase. This sentiment can contribute to poor relationships with clients, or may result in the loss of their business.
But with WinAir's Part Sales, there is no more sticker shock, as exchange rates are locked down when producing a quote for the client. This process safeguards against the introduction of inaccurate information into the sales quote and ensures that there are no surprises when the client receives the invoice. It also relieves businesses from having to continue to adjust exchange rates based upon market fluctuations. Consequently, client expectations are maintained, and business relationships are improved.

4. Operational Transparency, Flexibility, and Versatility

In terms of operational transparency, Part Sales makes it easy to ascertain the value of parts when listed in a client's currency. With WinAir's built-in versatile pricing calculator, the system price is instantly and automatically displayed alongside the client price when these values are in different currencies. This side-by-side view of pricing makes it easy for users to understand the financial worth of a particular part when listed in an unfamiliar client's currency.
For example, if you are creating a quote for a client in Chinese Yuan and this is not your home currency, then it is likely the case that you are unaware of the overall value of products when presented in this currency. Rather than using a calculator or accessing a website to decipher the exchange rate and calculate the cost in your system currency, users can view these figures together to gain a better perspective of the value of that particular part in the client currency. Also, because currencies may vary across a company depending on the location of its bases, users have the flexibility to use a preferred currency. When they are ready to produce the quote for the client, they can generate it in the currency that the client requests.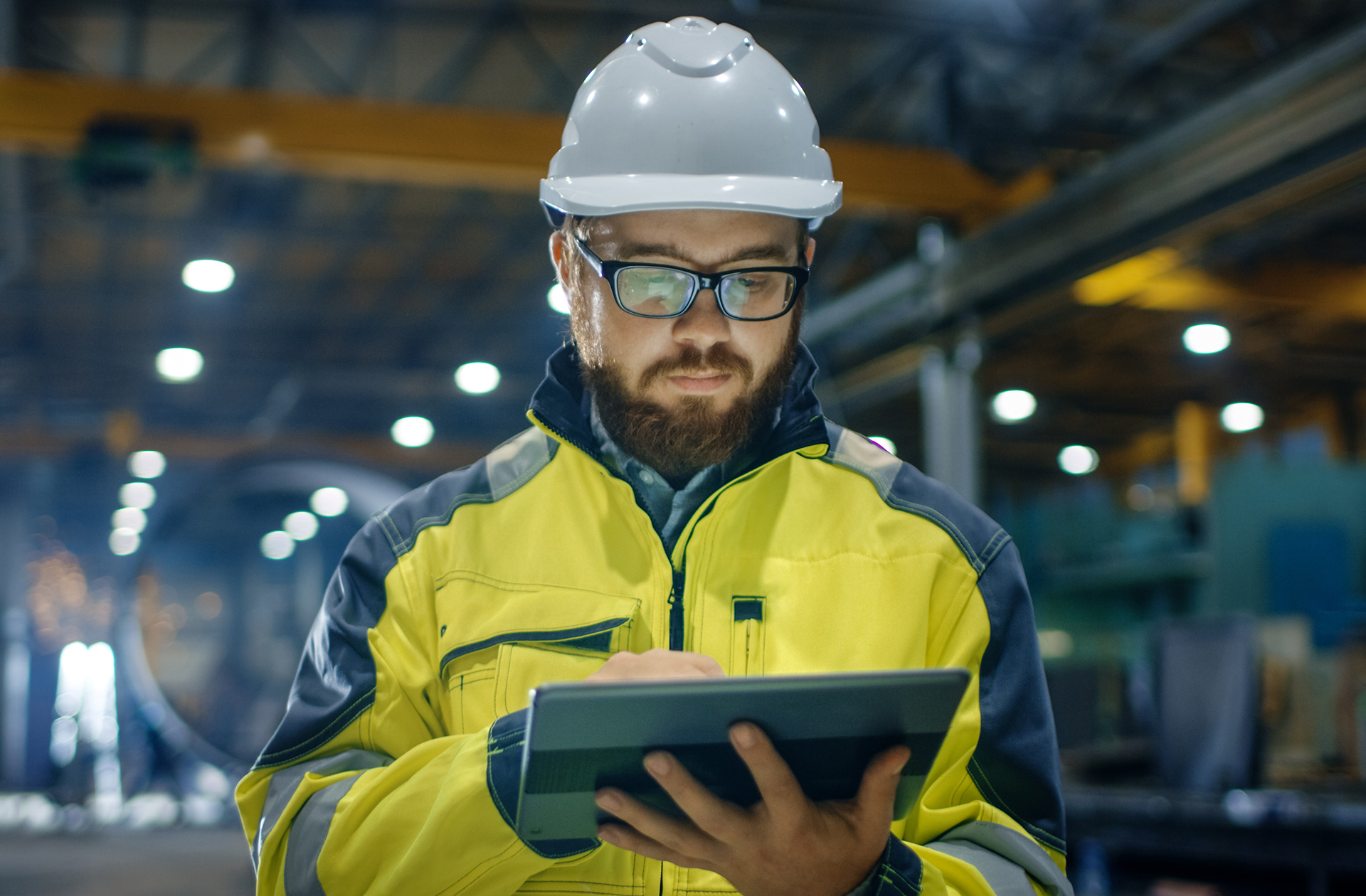 (An AME views a tablet in an aircraft hangar—Gorodenkoff/Shutterstock.com—modified)
3. Instant Access to Historical Pricing Information

To ensure accuracy and consistency in each quote, WinAir's Part Sales provides users with instant access to all historical pricing information on parts and previous transactions. This means that if you are dealing with a client that operates in various countries, you will always know the required currency for your quote. Since all data will be correct from the start, you won't have to reformulate your quote to update the currency.
This historical pricing information also affords aviation operations and MROs the ability to track and manage pricing structures based on client relationships. These relationships may include offering discounted pricing that is significantly different from your standard rates, such as an AOG rate, a family rate, or a volume-based rate. By providing extensive information on past pricing, businesses using WinAir's Part Sales can always be sure that they are charging the correct price for any given part.
2. Ability to Define as Many Currencies as Required

With WinAir's Part Sales, there is no limit to the number of currencies utilized in the system. Users can define as many currencies as required during the initial software set-up, and then add each currency as needed. They can also establish a default currency and designate currencies per country.
When a new currency is added to the software, users can set the buy and sell rates for it against the system default currency to ensure that the proper price is applied for international purchases or invoicing. While users can change these rates at any time, any amendments will not affect sent POs or invoices. As a result, aviation operations and MROs have the power to produce quotes in any currency using WinAir's Part Sales.
1. Ease of Use

Managing multiple currencies in WinAir's Part Sales is simple since all processes, including calculations for markups, add-ons, and exchange rates, are automated. There is no need to access external programs to make calculations, review previous pricing information, or to manage exchange rates, as all of these tasks can be handled with ease in the software. As a result, processes for building quotes are streamlined, expedited, and improved, thereby contributing to a boost in overall business efficiencies.
To further improve ease of use within the software, WinAir's Part Sales uses system alerts and notifications to inform staff with quote approval authorization that a draft of a quote is ready for their review. During this built-in quote approval process, team members with the appropriate permissions can either approve the quote for submission to the client or decline it and append a mandatory comment to inform the quote draft author of the required revisions. In the case of the latter, the draft author will also receive a notification to inform them that there are underlying changes that must be made to this quote in order for it to be approved.
Once it is updated, the quote can be resubmitted using the same quote approval process. This workflow keeps both the draft author and approver informed throughout the course of building, submitting, and approving the quote. It also ensures that each quote is always accurate before sending it to the client.
Handle Variable Currencies with Ease using Part Sales for WinAir Version 7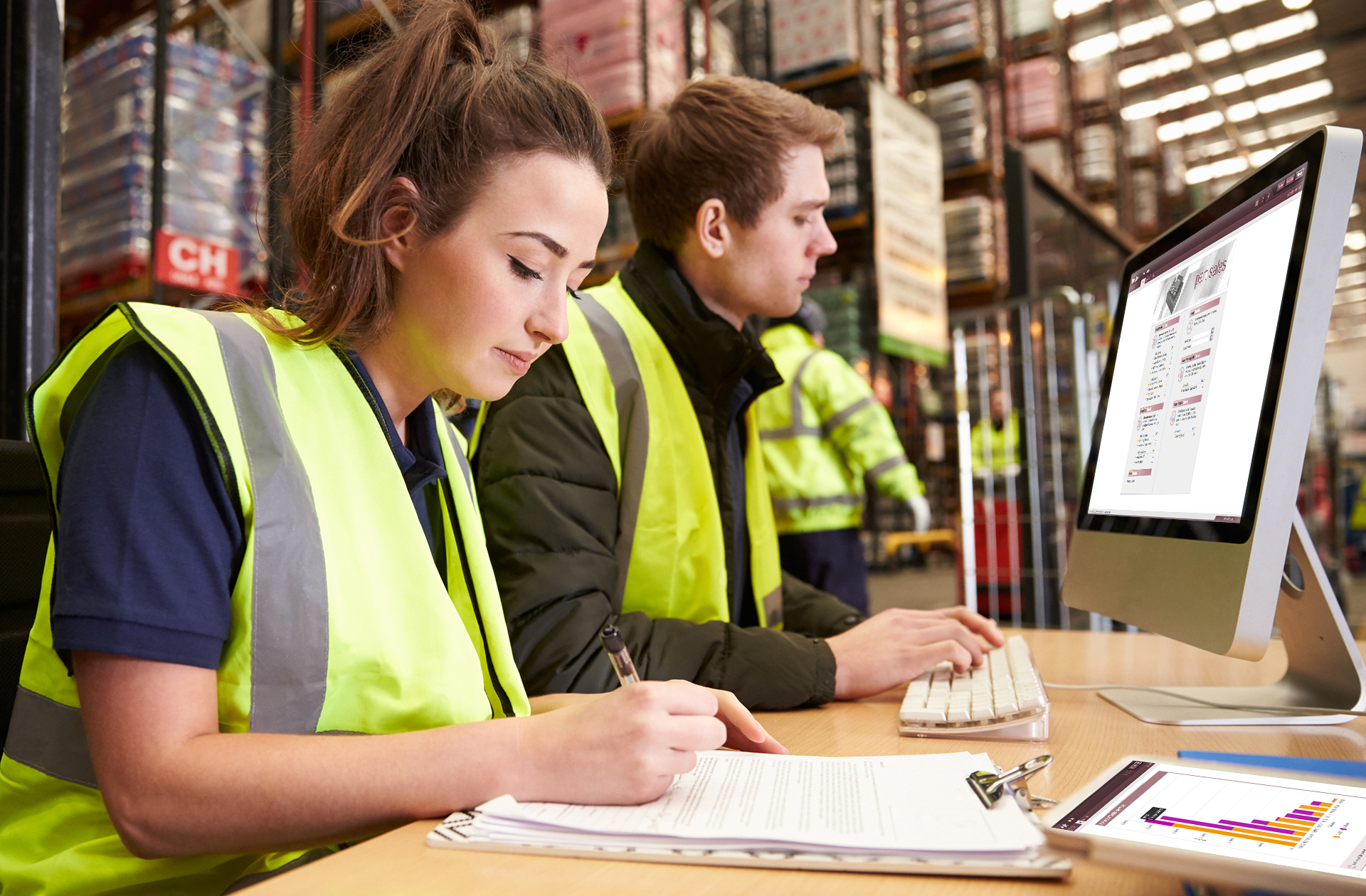 (Employees at an aviation operation use Part Sales for WinAir Version 7 on desktop and tablet—Monkey Business Images/Shutterstock.com—modified)

By providing a straightforward approach for managing variable currencies, WinAir's Part Sales simplifies the entire process for generating quotes for part sales in a client currency. Instead of using numerous systems and tools to manage exchange rates, multiple currencies, and markups, Part Sales users can take care of all of these items efficiently and effectively in WinAir. This ability to manage all aspects of part sales in one aviation management software solution saves aviation operations and MROs significant time, alleviates staff of a variety of administrative duties, and improves the overall part sales workflow.
Part Sales is available in a dedicated WinAir Version 7 software package that comes fully equipped with all the essentials that businesses engaged in part sales need to improve how they manage processes. It can also be added to any current WinAir Version 7 subscription.
For those aviation operations and MROs that are looking to expedite their software implementation timeline, WinAir also offers a variety of services including a Process Consultation, Project Management, Data Migration, Training, Aircraft Template Building, Hosting, Integrations, and Client Success. If an accelerated transition to the software is required, WinAir also offers full turnkey solutions.
Are you interested in having a closer look at Part Sales for WinAir Version 7? If so, then contact us now to book a demo!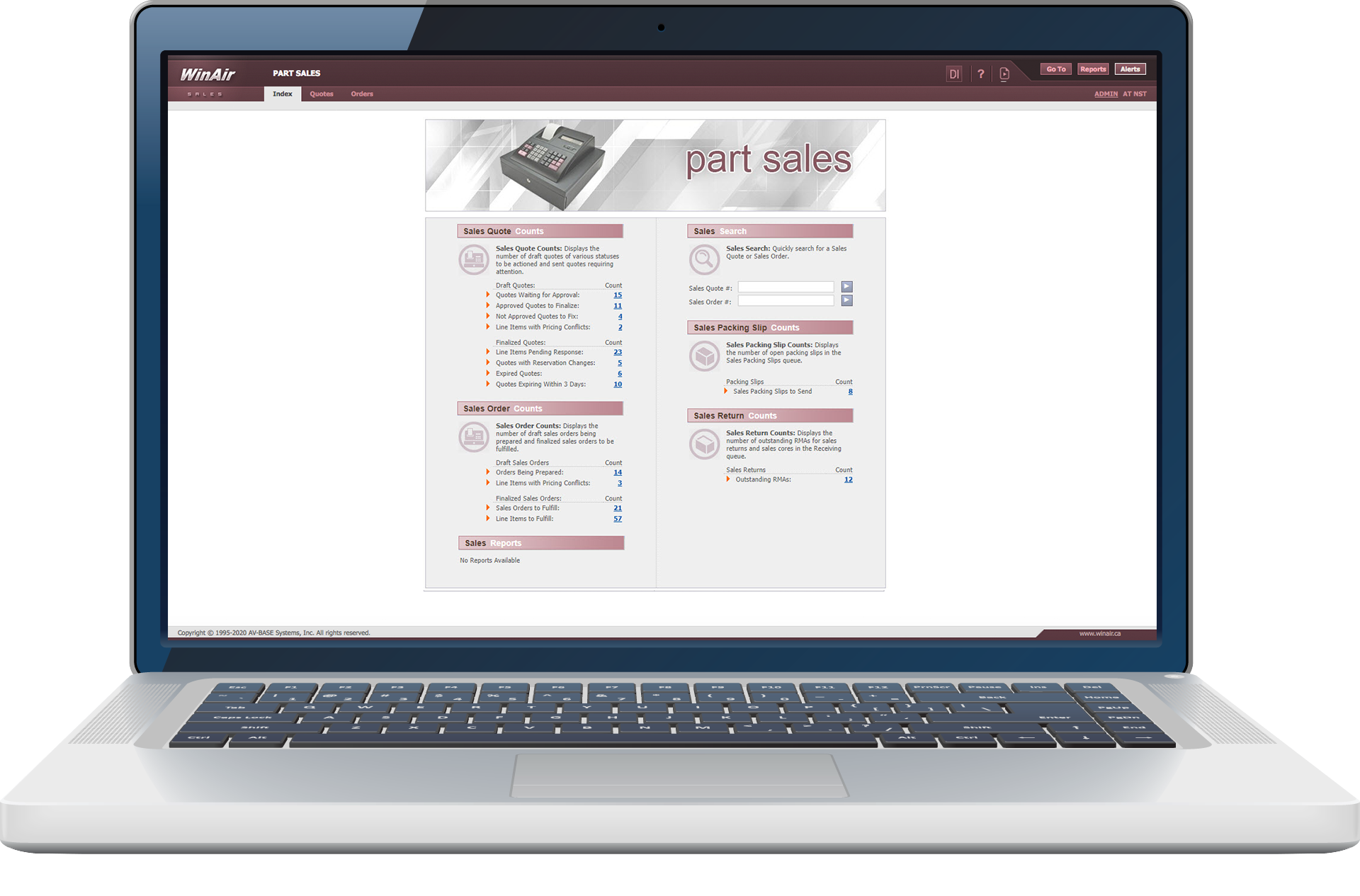 (WinAir's Part Sales main index page displayed on a laptop computer – © WinAir)
---
About WinAir:
Based in London, Ontario, Canada, WinAir has over 30 years of experience as a leader in aviation management software. Companies rely on WinAir to efficiently and effectively track and manage aircraft maintenance and inventory control. WinAir is proud to lay claim to hundreds of installations at aviation-specific organizations worldwide. From airlines to heli-ops, law enforcement agencies, oil industry suppliers, MROs, CAMOs, medical evacuation response teams and more, businesses using WinAir regard the solution as a necessary component to the successful management of their fleet maintenance programs.