Are you looking for a simple way to build quotes for aircraft parts? With Part Sales for WinAir Version 7, preparing a quote, managing the specifications, and submitting it for approval can be accomplished with ease
This infographic demonstrates how users can generate sales quotes quickly and efficiently by highlighting the work steps required to accomplish this task in WinAir
(WinAir's Part Sales main index page displayed on a desktop computer—Siwakorn1933/Shutterstock.com—modified)
---
Do you sell aircraft parts at your MRO or aviation operation? Are you using software for creating sales quotes for part sales that was not designed for aviation, requires that you use multiple systems to complete tasks, or are you using spreadsheets? If any of these scenarios resonate with you, then you know all about the challenges associated with generating an accurate sales quote based on current inventory and maintenance history, having it approved by senior staff, and then submitting it to the client. When you consider factors such as multiple currencies, exchange rates, markups, custom overrides, reserving parts, shipping from another location, and varying priority levels, creating sales quotes can turn out to be a lengthy and complicated procedure.
With WinAir's Part Sales Package for WinAir Version 7, producing sales quotes is easy and can be accomplished in a matter of moments. The process follows a series of straightforward work steps. Since Part Sales works seamlessly with WinAir's Inventory, Maintenance, and Accounting products, all required details on clients, previous transactions, and historical data on parts and inventory are at your fingertips. This full integration with WinAir's other products means that you no longer have to access external systems to obtain information, make calculations, or produce documents, as all data and tools that are required to create a sales quote are available in WinAir. As a result of managing part sales in WinAir, sales quotes are more accurate, processes are streamlined and expedited, and businesses receive full operational transparency concerning the status of transactions.
The following infographic illustrates how preparing a quote can be achieved with ease in Part Sales for WinAir.
For quick reference, an infographic summary is included below the image.
(Click on the infographic to zoom into the material)

Infographic Summary:
Preparing a Quote with Ease Using Part Sales for WinAir
Introducing Part Sales for WinAir Version 7
Part Sales for WinAir Version 7 offers enhanced functionality for managing the entire sales process; from quoting to creating sales orders, through to shipping parts and invoicing the client.
Here is how you can create a sales quote with ease in Part Sales:
1. Create or Edit a Sales Quote

To begin, click either an existing quote number to edit a sales quote or the New Sales Quote button to start a new quote.
The Edit or New Sales Quote dialog will open. For both options, the remaining steps are the same.
2. Select Customer and Location

Use the lookup tool to select the customer and the correct location.
The location will display below the customer field.
3. Pick a Currency and Contact

Pick the currency for this quote.
Once selected, the currency is locked in and cannot be changed.
Optionally, select a contact at this company to associate with this sales quote.
4. Select a Method of Contact and Add an RFQ Number

USelect a method of contact for this company.
Use this information when invoicing the client.
Optionally, enter an RFQ number provided by the customer.
5. Set the Cost Per Part with the Pricing Calculator

Use the integrated pricing calculator to determine pricing for each part in both system and customer curriencies.
Base pricing on your cost, vendor pricing, or a manually input custom cost.
Apply predefinded markups or custom overrides.
Consult historical pricing to ensure accuracy and consistency on each quote.
6. Choose a Sales Base and Account Code

Use the Sales Base lookup menu to select the base for which the quote is being prepared.
Use the Account Code lookup menu to select the appropriate code. If one is not active, then the default code is displayed and cannot be edited.
Optionally, select the quote statements to include on the RFQ and enter any additional comments.
7. Enter a Response Date and Set Part Priority Levels

Enter the date by which the customer is expecting a response and select the priority level for each part.
Priority levels are defined in Administration based on your needs and populate in this drop-down menu.
For example, set the priority levels as Routine, ASAP, Potential Aircraft on Ground (POAG), or Aircraft on Ground (AOG).
8. Reserve Parts and Drop Ship from Another Location

Reserve the exact parts that your customer requires.
Ship items directly from another location, such as a manufacturer or an external base, rather than having it shipped to their base and then to the customer.
This process eliminates the need for facilitating a base-to-base transfer, as users can conveniently drop-ship items from another location.
9. Save the Quote or Use the Approval Process

With the proper permissions, click save to mark this quote as complete.
Or use the built-in internal quote approval process to submit this quote to a member of staff with quote approval authorization.
This process safeguards against errors and ensures that quotes are perfect before sending to a customer.
Streamline and Simplify Part Sales in WinAir

Track and manage all aspects of aircraft part sales simply and effortlessly with Part Sales for WinAir Version 7.
Now that you have completed creating a sales quote in WinAir, you can move on to expediting other aspects of part sales, such as managing outstanding quotes, preparing orders, handing outstanding orders, and accepting sales returns and core returns.
Congratulations, you have created a sales quote with ease in Part Sales!
Want to learn more about Part Sales?
Book a demo today.
Handle Part Sales Efficiently and Effectively in WinAir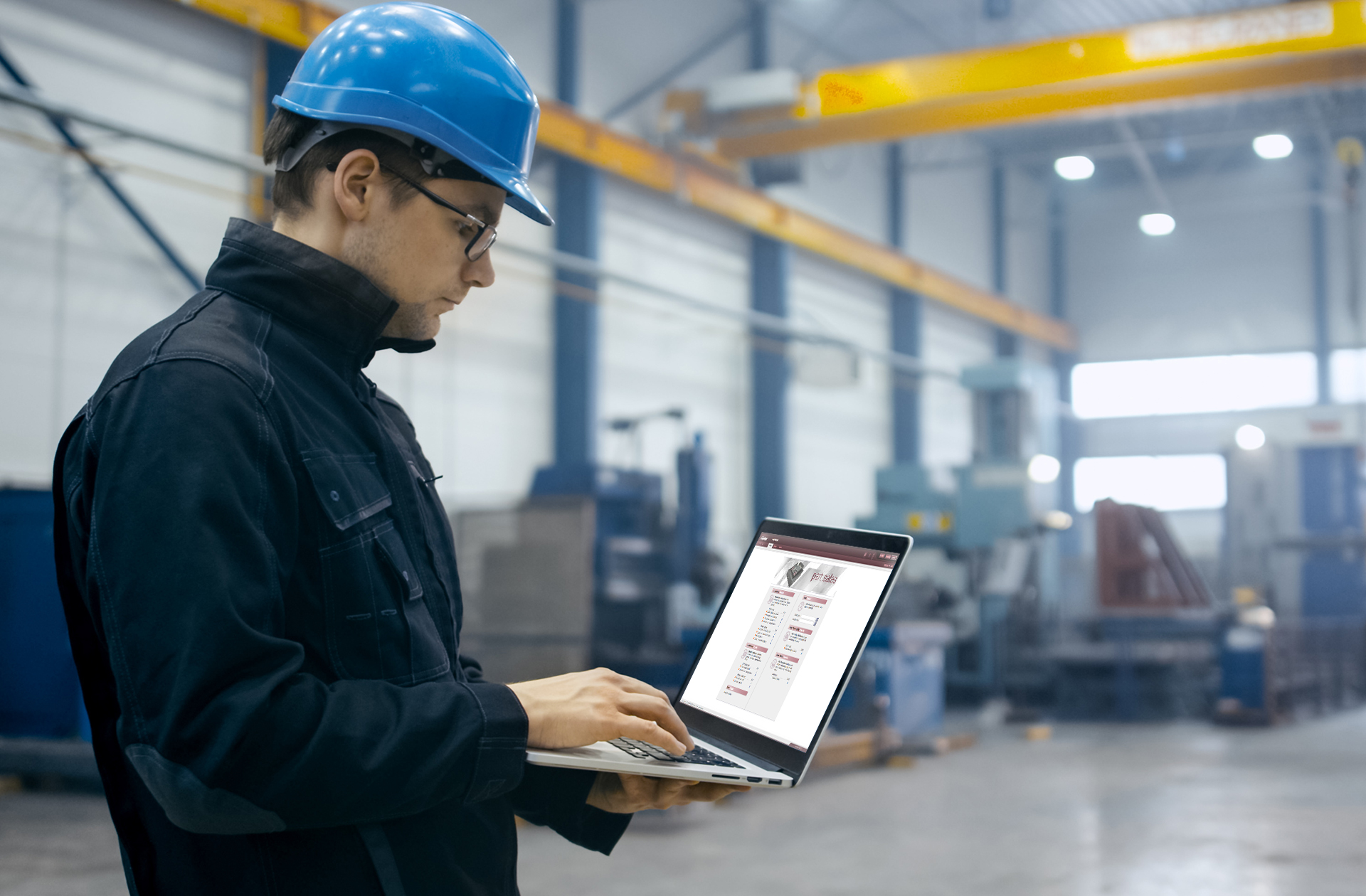 (An employee views a laptop displaying Part Sales for WinAir Version 7—Gorodenkoff/Shutterstock.com—modified)

From generating sales quotes to shipping orders, receiving and processing sales returns and core returns, and beyond, with Part Sales for WinAir Version 7, you can manage all aspects of part sales in one robust and fully scalable solution. You no longer need to use multiple systems to produce a sales quote or have to worry about growing into or outgrowing the software. Instead, you can continue to expand your business with WinAir and improve overall efficiencies by handling all facets of aircraft part sales in the aviation industry's most trusted, proven, and effective aviation management software. After all, why waste time on managing part sales in systems or processes that are inefficient, when you can save time and effort in WinAir?
WinAir's Part Sales Package is a fully-featured sales application that comes equipped with everything that you need to manage the entire sales process. If additional features or functions are required, then businesses can simply add those items to enhance their software package. This flexible approach allows you to boost the software when necessary to accommodate business growth. While other part sales systems are suited for businesses of a particular size, WinAir's Part Sales is an ideal fit for aviation operations and MROs of any size. As a result, you can feel confident knowing that WinAir's Part Sales will always be able to satisfy their business needs.
Are you interested in seeing firsthand how your business with benefit from Part Sales for WinAir Version 7? If so, then download our Part Sales brochure and contact us today to book a demo!
---
About WinAir:
Based in London, Ontario, Canada, WinAir has over 30 years of experience as a leader in aviation management software. Companies rely on WinAir to efficiently and effectively track and manage aircraft maintenance and inventory control. WinAir is proud to lay claim to hundreds of installations at aviation-specific organizations worldwide. From airlines to heli-ops, law enforcement agencies, oil industry suppliers, MROs, CAMOs, medical evacuation response teams and more, businesses using WinAir regard the solution as a necessary component to the successful management of their fleet maintenance programs.