WinAir Presents: The Insider's Guide to the Beechcraft King Air Aircraft—infographic shines the spotlight the Model 90 and 100 Series of the world's most popular twin-engine turboprop
(Photo Credit: Darian Froese [GFDL 1.2 or GFDL 1.2], via Wikimedia Commons)
---
At WinAir, we know the Beechcraft King Air, inside and out. The Insider's Guide to the Beechcraft King Air Aircraft highlights the aircraft's vital statistics, specifications, and available variants. We have numerous clients worldwide using WinAir to manage maintenance and inventory control that operate with the Beechcraft King Air in their fleet. For these operators, the software is considered to be an indispensable tool and a necessary component to the successful management of their maintenance programs. Many of these operators have chosen to take advantage of our Aircraft Template Building service to convert maintenance manufacturer requirements into accurate aircraft templates. This service has saved them significant time in terms of transitioning their fleet into WinAir, while simultaneously simplifying processes and ensuring data accuracy.
The Beechcraft King Air is a versatile twin-engine turboprop utility aircraft that offers impressive performance, relatively low operating and maintenance costs, and excellent dispatch reliability. It was developed by Beechcraft in the 1960s, achieved first flight in May of 1963, and was introduced into service on September 9th of 1964. It was the first aircraft in its class to enter the market and has remained in production since that date. It has also been purchased more than any other aircraft of its kind, which is a testament to its legacy.
The Model 90 King Air was developed based on the company's Queen Air twin-engine light aircraft. It has three cabin windows and seats a maximum of seven passengers. The first aircraft in this series, the Model 87, was built as a "proof-of-concept" test aircraft that was eventually modified and delivered to the US Army as the Model 65-A90-1. After the successful development of multiple variations of the Model 90 in both civilian and military variants, the series would evolve into the Model 100.
The Model 100 King Air is an extended version of the Model 90, which has five cabin windows, seats a maximum of 13 passengers, and has an increased maximum take-off weight (MTOW). It achieved first flight on March 17, 1969, and was introduced into service in May of that year. Over the years, numerous variants of the Model 100 series were developed, which led to the introduction of the Model 200 and 300 series, also known as the Super King Airs.
For ease of reference, an infographic summary is included below the image.
(Click on the infographic to zoom into the material)

The Insider's Guide to the Beechcraft King Air Aircraft
Introducing the Beechcraft King Air
The Beechcraft King Air family of aircraft is part of a line of American twin-turboprop utility aircraft developed in the 1960s by Beechcraft.[2]
The family is comprised of the Model 90 and 100 series (the Model 200 and 300 series were introduced to the market as the Super King Airs).[3]
The King Air was the first aircraft in its class when it was introduced in 1964 and has been in continuous production since that date.[4]
Vital Statistics[8]

Role: Civil Utility Aircraft
Manufacturer: Beechcraft
First Flight: May 1963
Introduction: September 9, 1964
Status: Active Service
Produced: 1964 to Present
Number Built: 3,100+
Unit Cost: US$2.75M, C90GTi: $4.2M (2019)
Developed From: Beechcraft Queen Air
Aircraft Specifications (C90GTi)[8]

Crew: 1 to 2
Passengers: 7 max
Length: 35 ft 6 in / 10.82 m
Span: 50 ft 3 in / 15.32 m
Height: 14 ft 3 in / 4.34 m
Area: 294 ft2 / 27 m2
Empty Weight: 6,950 lb / 3,150 kg
Maximum Takeoff Weight (MTOW): 10,100 lb / 4,580 kg
Powerplant: 2x PT6A-135A
Power: 550/ 410 kW
Propellers: Hartzell HC-E4N-3N
Max True Airspeed (TAS): 270 kn / 500 km/h
Range: 1,321 nmi / 2,446 km
Ceiling: 30,000 ft / 9,144 m
Climb Rate: 2,000 ft/min / 10.2 m/s
Wing Loading: 34.3 lb/ft2 / 170 kg/m2
Power/Weight: 0.099 hp/lb / 179 W/kg
Aircraft Specifications (B100)[8]

Crew: 1 to 2
Passengers: 13 max
Length: 39 ft 11 in / 12.17 m
Span: 45 ft 11 in / 14.0 m
Height: 15 ft 5 in / 4.7 m
Area: 279.7 ft2 / 26.0 m2
Empty Weight: 6,950 lb / 3,150 kg
Maximum Takeoff Weight (MTOW): 7,092 lb / 3,212 kg
Powerplant: 2x TPE-331-6-251B or -252
Power: 715 shp / 533 kW
Propellers: 4-bladed
Max True Airspeed (TAS): 265 kn / 491 km/h
Range: 1,325 nmi / 2,455 km
Ceiling: 24,850 ft / 7,574 m
Climb Rate: 2,140 ft/min / 10.87 m/s
Wing Loading: 42.2 lb/ft2/ 205.84 kg/m2
Power/Weight: 0.121 hp/lb / 199.17 W/kg
Variants: Beechcraft Designations[14]

Model 87
Model 65-90
Model 65-A90
Model 65-A90-1
Model 65-A90-2
Model 65-A90-3
Model 65-A90-4
Model B90
Model C90
Model C90-1
Model C90A
C90B and C90SE
Model C90GT
Model C90GTi
Model D90
Model E90
Model F90
Model F90-1
Model G90
Model H90
Model 100
Model A100
Model A100-1
Model A100A
Model A100C
Model B100
Model C100
Nextant G90XT
Variants: Military Designations[17]

YU-21
U-21A Ute
EU-21A
JU-21A
RU-21A
RU-21B
RU-21C
RU-21D
RU-21E
U-21F
U-21G Ute
RU-21G
RU-21H
U-21H Ute
JU-21H
VC-6A
T-44A Pegasus
T-44C Pegasus
Simplify Maintenance Management on the Beechcraft King Air with WinAir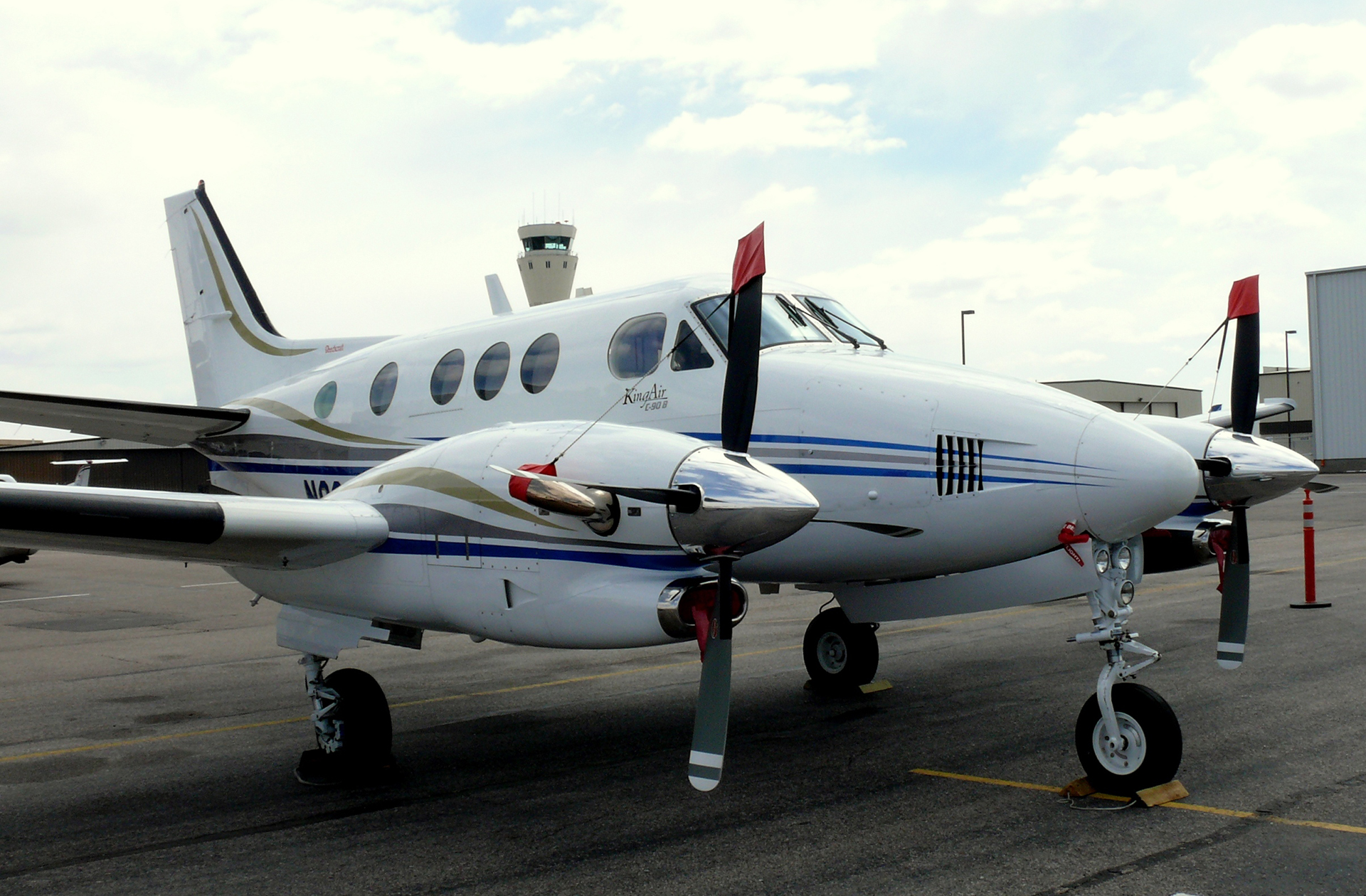 When you're operating without the proper tools, managing maintenance processes and ensuring compliance on aircraft like the Beechcraft King Air can be a challenge. WinAir simplifies aircraft maintenance management. With our industry-leading aviation management software, WinAir Version 7, you can easily manage the maintenance activities on the Beechcraft King Air, along with any other aircraft type. The software will help you connect your departments, maintain compliance, streamline processes, and expedite workflow, which saves you time, improves operational efficiencies, and will assist you with finding savings in your maintenance budget. Not only that, but it will provide the opportunity to maintain a lean, yet prepared inventory so that you can focus on day-to-day operations and boosting your bottom line.
WinAir has software packages for Operators, Heliops, MROs, and CAMOs, with Custom and All-Inclusive package options. For those operations that are looking to get a headstart on their product implementation timeline, we also offer full turnkey solutions. Our Aircraft Services team has the skills, experience, and expertise to manage all aspects of your implementation—from completing an initial processes consultation to migrating your existing fleet into WinAir, creating aircraft templates to exact OEM specifications, and through to pre-implementation training, ongoing support, and beyond. No matter your fleet makeup, operational size, or available resources, we've got you covered.
Are you interested in learning more about how your aviation operation will gain from WinAir Version 7 and our Aircraft Services? If so, then contact us now to speak with a member of the WinAir team!
---
About WinAir:
Based in London, Ontario, Canada, WinAir has 30 years of experience as a leader in aviation management software. Companies rely on WinAir to efficiently and effectively track and manage aircraft maintenance and inventory control. WinAir is proud to lay claim to hundreds of installations at aviation-specific organizations worldwide. From airlines to heli-ops, law enforcement agencies, oil industry suppliers, MROs, CAMOs, medical evacuation response teams and more, businesses using WinAir regard the solution as a necessary component to the successful management of their fleet maintenance programs.