Riverside Aircraft Maintenance ready for success with WinAir—Part 145 aircraft maintenance organization from Manitoba, Canada has completed a self-serve WinAir Version 7 implementation and is now live with the software
The MRO looks forward to streamlining and expediting processes across all departments, enhancing efficiency, and envisions exponential growth with the product
(Riverside Aircraft Maintenance specialize in aircraft maintenance for floatplanes such as the Cessna 185 Skywagon © Riverside Aircraft Maintenance)
---
London, ON, Canada/Selkirk, Manitoba, Canada – June 28th, 2022 – WinAir is pleased to announce that Riverside Aircraft Maintenance has implemented WinAir Version 7 and is using the product daily to track and manage its maintenance activities and maintain inventory control. Over the past month, the company finished migrating its aircraft compliance and inventory data into the aviation management software, completed its role-based end-user training, and entered the go-live stage of its software implementation with the guidance of WinAir's team. Its successful transition to the software using a fully self-serve express implementation approach proved seamless. Now that this software implementation is complete, Riverside Aircraft Maintenance looks forward to improving efficiencies, accelerating processes, and maintaining compliance.
Riverside Aircraft Maintenance is an AMO that was founded in 1972. The company manages maintenance activities on 40 to 50 small aircraft for commercial and private aircraft owners. Most of these aircraft are floatplanes, consisting of various Cessna models and Viking Air DHC-2s and DHC-3s. Over the years, the company has garnered a reputation across Canada as a go-to facility for reliable maintenance, structural repairs, and aircraft storage.
In August of 2021, Riverside Aircraft Maintenance reached out to WinAir to learn more about its software. The company was struggling with an in-house aviation management software system that a former staff member developed that was no longer supported. As a result, Riverside Aircraft Maintenance was looking for a cutting-edge solution that could help manage MRO activities, CAMO, work orders, warehouse, licenses, quality, and invoicing, among other items.
After discussions with WinAir about processes and procedures, the company proceeded to demo WinAir Version 7. After completing these demos, Riverside Aircraft Maintenance also expressed interest in WinAir's document management, production management, and tool management functionalities. Since staff from the company had previous experience with WinAir at other aviation operations, there was a strong push from within to choose it over the competition.
In October, Riverside Aircraft Maintenance signed on board with WinAir and kicked off its software implementation. Because of its staff's familiarity with the product, its Executive group decided to move forward with WinAir's self-serve express implementation approach, which was the most cost-effective option for the company. With this approach, its team followed step-by-step training videos and comprehensive technical documentation to seamlessly transition to the software, including migrating its inventory and compliance data over to the system and completing its aircraft data loading. In March of 2022, the company completed its WinAir Version 7 software implementation and is now live with the product.
"We are thrilled with WinAir and our software implementation," says Jennifer Stangl, Riverside Aircraft Maintenance Technical Records Administrator. "The team at WinAir provided us with all the tools we required to complete a smooth changeover to the new system. We are delighted to have wrapped up this implementation on schedule, and we look forward to becoming more efficient as an operation with the product."
WinAir Business Development Representative Jason Street concurred: "We are delighted that Riverside Aircraft Maintenance has implemented WinAir Version 7. The software will profoundly assist it in improving processes, unifying its workforce, and providing enhanced visibility across all departments. We congratulate Riverside on going live with WinAir and we anticipate its ongoing success."
WinAir is the premier aviation management software for businesses forecasting growth and seeking a framework to boost overall efficiencies. The product is a modular system that can be obtained in packages for MROs, Operators, and Heliops, with Part Sales and All-Inclusive options available. Companies implementing WinAir can choose from self-serve, full-turnkey, and hybrid software implementation models. WinAir also offers additional services to accelerate your transition to the software, relieve your team of various administrative and technical duties, and save you time so you can focus on your day-to-day business activities.
Since WinAir is a fully scalable product, business owners can rest easy knowing that they will never outgrow the software or have to grow into it either. Instead, when new features and functionalities are needed, businesses can upgrade their software bundle to incorporate the newly required items into their package to accommodate changing needs. As a result of this flexible approach to aviation maintenance management, WinAir places the power back in the hands of the business to determine how it will utilize the software.
Are you interested in boosting operational efficiencies at your business? Contact us today to learn more about WinAir Version 7!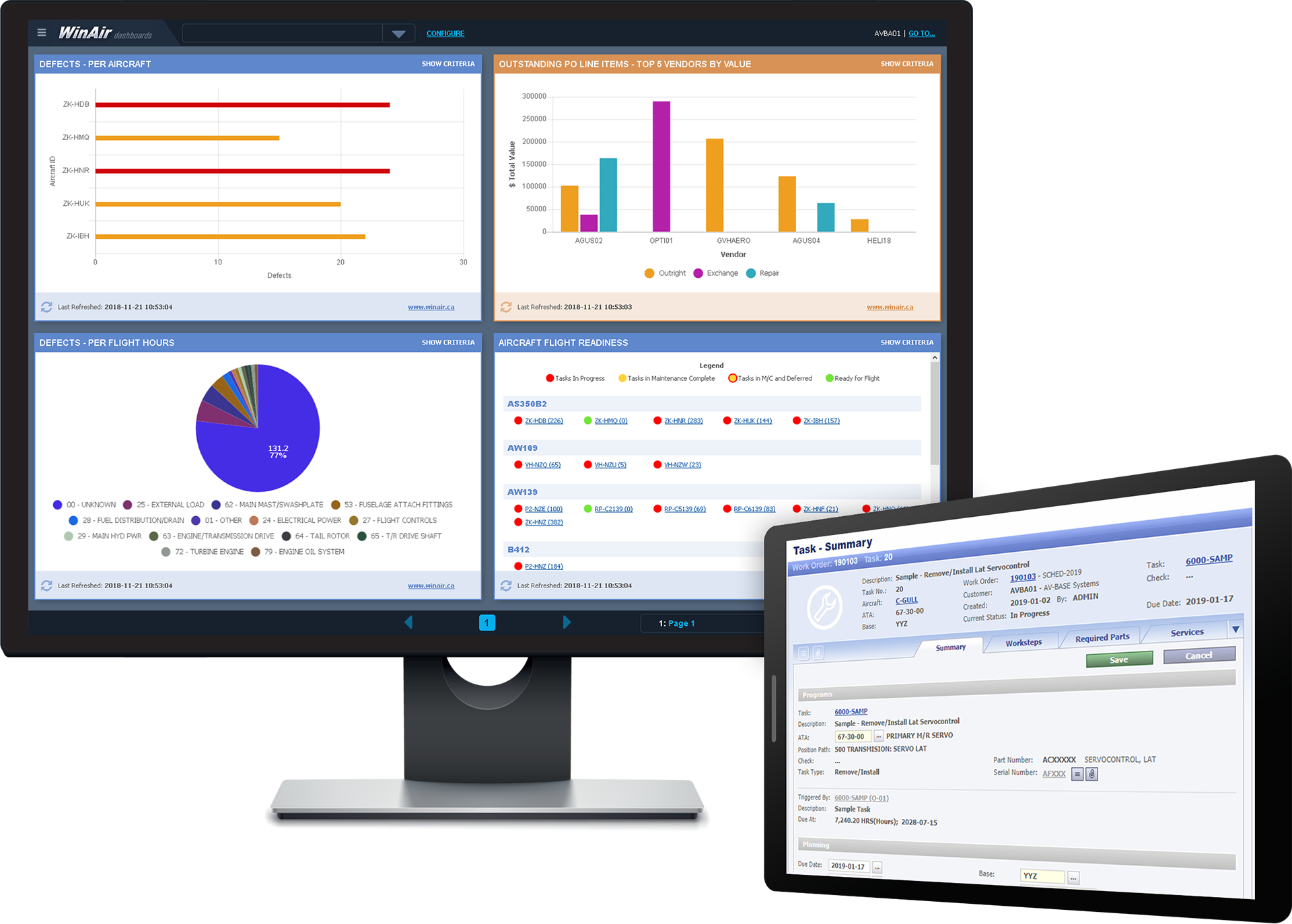 (WinAir Dashboards displayed on desktop and Task Card Summary displayed on a tablet © WinAir)
---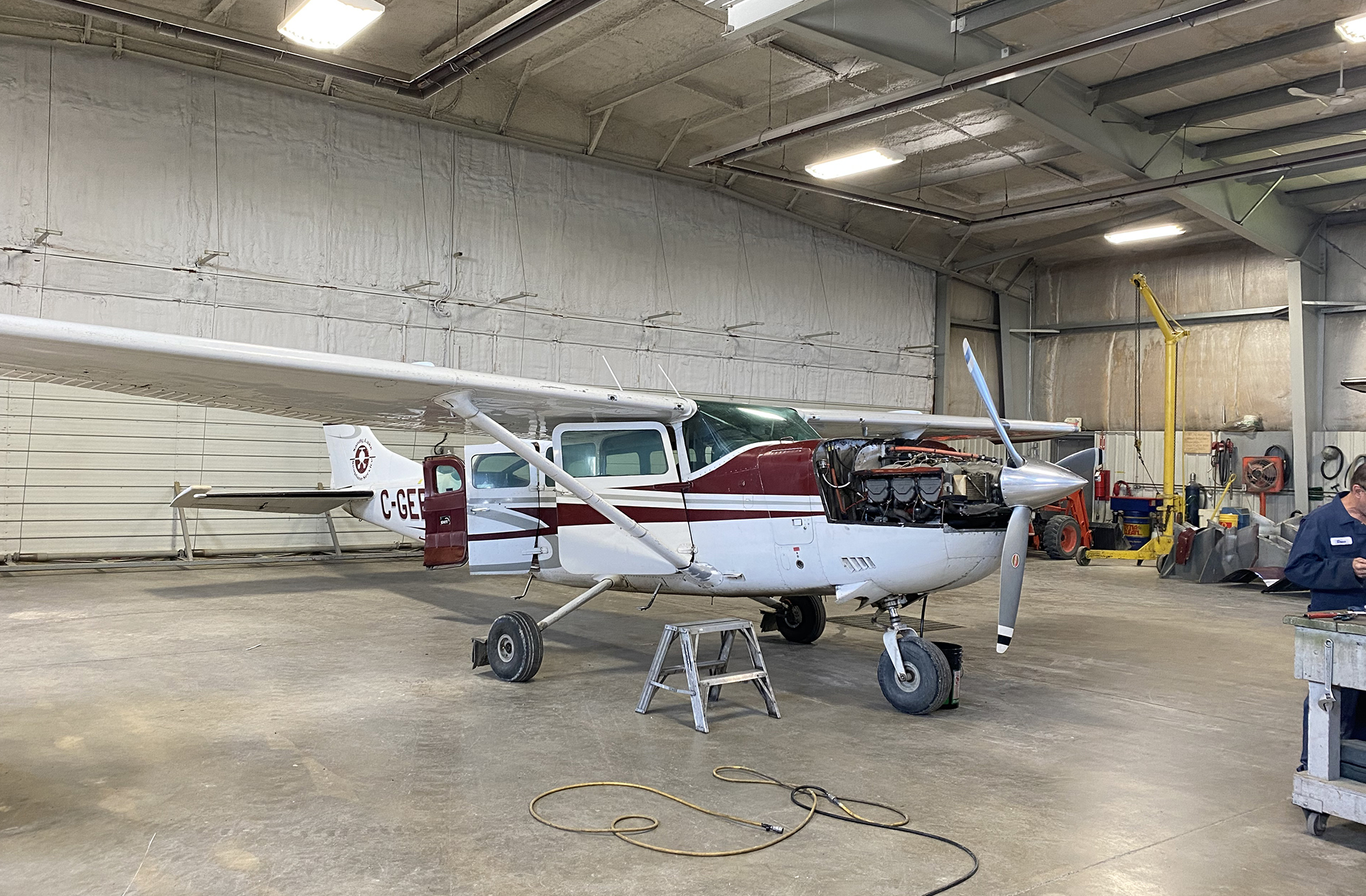 (Engine maintenance on a Cessna 207 aircraft © Riverside Aircraft Maintenance)
---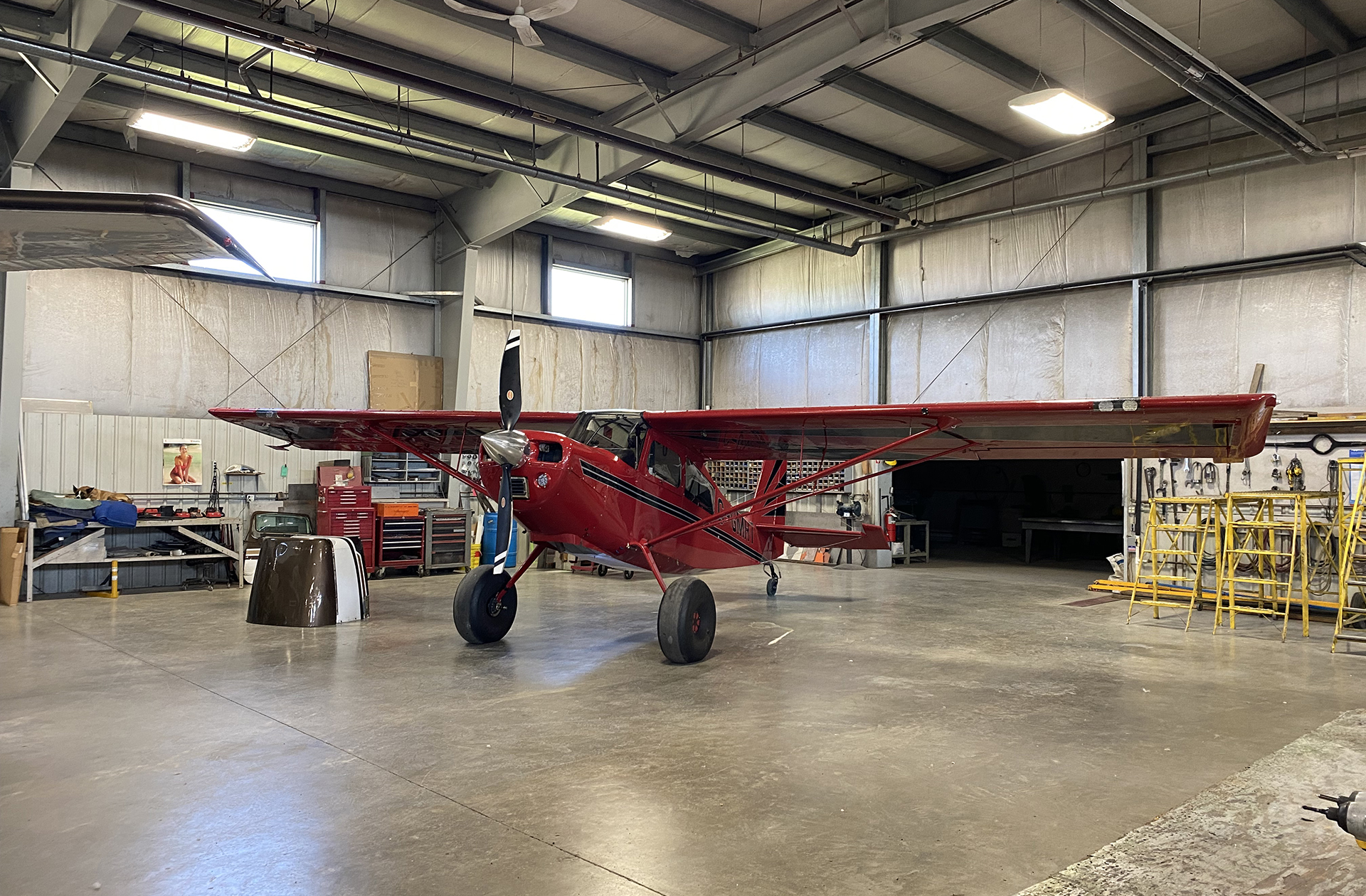 (A Bellanca 8GCBC Scout arrives for maintenance at Riverside Aircraft Maintenance's hangar © Riverside Aircraft Maintenance)
---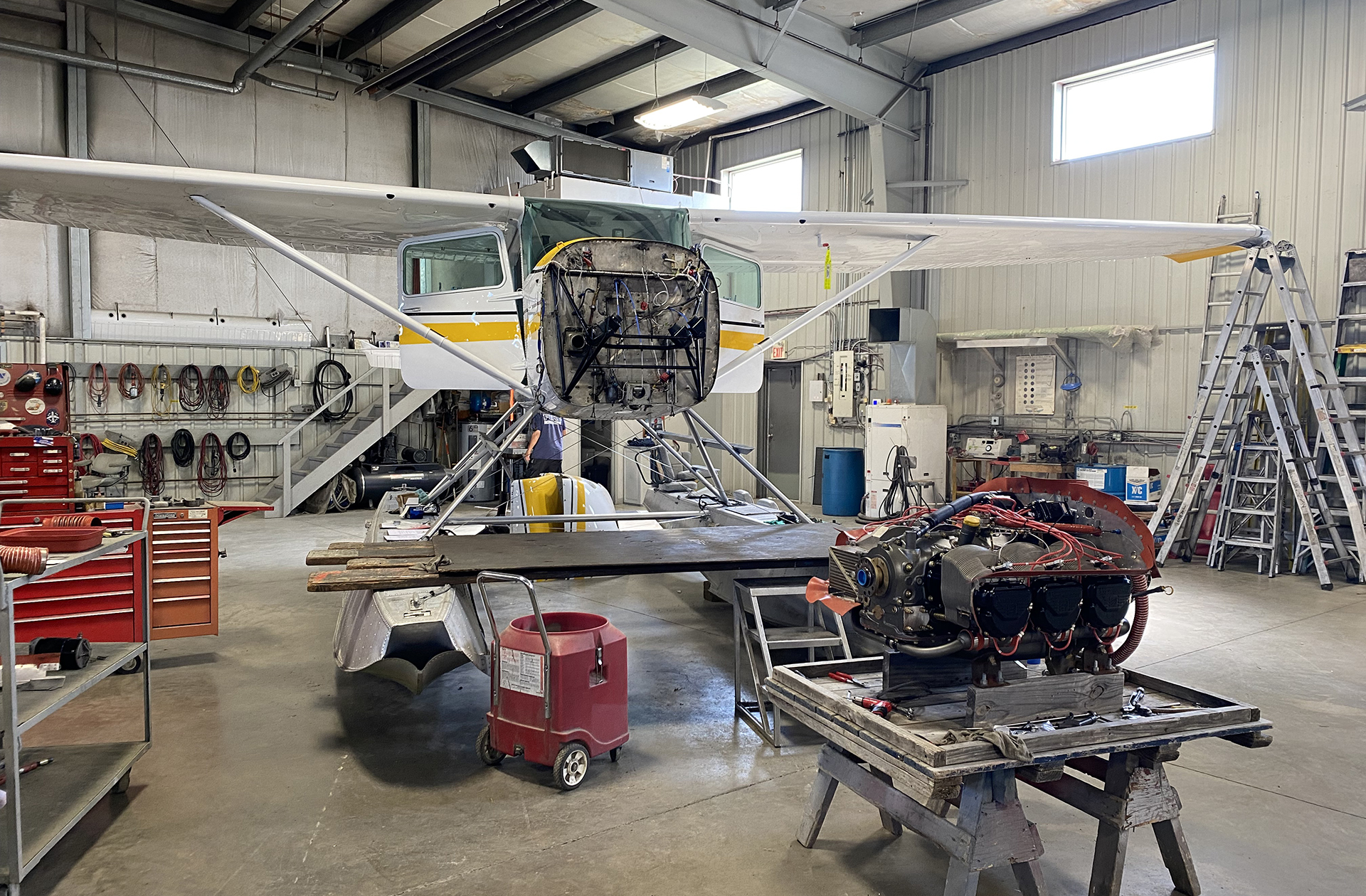 (Propeller maintenance on a Cessna 185 aircraft © Riverside Aircraft Maintenance)
---
About Riverside Aircraft Maintenance:

Since 1972, Riverside Aircraft Maintenance Ltd. has provided aircraft maintenance for customers from all over Canada. From the west coast to the east coast, customers come to our base in Selkirk, Manitoban for reliable maintenance, structural repairs, and aircraft storage. We're proud to be a Transport Canada-approved facility to maintain commercial and private aircraft under 12,500 lbs. Our standards, practices, and procedures reflect company maintenance policies, which are in accordance with the requirements of Canadian Aviation Regulations. Whether you're looking for long-term maintenance of your aircraft or a place to refuel and take some awesome pictures on your journey, Riverside Aircraft Maintenance is committed to meeting your needs.
About WinAir:

Based in London, Ontario, Canada, WinAir has over 30 years of experience as a leader in aviation management software. Companies rely on WinAir to efficiently and effectively track and manage aircraft maintenance and inventory control. WinAir is proud to lay claim to hundreds of installations at aviation-specific organizations worldwide. From airlines to heli-ops, law enforcement agencies, oil industry suppliers, MROs, CAMOs, medical evacuation response teams and more, businesses using WinAir regard the solution as a necessary component to the successful management of their fleet maintenance programs.
###