No matter the mission or helicopter type, when it comes to maintenance and airworthiness, compliance is mission critical—WinAir set to attend HAI Heli-Expo 2020

Company looks forward to demonstrating how helicopter operators can ensure compliance and be mission-ready with WinAir Version 7, the industry's top aviation management software for businesses concerned with compliance, reliability, and having access to trustworthy data
---
London, ON, Canada/Anaheim, CA, USA – October 25, 2019 – WinAir is excited to announce that the company will be attending the Helicopter Association International's HAI Heli-Expo 2020 at the Anaheim Convention Center in Anaheim, California, USA. From January 28th to 30th, members of the WinAir team will be at the trade show hall to discuss how WinAir can satisfy demands for a robust solution for maintenance and inventory tracking, with precise reporting, and the ability to manage unique industry requirements. At WinAir, we understand the importance of being adequately prepared for the next mission, and we know that compliance is vital to this equation.
Whether it is managing complex counters, updating assembly changes on the fly, or streamlining processes with digital signatures, with the Heliops Package for WinAir Version 7, helicopter operators gain a new level of efficiency, transparency, and accuracy of data. By enforcing software validation and applying best practices to the hangar floor, WinAir plays a profound role in assisting helicopter operations worldwide with maintaining compliance, safeguarding against AOG situations, and improving how they manage their business. This leads to growth, new opportunities, and a more effective working environment.
"We are thrilled to return to the HAI Heli-Expo to discuss how WinAir is a critical component to maintaining compliance," says WinAir Managing Director, Kyle Vergeer. "Our Heliops Package for WinAir Version 7 comes equipped with key features and functionality that helicopter operators require to boost business efficiencies, streamline and expedite workflow, and remain compliant with industry standards and regulations. We look forward to connecting with clientele, networking with industry peers, and building new relationships with helicopter operators to help them achieve operational success."
In addition to providing industry-leading aviation management software, WinAir offers a variety of services ranging from a process consultation, data migration, aircraft template services, and beyond. These services are offered to businesses to simplify the transition to the software, save time, and to assist with completing various administrative and highly technical tasks. Businesses that have taken advantage of these services have found them to be a significant benefit to the successful management of their fleet maintenance programs and the overall success of their operation.
The fact of the matter is that when time is of the essence, compliance is mission critical. It can be the determining factor in the success of a mission. With WinAir's software and its additional services, helicopter operators can rest assured knowing that they will be able to prove compliance continually, so they will always be mission-ready.
Are you attending the HAI Heli-Expo in Anaheim, California, and interested in learning more about how your helicopter operation can ensure compliance and be mission-ready with WinAir? If so, then contact us now to book your VIP time to chat with the WinAir team at HAI Booth #7910!
---
---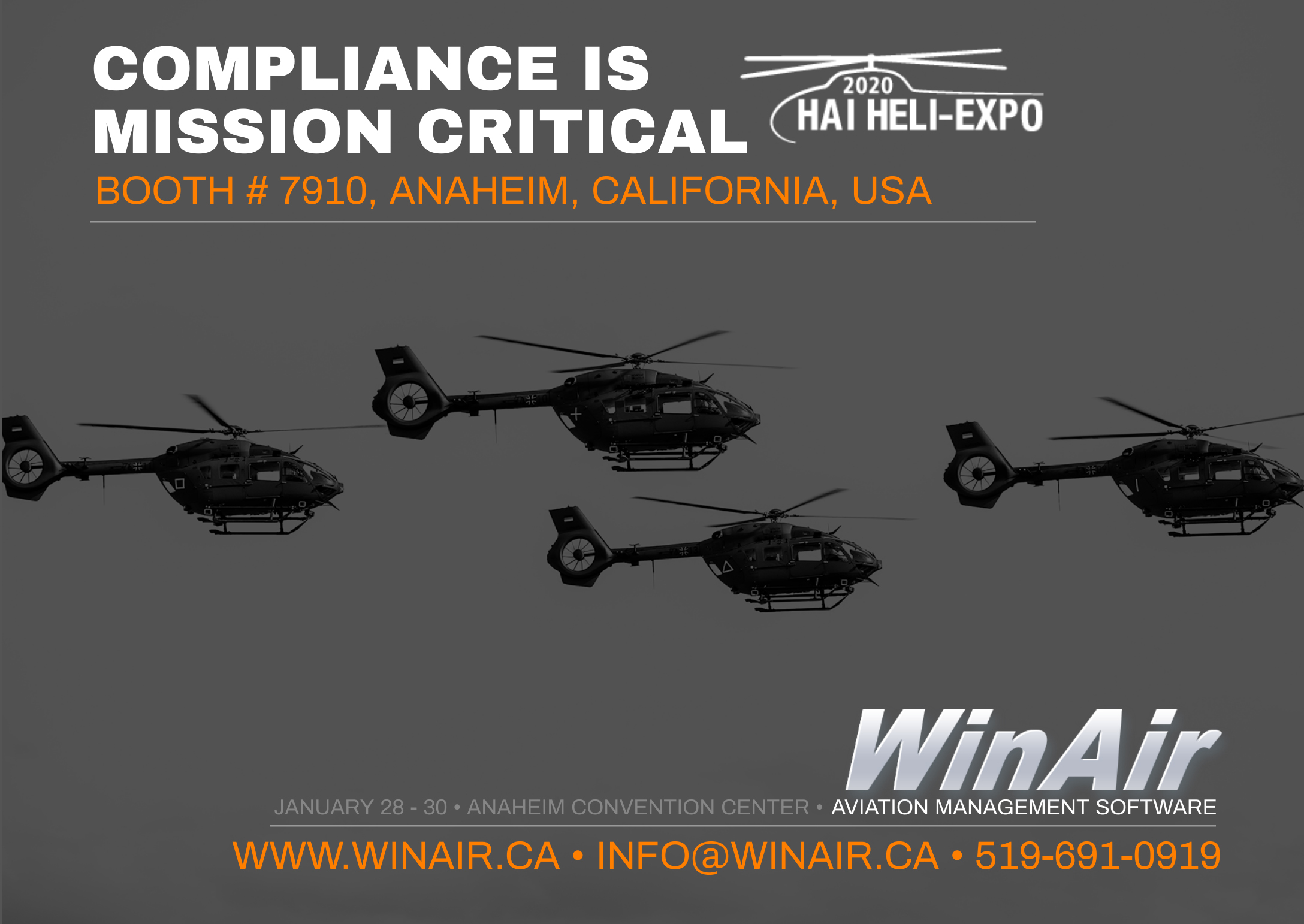 ---
About WinAir:
Based in London, Ontario, Canada, WinAir has 30 years of experience as a leader in aviation management software. Companies rely on WinAir to efficiently and effectively track and manage aircraft maintenance and inventory control. WinAir is proud to lay claim to hundreds of installations at aviation-specific organizations worldwide. From airlines to heli-ops, law enforcement agencies, oil industry suppliers, MROs, CAMOs, medical evacuation response teams and more, businesses using WinAir regard the solution as a necessary component to the successful management of their fleet maintenance programs.
###