Aviation management software leader, WinAir, confirmed to attend NBAA 2018 in Orlando this October — 2018 Business of the Year recipient looking forward to displaying the latest edition of their cutting-edge aircraft maintenance and inventory control software, WinAir Version 7
Company thrilled to return to the world's largest business aviation event, which is set to host over 27,000 aviation industry professionals
---
London, ON, Canada/Orlando, Florida, USA – August 23, 2018 – As the official anthem for the state of Florida proclaims, "Florida, where our dreams can all take flight." WinAir is excited to announce that the company is scheduled to attend the 2018 National Business Aviation Association's (NBAA) Business Aviation Convention and Exhibition (BACE) at the Orange County Convention Center in Orlando, Florida, USA. From October 16th to 18th, representatives from WinAir will be present at the NBAA expo to demonstrate how WinAir Version 7 can improve business efficiencies by streamlining and expediting processes.
With WinAir Version 7, aviation operations from around the globe are benefitting from the software's ability to mimic actual aviation maintenance work steps. This has saved valuable time on the hangar floor for countless operations, affording them the opportunity to take on new business. WinAir Version 7 comes fully equipped with all the essential features and functionality that operations require in order to boost efficiencies and improve their bottom line. By adhering to aviation industry best practices, WinAir Version 7 provides operations with a framework to better manage their business.
"We are thrilled to attend this year's NBAA Expo in Orlando," says WinAir Business Development Manager, Jeff Muir. "2018 has been a milestone year for WinAir. In addition to it being the company's 30th year in operation, earlier this year WinAir was honoured to receive the London Business Achievement Award for Business of the Year. We look forward to continuing this success at NBAA 2018 by highlighting how WinAir Version 7 has assisted aviation operations with automating procedures, realizing efficiency gains, and improving the accuracy of their inventory and maintenance data."
WinAir has been a forerunner in the aviation maintenance industry since its establishment in 1988. The company is considered to be the aviation industry's longest-standing and most trusted aviation maintenance and inventory management software provider. With the most recent and fully browser-based release of the software, WinAir Version 7, aviation operations are reaping the rewards associated with establishing procedural controls. This has proved itself to be instrumental in saving capital for operations and has allowed them to focus their efforts on growing their business.
With software packages available for Operators, Heliops, MROs, and CAMOs, WinAir Version 7 has everything that you need to manage your business more effectively. For operations that require something more specific, WinAir also offers Custom and All Inclusive software package options.
Is your company attending the 2018 NBAA Business Aviation Convention and Exhibition in Orlando, Florida? If so, contact us us today to book your time for a VIP chat with a member of the WinAir team at Booth #3679!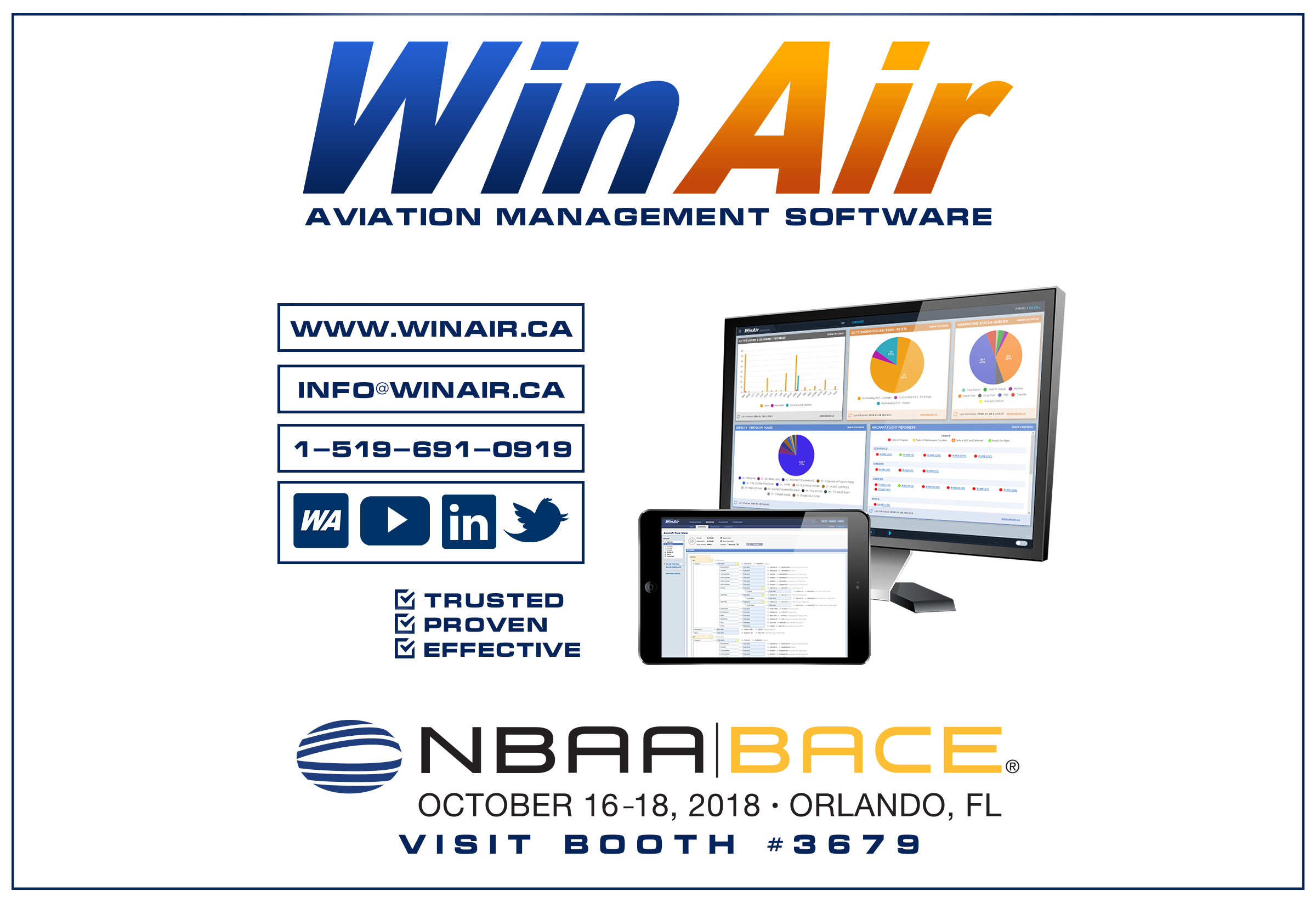 ---
About WinAir:
Based in London, Ontario, Canada, WinAir has 30 years of experience as a leader in aviation management software. Companies rely on WinAir to efficiently and effectively track and manage aircraft maintenance and inventory control. WinAir is proud to lay claim to hundreds of installations at aviation-specific organizations worldwide. From airlines, to heli-ops, to law enforcement agencies, oil industry suppliers, MROs, CAMOs, medical evacuation response teams and more, businesses using WinAir regard the solution as a necessary component to the successful management of their fleet maintenance programs.
###