WinAir Learning Academy winter classes announced for 2018 — study topics developed specifically to accelerate knowledge and enhance skills in the WinAir software solution
Team members from all organizational levels set to benefit from aviation management software provider's in-house learning opportunities, delivered at their state-of-the-art training facility in London, Ontario, Canada
---
London, ON, Canada – November 29, 2017 – Ring the bell, school is in session at the WinAir Learning Academy! Aviation Management Software leader, WinAir, is pleased to announce that in-depth learning opportunities at the WinAir Learning Academy will commence in 2018. Beginning in January, and continuing on a monthly basis, WinAir will offer a series of solution-focused courses to all WinAir clients. Each learning session will span the course of three days, and will provide a thorough overview of specific areas and functions within WinAir.
So what exactly is the WinAir Learning Academy? In essence, it is WinAir's in-house training program, designed to expand product knowledge and maximize client investment in WinAir. The Academy strives to provide WinAir users with a learning experience that is tailored to their organization's unique needs. By providing WinAir users with information that matters to their particular role, those end users are able to easily apply the knowledge that they have amassed to their working environment. In addition, course attendees will gain confidence in their ability to use WinAir, which makes information sharing with team members a simple and straightforward process.
The WinAir Learning Academy places WinAir users in a classroom setting with WinAir Solutions Experts, in order to learn new skills, streamline current procedures, and apply best practices. The first series of WinAir Learning Academy courses for 2018 will concentrate on the following study topics:
---
WinAir Learning Academy 2018 – Winter Class Schedule
Course Dates (Inclusive)
Study Topics
Jan.

23rd

to 25th
Upgrading WinAir from Version 5.5 to Version 7
Feb. 27th to Mar. 1st
Template Building and Aircraft Loading – WinAir Versions 6, 7
Mar. 27th to Mar. 29th
WinAir Version 6 Maintenance Recurrent Training
---
"We're really excited to offer this highly targeted learning experience to our clients," says WinAir Client Services Manager, Brent Bellamy. "The WinAir Learning Academy is an excellent opportunity for WinAir users to advance their proficiency in the software solution, master a variety of WinAir skill sets, and boost their company's overall return on investment."
In addition to the more obvious benefits of furthering employee skills, expediting processes, and increasing business productivity, organizations sending team members to the WinAir Learning Academy will also reap the rewards of having dedicated time with WinAir Solutions Experts, which can be used to address and work towards rectifying any skills gaps or procedural weaknesses. This, in and of itself, can be invaluable to any organization that is looking to increase their capacity to take on new business and expand their company portfolio.
Are you interested in advancing your skills at the WinAir Learning Academy? Contact us today to discuss which learning opportunity is right for your organization! Or click here to send a registration email directly to the WinAir Learning Academy!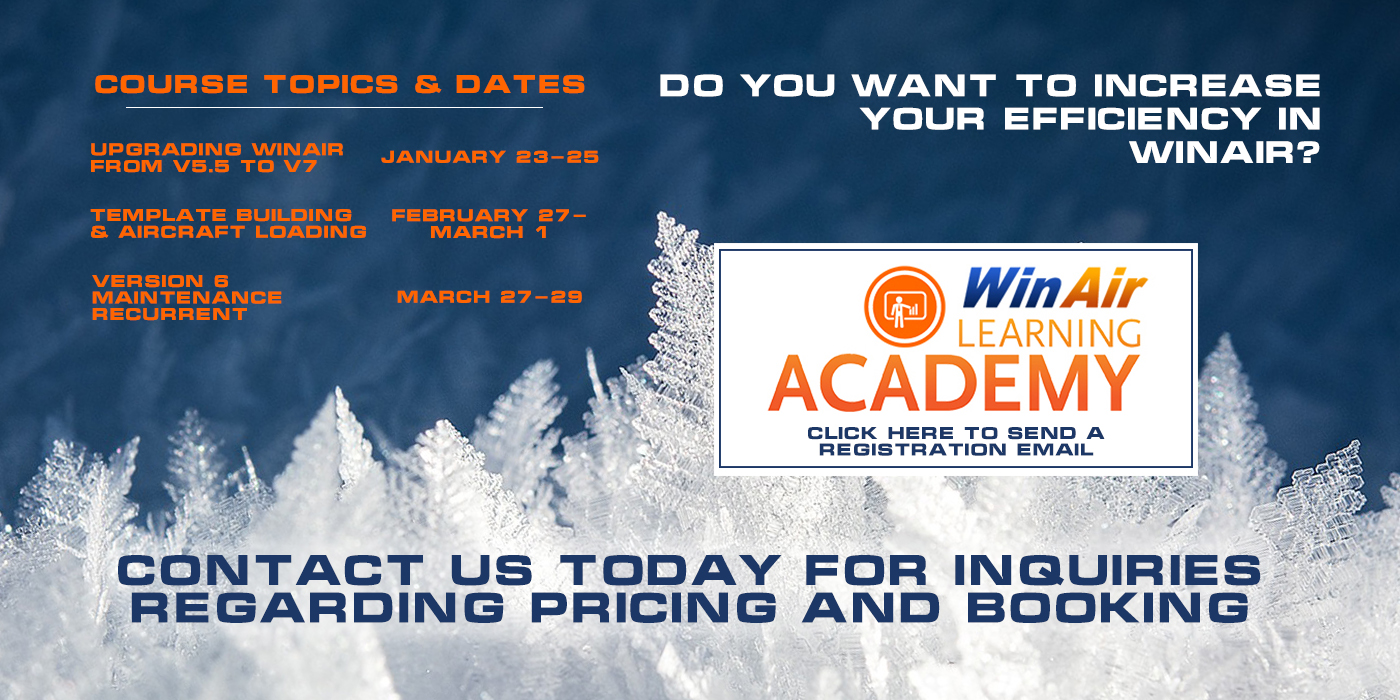 ---
Related Post: 8 Reasons to Attend the WinAir Learning Academy
---
About WinAir:
Based in London, Ontario, Canada, WinAir has 30 years of experience as a leader in aviation management software. Companies rely on WinAir to efficiently and effectively track and manage aircraft maintenance and inventory control. WinAir is proud to lay claim to hundreds of installations at aviation-specific organizations worldwide. From airlines, to heli-ops, to law enforcement agencies, oil industry suppliers, MROs, CAMOs, medical evacuation response teams and more, businesses using WinAir regard the solution as a necessary component to the successful management of their fleet maintenance programs.
###