Up, up, and away: WinAir confirmed for Helicopter Association International's (HAI) Heli-Expo 2018 — industry leading aviation management software provider ready to take Version 7 of their world renowned software solution to rotary-wing trade show in Las Vegas, Nevada
Company looks forward to reconnecting with familiar faces and forging new professional relationships with helicopter industry professionals at annual event—conference expected to be attended by over 20,000 individuals from around the globe
---
London, Ontario, Canada – January 31, 2018 – Las Vegas, here we come! WinAir is excited to announce that the company will be heading to the Helicopter Association International's (HAI) Heli-Expo 2018 at the Las Vegas Convention Center in Las Vegas, Nevada, USA. From February 26th to March 1st, WinAir Solutions Experts will be in attendance at HAIs Heli-Expo 2018 to showcase WinAir Version 7, the latest evolution of WinAir's critically acclaimed aircraft maintenance and inventory control software.
WinAir Version 7 provides aviation operations with a simpler way to track and manage all facets of their business—from aircraft maintenance to inventory control, parts tracking, purchasing, finance, real-time labor tracking, reliability, and much more. WinAir was built from the hangar floor up, meaning that system processes follow actual aviation maintenance work steps. This makes it easy for users to quickly embrace the product knowledge, and be able to accurately and effectively navigate their way through the system.
"We are thrilled to bring WinAir Version 7, along with our Helicopter-specific, Heliops package, to the HAI Heli-Expo in Las Vegas," says Jeff Muir, Business Development Manager at WinAir. "Since the release of the latest edition of our software solution, we've received unanimous praise from business owners at aviation operations. All of which have commented on the software's ability to streamline processes and provide newfound transparency to their organization."
In addition to its Heliops package, WinAir has aviation software packages for Operators, CAMOs, and MROs. The company also offers a Custom package, as well as an All Inclusive package option. To help expedite the software implementation timeline, WinAir offers a variety of additional services, such as compliance and data loading, inventory data import, and procedural consultations. These services are presented to clients as a means of speeding up the time it takes to reach full product deployment.
WinAir Version 7 is the ultimate aviation management software solution. With its functional ease-of-use, robust capabilities, and system scalability, it sets the standard for all other aviation maintenance software vendors to follow. And with WinAir's validation, business owners can expect to experience a vast improvement in the accuracy of their reporting.
Is your company attending the HAI Heli-Expo? If so, we would love to learn more about your business. Contact us now to book your VIP time to speak with a WinAir Solutions Expert at Booth C4153!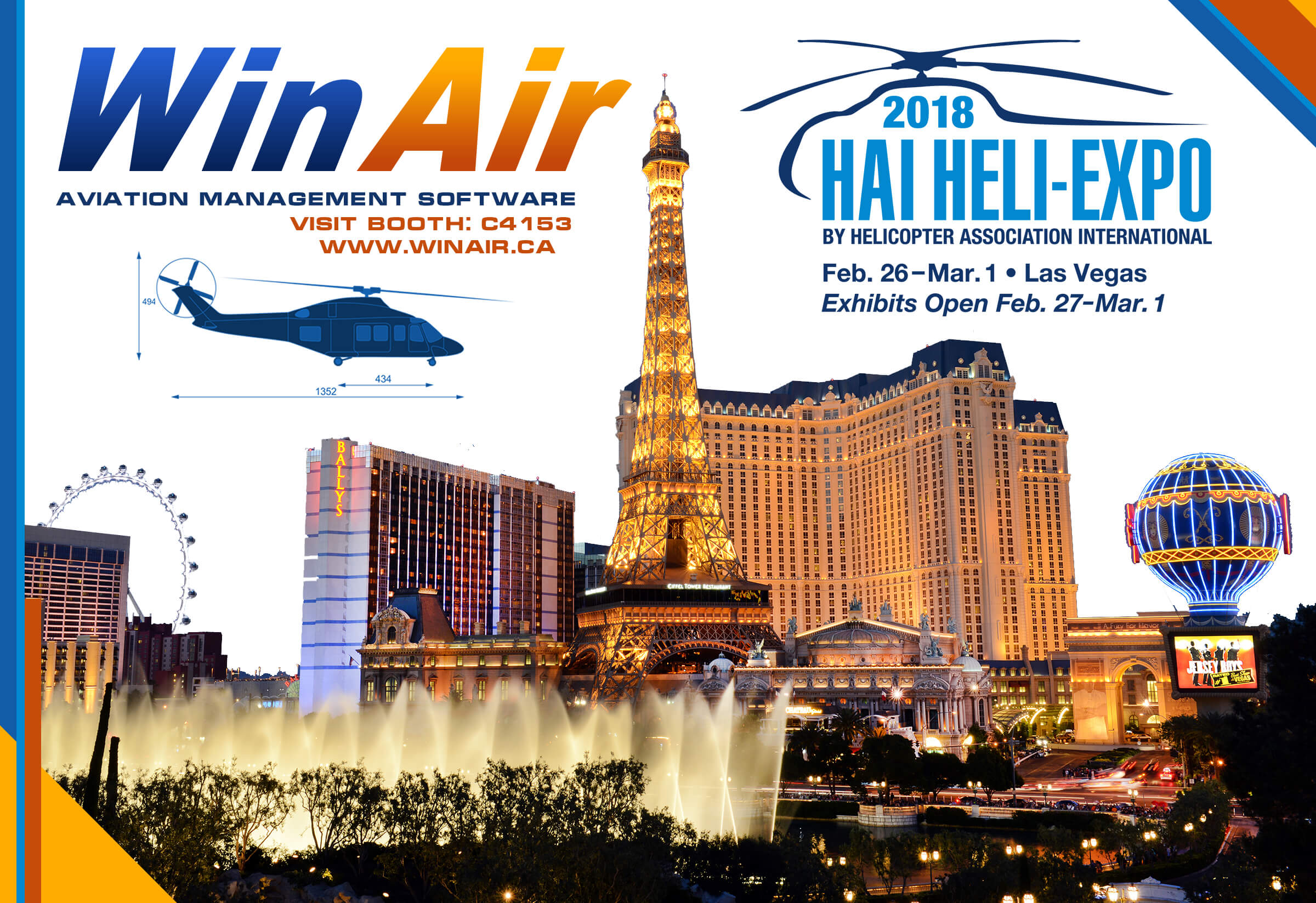 ---
About WinAir:
Based in London, Ontario, Canada, WinAir has 30 years of experience as a leader in aviation management software. Companies rely on WinAir to efficiently and effectively track and manage aircraft maintenance and inventory control. WinAir is proud to lay claim to hundreds of installations at aviation-specific organizations worldwide. From airlines, to heli-ops, to law enforcement agencies, oil industry suppliers, MROs, CAMOs, medical evacuation response teams and more, businesses using WinAir regard the solution as a necessary component to the successful management of their fleet maintenance programs.
###