Maximize your investment in the software—registration now open for the WinAir User Summit 2020 in London, Ontario, Canada, and Brisbane, QLD, Australia
Company announces dates for its biannual user conference and looks forward to in-depth discussions on maintenance, reliability, administration, accounting, inventory, and part sales
---
London, ON, Canada/Brisbane, QLD, Australia – January 31, 2020 – Aviation management software leader, WinAir, is excited to announce that the company has opened registration for its WinAir User Summit 2020. This May, WinAir will facilitate two user conferences to support its rapidly expanding global client base. From May 5th to 7th, WinAir will host its first Summit in London, Ontario, Canada, followed by its second Summit that will take place from May 19th to 21st in Brisbane, Australia. All WinAir clients are highly encouraged to have members of their team attend one of these events. They can register by emailing their Client Advocate.
The WinAir User Summit is the most valuable gathering of WinAir users from around the world. It includes presentations on a variety of aviation maintenance topics, face-to-face consultations, and opportunities to network with WinAir staff members and other experienced WinAir users. Throughout the conference, attendees share development ideas, present their company's priorities, and collaborate with the WinAir team to help determine the future course of the software. This is what makes both the WinAir User Summit and WinAir Version 7, truly user-driven.
"We are thrilled to meet with our WinAir clients once again for a User Summit," says WinAir Managing Director, Kyle Vergeer. "Our clients are key collaborators in the evolution of our software and are what drive us to develop new cutting edge technologies to streamline and expedite processes and boost business efficiencies. We look forward to learning more about how we can assist them with continuing to maximize their investment in the software so that they can reach their operational goals."
By attending this year's User Summit, WinAir clients also have the opportunity to learn about, and provide feedback on, current development priorities and active projects, including new features, functionalities, and software enhancements for WinAir Version 7. At the end of the User Summit, clients rank these development priorities in terms of how they will benefit their business.
From a professional development perspective, the WinAir User Summit is the ideal forum for WinAir clients to gain a greater understanding of industry best practices, processes, and procedures, both in general and concerning their use of WinAir. This year's WinAir User Summit is specifically geared to individuals in Logistics, Maintenance, Procurement, QA Inspection, and Management-level Finance. In an open and synergistic environment, these User Summit attendees will discover new and invaluable tips and tricks on how to improve how they manage their business.
By facilitating the WinAir User Summit, WinAir cultivates an atmosphere that promotes collaboration, encourages participation, and welcomes a wide range of expertise. It is this dedication to the needs of its clients that further demonstrates WinAir's commitment to their success.
Are you a WinAir client that is interested in learning more about the WinAir User Summit, or would you like to find out how WinAir can help your aviation operation achieve business success? If so, then contact us now to speak with a member of the WinAir team!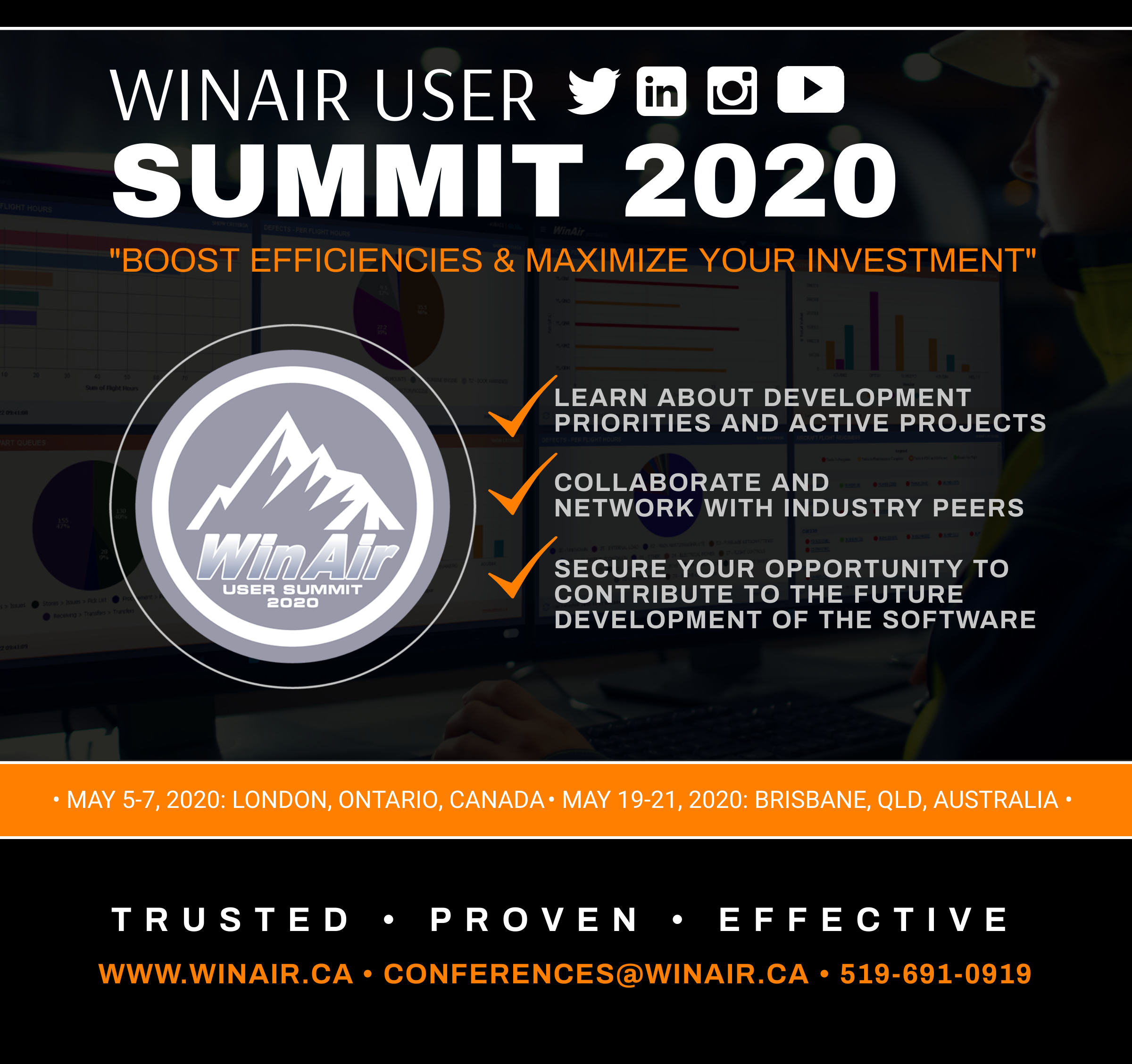 ---
About WinAir:

Based in London, Ontario, Canada, WinAir has 30 years of experience as a leader in aviation management software. Companies rely on WinAir to efficiently and effectively track and manage aircraft maintenance and inventory control. WinAir is proud to lay claim to hundreds of installations at aviation-specific organizations worldwide. From airlines to heli-ops, law enforcement agencies, oil industry suppliers, MROs, CAMOs, medical evacuation response teams and more, businesses using WinAir regard the solution as a necessary component to the successful management of their fleet maintenance programs.
###