Making an Impact: Fanshawe College student, Min Gu Kang, has been selected as the winner of the 2020 WinAir Impact Award—the avionics student becomes the first-ever recipient of this scholarship, which is presented by WinAir to a student entering their graduate year in an aviation program at Fanshawe College
Award recipient best exemplifies the qualities of leadership, teamwork, and dedication, and has excelled in their initial years of study
(Inside the aircraft maintenance hangar at Fanshawe College's Norton Wolf School of Aviation Technology © Fanshawe College)
---
London, ON, Canada – November 30th, 2020 – Aviation management software leader, WinAir, is proud to announce that Fanshawe College avionics student, Min Gu Kang, has been chosen as the recipient of the 2020 WinAir Impact Award. This award provides a student in the Aircraft Maintenance or Avionics program at Fanshawe College's Norton Wolf School of Aviation Technology in London, Ontario, Canada, with a $1,500 scholarship towards their final year of studies. Min received this award during a Virtual Awards Ceremony that was hosted by Fanshawe College on November 9th, 2020.
In addition to achieving high academic marks, the student chosen for this award will have prepared an essay to demonstrate how their career plan will positively impact the aviation industry. As a result, the award recipient will have proved that they possess the knowledge, skills, and passion for aviation that is required to initiate their career and begin their lifelong journey. Based upon these criteria, the awards committee identified Min as an excellent and well-deserving recipient of this award.
"We are delighted that Fanshawe student, Min Gu Kang, has been selected as the recipient of first-ever WinAir Award," says WinAir Marketing Specialist, Christopher Lawn. "Supporting and fostering the growth of future talent within the aviation maintenance industry is a top priority at WinAir. We wish Min all the best in his final year of studies at the Norton Wolf School of Aviation Technology, along with continued success throughout his career."
Together with Fanshawe College, WinAir established The WinAir Impact Award in early 2020 after the company approached the college about setting up an annual scholarship for students that are excelling in one of its aviation programs. Since the Norton Wolf School of Aviation Technology is considered throughout the industry as a top aviation school in Canada for providing Transport Canada approved aviation programming, WinAir determined that it was an ideal fit for this award. WinAir has affirmed that it will be offering this award for the next five years and will aim to renew this commitment to the college again in 2025.
"We are so grateful to WinAir for their generous support of the WinAir Impact Award," says Fanshawe College Executive Director of Advancement and Alumni, Gillian Sneddon. "Awards such as this play a significant role in student success. Valued partners, like WinAir, make a real difference by giving students the tools they need to unlock their full potential."
For over 30 years, WinAir has been a forerunner in the aviation maintenance industry. Today, the latest edition of the software, WinAir Version 7, is used by an array of companies from a variety of aviation industry subsets worldwide. Since WinAir has achieved tremendous success with its product, its ownership group decided that establishing a scholarship for aviation maintenance students would be a fantastic way to give back to the aviation maintenance community. They envisioned that this award would provide aviation students with assistance with their education so that they have the best opportunity to thrive within the aviation industry and reach their particular career goals.
Are you interested in learning more about WinAir? Contact us now to schedule a meeting with a member of the WinAir team!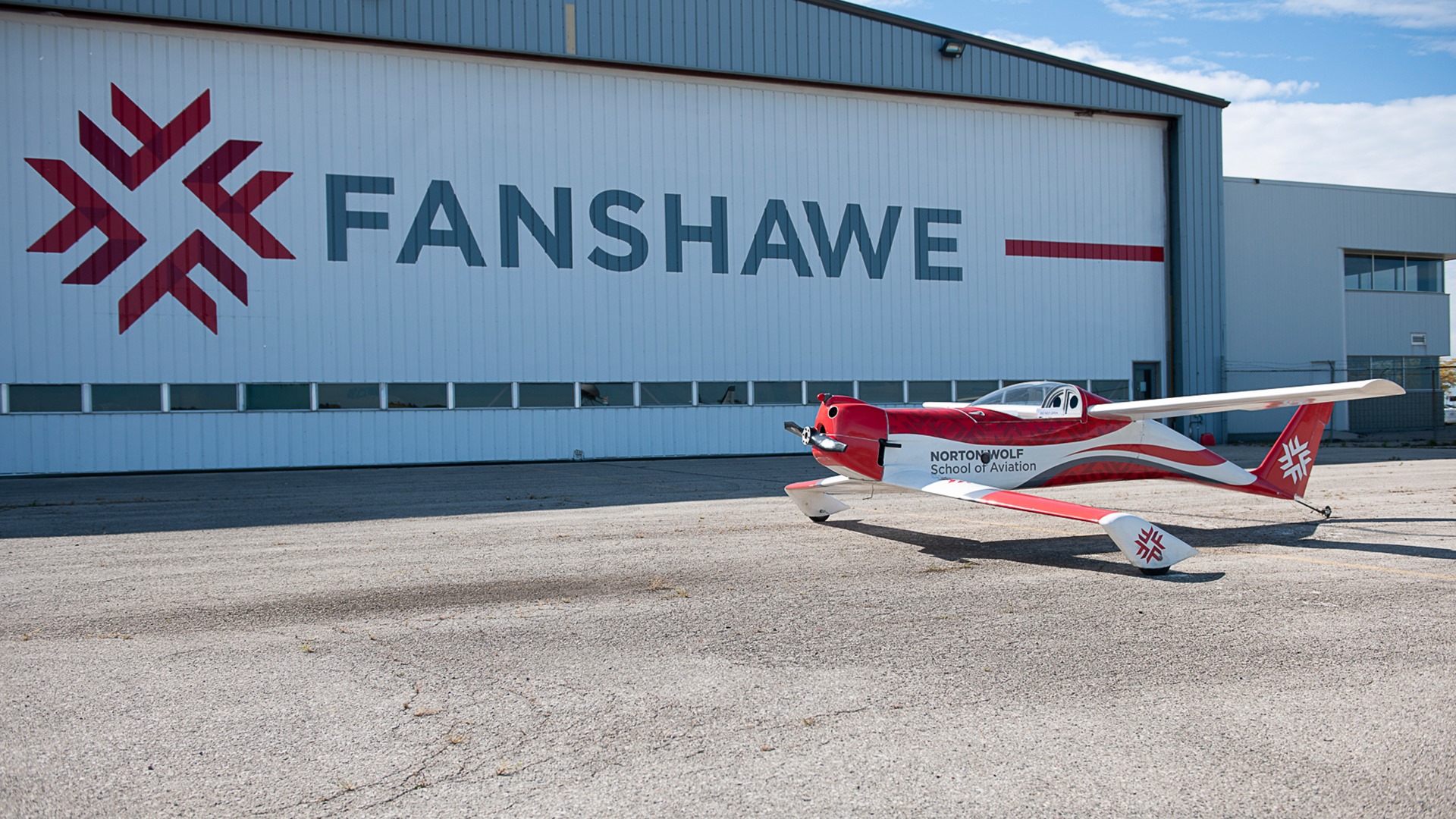 (The outside of the maintenance hangar at Fanshawe College's Norton Wolf School of Aviation Technology © Fanshawe College)
---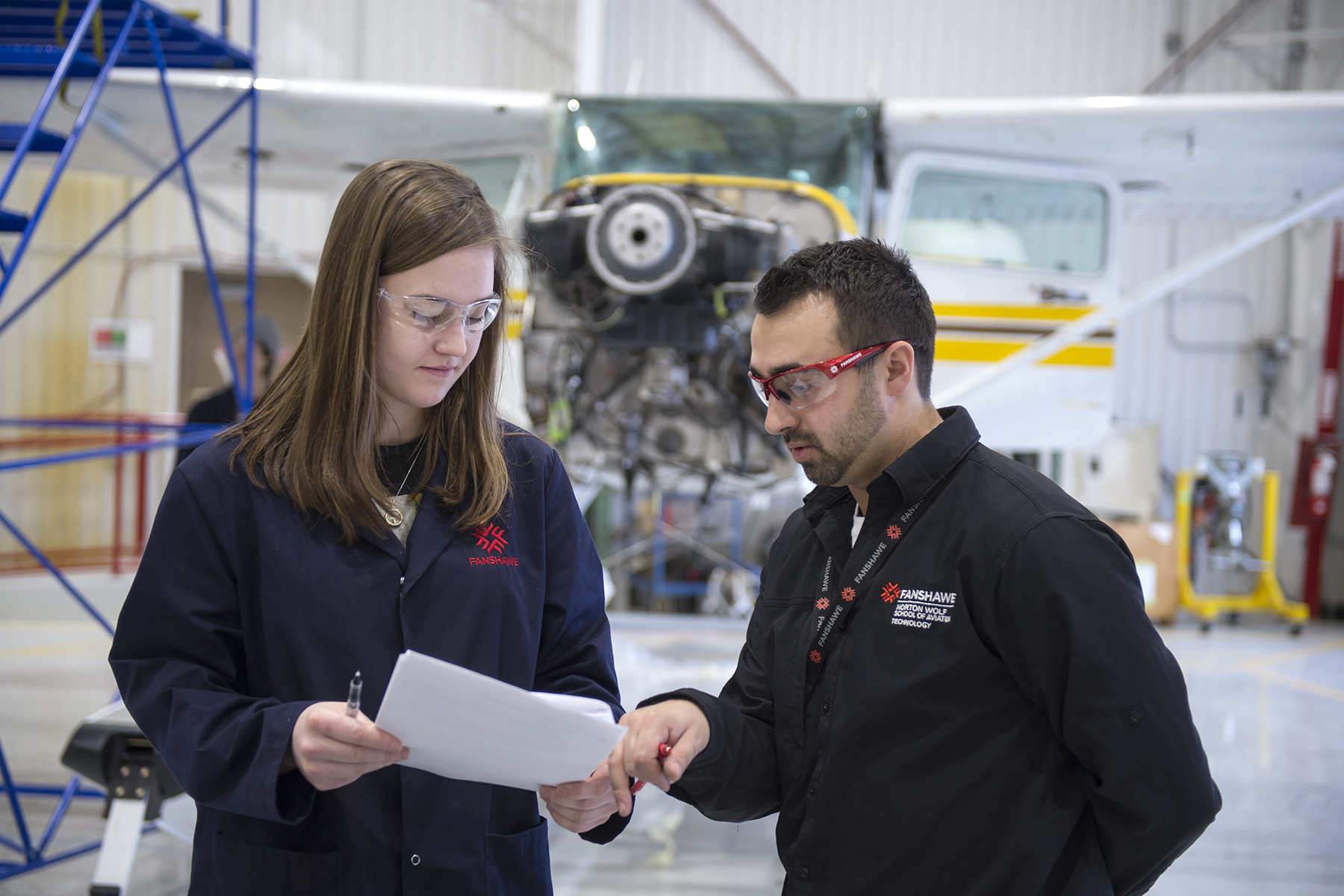 (A student and instructor review documents at the maintenance hangar © Fanshawe College)
---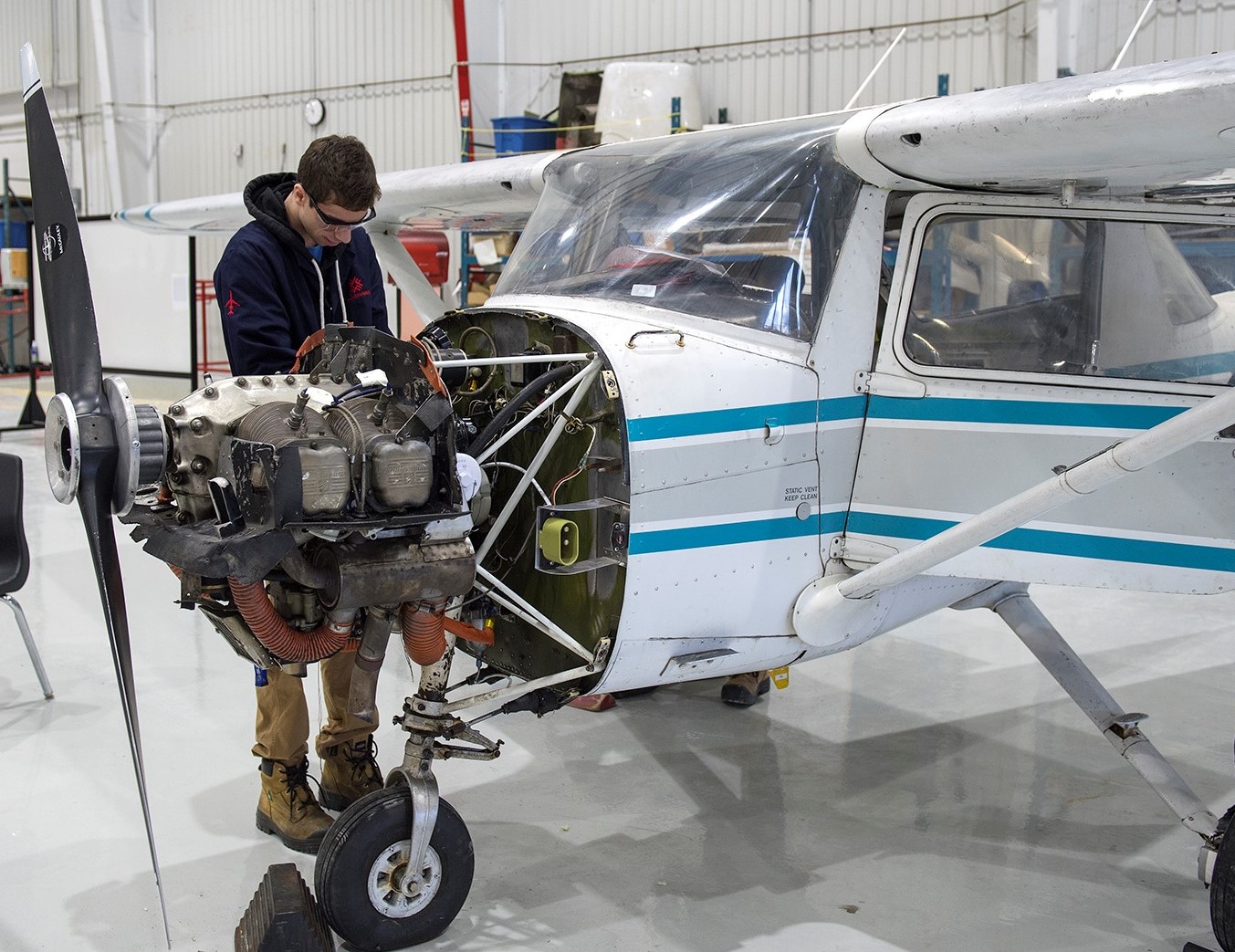 (A student at Fanshawe College's Norton Wolf School of Aviation Technology inspects an aircraft © Fanshawe College)
---
About Fanshawe College:

Fanshawe College is one of Ontario's largest colleges, serving students with a promise to educate, engage, empower and excite. The College has over 200,000 alumni and attracts students from 80 countries every year, opening up a world of possibilities through more than 200 degree, diploma and certificate programs, along with apprenticeship training.
Located in London with additional campuses in Simcoe, St. Thomas, Woodstock and throughout Huron and Bruce Counties in Ontario, Fanshawe College has been providing excellence in academic learning and industry training for more than 50 years helping people to unlock their potential and achieve success.
About WinAir:

Based in London, Ontario, Canada, WinAir has over 30 years of experience as a leader in aviation management software. Companies rely on WinAir to efficiently and effectively track and manage aircraft maintenance and inventory control. WinAir is proud to lay claim to hundreds of installations at aviation-specific organizations worldwide. From airlines to heli-ops, law enforcement agencies, oil industry suppliers, MROs, CAMOs, medical evacuation response teams and more, businesses using WinAir regard the solution as a necessary component to the successful management of their fleet maintenance programs.
###