AviTrader MRO Magazine showcases industry opinion article on MRO invoicing in WinAir—article highlights the top 5 advantages of managing MRO invoicing processes in WinAir Version 7, the latest edition of WinAir's aviation management software
Story appears in the March "Upgrading Avionics" edition of AviTrader MRO Magazine—monthly publication features in-depth news articles on the most relevant issues facing the global MRO sector—available now on the AviTrader website or by subscribing online to their free email newsletter
---
London, ON, Canada/Richmond, BC, Canada/Moosburg, Germany – March 22, 2019 – How you manage your MRO invoicing processes today can either save your company time and money or cost you dearly in the long-run. That is the underlying message in WinAir's article about managing MRO invoicing in WinAir. The company is excited to announce that this article, titled "Managing MRO Invoicing," has been published by AviTrader in this month's edition of its MRO magazine.
This article draws attention to some of the many benefits associated with managing MRO invoicing in the Accounting portal in WinAir Version 7. This includes reducing internal costs by increasing efficiency and improving the accuracy of invoices by invoicing customers in real-time based on predefined markups. For each benefit listed, there is a corresponding real-world MRO scenario that describes the particular industry challenge, along with how WinAir Version 7 is the solution to this challenge.
"We are ecstatic to see the benefits of MRO invoicing in WinAir Version 7 highlighted by AviTrader in its monthly MRO Magazine," says WinAir Managing Director, Kyle Vergeer. "When you manage your MRO invoicing in WinAir, you can anticipate that processes will be streamlined, expedited, and accurate. This has a lot to do with the fact that the software is based on aviation industry best practices and follows a workflow that directly aligns with MRO work steps."
By providing MROs with a solution that can manage all aspects of their business, WinAir has been able to position WinAir Version 7 as the top solution of choice for the global MRO industry. Not only that, but with WinAir's recently released Dashboards enhancement for WinAir Version 7, companies are benefitting from newfound transparency and a bottom-up approach to aviation maintenance management that harmonizes with actual work steps on the hangar floor. This makes it easy for users to embrace the product and accelerate processes accordingly.
In addition to managing MRO invoicing processes such as purchasing, receiving, and RFQ creation, the Accounting portal in WinAir Version 7 can handle multi-currency pricing, applied mark-ups, variable labour rates, and much more. With this portal, users also have access to detailed transaction history records and have the ability to produce accurate financial reports instantly. They can even integrate and export data from this portal in WinAir Version 7 to their current financial system.
Along with tracking and managing MRO invoicing and a variety of other aspects associated with an MRO's finances, WinAir Version 7 also handles maintenance, inventory, compliance, and reliability. This is why MROs worldwide are making the switch to WinAir Version 7 to oversee all aspects of their business—because WinAir is the only solution provider with a software package that is geared specifically towards MROs, follows actual MRO processes, and has over 30 years of aviation industry experience.
The March issue of AviTrader MRO Magazine, featuring the "Managing MRO Invoicing" article on WinAir's MRO invoicing capabilities, is available now! Read the magazine online today and contact WinAir to learn more about how your MRO will benefit from migrating to WinAir Version 7!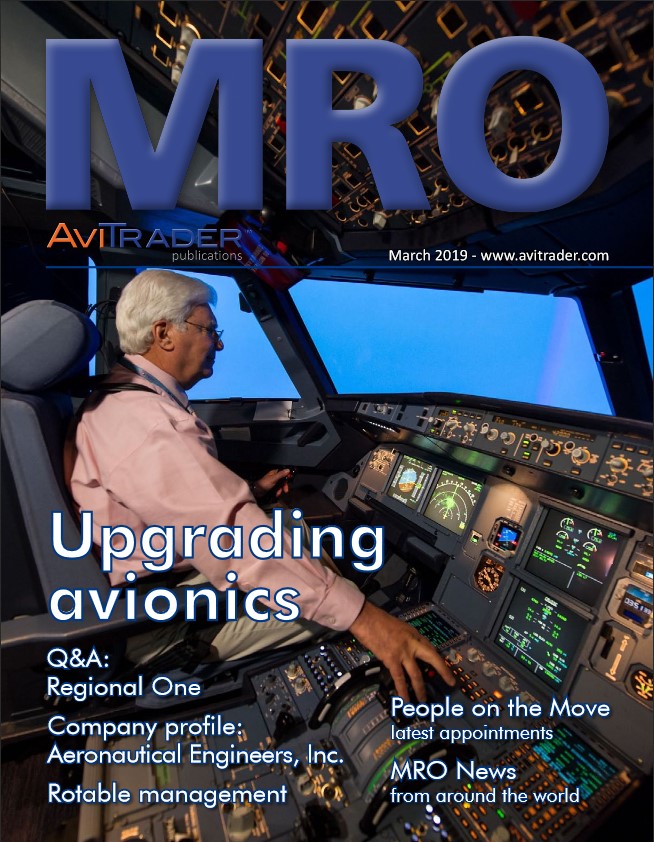 (AviTrader MRO Magazine – March 2019 – featuring article on MRO Invoicing in WinAir)
---
About WinAir:
Based in London, Ontario, Canada, WinAir has 30 years of experience as a leader in aviation management software. Companies rely on WinAir to efficiently and effectively track and manage aircraft maintenance and inventory control. WinAir is proud to lay claim to hundreds of installations at aviation-specific organizations worldwide. From airlines to heli-ops, law enforcement agencies, oil industry suppliers, MROs, CAMOs, medical evacuation response teams and more, businesses using WinAir regard the solution as a necessary component to the successful management of their fleet maintenance programs.
###