WinAir honoured to be recognized by the Ontario Chamber of Commerce as a small to medium-sized enterprise that exemplifies forward-thinking in all aspects of their business — company proud to be the runner-up in the SME Business Excellence Award category at the Ontario Business Achievement Awards
Global leader in aviation management software pleased to represent the aviation industry at the event
---
London, ON, Canada/Toronto, Ontario, Canada – November 28, 2018 – WinAir is thankful to have been named by the Ontario Chamber of Commerce (OCC) and the Ontario business community as a finalist for the Ontario Business Achievement Award (OBAA) for SME Business Excellence. After an extensive review process, the company had successfully outmatched hundreds of nominees from the province of Ontario to advance to the final round of the competition. On Wednesday, November 21st, it was revealed at the OBAA gala celebration that WinAir would place a close second to Amgen Canada Inc., a multinational biotechnology company.
The OBAAs is an annual event that is hosted by the OCC. The event aims to shine the spotlight on companies from Ontario for their particular innovations and achievements. This year, the OCC received a record number of awards competition submissions from companies from a variety of industry sectors. While the total number of this year's applicants was incredibly large, only two companies were identified as finalists for each award category. This ensured diversity in terms of the industries represented at the awards, but also meant that the competition would be fierce as ever.
Although the results were not what they were seeking, WinAir was delighted to have made it to the finals. This acknowledgment clearly identifies that the company is on the cusp of high-tech advancements and is a forerunner in their respective industry. It is also a testament to the fact that WinAir is continuing to lead the aviation maintenance software industry as the preferred solution for tracking aviation maintenance and maintaining inventory control.
"We really appreciate the recognition that we have received from the Ontario Chamber of Commerce and the Ontario business community," says WinAir Managing Director, Kyle Vergeer. "Being selected as a finalist for the Ontario Business Achievement Award for SME Business Excellence is a significant accomplishment for WinAir. We are excited to continue to advance our product and lead the international aviation maintenance industry from our home base in London, Ontario."
With respect to aviation-specific businesses that were in attendance at the OBAA gala celebration, aside from event sponsors, Air Canada, and Turkish Airlines, WinAir was the exclusive representative from the aviation industry. They were also the only company from this particular industry that was selected as a finalist for an award. This meant that WinAir was able to outshine its aviation maintenance software rivals from within the province to achieve this prestigious finalist designation.
WinAir is honoured to have been nominated and shortlisted as a finalist for an OBAA. The company is grateful for the recognition and exposure that this has provided and looks forward to working together with the Ontario business community for years to come.
Are you interested in learning more about how WinAir's industry-leading software will improve business processes at your aviation operation? If so, then contact us today to converse with a member of the WinAir team about your specific requirements!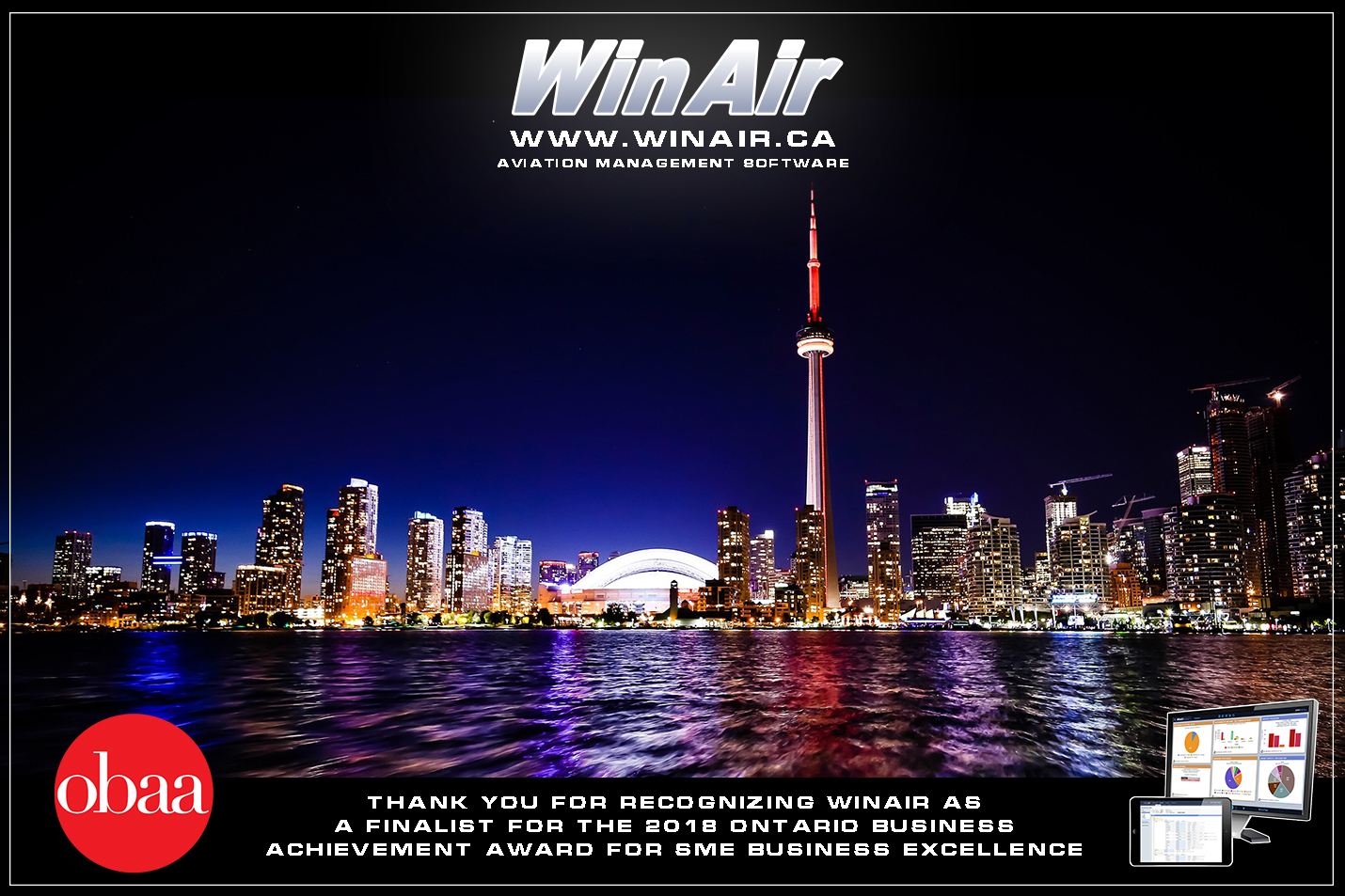 ---
About WinAir:
Based in London, Ontario, Canada, WinAir has 30 years of experience as a leader in aviation management software. Companies rely on WinAir to efficiently and effectively track and manage aircraft maintenance and inventory control. WinAir is proud to lay claim to hundreds of installations at aviation-specific organizations worldwide. From airlines, to heli-ops, to law enforcement agencies, oil industry suppliers, MROs, CAMOs, medical evacuation response teams and more, businesses using WinAir regard the solution as a necessary component to the successful management of their fleet maintenance programs.
###