Version 7 of WinAir's world-renowned software solution featured in daily news magazine for NBAA's Business in Aviation Convention and Exhibition—news story shines light on software's "common-sense approach" to aviation maintenance and inventory control
Article appears in the October 11th edition of NBAA Convention News—available in print and accessible in digital format online
---
Las Vegas, NV, USA/London, ON, Canada – October 11, 2017 – Industry leading Aviation Management Software provider, WinAir, is delighted to announce that they are featured in a story in the NBAA Convention News. The article, titled "WinAir unveils latest common sense software," appears in the Day 2 – Wednesday edition of AIN Publication's convention news magazine. This publication highlights businesses from within the aviation market that are exhibiting at the National Business in Aviation Association's Business in Aviation Convention & Exhibition (NBAA-BACE) and is released daily over the course of the three day event. Interested readers can subscribe to the free publication at AINonline.
In his article, journalist and aviation specialist James Wynbrant, discusses the origin of WinAir, its straightforward and methodical approach to aviation management, along with the latest release of the product, WinAir Version 7. Business Development Manager, Jeff Muir, and Vice President of Sales and Marketing, Bert Vergeer, are both quoted in the story.
"I really enjoyed conversing with James about WinAir and how it is able to meet customer demands from within the aviation industry," says Muir. "It was great to have the opportunity to discuss the company's annual presence at NBAA, the newest release of our software solution, as well as our industry-specific packages that are tailored to meet the unique needs of Operators, Heliops, MROs, and CAMOs alike. I'm very happy to see WinAir featured in the NBAA Convention News."
With over 15,000 end users and over 9,000 aircraft managed by the solution, WinAir is the most trusted, proven, and effective aviation management software product available on the market to date. It is designed to streamline processes from the hangar floor up, bringing newfound transparency and business efficiency to aviation operations. The newest release of the product, WinAir Version 7, is the premier browser-based aviation maintenance and inventory control software solution for any company managing a fixed-wing, rotary-wing, or mixed fleet operation. It is fully scalable, offers remarkable business flexibility, and with its robust capabilities, it is the perfect fit for any aviation operation.
The Day 2 – Wednesday edition of NBAA Convention News is out now! Read the article online and contact WinAir today to learn more about how WinAir Version 7 will benefit your organization!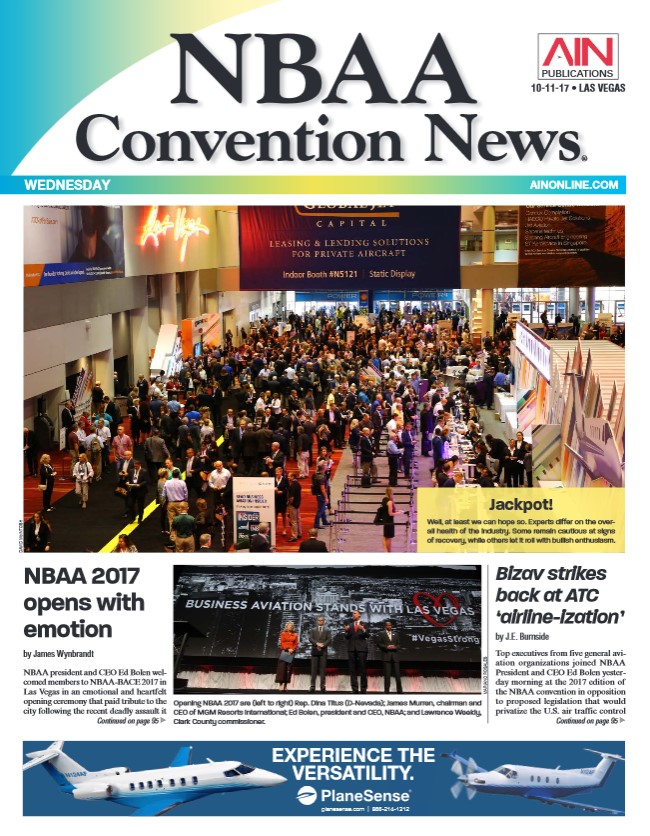 ---
About WinAir:
Based in London, Ontario, Canada, WinAir has 30 years of experience as a leader in aviation management software. Companies rely on WinAir to efficiently and effectively track and manage aircraft maintenance and inventory control. WinAir is proud to lay claim to hundreds of installations at aviation-specific organizations worldwide. From airlines, to heli-ops, to law enforcement agencies, oil industry suppliers, MROs, CAMOs, medical evacuation response teams and more, businesses using WinAir regard the solution as a necessary component to the successful management of their fleet maintenance programs.
###