WinAir Commercial Manager, Kyle Vergeer, highlighted in June edition of TechAlliance of Southwestern Ontario's Monthly Member Spotlight — TechAlliance, the regional innovation centre for London and surrounding areas, sits down for an interview with a key player at the aviation industry's leading maintenance and inventory control software provider
Article examines the history of WinAir, the future direction of the company, and the business motivators that drive the company's Commercial Manager—available now on the TechAlliance website
---
London, ON, Canada – June 26, 2018 – When the spotlight shines your way, it is a clear indication that you are doing something that is worthy of recognition. For WinAir Commercial Manager, Kyle Vergeer, that acknowledgement came earlier this month when TechAlliance of Southwestern Ontario turned their spotlight in his direction for a Q&A article. The article, which appears on the TechAlliance website, is a monthly feature that identifies leaders from companies that are members of TechAlliance, and showcases the work that they are doing at their respective business.
In the Q&A, Kyle presents an overview of the company, WinAir, and discusses the evolution of its aviation management software. He also describes his current leadership role, plans for the future development of the software solution, WinAir's involvement in the local tech community, and its support for fundraisers and charitable initiatives. On a more personal level, Kyle takes the time to explain what influences his business mindset and motivates him to succeed.
"It is an honour to be recognized as a business leader by our regional technology association," says Kyle. "Our membership in TechAlliance is a significant benefit to our organization. Along with providing our team with many advanced learning opportunities, it also exposes WinAir to the latest innovative technologies that are not commonly on the radar of the aviation industry. We look forward to continuing our relationship with TechAlliance for years to come."
For the past 30 years, WinAir has been a forerunner in the aviation maintenance industry. In the 1980s, when aviation operations were fully entrenched in paper forms and manual processes, WinAir's management knew that technology was the way of the future. That's when they released one of the aviation industry's first digital record-keeping and live inventory management systems.
Today, WinAir is a fully browser-based aviation management solution with the flexibility and scalability to meet the unique business requirements of any operation. With the latest release of the software, WinAir Version 7, companies are benefiting from the product's ability to simplify processes, seamlessly integrate with their current business model, and significantly improve the accuracy of their reporting. WinAir's commitment to TechAlliance of Southwestern Ontario further cements the company's dedication to the advancement of technology and their commitment to revolutionizing the aviation industry.
The June edition of TechAlliance of Southwestern Ontario's Member Spotlight, featuring the Q&A with WinAir's Commercial Manager, Kyle Vergeer, is out now! Read the full article today and speak with a member of the WinAir team to learn more about how WinAir will enhance operational efficiencies at your business!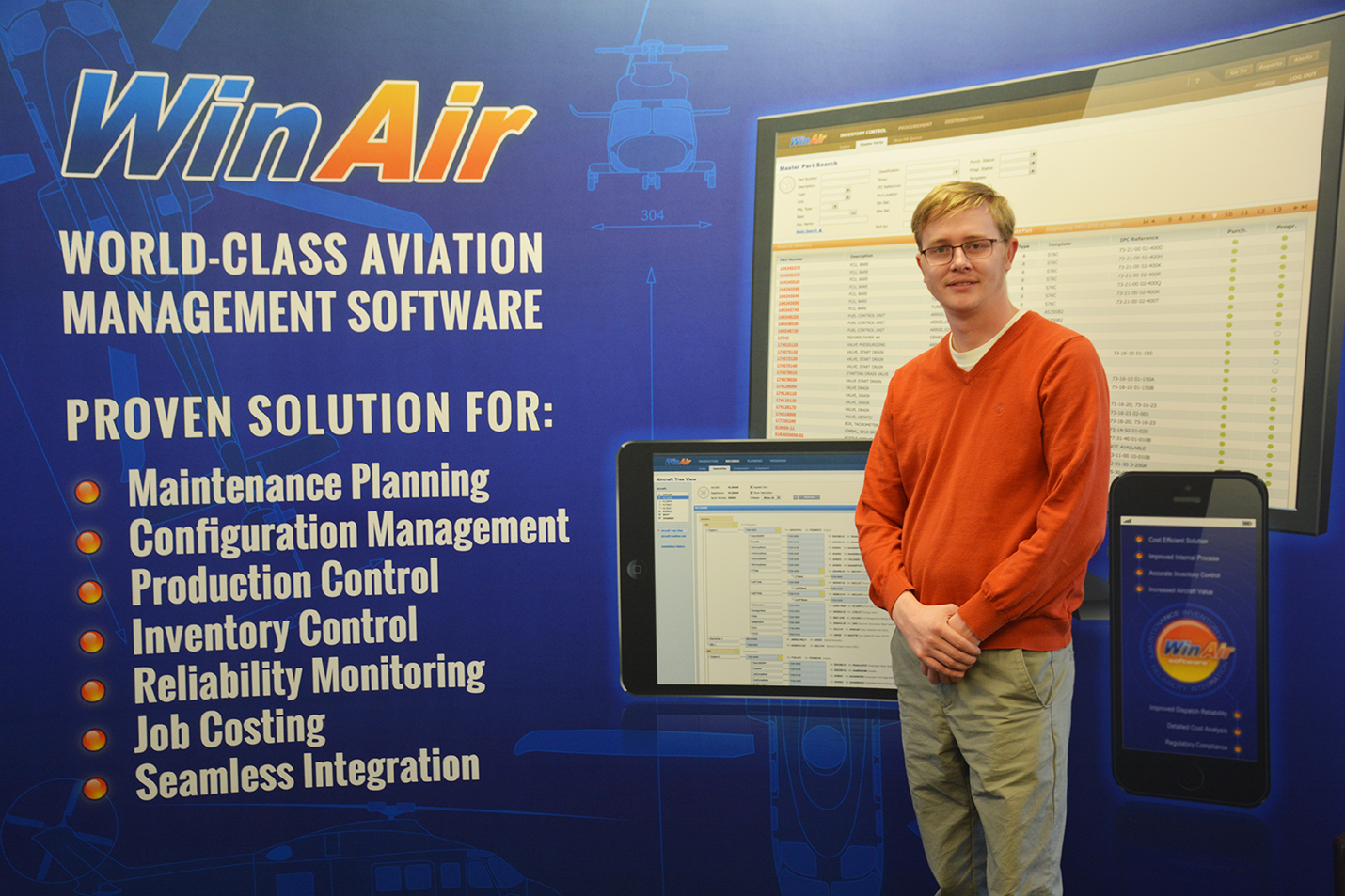 ---
About WinAir:
Based in London, Ontario, Canada, WinAir has 30 years of experience as a leader in aviation management software. Companies rely on WinAir to efficiently and effectively track and manage aircraft maintenance and inventory control. WinAir is proud to lay claim to hundreds of installations at aviation-specific organizations worldwide. From airlines, to heli-ops, to law enforcement agencies, oil industry suppliers, MROs, CAMOs, medical evacuation response teams and more, businesses using WinAir regard the solution as a necessary component to the successful management of their fleet maintenance programs.
###