WinAir column on the "Benefits of Barcoding" featured in Helicopters Magazine—content lists the top 6 benefits of utilizing barcoding technology with aviation management software
Column appears in the April "Atlantic LifeFlight" issue of Helicopters Magazine—quarterly publication provides comprehensive coverage of commercial, corporate, general, and military rotary-wing aviation news in Canada and around the world—available now on newsstands and in digital format on the Helicopters Magazine website
---
London, ON, Canada/Simcoe, ON, Canada – April 3, 2019 – In the grand scheme of things, incorporating new technologies into your business environment should always be about saving time and increasing business efficiencies. That is the main theme in WinAir's column on the "Benefits of Barcoding (in aviation management software)." The company is excited to announce that this material has been published by Helicopters Magazine in the April edition of their publication.
The magazine column lists the top six benefits of using barcoding technology with aviation management software. While barcoding is not a new technology, it still continues to provide tremendous benefits to a variety of industries, including the aviation industry. For helicopter operations, using barcoding technology with trusted, proven, and effective aviation management software, such as WinAir Version 7, offers a significant return on investment, both in terms of time savings and process improvements.
Barcoding technology speeds up the time it takes to transmit information by automating processes and minimizing the number of manual system inputs. This improves business efficiencies, increases the accuracy of data, and helps to safeguard against human errors. With respect to helicopter operations, using this technology in conjunction with WinAir will ensure that they remain mission ready.
"We are happy to see our column on the benefits of barcoding showcased in Helicopters Magazine," says WinAir Managing Director, Kyle Vergeer. "Assisting our clients with improving operational efficiencies is our central focus at WinAir. We believe that using this technology with WinAir Version 7 will provide significant efficiency gains for aviation operations worldwide."
For personnel on the hangar floor or in the Stores room, using barcoding technology with WinAir Version 7 ensures that they are always accessing precise inventory counts. For a Director of Maintenance, using this technology translates into, "less technicians at workstations and more hands on deck." For a business owner, it means that processes will be streamlined, expedited, and correct.
From an overall business perspective, incorporating barcoding technology with WinAir Version 7 at your aviation operation will provide you with full operational transparency in terms of inventory and parts management, processes, labour/employee time tracking, billing/invoicing, and much more. All of which will assist your team with making better-informed business decisions.
The April edition of Helicopters Magazine, featuring the "Benefits of Barcoding" column by WinAir, is available now! Read the magazine online today and contact WinAir to learn more about how your aviation operation will gain from barcoding and WinAir Version 7!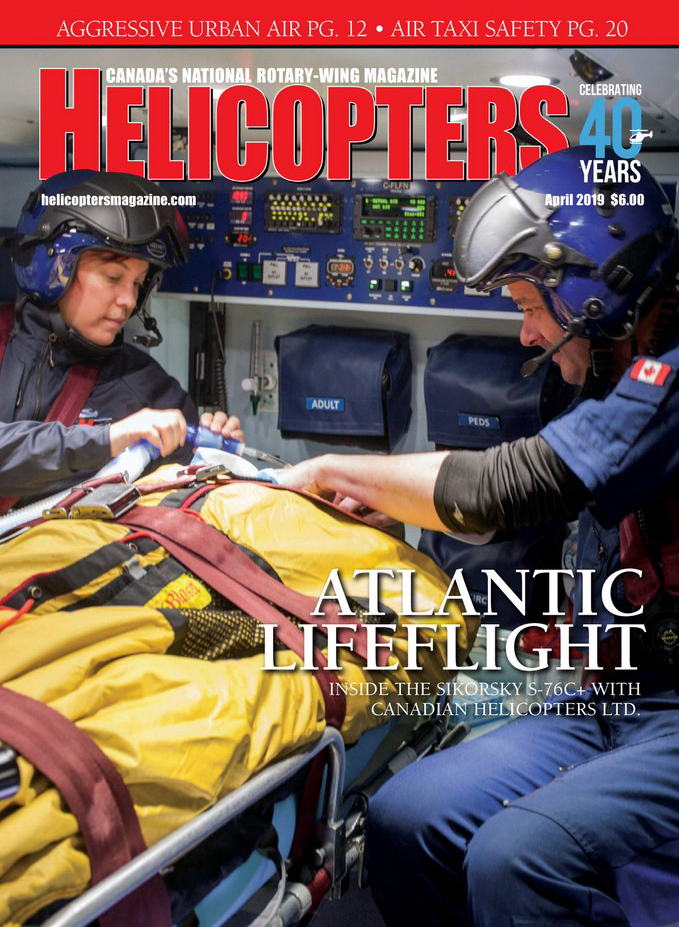 (Helicopters Magazine – April 2019 – featuring column on "The Benefits of Barcoding" by WinAir)
---
About WinAir:
Based in London, Ontario, Canada, WinAir has 30 years of experience as a leader in aviation management software. Companies rely on WinAir to efficiently and effectively track and manage aircraft maintenance and inventory control. WinAir is proud to lay claim to hundreds of installations at aviation-specific organizations worldwide. From airlines to heli-ops, law enforcement agencies, oil industry suppliers, MROs, CAMOs, medical evacuation response teams and more, businesses using WinAir regard the solution as a necessary component to the successful management of their fleet maintenance programs.
###