WinAir set to attend Regional Airline Association's (RAA) annual convention—aviation industry's longest-standing and most trusted maintenance and inventory control solution provider confirmed for fixed-wing trade show in Long Beach, California
Award winning company excited to display the advanced capabilities the latest edition of their aviation management software, WinAir Version 7, at association's showpiece event
---
London, ON, Canada/Long Beach, California, USA – July 27, 2018 – London, ON, Canada/Long Beach, California, USA – July 19, 2018 – We are off to California! WinAir is thrilled to announce that the company will be heading to the Regional Airline Association's (RAA) 2018 annual convention at the Long Beach Convention and Entertainment Center in Long Beach, California, USA. From September 23rd to 26th, members of the WinAir team will be on hand at the convention to demo WinAir Version 7. They will also be there to explain how the software has assisted aviation operations worldwide with streamlining and expediting their business processes.
WinAir Version 7 is the premier software platform for tracking aviation maintenance and maintaining inventory control. The software has played a pivotal role in helping aviation operations become more efficient by establishing procedural controls and improving how they manage their day-to-day activities. This has provided aviation operations using WinAir with newly discovered efficiency gains, affording them with the opportunity to grow their business and expand their operations by adding new base locations and incorporating new aircraft into their fleet.
"We are eagerly anticipating the 2018 Regional Airline Association's annual convention in Long Beach, California," says WinAir Business Development Representative Kara Briggs. "The North American regional airlines market is a key facet of the aviation industry that is currently benefiting immensely from the latest release of our software. We look forward to meeting with existing clientele, making new connections with regional air operators, and showcasing how WinAir Version 7 will help them with enhancing their operational efficiencies and boosting their bottom line."
With WinAir Version 7, aviation operations are managing their business processes with ease. The software is fully browser-based and follows actual aviation maintenance work steps, which effectively assists with improving and expediting the overall software learning curve. This means that your team will be able to grasp the product knowledge rather quickly and that your organization will be up and running with the solution in an accelerated timeframe.
By providing aviation operations with the framework to bring together all departments into one cohesive unit, WinAir Version 7 has been proven to be instrumental in streamlining procedures and improving the proper organization of company workflow. The solution cleverly incorporates comprehensive purchasing, inventory control, production, maintenance forecasting, cost accounting, invoicing processes, and much more into a unified and robust software platform. From regional air operators, to MROs, CAMOs, Heliops, and beyond, businesses using WinAir Version 7 consider the software to be an essential element to the successful management of their fleet maintenance programs.
Will your company be attending the 2018 Regional Airline Association's annual convention? If so, we would be delighted to meet with you to learn more about your business. Contact us today to schedule your time to chat with a member of the WinAir team at Booth #418!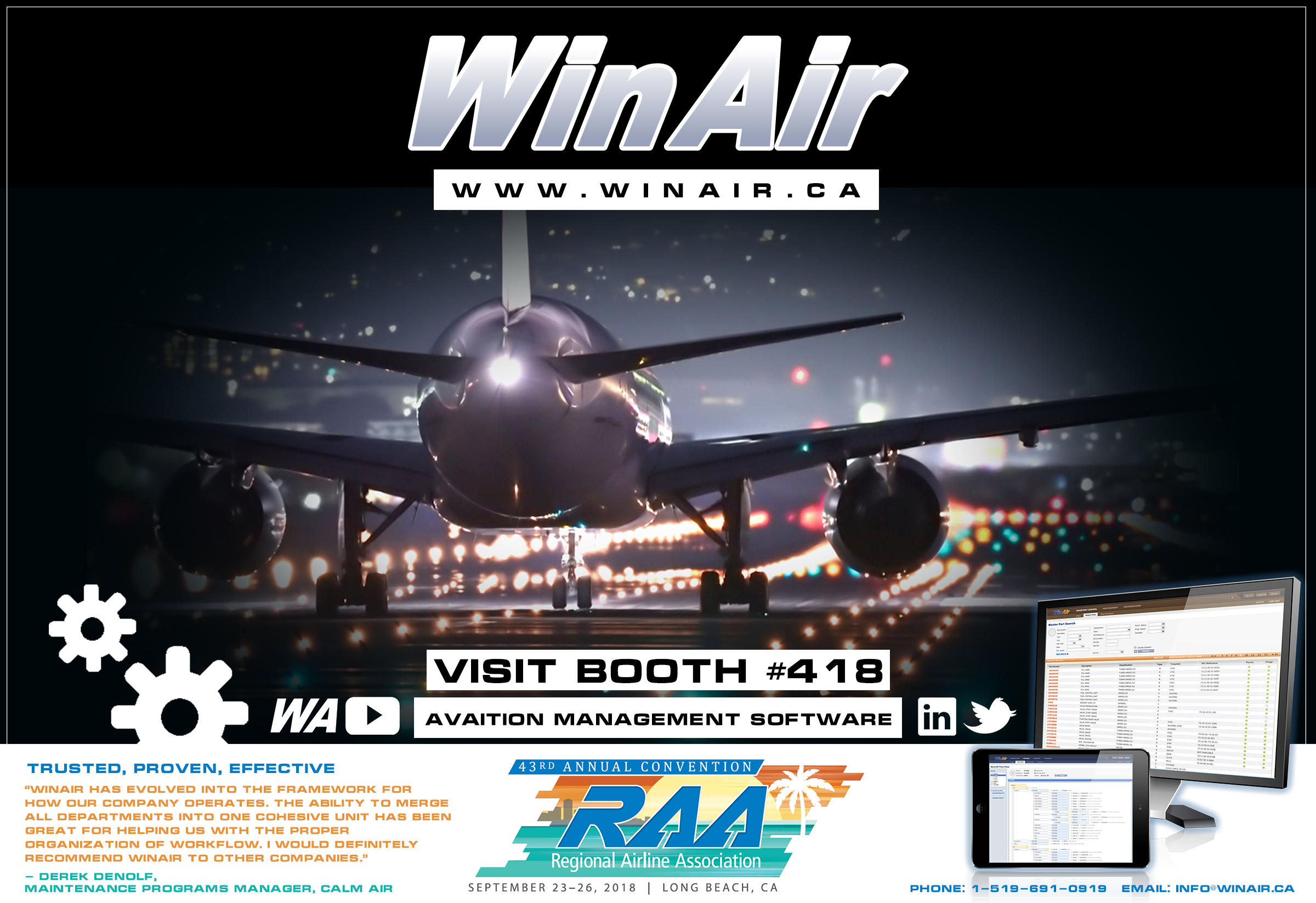 ---
About WinAir:
Based in London, Ontario, Canada, WinAir has 30 years of experience as a leader in aviation management software. Companies rely on WinAir to efficiently and effectively track and manage aircraft maintenance and inventory control. WinAir is proud to lay claim to hundreds of installations at aviation-specific organizations worldwide. From airlines, to heli-ops, to law enforcement agencies, oil industry suppliers, MROs, CAMOs, medical evacuation response teams and more, businesses using WinAir regard the solution as a necessary component to the successful management of their fleet maintenance programs.
###