AV-BASE Systems Inc. receives City of London featured company award—developers of the world renowned WinAir software solution honoured to be recognized for the company's accomplishments
---
AV-BASE Systems Inc. is pleased to announce that it has received the City of London Featured Company Award, presented by the London Economic Development Corporation (LEDC) during the recent city council meeting Monday Oct. 20th, 2008.
This award recognizes established businesses that contribute to the economic well-being of London. Deputy Mayor Tom Gosnell was on hand to present Bert Vergeer, VP Sales & Marketing with the award. "We are very proud of the fact that we are based in London," states Bert, "we are seeing an increase in on-site visits by our customers which gives them a first hand look at what this great city has to offer." For over 25 years, AV-BASE Systems has been developing its WinAir line of aviation software solutions, with over 3,000 end-users world-wide. WinAir is recognized as the industry-leading aviation maintenance and inventory control system.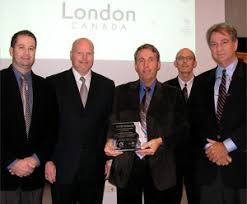 The LEDC Award ceremony was videotaped by Rogers Television. Adobe Flash player is required to view the video.
( Video courtesy of Rogers Television. )
---
About WinAir:
Based in London, Ontario, Canada, WinAir has 30 years of experience as a leader in aviation management software. Companies rely on WinAir to efficiently and effectively track and manage aircraft maintenance and inventory control. WinAir is proud to lay claim to hundreds of installations at aviation-specific organizations worldwide. From airlines, to heli-ops, to law enforcement agencies, oil industry suppliers, MROs, CAMOs, medical evacuation response teams and more, businesses using WinAir regard the solution as a necessary component to the successful management of their fleet maintenance programs.
###