Annual Oceania/Asia WinAir User Group Summit a Big Hit Down Under—Aviation management software leader hosts successful client conference to support Asia-Pacific user base and to collaborate on ideas for future user-driven features and product enhancements
The team behind the aviation industry's most structurally integrated and user-focused maintenance and inventory control software system, just completed another outstanding user group conference in Brisbane, Australia
---
Brisbane, Queensland, Australia — May 18, 2017 — Hot on the heels of their 2017 WinAir America's Summit, WinAir announces the finale of another successful user group conference—their 2017 Oceania/Asia WinAir Summit. From May 9th to 11th, WinAir users from the Asia-Pacific region, convened in Brisbane, Australia, for their annual three-day user group event. WinAir users, along with WinAir client advocates, solutions experts, and members of the senior WinAir management team, assembled at Aviation Australia's Flight Safety Training Centre to discuss the newest release of the software, WinAir Version 7. In addition, summit attendees reviewed product best practices and user suggestions, conversed about new functionality and feature enhancements, and were provided with insight into how peers from within the aviation industry are making use of WinAir to achieve their operational and organizational goals.
Each year, WinAir users from the region are invited to attend the WinAir Oceania/Asia Summit for an in-depth examination of WinAir business processes in an open, collaborative, seminar format. By bringing their needs and ideas to the forefront, WinAir users become active participants in the future development of the WinAir product and an integral part of the WinAir team. Summit attendees are also offered a sneak peek at upcoming feature releases that are still in development and can vote on which enhancements are of a higher priority to their organization.
"When our clients succeed, we succeed," says WinAir Commercial Manager, Kyle Vergeer. "That's why we place so much value on client feedback; our clients are the lifeblood of our solution. The attainment of their goals is paramount to the success of our organization. So we believe it's vital to meet with our WinAir users from across the planet for a client summit. We had a fantastic crowd at this year's Oceania/Asia conference, with lots of great ideas. We look forward to implementing several of these client suggestions over the coming months."
WinAir Version 7 is the ultimate user-driven aviation management software solution available on the market today. Guided by the recommendations of its users, it incorporates a straightforward approach to maintenance and inventory tracking that mimics real-life scenarios, making it both methodical and practical. Whether large or small, organizations using WinAir immediately benefit from the product's scalability and its ability to seamlessly integrate with any business operation. Couple that with WinAir's top-notch training and customer support and you have a winning software solution that is unmatched by the competition.
All things considered (product, pricing, training, and continual support), WinAir is the best aviation maintenance and inventory control software solution the industry has to offer! At WinAir, we are dedicated to customer satisfaction. That's why so many aviation operations have selected WinAir to elevate their organization to new heights!
Connect with WinAir today to get your free business needs consultation with a solutions expert. We will provide you with insight into how WinAir will streamline and expedite your processes, increase accountability, and will save your organization time and money, allowing you to focus your efforts on your daily operations.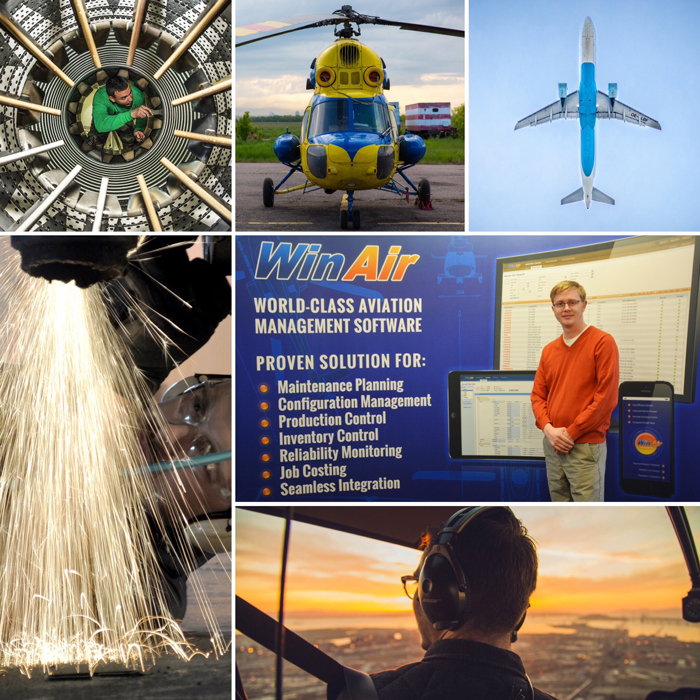 ---
About WinAir
Based in London, Ontario, Canada, WinAir has 30 years of experience as a leader in aviation management software. Companies rely on WinAir to efficiently and effectively track and manage aircraft maintenance and inventory control. WinAir is proud to lay claim to hundreds of installations at aviation-specific organizations worldwide. From airlines, to heli-ops, to law enforcement agencies, oil industry suppliers, MROs, CAMOs, medical evacuation response teams and more, businesses using WinAir regard the solution as a necessary component to the successful management of their fleet maintenance programs.
###