2018 WinAir User Summit Set for North America and Australia — forerunner in aviation management software ready to host user conference to support client needs and to collaborate on the future development of the product
Company announces summit dates and looks forward to gathering with clientele at annual three-day event for discussions on inventory, maintenance, accounting, and WinAir Version 7, the latest release of the software
---
London, Ontario, Canada – April 17, 2018 – Global leader in aviation management software, WinAir, is excited to announce that the company has confirmed the dates for its 2018 WinAir User Summit. This September, WinAir will host two user conferences to support its ever-expanding national and international user base. From September 11th to 13th, WinAir will facilitate the first iteration of its Summit in London, Ontario, Canada. The second iteration will take place in Brisbane, Australia, from September 25th to 27th.
Registration for either WinAir User Summit is now open. Current WinAir clients are encouraged to attend one of the two events. They can register directly by emailing their Client Advocate. During the Summit, WinAir clients meet face-to-face with members of the WinAir team, along with fellow WinAir users from around the globe, to discuss their company's goals, processes, and to determine how they can enhance their use of the software solution. These conversations are facilitated in order to ensure that companies are maximizing their investment in the software. In addition, summit attendees examine topics such as industry best practices, specific client requirements, and development priorities for future releases of the product.
"The WinAir User Summit is the perfect place for WinAir clients to learn more about how they can boost their return on investment (ROI) and improve their overall use of the software," says Charlotte Kruger, Business Analyst Manager at WinAir. "The Summit also provides WinAir client organizations with the unique opportunity to discuss their specific business needs with WinAir management and other WinAir users. This level of engagement has proved to be instrumental in assisting our clients with reaching their business goals."
The WinAir User Summit is an event that WinAir clients don't want to miss. Individuals involved in Logistics, Procurement, Q/A Inspection, as well as Management-level Finance, stand to benefit from attending one of the events. Company's sending staff to the Summit can rest assured knowing that their operation will reap the rewards of having a well-informed team that is able to improve business efficiencies.
While they are at the Summit, client attendees will collaborate with industry peers to gain insight into methods that will assist them with streamlining operational processes. They will also contribute to the ongoing development of the product, by providing feedback on their company's particular requirements and recommendations. Plus, they will learn about the new features and functionality currently in development, and will see live demonstrations of these new product additions.
Upon completion of the Summit, client attendees will return to their respective operations with newfound knowledge, a sense of fulfillment, and an optimistic vision for the future course of their operation. They will also have an abundance of information to share with their management group on WinAir Version 7, the aviation industry's premier maintenance and inventory control software solution. This new fully web-based version of the product is well-suited for any business that is looking to take charge of their operation. It will seamlessly integrate with all departments, and will accurately and effectively manage company workflows, department work order backlog queues, and so on.
Would you like to learn more about the WinAir User Summit? Are you interested in discussing your aviation operation's specific business needs? If so, contact us today to speak with a member of the WinAir team!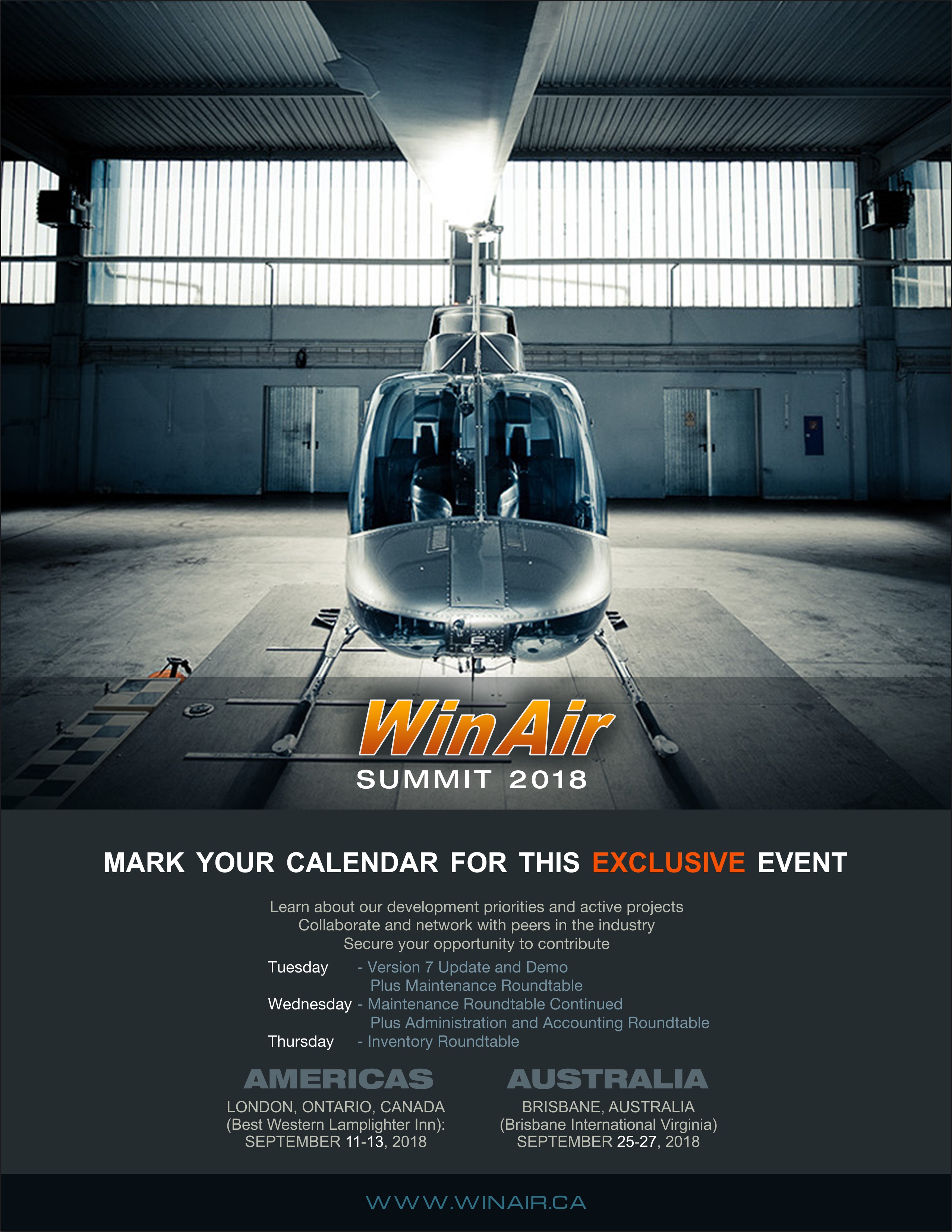 ---
About WinAir:
Based in London, Ontario, Canada, WinAir has 30 years of experience as a leader in aviation management software. Companies rely on WinAir to efficiently and effectively track and manage aircraft maintenance and inventory control. WinAir is proud to lay claim to hundreds of installations at aviation-specific organizations worldwide. From airlines, to heli-ops, to law enforcement agencies, oil industry suppliers, MROs, CAMOs, medical evacuation response teams and more, businesses using WinAir regard the solution as a necessary component to the successful management of their fleet maintenance programs.
###