Are you looking for aviation maintenance and inventory control software for your operation? Whether your goal is to replace manual business practices or to adopt better software, knowing how to choose the right solution for your company can be a challenge.
---
To assist you with determining what the best option is for your organization, we've created, "The Periodic Table of Aviation Management Software Success Factors" infographic. The illustration is comprised of 118 aviation management success factor elements and is divided into six categories: Inventory, Maintenance, Reliability, Finance, Client Support Services, and Company Experience and Solution Flexibility. For quick reference, a consolidated list of all periodic table elements and their corresponding element symbol are located below the image.
(Click on the image to zoom into the material)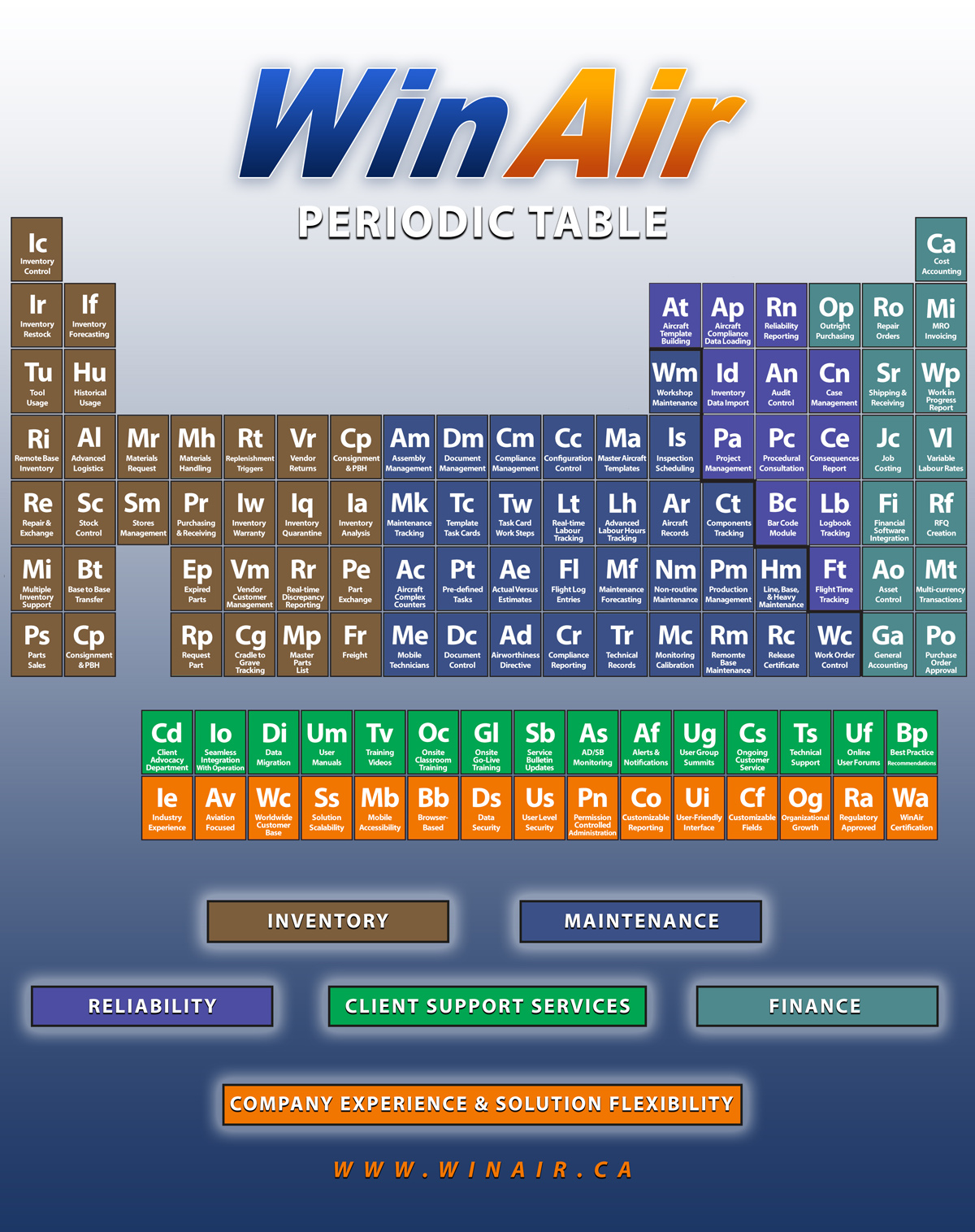 Aviation Management Software Success Factor Elements
Inventory
Inventory Control – Ic
Inventory Restock – Ir
Inventory Forecasting I – If
Tool Usage – Tu
Historical Usage – Hu
Remote Base Inventory – Ri
Advanced Logistics – Al
Materials Request – Mr
Materials Handling – Mh
Replenishment Triggers – Rt
Vendor Returns – Vr
Consignment and PBH – Cp
Repair and Exchange – Re
Stock Control – Sc
Stores Management – Sm
Purchasing and Receiving – Pr
Inventory Warranty – Iw
Inventory Quarantine – Iq
Inventory Analysis – Ia
Multiple Inventory Support – Mi
Base to Base Transfer – Bt
Expired Parts – Ep
Vendor Customer Management – Vm
Real-time Discrepancy Reporting – Rr
Part Exchange – Pe
Parts Sales – Ps
Centralized Purchasing – Cp
Request Part – Rp
Cradle to Grave Tracking – Cg
Master Parts List – Mp
Freight – Fr
Maintenance
Workshop Maintenance – Wm
Assembly Management – Am
Document Management – Dm
Compliance Management – Cm
Configuration Control – Cc
Master Aircraft Templates – Ma
Inspection Scheduling – Is
Maintenance Tracking – Mk
Template Task Cards – Tc
Task Card Work Steps – Tw
Real-time Labour Tracking – LT
Advanced Labour Hours Tracking – Lh
Aircraft Records – Ar
Components Tracking – Ct
Aircraft Complex Counters – Ac
Pre-defined Tasks – Pt
Actual Versus Estimates – Ae
Flight Log Entries – Fl
Maintenance Forecasting – Mf
Non-routine Maintenance – Nm
Production Management – Pm
Line, Base, and Heavy Maintenance – Hm
Mobile Technicians – Me
Document Control – Dc
Airworthiness Directive – Ad
Compliance Reporting – Cr
Technical Records – Tr
Monitoring Calibration – Mc
Remote Base Maintenance – Rm
Release Certificate – Rc
Work Order Control – Wc
Finance
Cost Accounting – Ca
MRO Invoicing – Mi
Work in Progress Invoicing – Wp
Variable Labour Rates – Vl
RFQ Creation – Rf
Multi-currency Transactions – Mt
Purchase Order Approval – Po
Outright Purchasing – Op
Repair Orders – Ro
Shipping and Receiving – Sr
Job Costing – Jc
Financial Software Integration – Fi
Asset Control – Ao
General Accounting – Ga
Reliability
Reliability Reporting – Rn
Audit Control – An
Case Management – Cn
Consequences Report – Ce
Logbook Tracking – Lb
Flight Time Tracking – Ft
Aircraft Template Building – At
Aircraft Compliance Data Loading – Ap
Inventory Data Import – Id
Project Management – Pa
Procedural Consultation – Pc
Bar Code Module – Bc
Client Support Services
Client Advocacy Department – Cd
Seamless Integration with Operation – Io
Data Migration – Di
User Manuals – Um
Training Videos – Tv
Onsite Classroom Training – Oc
Onsite Go-live Training – Gl
Service Bulletin Updates – Sb
AD/SB Monitoring – As
Alerts and Notifications – Af
User Group Summits – Ug
Ongoing Customer Service – Cs
Technical Support – Ts
Online User Forums – Uf
Best Practice Recommendations – Bp
Company Experience and Solution Flexibility
Industry Experience – Ie
Aviation Focused – Av
Worldwide Customer Base – Wc
Solution Scalability – Ss
Mobile Accessibility – Mb
Browser-based – Bb
Data Security – Ds
User Level Security – Us
Permission Controlled Administration – Pn
Customizable Reporting – Co
User-friendly Interface – Ui
Customizable Fields – Cf
Organizational Growth – Og
Regulatory Approved – Ra
WinAir Certification – Wa
Packages Tailored to Your Unique Needs
Whether you're an operator, a heliop (helicopter operator), an MRO, or a CAMO (Continuing Airworthiness Management Organization), we have the precise package for you, with all the vital elements that your business requires to achieve operational success. At WinAir, we know that every aviation operation is unique. That's why we offer all-inclusive, as well as custom package options.
Let's discuss the best aviation management software package for your organization. Get in touch with us online or by phone (519-691-0919) to schedule your free business needs assessment. Contact us today! We're here to assist and ready to help you reach your business goals.
---
About WinAir:
Based in London, Ontario, Canada, WinAir has 30 years of experience as a leader in aviation management software. Companies rely on WinAir to efficiently and effectively track and manage aircraft maintenance and inventory control. WinAir is proud to lay claim to hundreds of installations at aviation-specific organizations worldwide. From airlines to heli-ops, law enforcement agencies, oil industry suppliers, MROs, CAMOs, medical evacuation response teams and more, businesses using WinAir regard the solution as a necessary component to the successful management of their fleet maintenance programs.