Accounting Portal
WinAir Accounting Portal is a stand-alone, web-based application that delivers functionality to export account details* for received materials, repairs, exchanges and services from the WinAir family of products. Flexible export options, multiple tax profiles and currencies, and detailed transaction history make this application an indispensible integration tool for your accounting needs.
* The image below displays account details that are exported via Accounting Portal.

---
Features and Benefits
Associate your general ledger codes to each cost and revenue. Whether your work is billable or internal, analyze the financial details for any job, anytime.
Decrease data entry and increase accuracy: Export functionality decreases data entry, while the transaction approval process ensures that costs in WinAir are accurate.
Improve workflow: Workflow standards establish a clear internal approval process.
Transaction history: Analyze historical records of all complete and attempted transactions.
Tax calculator: Easily set up multiple tax profiles.
Flexible export formats: Customize a variety of export formats to meet the requirements of any accounting system.
Remote access: Access Accounting from any computer with an Internet connection.
---
Implementation Diagram
The following diagram depicts how information flows to and from Accounting Portal.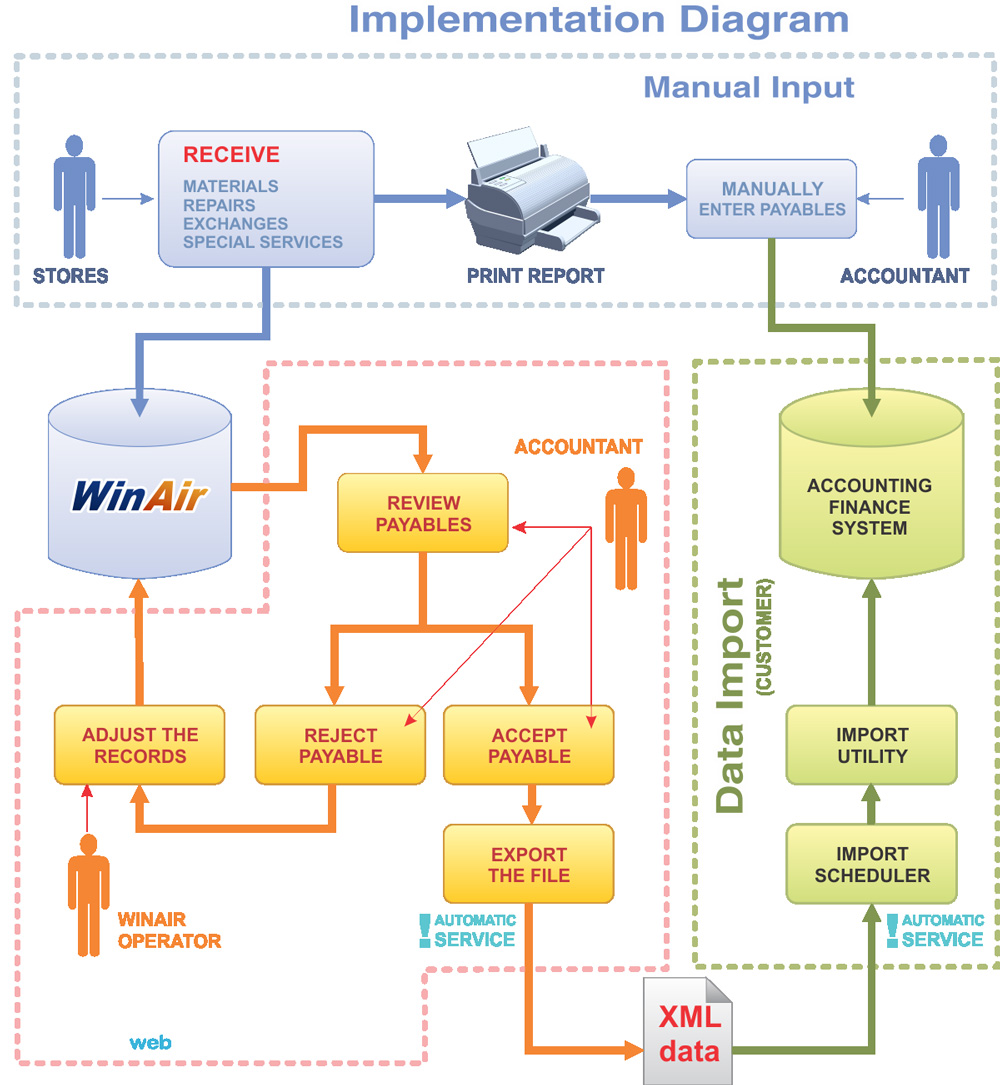 Using Accounting Portal
Transactions come into the Accounting Portal from WinAir with a default status of Unreviewed. One of the main tasks in the Portal is to review such transactions, and to approve or decline them. You can easily create a list of unreviewed transactions by using the Unreviewed status as your search criterion.
In the process of reviewing transactions, you can edit some of the transaction details if you have set the appropriate preferences. When you approve or decline a transaction, its status changes.
When approving a transaction, users can change the tax details or the freight details (with appropriate permissions). Accounting Portal users must add the invoice number, date, and amount. When a transaction is approved, its status changes to Approved and it is ready to be exported to your accounting package.
When declining a transaction, users must add a comment that explains why it was declined. Declined transactions display in Accounting Portal with a status of Declined. A declined transaction is not available for import into your accounting package, and corrections cannot be made in Accounting Portal itself; someone must correct the transaction in WinAir Batch Adjustments. Once the correction is made in WinAir, you can review the transaction again in Accounting Portal and get it ready for approval.
Sometimes you may need to change a transaction after it has been exported. Accounting Portal can only export a transaction once, so you cannot change the details in the Portal; you can only add a comment to the transaction. When you do this, the transaction status changes to Adjustment, and the transaction becomes unlocked in WinAir so that you can adjust it there.
General Ledger codes and WinAir Account Codes
Your operation's general ledger codes are set up in WinAir as Account Codes. Account Codes are used in inventory control, labour tracking, and for creating invoices for projects. When you set up your WinAir Account Codes, they must be aligned with your general ledger: using the same codes in both the general ledger and WinAir will greatly simplify the reconciliation process and provide accurate tracking of all credits and debits. A GL code for inventory (for example, 1000) can be divided into consumables (1100), rotables (1200), tools (1300), etc.