Partners
Collaborative Relationships
Our philosophy is to take a partnership approach with our customers. We provide consultative solutions in support of our customers' needs. Our customer approach results in the creation of a complete and engaging customer experience that maximizes operational efficiency and effectiveness.
Our partnership with MPLAN provides template solutions and turnkey services that complement AV-BASE Systems' products.
---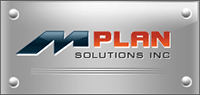 MPLAN Solutions Inc. was incorporated in 2001 with a mandate to build high-quality maintenance schedule templates that can be installed in WinAir.
All MPLAN maintenance schedule templates include inspection, overhaul, and retirement requirements for every affected airframe and engine component in every possible position on the aircraft. These templates also include additional information and features:
All airframe and engine scheduled inspection requirements.
Repetitive service bulletins and AWDs.
Assemblies defined through linked component and inspection requirements.
Custom counters defined as required for type-specific maintenance intervals such as APU hours, RINs, and multiple engine cycles.
Parts requirements attached to each inspection or component change.
Applicable rotable and consumable parts defined in the master parts list, including their class, NHA, manufacturer, ATA code, serial number applicability, and procurement details.
Approved substitute parts links.
Valid alternate part number links.
Technical logs and default fleet report options.
ATA code database.
Parts classifications database.
Position, rotable conditions, and 'issued by' databases.